March 24th 2007
AGING AND SENIOR PET SPECIAL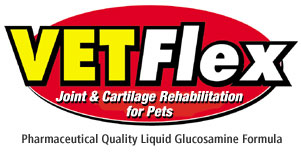 On the average, pets (dogs and cats) seven years and older are considered senior. This show covers the new products and services availalbe for your geriatric pets. Brough to you by VETFlex.
National Pet Food Recall
Dr. Michelle Smith, 29th Avenue Animal Hospital


As many of you may have heard on the news there has been a Pet food recall by Menu Foods. Recall of 60 million containers of wet (canned) cat and dog foods was carried out after an unknown number of pets became ill and some died. Product testing by manufacturers and the FDA has revealed that they believe wheat gluten maybe the ingredient of concern. The affected pets appeared to show signs of kidney failure.
Please don't panic! If you purchased canned wet or pouch foods go to the menu foods website where you can locate the brands of food you purchased, then compare them to the list of foods and lot numbers of the affected batches. For canned foods you will find the lot numbers on the bottom of the can, for pouch foods the lot number is located on the back of the pouch.
If you are concerned that you may have purchased contaminated food but no longer have the containers contact your veterinarian and you can have a simple blood test run to check your pet's kidney parameters and ensure that they are within normal limits.
You can also look for the following clinical signs:
-vomiting/diarrhea
-lethargy (not feeling well or acting normal)
-increased thirst
The recall covers company's "cuts and gravy" style foods in cans and pouches consisting of chunks of meat and gravy- sold between December 3, 2006 and March 6, 2007 throughout the U.S., Canada and Mexico.
Additional information can be found at www.menufoods.com/recall. Menu Foods manufactures 17 of the top 20 retailers pet foods. They are also the contract manufacturer of foods for many companies including Procter and Gamble.
Proctor and Gamble announced recalls of specific products under IAMS and Eukanuba lines with the code dates 6339 and 7073 followed by the plant code 4197 on specific 3 oz., 5.5 oz., 6 oz. and 13.3 oz. canned foods and 5.3 oz. foil pouch and dog wet food products.
http://www.29thAnimalHospital.com
Cat Becomes Sick after Eating Recalled Pet Food
Ron Finegold


Ron Finegold became worried when his three-year-old cat, Tallulah, stopped eating and did not look well. Not knowing what was wrong, he took her to the veterinarian. After some blood work, it was determined that Tallulah was suffering from renal failure.
The cause of the renal failure was a mystery. After all, she was only three years old. It wasn't until Ron heard on the radio one night about the pet food recall that he wondered if this could be the cause. Jumping up and going through his trash, he found the Iams food he had been feeding his cat was on the recall list. He then checked all remaining foods and disposed of it.
In hindsight, Ron noticed that the food he regularly purchased was missing from the shelves about four weeks prior. Could someone have known about this problem sooner?
Fortunately for Tallulah, her condition was caught in time and she is almost fully recovered.
How to Help Our Pets Live Longer
Dr. David Visser, Roseland Animal Hospital


The average senior age for a cat or small dog is around 7 years of age. The average senior age for a large dog is about 5 years.
There are some things to do to help your pet live longer. Spaying or neutering can add many years to a pet's live by eliminating some cancers often found in their reproductive cycles. While a senior pet may not be as interested in playing as they did when they were younger, exercise is still important. Our senior pets tend to gain weight as they age, which can decrease their life expectancy. By providing a moderate exercise program for your senior pet, you can help to keep their weight gain under control. And if your pet seems to be stiff and moving slowly, don't just write it off as old age. Help ease your pet's pain by providing joint supplements.
As your pet ages, you need to increase your visits to the vet. About twice a year is recommended for your senior pet. This way, you can do a baseline, which will provide you with information down the road should there be changes in your pet. Also check with your veterinarian with regard to vaccinations. Vaccinations are controversial, in that we are finding that your pet may not need shots every year, and that some vaccines stay in their system up to 3 years.
Help Ease Your Aging Pet's Joint Pain
Dan Jenuwine, VETFlex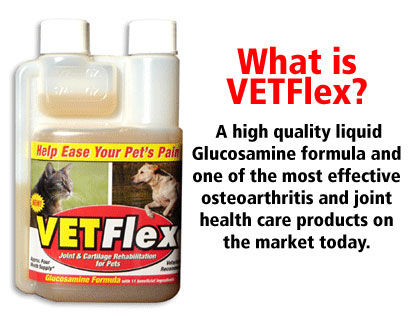 When Dan Jenuwine himself was confronted with the aging process and the arthritis, stiff joints, etc., that goes along with it, he discovered a liquid glucosamine that worked very well for his pain. But, Dan didn't stop there. He thought if it worked so well for humans, what about our pets? That kind of thinking lead to the creation of VETFlex, a high quality liquid glucosamine formula and one of the most effective osteoarthritis and joint health care products on the markets today for pets.
The majority of Glucosamine products available today are in capsule or pill form, but the liquid Glucosamine found in VETflex® provides maximum absorption and is beneficial in the treatment of osteoarthritis and eases articular joint pain. No more trying to get those pills down your pet's throat. VETFlex is easy to administer. All you have to do is put the chicken flavored glucosamine over their food and they will lap it up.
And best of all, it works fast. You will see an improvement in increased mobility in about ten to fourteen days.
http://www.VETFlex.com
Escaped Orangutan Frightens Children
Britt Savage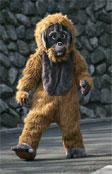 During a routine animal escape drill, which is done to train for real animal escapes at a zoo in Tokyo, an employee donned an orangutan costume.
The "orang utan" then escaped from his enclosure, ran through the crowd and eventually kidnapped a zoo employee.
The "orang utan" was then shot with a tranquilizer gun. However, the eventual capture of the "orang utan" didn't go over too well with the kids, who cried after their fun day at the zoo ended with an animal being shot.
$20,000 Was Not Enough
Kyle Orent


Kyle Orent, an 8-year-old from Northport, New York has raised more than $20,000 for Canine Companions for Independence through sales at his lemonade stand. Orent hopes to raise an additional $10,000 for the non-profit organization, which trains dogs to help people with disabilities. His next endeavor will be to collect collars signed by celebrities and then auction them off.
http://www.CanineCompanions.org
Gadgets for Your Aging Pet
Geoff Mott, PetGadgets.com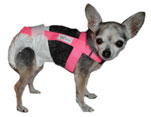 As your pet ages, you want to make him as comfortable as you can. And with all the new pet products on the market, that is pretty easy to do.
Geoff Mott, PetGadgets.com, has compiled a few products that will make life easier for your aging pet:
STA-ON Pet Diaper Harness - A new harness for dogs that securely holds on disposable diapers; Works with baby disposable diapers; Three sizes - Small - Medium ­ Large; Adjustable velcro at the waist and a slide buckle at the chest; Will not restrict movement
Pet Vision Eye Drops - Pet Vision eye drops have been proven to help protect and improve vision in dogs and cats. It is effective and safe in the treatment of cataracts, nuclear sclerosis, dry eye syndrome, corneal or eye lens opacity.
Heated Massage Bed - The PetSafe Wellness Bed is the world's first pet bed that combines the benefits of soothing heat and relaxing vibration massage into one bed. This orthopedic, foam core, bed is great for aging pets that can't get around as well and for the very active dog that might occasionally overdo it.
Infrared Heat & Massage - Deep penetrating Infrared heat for sore muscles, back problems and Hip Dysplasia. Let it heat up 3 minutes and then massage your dog to ease aching muscles and joints.
You can find all of these great products and more at PetGadgets.com http://www.PetGadgets.com
Class Action Against Menu Foods
Adam Karp, Animal Law Attorney
Adam Karp will be assisting in a class action against Menu Foods with regard to the pet food recall. Many animals have become ill and even died as a result of eating tainted food. If you believe your pet has suffered as a result of eating this contaminated food, and you would like to join this class action, please contact:
mmyers@myers-company.com
Michael David Myers
Myers & Company, p.l.l.c.
1809 Seventh Avenue, Suite 700
Seattle, Washington 98101
Telephone (206) 398-1188, ext. 101
E-Fax (206) 400-1112
http://www.Animal-Lawyer.com
Elderly People & Their Pets
Dr. Jim Humphries, Veterinary News Network


Helping elderly people and their pets is not only the right thing to do; it can also reduce health care costs that can save lives. Pets can be a great source of comfort and joy. By emphasizing a pet's role in our mental and physical lives, over a period of time we can also reduce health care costs to society. We know that people that live with companion animals receive numerous health benefits. For example, people with pets visit the doctors less often and use less medication. People with pets recover from illness more quickly. People with pets have lower cholesterol and lower blood pressure. And exercising a pet can provide valuable exercise to an animal's elderly guardian.
There are measurable social and economic benefits to elderly people by providing services and care for their pets. Get involved with your local humane society and see where you can help.
http://www.VetNewsNet.com
Bonding With Your Older Cat
Vicky Halls, Cat Behavior Specialist


Don't be afraid when your cat ages. It be can be a terrific time for you both! Your cat can become more bonded with you and you will even start to understand each other more than before. You cat can also become more communicative using more verbal meows than just the usual 3 or 4 he used when he was younger.
http://www.VickyHalls.net
2006 Year of the Golden Pig!
Rae Ann Kumelos, Voice of the Animal


Discover how the Mother of Stars, determining where to build an ancient city, and a beloved Muppet all have combined to make 2007 a Terrific year to celebrate Some Pig!
http://www.VoiceOfTheAnimal.org
Listen to the 1st Hour ABRIDGED VERSION Podcast of this show (#382).
Purchase a CD Copy of this Show

View Animal Radio Network® Broadcast Schedule in a new window.


Listen to Animal Radio® - Go to the launch page


Return to Animal Radio Network® Home Page


Read March Newsletter
Copyright 2007 All Rights Reserved Animal Radio Network LLC