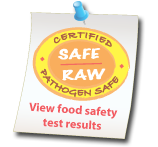 Stella & Chewy's is natural goodness for dogs, made with raw, USDA-inspected meat, raised naturally with no added hormones or antibiotics.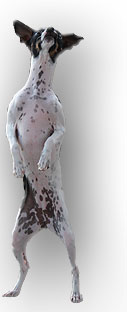 This is the food you hear the Animal Radio® Zoo Crew raving about! We want you to try it. Send us a self-addressed stamped envelope to: Stella & Chewy's Sample, 699 Paula St., Morro Bay, CA. 93442.
'Ladybug' is one finicky diva. We know Stella & Chewy's has great ingredients and she knows it tastes great.
- Animal Radio® Host Judy Francis
When I rescued Chewy from an animal shelter, he was a severely sick pup. I put him on a natural, raw diet upon a veterinarian's advice. Chewy was well on the road to recovery within days! Stella, Chewy's best friend, also thrived on this diet.
My experience with Chewy taught me that wholesome, less processed foods (and a lot of love) can dramatically improve a pet's health. But the more I learned about animal nutrition, the less I could understand why there wasn't a commercial product as good as what I could make at home. So with the help of veterinary nutritionists, I created Stella & Chewy's.
Thanks for taking the time to meet Stella and Chewy, and finding out about our dinners and treats. If you decide to give our products a try, please contact me at speak@stellaandchewys.com. I'd love to know what you think!

Visit Stella & Chewy's Official Website or call 888-477-8977 to learn more.
Freeze Dried Dog Food Patties

When you check the list of ingredients in our Dinners, you'll see it reads like a "who's who" of wholesome, healthy stuff. Like raw, USDA-inspected, naturally-raised poultry and meat. Organic fruits and vegetables such as cranberries, spinach, broccoli and beets. Healthful, direct-fed microbials. Plus essential vitamins and minerals.
Chicken, Beef, Lamb, Duck - 16 oz. (approximately 32 small patties)
Carnivore Kisses

Want to do something special for your pet? Surprise her with Carnivore Kisses Treats. These diced, all-meat treats are available in 100% Angus Beef, 100% Chicken, 100% Turkey Liver, 100% Bison and 100% Duck. Each is freeze-dried to lock in freshness and flavor.
100% Chicken 2.5 oz.