Animal Radio
®
Book Club
Book Reviews
---
---






(rated 5 and 1/2 out of 5 paws)
Holy Cow!: Doggerel, Catnaps, Scapegoats, Foxtrots, and Horse Feathers—Splendid Animal Words and Phrases by Boze Hadleigh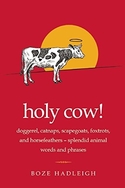 Paperback: 320 pages
Publisher: Skyhorse Publishing
ISBN: 978-1632205575
We all say them – animal words and phrases to describe things. But did you ever stop and wonder about how they started? For example:
There's More Than One Way To Skin A Cat: This originally started out as "There's more than one way to skin a Catfish," because they have very tough skin. Then someone left off the word fish, and Boze states, "It's been bugging us cat lovers ever since!"
Why The Birds And The Bees: This is a very sanitary way of semi-explaining sex to children. Especially at springtime, when both are easily seen - bees buzzing and pollinating and birds laying eggs and raising their young. Previously the two were never mentioned together. Then someone said it together and it stuck.
Buck Naked: Buck-naked is said to derive from the related words buck and buff; the color of buckskin and supposedly the pale tan color of European skin.
Not only does this book include sayings and their originations, Boze Hadleigh has also included information on things like why cats usually eat sitting down and dogs eat standing up. I'm not going to give you the answer to this one, you will have to get a copy of the book and find out for yourself!
This is one of the books that you can just pick up and started reading from anywhere in the book. Just think, if you've ever had problems talking to other people at gatherings, you will now have something interesting to say and can even become the life of the party! Okay that might be a little strong, but I'm sure you can find someone who will be interested in learning about these sayings as much as you do!
http://www.skyhorsepublishing.com
Reviewed by Animal Radio® Co-Host Judy Francis
---




(rated 4 out of 5 paws)
The Mountaintop School For Dogs and Other Second Chances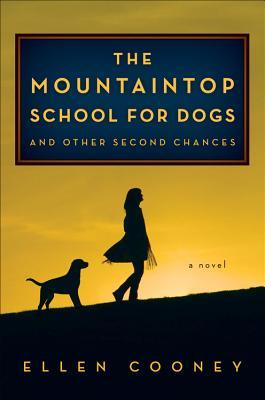 Hardcover: 304 pages
Publisher: Houghton Mifflin Harcourt
ISBN: 978-0544236157
I am usually already sold on any book that has the word "Dog" in the title. So, it wasn't surprising that I found myself reading this novel.
The book is about two women and a pack of dogs. Evie is a young woman who seems lost and is looking for a sanctuary for herself and ends up at the Sanctuary for Dogs, which is an old ski lodge at the top of a mountain. Evie pretends she understands dogs to gain entry, which is not true, so she is on her own and has to learn fast. Mrs. Auberchon is a stubborn woman who runs the school, who doesn't seem to know she is lost.
We always hear about people who rescue dogs, but if you really think about it, it is the dogs that rescue us. Even though some dogs have had a rough life, they are more likely to let go of the past and move forward to the present. Just by watching them, we can learn how to do the same thing. We just have to be willing to be like them and open up and try again, because there are many similarities between dogs and us when it comes to how we react to things and people in our lives. The only thing I would change about the book would be the ending!
http://www.ellencooney.com/school-for-dogs
Reviewed by Animal Radio® Co-Host Judy Francis
---




(rated 3 and 1/2 out of 5 paws)
My Best Little Buddy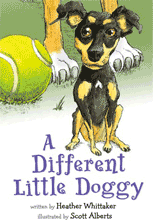 Hardcover: 28 pages
Publisher: Pen-Tech Professional, LLC
ISBN: 978-0982096215
I normally don't read nor review children's books, but this one got me by the cover! I just love the dog on the front and the illustrations throughout the book. I know it is a children's book, but you can't tell me that dog lovers of all ages wouldn't pick this book up!
The story is about a dog, Taz, who is different. It sends a message to children that no matter how different you are, or how different others are, that it can actually be a good thing and that you should just be yourself and accept others as they are.
I believe it also teaches children compassion towards dogs and other creatures and that we shouldn't feel sad for them. Just because they are different doesn't mean they can't lead a full, happy and productive life!
http://www.adifferentlittledoggy.com
Reviewed by Animal Radio® Co-Host Judy Francis
---





(rated 4 and 1/2 out of 5 paws)
My Best Little Buddy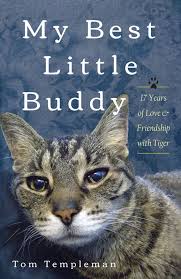 Paperback: 114 pages
Publisher: Tom Templeman
ISBN: 978-0-9895267-0-8
There was something about the cover of this book that first caught my attention. It is a picture of Tiger, a cat, who was owned by Tom Templeman. There is nothing extraordinary about Tiger. He is a grey, striped tabby. But, when you look into his eyes, you see it! There is something definitely there that catches your attention and draws you in. Perhaps Tiger is one of those old souls.
Many cats have owned me over the years and I just had to read this book to find out more about Tiger. The book is an easy read and I finished it in just two sittings (okay, I am a voracious reader!).
Tiger and his sister Sundae were stray kittens and are two of the lucky ones. Tom and his wife found the cats one day huddled together in a parking lot. Now, most people would have just looked the other way, got into their car and drove off. In fact, it seems a few people did just this. But Tom and his wife took their time and eventually gained the trust of these two kittens and took them home.
My Best Little Buddy tells the story of Tiger and his Sister Sundae over the many years of their lives. Like anyone who owns animals for their lifetime, there are usually many changes with moving and new jobs, where everyone needs to adjust.
Tom shares his story of these two kittens and their lives as they all grow just a little older together. It's about life and loss. Tom originally started out writing a song (which is also included in the book) but realized that he had so much more to say about his life with Tiger. Included are also great pictures of everyone.
I don't want to give any more away. You'll just have to read it for yourself. But if you're are cat owner, you will prboably see yourself and your cat in these pages.
I originally said that these kittens were the lucky ones, but after reading Tom's story, I am not so sure. It seems that everyone won in this case! Sometimes people or pets come into our lives at just the right time for a reason!
20% of the profits from all sales of My Best Little Buddy will benefit Nashville Cat Rescue.
http://www.mybestlittlebuddy.com
Reviewed by Animal Radio® Co-Host Judy Francis
---





(rated 5 out of 5 paws)
Big Book Of Why: Crazy, Cool & Outrageous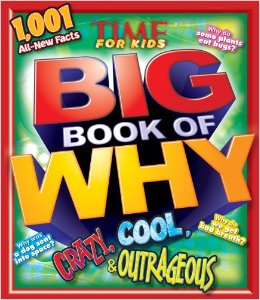 Hardcover: 192 pages
Publisher: Time For Kids
ISBN: 978-1618930774
We all want to look good in front of our children. However, their little minds are constantly taking in the world around them and they have endless questions. Most of them we can answer quite easily. However, there are those that even stump us!
Now, with the Big Book of Why: Crazy, Cool & Outrageous, we can competently answer them (without making the answers up). We will now know ourselves why the oceans are blue, why we burp or why tigers have stripes.
Even if you don't have children, you will find this book fascinating and will come away with a wealth of knowledge that will prepare you for your future children and maybe even Jeopardy, even if you just sit in front of the television to watch it.
Or better yet, give the book to the inquisitive child and watch their little minds soak up all of the crazy, cool & outrageous facts.
However, when it comes to answering the age-old question, "Where do babies come from?" I'm afraid you're on your own, as this book won't provide that answer!
http://www.timeforkids.com/store/books
Reviewed by Animal Radio® Co-Host Judy Francis
---




(rated 4 and out of 5 paws)
A Dog Walks Into A Nursing Home - Lessons In The Good Life From An Unlikely Teacher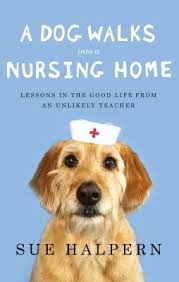 Paperback: 310 pages
Publisher: Riverhead Books
ISBN: 978-1-59448-720-0
Funny, moving, and profound, A Dog Walks into a Nursing Home is the story of how one virtuous - that is to say, faithful, charitable, loving, and sometimes prudent - mutt showed great hope, fortitude, and restraint as she taught a well-meaning woman the essence and pleasures of the good life.

Pransky was bored: she needed a job. And so Sue Halpern decided to give herself and her underoccupied Labradoodle a new lease on life by getting the two of them certified as a therapy-dog team. Pransky proved to be not only a terrific therapist, smart and instinctively compassionate, but an unerring moral compass as well. in the unlikely-sounding arena of a public nursing home, she led her teammate into a series of encounters with the residents that revealed depths of warmth, humor, and insight Halpern hadn't expected. Little by little, their adventures expanded and illuminated Halpern's sense of what goodness is and does - how acts of kindness transform the giver as well as the given-to.

Each chapter is dedicated to a virtue we would all do well to incorporate into our daily lives.
Reviewed by Animal Radio® Dream Team Member Joy Turner, Talk With Your Animals
---




(rated 3 and 1/2 out of 5 paws)
You Lucky Dog!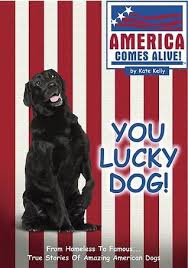 Paperback: 113 pages
Publisher: ACA Publishing
ISBN: 978-0-9892106-0-7
You Lucky Dog! is an uplifting compilation of true stories about homeless dogs that somehow survived and thrived to become local or national celebrities.

One such story features Bum, a steamship stowaway, who hops off a ship in San Diego in 1886 and makes the town his home. There's Terry, the dog who played Toto in The Wizard of Oz, who was given away by his first owners who found him disobedient. And famous Benji was a shelter dog who became a star.

The book also contains unforgettable stories about America's First Dogs (and a First Fish and a First Raccoon) to give a rounded view of our dogs' place in American history. Kate captures their very souls in moving descriptions of the devotion, loyalty and trust that no only changed the fortune of these very special dogs, but also the lives of their human caregivers.

Visit www.americacomesalive.com to read more stories about American dogs.
http://www.americacomesalive.com
Reviewed by Animal Radio® Dream Team Member Joy Turner, Talk With Your Animals
---



(rated 3 out of 5 paws)
Sandy and Sandy A Tail Of Love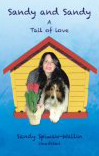 Paperback: 173 pages
Publisher: Author House
ISBN: 978-1-4772-6096-8
Sandy Spiwak-Wallin has always been an animal lover, but when she and her husband inherited Sandy The Sheltie, not only did it turn her family's life around but she was faced with daily challenges on how to handle a dog with every behavioral problem in the book.

It taught her and her family to never give up on a difficult dog and how rewarding it can be for all.
Reviewed by Animal Radio® Dream Team Member Joy Turner, Talk With Your Animals
---




(rated 3 and 1/2 out of 5 paws)
You're My Dawg, Dog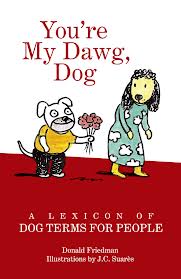 Hardcover: 96 pages
Publisher: Welcome Books
ISBN: 978-1599621234
You may not have paid much attention, but you probably have found yourself saying at one time or another a familiar phrase such as, "It's a Dog-Eat-Dog" World," or that you were "Sick As A Dog," maybe even that a person is a "Lucky Dog." But did you ever stop to think about what those terms really mean or where they originated?
In Donald Friedman's book, "You're My Dawg, Dog" you will find the explanations of dog terms, idioms, proverbs and metaphors, along with great illustrations. Some of these you may frequently use, others you may see for the first time. There are also quotes from Black Sabbath to Shakespeare to Rihanna.
Dogs are man's best friend, so it's no wonder many of our common phrases include them.
Pick up a copy and see how many of these phrases you use, and who knows, you might even "Teach A Dog A New Trick" – that would be you learning new phrases!
Reviewed by Animal Radio® Co-Host Judy Francis

---





(rated 5 out of 5 paws)
Cleo: The Cat Who Mended A Family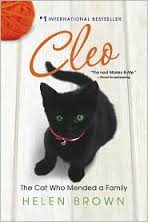 Paperback: 272 pages
Publisher: Citadel Press
ISBN: 978-0806533032
It's hard to imagine losing a child. It's even harder receiving and caring for a kitten he selected prior to his death, which you had forgotten about.
When Helen Brown's 9-year-old son, Sam, was killed in a tragic accident, she forgot about a kitten he had selected and was waiting for it to be old enough to be adopted. She wasn't prepared when the kitten was delivered a couple of weeks later, but decided to take in the kitten for her other son, 6-year-old Rob.
The cat was named Cleo, and seemed to understand the family was going through severe emotional times. He was a healing source for everyone as they put their lives back together. Through no fault of his, Helen and her husband divorced, but Cleo was always with her. In fact, Cleo selected her second husband and was there for her new family and the births of her two daughters. When Cleo passed away, she was almost 24-years-old.
Cats & Daughters: They Don't Always Come When Called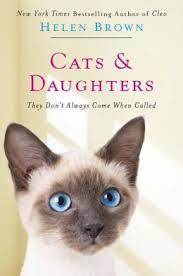 Paperback: 304 pages
Publisher: Citadel Press
ISBN: 978-0806536064
Cats & Daughters takes over where Cleo leaves off. After the death of Cleo, Helen swore she would never get another cat again. But, life happens when you're busy making plans, and that's when Jonah, a so-called Siamese, entered Helen's life. By then, Helen had two daughters and quickly learned that felines and rebellious daughters have a lot in common!
Once again, Jonah the cat helps the family over the years during once crisis after another. Through Helen's breast cancer scare, as well as well as her daughter's threat to become a Buddhist in war-torn Sri Lanka.
Both these books are page-turners. Even if you don't own any cats (or no cats own you!) you will enjoy reading about Helen's journey and about how our animals can be a source of comfort during our most trying times.
Be sure to read them in order: Cleo first and then Cats & Daughters (They Don't Always Come When Called). You won't be able to put them down until your finished!
Reviewed by Animal Radio® Co-Host Judy Francis
---




(rated 4 out of 5 paws)
For The Love Of The Horse Volume IV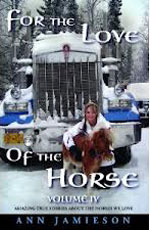 Paperback: 193 pages
Publisher: Self
ISBN: 978-0-578-10651-9
"For The Love Of The Horse Volume IV" by Ann Jamieson is another in her series of inspiring tales about the bond between animals and their humans. This particular book focuses on the bond with horses and how that bond has impacted the lives of humans. There are some amazing stories that will move you to tears and create that wonderful uplifted feeling in your heart.
"For The Love Of The Horse" encompasses a wide variety of breeds and disciplines and is sure to please everyone, even if you don't consider yourself a "horse person." There is one difference in this book from other similar books. Instead of having stories written by each person submitting the stories, Ann has taken their stories and re-written them. This allows Ann's unique perspective to shine through each of the stories.
"For The Love Of The Horse Volume IV" really is a book for everyone and a highly suggested read.
http://www.loveofthehorsebook.com
Reviewed by Animal Radio® Dream Team Member Joy Turner, Talk With Your Animals
---


(rated 2 out of 5 paws)
Reiki Fur Babies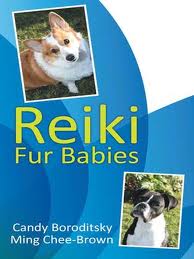 Paperback: 70 pages
Publisher: BalboaPress
ISBN: 978-1452546827
I have read Reiki Fur Babies and I don't know how to review this book. I have found that it needs lots more editing because there are quite a few errors that editing would catch and fix. Also, the way the language is in it, it reads like a translation of Japanese into English (if you understand what I mean by that). There is also not any kind of instruction of how someone might provide Reiki to their fur babies and I would have expected at least something superficial about that from a book with its title. The only somewhat good thing about it is the stories they tell.
http://bookstore.balboapress.com
Reviewed by Animal Radio® Dream Team Member Joy Turner, Talk With Your Animals
---





(rated 5 out of 5 paws)
Do Dogs Dream?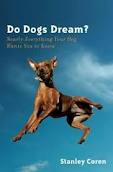 Hardcover: 304 pages
Publisher: W.W. Norton & CO.
ISBN: 978-0393073485
Past works from Stanley Coren have been very scientific and hard for me to understand. But this is quite a departure from his complex works and explains the questions we have about our canine companions in easy to understand bites. Each chapter is only a couple of pages and is a fun read every day for a couple of minutes before I retire for the night.
Coren answers questions like, what colors my dog sees, what she sees on TV, why she rolls in smelly stuff, and of course, does she dream. You'll learn so much about your friend and just how smart he/she really is. Every dog parent will love this and it makes a great gift.
http://books.wwnorton.com/books/index.aspx
Reviewed by Animal Radio® Co-Host Hal Abrams
---



(rated 3 out of 5 paws)
Snort's Special Gift

Hardcover: 32 pages
Publisher: Beaver's Pond Press
ISBN: 978-1-59298-423-7
Dealing with the death of a pet can be hard. Especially when small children are involved. Snort's Special Gift explores several different ways to celebrate the life of a pet that has passed. It is beautifully illustrated and includes activities.
Savy, a young girl, learns that her furry companion is sick. Her parents tell her that Snort will have to go away to heaven. She wonders what she'll do without her best friend.
This book will help your YOUNG child address the feeling and emotions surrounding the grieving process. The words of author Suzanne Yue and the pictures from Lin Wang make this book one that your child will treasure.
Reviewed by Animal Radio® Co-Host Hal Abrams
---



(rated 3 out of 5 paws)
True Blue Leadership by Mr. Blue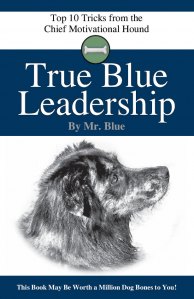 Paperback: 91 pages
Publisher: TremendousLifeBooks.com
ISBN: 978-1-936354-18-4
Mr. Blue provides you with the top 10 tricks from this Chief Motivational Hound. He and his co-pawthor Tracey C. Jones have put together this inspirational book containing the top 10 things you will need to know to become the leader your organization needs and your dog already thinks you are!
Mr. Blue talks about general philosophies in life that serve well whatever your life endeavors may be and provides you with additional references to books where you can find additional information about each point.
Points like work like a dog, learn to get excited about your work, give to get and always look on the bright side, to name a few. You will learn the 3 decisions you must make in life. And, once you make these, all other decisions fall into line. These decisions will shape everything else in your life and drive you. At the core of every point in this book is the fact that enthusiasm does make a difference. Mr. Blue will teach you how you can learn what you want to live your life for and how to follow through with that plan.
Do you know there are certain types of people to surround yourself with to be successful? Mr. Blue does and explains how to accomplish that. He will show you how to relate to people at every phase of your life to get the best you can out of life and enjoy the experience. You will also learn the things to avoid doing and being that short circuit your happiness and success.
True Blue Leadership is a good way to jump start your life.
http://tremendouslifebooks.wordpress.com
Reviewed by Animal Radio® Dream Team Member Joy Turner, Talk With Your Animals

---




(rated 4 out of 5 paws)
Raising My Furry Children by Tracy Ahrens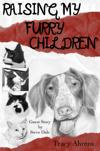 Paperback: 259 pages
Publisher: Weaving Dreams Publishing
ISBN: 978-0-9824876-7-9
Raising My Furry Children is the kind of book every parent of furry children has always wanted to write. Tracy provides us with stories of her beloveds and many of their antics. She does a remarkable job of capturing the essence of mutual love, humor and unbounded joy that comes from watching our furry friends teach us to not take life too seriously.
One of the great things about this book is that it is not written in chronological order so you can pick it up and open to any page to read about her daily anecdotes of pethood that we have all experienced in one way or another. Tracy provides us with a delightful way to relive our own experiences with our beloved companions. Her love and devotion shines through on every page.
If you think your dog's behavior can be outrageous, wait until you read about Speckles and his antics. Speckles can take outrageous to a whole new level. You'll laugh until you cry – and often give thanks that your dogs skipped "that" part dogdom.
Tracy shares her wildest experiences and she shares some of her saddest. You'll love reading about her adventures with each of the wonderful animals she has shared her life with. You might just find that you, too, have learned many of the same things as Tracy living with those wonderful furry family members of yours.
Definitely a good addition to your library and a good book to share with anyone who loves animals.
http://www.weavingdreamspublishing.com/nonfiction/raisingmyfurrychildren.html
Reviewed by Animal Radio® Dream Team Member Joy Turner, Talk With Your Animals

---





(rated 5 out of 5 paws)
In A Dog's Heart – What Our Dogs Need, Want and Deserve – and the Gifts We Can Expect in Return by Jennifer Arnold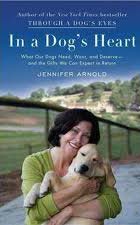 Hardcover: 230 pages
Publisher: Spiegel & Grau
ISBN: 978-0-679-64372-2
Jennifer Arnold sums up just about every aspect of living with dogs in this great book. She discusses dog psychology and behavior and many aspects of the human-animal relationship. Her opening quotation says it all – "Dogs have given us their absolute all. We are the center of their universe. We are the focus of their love and faith and trust. They serve us in return for scraps. It is without a doubt the best deal man has ever made." Roger Caras.
In A Dog's Heart is the perfect book to read to bring out all the best in you as a human and caregiver to your four-legged friends. Jennifer's perspective comes always from "positive training," but it goes far beyond just training. In a world filled with books written about dogs and how to relate to them, In A Dog's Heart stands out from the rest. Some may say she treats the dogs too much like they are human and that can't be right. However, in truth, her idea of the place dogs should belong in our world is so totally right on. Throughout the entire book, her love and devotion to dogs is completely evident and sparks those of us who might not hold dogs in such an elevated place to improve our own thought of the order of life.
Jennifer talks to us about the heart of dogs – and in my personal experience, she is again right on. You'll learn about what dogs want, how to provide your dog with the gift of good health and what makes safe havens for dogs. She'll discuss how to pick your dog. And, most importantly, she shares her ideas on how we can be a better partner to our dogs and how to help our furry partners reach a deeper level of contentment and happiness.
This book goes far beyond anything else I have ever read and definitely is a must read for everyone who shares life with dogs.

http://www.randomhouse.com/spiegelandgrau
Reviewed by Animal Radio® Dream Team Member Joy Turner, Talk With Your Animals

---




(rated 3 and 1/2 out of 5 paws)
Horse Sayings: Wit & Wisdom Straight From The Horse's Mouth by Bradford G. Wheler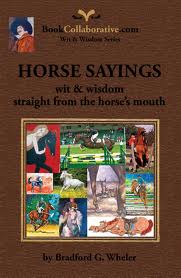 Paperback: 134 pages
Publisher: BookCollaborative.com
ISBN: 978-0982253830
From the simple to the sublime, Horse Sayings depicts all things horse as well as our human fascination for them through art and quotations. The illustrations from artists and photographers from around the world bring forth the power and majesty of the horse. The quotations demonstrate our love, honoring and involvement with horses since the beginning of time. Horse Sayings is a wonderful collaboration of art and philosophy.

Sometimes you'll laugh. Sometimes your heart will expand. Whatever type of art or philosophy you enjoy, whether you are young or old, there is something in Horse Sayings for everyone. This is a book you can pick up and read cover to cover or open to any page and find something inspirational. Any way you choose to read and enjoy Horse Sayings is the perfect way. It's a simple book and a quick read.

And all the time, whether you are a horse lover or a lover of man's eloquence through speech, one thing is certain. This book is a worthwhile addition to your collection.

Reviewed by Animal Radio® Dream Team Member Joy Turner, Talk With Your Animals

---





(rated 5 out of 5 paws)
Rusty -n- Nikki Doggie Lessons in Life and Love by Rusty as told to Janus Moncur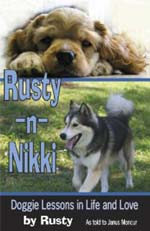 Paperback: 70 pages
Publisher: Mon Coeur Publishing, LLC
ISBN: 978-0978652920
This is an adorable story about Rusty and Nikki and their struggles to find love and their courage to keep their family together.
This story talks about the "Good Ones" which are humans that love and care about animals and the "Mean Ones" humans that are mean and treat animals with cruelty from Rusty, a puppy's point of view.
This story just melted my heart and made me realize how there truly are evil people in this world that pick on poor animals that do nothing but give us their love.
"Sometimes, my little friend, situations present themselves that make even the smallest in stature a hero" I love this part of the book because it is so very true.
If you are an animal lover then this book is a must to read, it is not long at all but has a strong message and I love that part of the proceeds go to animal charities.
http://www.lovepetz.com/rusty-n-nikkibook.com
Reviewed by Animal Radio® listener Nancy Castaneda

---




(rated 3 and 1/2 out of 5 paws)
Down-To-Earth Natural Horse Care by Lisa Ross-Williams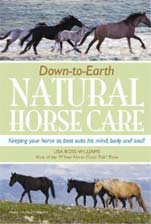 Paperback: 200 pages
Publisher: Talking Horse Publishing; 1st Edition (2010)
ISBN: 978-0982691168
OK, so Cindy (my person) and I had to go for outside help on this one. We examined the book's structure (as Cindy called it) first, however. The chapters range from hydration to natural feeding to hoof care and horsemanship. At the end, there's a chapter on myths, largely about nutrition and care, as well as one that has questions and answers, and finally some stories about horses that Lisa has known. To wrap things up, there's a really extensive resource guide of books, people, websites, and anything else you might need to know about horses and their care.

Now, that looked pretty good to me, and I said that I personally thought I was capable of reviewing the book--after all, I AM pretty smart (emphasis on the PRETTY, there). However, Cindy pointed out to me that I have seen a horse ONCE at my Vet's office, behind a fence, and that I was rather frightened of it (she would have to remind me of my failings). At any rate, I relented, and we appealed to my friend Amanda who works for my favorite dog food company (advertisement, anyone?). She's a former member of the Equestrian Team for our local university, and the only reason she doesn't have horses is that her yard isn't big enough and they don't allow people to have horses in the town. I think that's a bit narrow minded, but that's another issue. At any rate, we gave her the book and asked her to give us her thoughts. They are:
Amanda:

After reviewing "Down-To-Earth Natural Horse Care" by Lisa Ross-Williams I have found the book to be informative and accurate in its depiction of horse care with a holistic twist. The author provides adequate information on all aspects of horse care and addresses common care practices and offers a more holistic option. She addresses everything from basic environmental and feed needs to more detailed veterinarian and dentistry care, where she helps the reader be more informed when dealing with their veterinarian.

Overall a decent book with lots of useful information for caring for horses in a more holistic "back-to-basics" method.


Amanda and Latte (THE Cavalier King Charles Spaniel, just in case you'd forgotten!)

---




(rated 4 out of 5 paws)
Cover Pet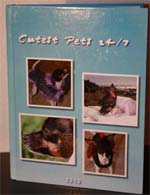 Hardcover: Over 200 pages
Publisher: CoverPet.com LLC
Cover Pet.com can make your pet a cover pet! They did it with Ladybug, the Animal Radio Stunt Dog, which you can see from this book cover.
You just send in 10 photos of your pet and they will emboss them on the covers (front and back) of the Cutest Pets 24/7 Book. If you send in 1 photo, they will use stock photos for the other 9. However, with most pet lovers like me, that wasn't a problem. The problem was narrowing it down to only 10 photos!
I was so excited when I received the book. It is 8 1/2 x 11 inches and has a hard cover. Inside you will find over 200 pages of pet photos, but best of all, your pet is on the front and back!
This is a great book that you will want to leave out on your coffee table for everyone to see, and it will be something you will treasure a long time. It will also make a great gift item for someone special who loves their own pets!
Reviewed by Judy Francis - co-host Animal Radio®
---





(rated 5 out of 5 paws)
Tamar Gellar, 30 Days To A Well Mannered Dog: The Loved Dog Manner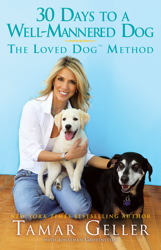 Hardcover: 416 pages
Publisher:Gallery (October 2010)
ISBN:978-1439176702
Oprah's dog trainer, Tamar Geller says you don't have to be dominant; you don't have to teach submissiveness or ingrain fear to get your dog to behave. She is the creator of the wildly successful Gandhi-esque dog philosophy, The Loved Dog Method™. She tells listeners how to empower their dog within 30 days in her new book.
Tamar states that her and Cesar Millan are like oil and water – they don't mix! She doesn't believe that a wife, a husband, a child or even a dog want to be taught while they are being made to be submissive. She believes everyone likes to feel good about themselves, particularly when you want to build a team, where your team player will do anything for you. She feels it makes more sense to realize that when someone is a willing partner, it is a much better approach than to have a team member do something out of fear.
In order to make your dog feel like a willing partner instead of feeling they have to be submissive is the same technique you would use on your husband or your child. You find what makes them happy. You find out what excites them, and you incorporate that into the coaching. It is like empowering them and making it fun for them to learn.
With dogs, Tamar uses games. We know that the best way wolves teach their young and the best way toddlers learn are through games. We also know that the dog is developmentally the closest to a toddler.
Her technique uses "safe words" which she describes as giving words to good experiences. For example, when this abused dog meets someone new and likes them, she repeats the word "friend." This comes in handy when meeting other people, so she can remind him by saying "friend" that this new person is a good person and safe.
We all evaluate life, this includes both people and dogs, according to pleasure and pain. Is meeting someone going to be pleasurable or painful? Dogs who were trained with harsh methods have post-traumatic stress disorders. They think that everything in their life is going to mean pain. They are afraid of taking chances and exploring, because they are afraid they will get screamed at or yanked.
She uses her practice on every breed of dog. She looks at dogs like ice cream. There are many different flavors of ice cream, but no matter what flavor it is, the ice cream was made the same way, with the same ingredients. It doesn't matter what brand or flavor. So whether it is a Chihuahua or a Pit Bull, they have the same basic needs.
To get your dog started with her training, the first thing you need to do is stop saying "Good dog." This doesn't give enough information. You want to treat a dog the way you would treat a toddler. When you work with a toddler, you give a name to everything. For example, if your dog follows your commands, you want to say, "Good sit," "Good come," "Good belly rub." You want to make it a fun learning experience.
You can also use this technique with your children and spouse!
Reviewed by Judy Francis - co-host Animal Radio®
---





(rated 4 and 1/2 out of 5 paws)
Bats Sing, Mice Giggle: The Surprising Science of Animals' Inner Lives by Karen Shanor and Jagmeet Kanwal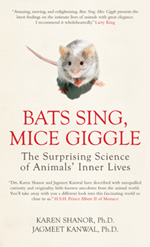 Hardcover: 272 pages
Publisher: Totem Books (August 2010)
ISBN: 978-1848311978
Did you know that chimps have out-scored college students on memory test; birds can see the magnetic lines of the earth; and elephants hear with their toes?
Dr. Karen Shanor and Jagmeet Kanwal expose the astounding animal facts that have recently been discovered, in their new book, Bats Sing, Mice Giggle.
We now know a lot more about animals with the help of current technology, which allows us to pick up the frequencies of animals, their vibrations and sounds that they emit. There is also a lot more behavioral research that has been going on. This has upended everything we ever thought about human nature. We now know that many animals show empathy and take care of each other. They warn and help each other in times of danger. They also problem solve even more effectively than humans – and they build, create and entertain themselves and others.
Many animals can count, including bees. They can also do math. For example, if a herding dog is in charge of 120 sheep, it makes sense that they might have some kind of account going on of some type to make sure that all animals are accounted for.
There are so many facts in this book. We now know that ants are extremely intelligent and can recognize each other; have cemeteries and hospitals; are capable of terrorism; and can even "tag" their enemies by using pheromones.
All of this new information shows us that we really need to listen to the animals!
Reviewed by Judy Francis - co-host Animal Radio®
---





(rated 5 out of 5 paws)
Adventures Among Ants: A Global Safari with a Cast of Trillions by Mark W. Moffett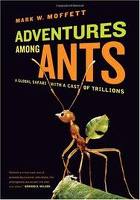 Hardcover: 288 pages
Publisher: University of California Press (May 2010)
ISBN:978-0520261990
Mark Moffett (Dr. Bugs) has been called the "Jane Goodall of Ants" and the "Indiana Jones of Entomology," and he will forever change the way you think about the little critters.
Did you know ant colonies are sisterhoods? Mark states that the guys don't really do much. They have sex and die. And apparently that's satisfactory for them. (I can think of many human males who feel the same way!) Guys really don't have a role in the ant colony. The male ant is sort of a "couch potato" and the female ant doesn't appreciate their presence.
Mark feels that ants and humans are more alike than humans and chimpanzees. Humans and ants are the only ones who have societies of millions. So just like us, ants need highway systems and traffic rules. They even have a voting system, something chimpanzees would never think of.
Marks explorations have helped him to discover new species and ant behavior that make people fall in love with the unexpected in nature.
Reviewed by Judy Francis - co-host Animal Radio®
---





(rated 5 out of 5 paws)
The Lost Dogs: Michael Vick's Dogs and Their Tale of Rescue and Redemption by Jim Gorant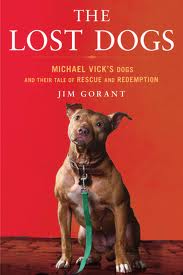 Hardcover: 304 pages
Publisher: Adams Media (August 2010)
ISBN: 978-1592405503
Animal lovers and sports fans were shocked when the story broke about NFL player Michael Vick's brutal dog fighting operation. But what became of the dozens of dogs who survived?
All dogs were originally put into government custody and lingered there for quite some time under the assumption that they all would be euthanized when the trial was done.
However, there was a lot of public outcry to do something to save these dogs. As a result, an ASPCA-led team evaluated each and every one of the 51 Pit Bulls taken off the property. They found a few hardened fighters, but many more lovable, friendly creatures desperate for compassion. These dogs were given a second chance. One of the good things to come out of this case in general for fighting dogs, is that you can't look at them as a group.
Out of the original 51 dogs, two dogs died while they were in government custody. Two were euthanized because one was badly injured and the other had lost it mentally. This left 47 dogs.
The remaining 47 dogs were placed into 4 categories: 1. Sanctuary dogs, which needed a certain level of professional care for life; 2. sanctuary dogs, which needed temporary professional care; 3. foster dogs, which went into foster homes with qualified, pet guardians (most of them have been adopted); and 4. law dogs.
The Million Dollars that Michael Vick was ordered to pay for his restitution and their care made all this possible.
The ultimate success story of these dogs is Leo. Leo went into a small rescue called Our Pack in California. Leo showed a lot of the signs (as the other dogs did) with fear issues and was completely unsocialized. Leo had never lived in a home and had to get used to stairs and other basic things required living in a home.
Leo went into a house that had three other Pit Bulls. The guardian doesn't take all of the credit for Leo's success, as she feels that Leo was able to use her other dogs as a model and the other dogs helped shaped their new entry. Three months later, Leo became a Certified Therapy Dog, going into schools and nursing homes.
Is there a silver lining for fighting dogs surrounding these brutal abuses? Let's hope so!
Reviewed by Judy Francis - co-host Animal Radio®
---






(rated 5 and 1/2 out of 5 paws)
Fixing Freddie: A TRUE story about a Boy, a Single Mom, and the Very Bad Beagle Who Saved Them by Paula Munier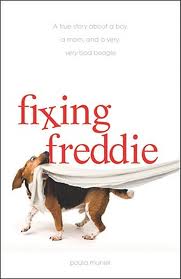 Hardcover: 256 pages
Publisher: Adams Media (August 2010)
ISBN: 978-1440502309
Freddie, the Beagle, was the puppy from hell! Freddie was acquired when Paula Munier made a promise to her son she never thought she would have to fulfill. When she had to 'pay-up' by getting a dog for him, she never expected a very, very bad beagle would soon rule her life.
Paula took her son to a home with puppies where he picked out Freddie. Paula should have been tipped off when Freddie was already six months old and half price! Freddie's rap sheet included pooping in Paula's shoes; peeing on her dates; lunging at the UPS man; and eating all of the knobs off of Paula's new cherry cabinets. Paula seemed to have two adolescents on her hand at one time, both Freddie and her son! Paula thinks of adolescents as a "Five Year Virus."
Freddie was taken to an animal behaviorist (a puppy shrink) who diagnosed him with separation anxiety and fear based aggression. This often happens in homes with single moms because the dog tries to become the alpha. Paula had to turn herself into the alpha, to tame both her son and Freddie.Freddie was kicked out of puppy classes and eventually trained by a private instructor. While Paula wouldn't go so far as to say that Freddie is now a well-behaved dog, he is now a far better dog.
Paula's son is now off to college and she is "stuck" with Freddie. Good thing they are now pals!
This book will have you laughing out loud (lol)!
Reviewed by Judy Francis - co-host Animal Radio®
---



(rated 3 out of 5 paws)
Careers For Your Cat by Ann Dziemianowicz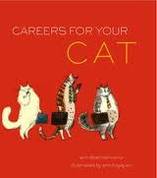 Hardcover: 96 pages
Publisher: Ten Speed Press (August 2010)
ISBN: 978-1580081245
With ever-growing economic pressure being felt in every strata of society, more members of the household are being asked to step up and contribute. Dogs have been assisting the human labor force since the dawn of history by hunting, herding, guiding and guarding us for millennia. But what about cats? What have they been doing between 9 and 5 while we've been out working to support them?
So how do you decide just what career is appropriate for your cat? You can help them by identifying their skill sets with the Meowers-Briggs Personality Quiz that you will find in Careers For Your Cat.
When you find the career appropriate for your cat, what happens next? Well, they need to attend an interview. Ann gives some tips on acing that interview. First of all, don't show up with fish breath; don't sit on the interviewer's lap; and don't play with the objects on the interviewer's desk. And when you first enter the room, you may want to come in normally instead of dashing haphazardly into the room.
So help your cats land their dream jobs and let them bring home the bacon once in a while so you can sit back, relax, and take a well-earned catnap!
Reviewed by Judy Francis - co-host Animal Radio®
---





(rated 5 out of 5 paws)
The Backyard Bird Lover's Ultimate How-To-Guide: More than 200 Easy Ideas and Projects for Attracting and Feeding Your Favorite Birds by Sally Roth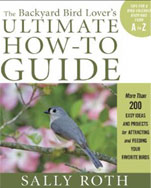 Paperback: 320 pages
Publisher:Rodale Books (July 2010)
ISBN:978-1605295190
Just outside the Animal radio studios there are several hummingbird feeders that are frequently visited by many hummingbirds. Unfortunately, it also attracts other birds that drink their nectar. Fascinating though, we learned in The Backyard bird Lover's Guide that only the Americas have hummingbirds, with California having the largest variety.
Many people like to bird watch and one of the best places to view them can be in your own backyard. But how do you attract them? Sally Roth explains the best feeders and birdhouses you can make and buy to attract certain birds. She states that wood is the best for a birdhouse, because it is the best insulator for both heat and cold and your birds will stay safe and comfortable. Also look at the size of the hole. Purchase one with a small hole for wrens and chickadees; medium for nuthatches and downy woodpeckers; and large for everything else. You don't need to put anything inside, as the birds will fill it up themselves.
In her new book, The Backyard Bird Lover's Guide, Sally has outlined just what type of foods and feeders and plants and projects that will guarantee a bird-friendly backyard!
Reviewed by Judy Francis - co-host Animal Radio®
---





(rated 4 and 1/2 out of 5 paws)
A Man For All Species: The Remarkable Adventures of an Animal Lover and Expert Pet Keeper by Marc Morrone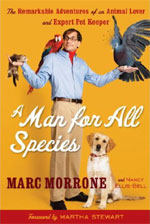 Hardcover: 288 pages
Publisher: Crown (April 2010)
ISBN: 978-0307589651
Before Martha Stewart named him her "pet keeper," and before millions of people turned to him for advice, Marc Morrone had a simple dream: to learn everything he possibly could about every kind of animal and share that knowledge with others.
As a child, he dreamed about owning a zoo. But since that seemed too impractical as he grew up, Morrone did the next best thing and opened his own pet store, Parrots of the World, which he calls his laboratory. Along with parrots, you will find many other animals such as ferrets, hedgehogs, sugar gliders and pygmy possums to name a few.
Morrone hosted his own TV show called Petkeeping with Marc Morrone. One of the most fascinating aspects of his show was how he could have all of the animals together and everyone got along.
In Morrone's new book, A Man for All Species, Morrone covers his early childhood petkeeing to his current days in his pet store. You will easily see how passionate Morrone is about all animals!
Reviewed by Judy Francis - co-host Animal Radio®
---




(rated 4 out of 5 paws)
The Animal Review: The Genius, Mediocrity, and Breathtaking Stupidity That Is Nature by Jacob Lentz & Steve Nash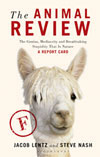 Hardcover: 144 pages
Publisher: Bloomsbury USA (March 2010)
ISBN: 978-1608190256
People judge other people, but Jacob Lentz and Steve Nash judge the animals! They have graded animals like a report card. They do this by finding an animal species, talking about them and then using a scientific and aesthetic standpoint, finally giving them a grade.
Some of the animals they rated are the Alpaca, Ladybug, Skunk, Great White Shark, King Cobra and the Panda.
They seem to be highly qualified to do this, as they have the Internet and they are two single guys with too much time on their hands! They could explain their criteria, but it is proprietary and better if left to them. They feel people should just trust their judgments!
We noticed Jacob and Steve have stayed away from rating cats and dogs – perhaps they feel people have a tendency to go crazy about their pets!
Reviewed by Judy Francis - co-host Animal Radio®
---





(rated 5 out of 5 paws)
Beekeeping for Dummies by Howland Blackiston

Paperback: 392 pages
Publisher: For Dummies (March 2009)
ISBN: 978-0470430651
Beekeeping is not only a hobby for some people but also a way to make extra money during these hard economic times. It isn't just a matter of the bees marking your garden prettier, a third of everything we put into our mouths is a result of pollination by honeybees.
In Beekeeping for Dummies, you will learn everything you need to start your own beehive colony including honey bee medication and treatments, harvesting and marketing your honey.
You don't need a lot of space to raise bees, and can even do it in the city. It is also not that labor intensive. You only need to visit the hives about four or five times a year, for about 20 to 30 minutes each visit.
It is not expensive to raise honeybees. For several hundred dollars you can buy the hive and equipment that you need to get started, which is a one-time expense. But consider this, every hive that you start will yield from 60 to 100 pounds of honey – what are you waiting for?
Reviewed by Judy Francis - co-host Animal Radio®
---





(rated 5 out of 5 paws)
Orphans of Katrina by Karen O'Toole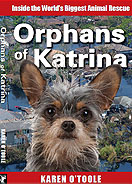 Paperback: 256 pages
Publisher: Give a Dog a Bone Press (July 2010)
ISBN: 978-0615329161
OK, I'll admit that I wasn't overly thrilled about reading this book, even after my person explained to me what it was. You know, that was YEARS before I was born (all right, three). However, as soon as we read the first chapter, I was hooked. Karen tells the story of the suffering of all types of animals in the aftermath of that terrible hurricane. Now, I'm not exactly sure what a hurricane is, especially since we only get rain about every three months up here. Wind, I understand, but rain--that's a bit out of my league. But I digress.

Karen O'Toole was one of many volunteers who traveled in boats and on foot around the remains of New Orleans neighborhoods to rescue pets who had been abandoned by their owners in the mass confusion of wind, rain, and floods that was Katrina. I was amazed to learn that many people were not allowed to take their pets with them. As we read story after story, I became more frightened just thinking about those poor creatures who were starving or swimming in the muck left by dirt and sewers and dead bodies--thank heaven for people like Karen!

Keeping in mind that Cindy hates "sad animal stories," I think she was a bit reticent to read as well, but she found the heroism of both the rescuers and the rescued enlightening. We had watched the Animal Planet specials, but even with pictures, there's no way that those measured up to Karen's passionate descriptions of the hell she encountered. From frightened cats who scratched or bit her to severe cuts from the glass of windows, she and others doggedly (love that word!) pushed themselves beyond the endurance of most humans to save as many lives as they could.

Periodically, she includes a plea for everyone to protect our pets, donate to shelters, adopt an animal, and so forth. Coming from someone who has experienced what she has, these pieces are not "advertisements" or pathos-laden community service announcements; instead, they are the call to action from the expert who has held a dying animal in her arms and who has met the distraught owners searching in vain for their friends. Fortunately for society, one glimmer of hope has emerged from the darkness of a flooded New Orleans--laws which allow evacuees to take their pets rather than leaving them on the streets at the mercy of Mother Nature.

At the end of this beautiful book may be the best chapter of all--a list of things that everyone can do for animals every day. These include websites, organizations, common sense donations (we'd never thought of donating a bag of kitty litter to our local shelter), and tips for spotting puppy mills.

While I thank God that I'm such a lucky dog, after reading this, I know one thing: this is one book that no animal (or animal lover) should miss.

Reviewed by Latte Rogers
THE Cavalier King Charles Spaniel
---




(rated 4 out of 5 paws)
Secrets of a Working Dog by Patrick and Ellen Galvin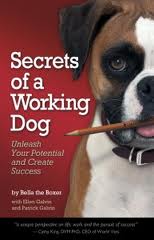 Paperback: 192 pages
Publisher: Joseph Rudolph Publishers
ISBN: 978-0982868034
This husband and wife team have tapped on a fundamental lesson. Dogs are great teachers and can impart valuable wisdom in just about every part of our lives. By applying a dog's tactic to our own lives, we can take a journey of self-discovery that will propel us, compel us, and ultimately result in more successful encounters in work and in our personal path. As the book cover says, "Bella the Boxer" will indeed help you connect with your "inner dog" and step up as the leader of the pack. Those with dogs will immediately understand how they can use the dog as a teacher. Those without may be encouraged to get one - let this be your handbook.
Reviewed by Hal Abrams
---





(rated 5 out of 5 paws)
Bill At Rainbow Bridge by Dan Carrison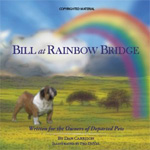 Paperback: 90 pages
Publisher: Modern Family Classics Publishing
ISBN: 978-0984568208
"Just this side of heaven is a place called Rainbow Bridge." (31) Now I know what happens to all good dogs . . .

Take a trip with Bill through the Elysian Fields of dogdom and with his person, David, as he struggles to deal with the loss of his best friend in this short work by Dan Carrison. Dan offers to both pet and person a bit of hope and a lot of comfort about the too brief life of every creature who walks this earth, and he manages to deal with the heartbreaking subject of loss in an entertaining and poignant way.
I loved the brief chapters which allowed me to take frequent breaks for ball chases or cookie begging (all too often ignored, however). When Dan alternates chapters from Bill's perspective to David's, it sometimes confused me, but my person patiently reminded me what had happened to Bill in the earlier chapters, so I was OK after that. She (Cindy, my person) says that technique has a name, but of course I've forgotten what she said.

As Cindy read the story, she said she wondered if her father had crossed Rainbow Bridge with his favorite cat (which he had when he was young) or the family Pekingese, Taffy, (which was Cindy's dog when she was young). I never knew her father, for he died just before I was born, but he sounded like a loving man much like David in the story. It was nice for Cindy to contemplate that possibility.

This story introduces all sorts of people with different animal friends--parrots, cats, dogs--and even follows one journey to a joyous reunion. Sometimes sad, sometimes humorous, always thought-provoking, it is a quick but unforgettable book that no pet lover should be without.

So, follow Bill to the grass outside Rainbow Bridge and contemplate what awaits him when he and David meet again.

Reviewed by Latte Rogers
THE Cavalier King Charles Spaniel
---




(rated 4 out of 5 paws)
The Opal Within Us: Speaker of the Souls by Robynn McCann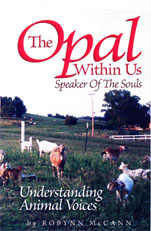 Paperback: 192 pages
Publisher: Elephantsdance Publishing
ISBN:978-0-9842100-0-8
This was a really fun book that both my person and I enjoyed. It's a series of stories about the various animals that Robynn and her family have kept over the years. Some stories are very short, but even the longer ones are short enough that they held my attention. (I tend to have a short attention span) The focus story is about a goat named Opal and what she seemed to teach the family during her rather short journey on earth. However, I also got to know Reggie, the Jack Russell Terrier; Jack, the Llama; Pepper, the German short-hair; and many, many goats. Now, since I live in the city, my people had to explain to me what a goat was, but I have met a llama at the vet's office (it's a rural city).

Cindy, my person, hates sad animal stories (she claims she's never gotten over Old Yeller, whatever that is), but she says that while there are many deaths in these stories, Robynn tells them in such a way that they're not sad, only poignant (she had to explain that one to me, too). In fact, she compares the stories to those of another favorite author of hers, James Herriot. She also likes the additions of statements and poems by Robynn's daughter, Ahrynn. My favorite parts were the ones where the animals actually told their stories themselves. Being a particularly bright dog, I know that all animals are capable of good writing. It's nice to see that someone else agrees with that!

While some might not agree with Robyn's take on the ability of animals to communicate spiritually, everyone should enjoy her upbeat stories about what she has learned from her friends in the animal community. As a dog, it is particularly comforting to think about what might await me in the afterlife. All pet owners should share this book with their four-legged friends and thus gain an understanding that their own "Opal" has much to tell them.
Reviewed by Latte Rogers
THE Cavalier King Charles Spaniel
---





(rated 5 out of 5 paws)
Chow Hounds: Why Our Dogs Are Getting Fatter - A Vet's Plan To Save Their Lives by Dr. Ernie Ward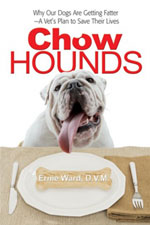 Paperback: 312 pages
Publisher: HCI (March 2010)
ISBN:978-0757313660
Dogs are turning from "Man's Best Friend" to "Man's Best Blimp," right before our very eyes. What can people do to stop this epidemic?
Stop "Free-feeding" your pets. Free-feeding means that you put food down and leave it out all day, refilling it occasionally. This doesn't work because we can't count on our pets to count their calories. Just like humans, pets can get become bored or stressed, and they will eat food that is readily available and eat more than they need to.
We tend confuse the communication signs from our pet. When we see our dog pleading with us with those "puppy-dog-eyes," we give them food. But what that pet is really asking for when they beg like that is for us to spend some time with them. Instead, we end up giving them food.
Just how many calories does your pet need in a day? You need to factor in their lifestyle, their age, and so forth. For example, an average indoor spayed/neutered housecat probably only needs about 180 to 200 calories per day. You will find out how to calculate this in his book, Chow Hounds.
How can you tell if your pet is fat? Look at the stomach region or hindquarters of your cat or dog when they are standing up. In a normal animal, there is going to be an upward slope, a flat belly. However, most of our pets have this hanging skin, which Dr. Ward calls "Swifter Cat" because the skin drags the ground. This is the most dangerous and unhealthy type of fat on our animals. The healthy fat is in their rump area. Next, can you feel your pet's ribs? Can you lightly touch them without having to dig around? Lastly, stand over your pet and look down at them while they are standing. They should have an hourglass shape.
In Dr. Ward's book, Chow Hounds, you will see how to choose the best commercial diets; feed a dog healthily; create wholesome meals from scratch without added fat, fillers, sugar and salt; decipher the good, the bad and the ugly of nutritional supplements and weight loss formulas; get a dog into the best shape possible and sustain a dog's weight loss. Filled with real-life case studies throughout, this book will inform, inspire and enlighten a dog owner in order to better care for a pet. It's about making informed, responsible choices that will dramatically enhance the overall well-being of a dog.
Reviewed by Judy Francis - co-host Animal Radio®
---




(rated 4 out of 5 paws)
Insectopedia by Hugh Raffles

Hardcover: 480 pages
Publisher: Pantheon (March 2010)
ISBN:978-0375423864
Hugh Raffles grew up in London, England. He has been an ambulance driver, a nightclub DJ, a theater technician, a busboy, a cleaner, and a scrap metal yard worker. Currently, he lives in New York City where he teaches anthropology at The New School.
Hugh took on the challenge of categorizing stories into an encyclopedia on insects. It took him about 7 years to get it done. At first he though he would figure out how to talk about insects, but he gave up on that pretty quickly, as it was just too hard to make sense of these complicated creatures. So in the end, he ended up writing about interesting encounters and connections between people and insects.
One of the most fascinating things Hugh learned when writing Insectopedia, was about people in China who train crickets to fight. This has been going on for perhaps a thousand years or even longer. The crickets are put into an arena, where bets are placed. These people raise the crickets, give them special food, give them medications when they are sick and train them how to fight. But unlike dog fighting, the crickets do not fight to their death, but until one of them gives up. It's pretty easy to tell which cricket has won, as the winner will puff up and sing while the loser looks embarrassed and slinks off.
If you love insects like Hugh does, you will love this book.
Reviewed by Judy Francis - co-host Animal Radio®
---
(rated 3 out of 5 paws)
Tales From The Bark Side by Heidi Ganahl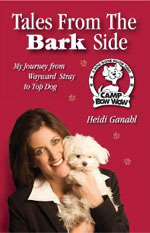 Paperback
Publisher: Heidi Inc. (March 2010)
ISBN:978-0984253005
In the span of a decade, Heidi Ganahl lost her young husband and the million-dollar settlement she received from his death.
Prior to his death, Heidi and her husband were the guardians of 3 large dogs. They sort of wore their welcome out with friends and family, using them as pet sitters. They then came up with the idea creating of an environment where dogs can play with each other all day long and have great fun. This was at the skepticism of people, and veterinarians, who didn't believe that a bunch of dogs could play together without fighting.
In 2000, after a series of trials with only $83,000 from her husband's crash, Heidi was encouraged by her brother to take a leap of faith and start Camp Bow Wow. She invested the last of her savings ($83,000) and opened the first camp in Denver in the fall of 2000.
In her book, you will find information on how to build a successful business; strategies for developing and implementing a standout brand; and important actions women must take to achieve success.
Reviewed by Judy Francis - co-host Animal Radio®
---



(rated 3 out of 5 paws)
It's A Dog's World: The Savvy Guide to Four-Legged Living by Wendy Diamond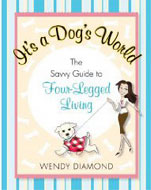 Hardcover: 144 pages
Publisher: Ballentine Books (February 2010)
ISBN:978-0345514455
Wendy's new book, "It's A Dog's World," is a fun and useful guide for anyone who thinks of Man's Best Friend as a member of the family. It chronicles what Wendy has brought into the lifestyle of the world of pets in the last 10 years, starting with the adoption of her dog Lucky and her creation of the first ever doggy-fashion show! While Wendy doesn't take credit for all of the people who dress their dogs everyday, she does take credit for the people who actually understand that it is important for certain breeds to have jackets in the cold and to also protect hairless dogs from the sun with clothing. However, even she doesn't promote dressing up your dog everyday in a tutu!
Ten years ago, dogs were named spot and lived in the backyard. Today, they live in our homes and sometimes have nicer beds than we do and are named "people" names. "It's A Dog's World" contains tips for humans from the doggie perspective, along with tips on grooming, training, food, travel and exercise. This fun and entertaining guide is for anyone whose life has blissfully gone to the dogs!
Reviewed by Judy Francis - co-host Animal Radio®
---




(rated 3 and 1/2 out of 5 paws)
Altruistic Armadillos, Zenlike Zebras by Jeffrey Moussaieff Masson

Paperback: 448 pages
Publisher: Skyhorse (February 2010)
ISBN: 978-1-60239738-5
If you're like me, you love all animals big and small, and you're intrigued by the unusual facts about them. Did you know lobsters spend a week of 'quiet-time' together after mating? I'm sure you knew that Prairie Dogs kiss and that sea otters are the only other animal besides humans and primates to utilize tools for food foraging? Didn't think so. Great bathroom reading with full color illustrations and great writing from this best-selling author. Keep a copy in your library.
Reviewed by Hal Abrams - host Animal Radio®
---




(rated 3 and 1/2 out of 5 paws)
Bad To The Bone: Memoir of a Rebel Doggie Blogger by Bo Hoefinger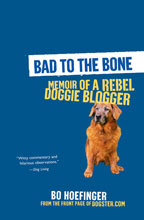 Paperback: 272 pages
Publisher: Citadel Press (October 2009)
ISBN: 978-0806531298
Bo Hoefinger is an author. He is also a dog; a very witty dog with a taste for just about anything and a lively self-centered approach to life.
Bo tells the story of his foible-filled life from the moment his mother strolled through the shelter through the lazy days of a contented life many years later. Unlike many authors, Bo doesn't try to cover up the truth with fancy words or alliterative devices. No, Bo just says it like it is and in doing so provides the reader with fantastic stories of chipmunk chasing, car driving, food stealing fun. And he's happy to answer personal questions about his life.
Question: If you were to adopt a cat, what would you name it? Bo's Answer: Lunch. This four-legged guy is a crack up!
Reviewed by Sasha Foster, Founder Canine Fitness Zone
Co-Author of "The Healthy Way to Stretch Your Dog" - Winner Best Health & Care Book 2009 and Dogwise Book of the Year
---






(rated 5 and 1/2 out of 5 paws)
Making Rounds with Oscar by Dr. David Dosa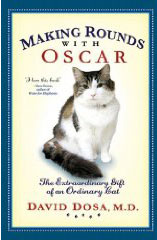 Hardcover: 240 pages
Publisher: Hyperion (February 2010)
ISBN: 978-1401323233
This is an amazing story of Oscar, the cat, who basically predicts death.
We all know that pets have special abilities, but no one knows just how Oscar does this. Perhaps he smells odors given off by dying cells or perhaps he has a sixth sense to pick up on these things.
Oscar resides at Steere House, which treats patients with severe dementia. It's usually the last stop for people so ill they cannot speak, recognize their spouses and spend their days lost in fragments of memory.
When Oscar appears at someone's bedside, the staff knows it's time to call the family members together. But instead of frightening the families, they actually get comfort knowing that Oscar was with their loved one at the end of their life.
This is one of those books you will not be able to put down. Perhaps after reading it, you will look at your own pet in a different light.
Reviewed by Judy Francis
---






(rated 5 and 1/2 out of 5 paws)
Good Dogs, Bad Dogs, Best Friends (CD) by Gregg Miner & Company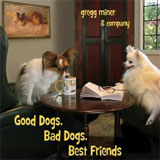 Total Length: 45:55
Label: Harp Guitar Music (November 2009)
ASIN: B0039FA210
What a beautiful project Gregg Miner and his friends have produced! Each piece is dedicated to a certain dog, complete with a "blurb" which introduces the muse for each. Add to that the fact that a part of the purchase price of the CD goes to dog charities, and what more can you want? Now, most of the music is performed on something called a "harp guitar," something even my musician people were not familiar with. However, from the easy napping pieces to the ball-chasing songs, the material is an interesting, pleasing endeavor which every dog should own. To give you my specific thoughts, I'll briefly review some of my favorites:

Initially, "Auggie Doggie" trained our ears to the different sounds of the harp guitar, which according to my people, sounded like a cross between the blue grass banjo that Joe's dad enjoyed and the Irish harp that they loved when they visited Ireland. In fact, Track 4, "Maezi McGillicuddy," is played on a Celtic Harp, so it's one of their favorites. There are several songs that appeal to me because they're "just chillin'" songs—Cody's song ("Gone Fishin'" Track 3) says he loves to snuggle just like I do. I call a second group my "bone chewing" music; these are a bit bouncier than the first, such as Track 6, "Adventure Dog." Here, Ben is represented for his adventurous spirit in traveling the Appalachian Trail despite having only three legs. Now you might think that that music might not fit chewing a bone, but you've never seen me attack one!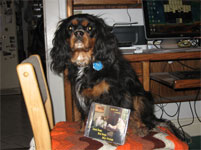 I group the rest of the pieces into a set I call "ball-chasing," even though some are also for spinning, twirling, and cat and/or squirrel chasing. Number 14 is even called "Squirrel Chase," one of my favorite things (but cats work "purrfectly" well if a squirrel is not handy). My person Cindy loves that one too, because she says that the syncopation is especially interesting, not that I understand that, but her feet tapped extra hard during it, and tapping feet are also fun to play with! Finally, the best of all is the bonus track, "Two Little Dogs," because the dogs and their toys actually had a part in the song.

My only criticism of this CD is that the dogs should have had lyrics in every song. After all, we dogs sing pretty well, if I do say so myself.

All-in-all, "Good Dogs, Bad Dogs, and Best Friends" is a CD made for all dogs and their people. Dogs in America, start a chorus to lead your family to www.twolittledogs.com to purchase your next treat, so you, too, can join Auggie and Maezi in creating your own lyrics. Who knows? Maybe Gregg and his friends will write a song about you!

Reviewed by Latte Rogers
THE Cavalier King Charles Spaniel
---




(rated 4 out of 5 paws)
Healing Companions by Jane Miller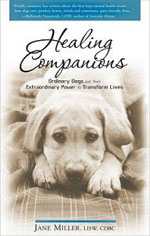 Paperback: 256 pages
Publisher: New Page Books (January 2010)
ISBN: 978-1601630933
There are many different types of assistance dogs, with everything from therapy dogs to guide dogs, and now even psychiatric service dogs.
Therapy dogs traditionally visit nursing homes, schools and do reading programs in libraries. These dogs area not specifically working for you, they are working for the people that they visit. Guide dogs are assistance dogs trained to lead blind and vision-impaired people around obstacles.
Psychiatric Service Dogs help people with "hidden disabilities." Hidden disabilities can range from epileptic seizures to someone who has post-traumatic stress syndrome or someone who even has an eating disorder.
The next time you see a service dog but the handler doesn't appear to be blind, it doesn't mean that they should not have the dog. It is important to show some compassion. When you come across an assistance dog, do not pet, make noises or call to the assistance dog, because he is working. Remember, "Just because you can't see it, doesn't mean it's not real."
Find out more about real people who cope with these disorders everyday with the help of their dogs.
Reviewed by Judy Francis
---






(rated 5 and 1/2 out of 5 paws)
Guinness World Records 2010

by Guinness World Records

Hardcover: 288 pages
Publisher: Guinness World Records (September 2009)
ISBN: 978-1904994503
There is a little bit of everything that made it into the Guinness World Records 2010 book, but my favorite tidbits are those of the animal oddities.
Some of the amazing animal records you will find in the Guinness World Records 2010 are:
LONG AND SHORT OF IT
Gibson, meet Boo Boo! The tallest dog ever, 42.2-in.-high harlequin Great Dane Gibson, goes nose-to-nose with the world's shortest dog, 4-in.-tall Boo Boo. Sadly, Gibson died of cancer in August, but the title remains his until a new tallest dog is found.
A HORSE, OF COURSE
Don't try to saddle up to this little guy! Thumbelina, a miniature sorrel brown mare who captured the title of smallest living horse in July 2006, stands just 17.5 in. high. The tiny trotter lives on Goose Creek Farm in St. Louis, Mo.
JUMP FOR JOY
1, 2, 3, hop! Sweet Pea the Australian shepherd/border collie completed 75 jump-rope skips in one minute on Live with Regis and Kelly in August of 2007. But that's not all the amazing pup's done: She also holds the record for the most steps climbed by a dog balancing a glass of water on the snout — 17 in total!
HEAR ME NOW?
My, what big ears you have! Seriously — bloodhound Tigger's ears measured 13.5 in. on the left and 13.75 in. on the right in 2004. We bet he almost catches air when he runs for his food!
MOO JUICE
German farmer Gunther Wahl could make many milkshakes with the milk he extracted from his cow in just two minutes in 2008 — 2 full liters! The amount broke the world record, and still stands today.
MIGHTY SMALL
Here's looking at you, puppy! Heaven Sent Brandy, a Chihuahua, measured just 6 in. from tip to tail in 2005, snagging the title of smallest dog, length-wise. Perfect for a bun ... just kidding!

SHELL SHOCKED
So what if it's slow? The 2-lb. African giant snail Achatina achatina is the largest known land gastropod, measuring 15.5 in. from snout to tail. The shell is 10.75 in. alone!
MOUTHING OFF
Here's one we're not looking to break: The most rattlesnakes held in the mouth. That title goes to Jackie Bibby, who held 10 live rattlesnakes in his mouth — without assistance — for 10 seconds in New York City in 2006.
Guinness receives about 50,00 inquiries every year from around the world for different types of records, and I am sure you will find something that will interest you, and you will spend hours looking through this book!
Reviewed by Judy Francis
---



(rated 2 and 1/2 out of 5 paws)
A Mountain of an Artist by Naaman Hills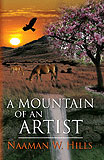 Hardback
Publisher: Xlibris (November 2009)
ISBN:9781441583581
A Mountain of an Artist is a collection of poetry that commemorates the natural world by Naaman Hills. You will learn many things about Naaman Hills through his poetry. First of all that he is a spiritual man and secondly he is a lover of nature. But I have to tell you; this is not a religious piece of work.
It is nice to see that Mr. Hills hasn't forgotten about the animals. You will find many poems of animals sprinkled throughout, from dogs (a Collie from Brooklyn, New York) to the flightless ostrich. Mr. Hill's poetry also includes real life situations (perhaps you have encountered some of these yourself!).
Throughout the book, you will find many photographs of Naaman and his wife, opposite an appropriate poem (I have to say - they are a good looking couple!!)
Sometimes you just have to sit down, take a break, and gather your animals around you for reflection. With Naaman's book of poetry, you can allow the beauty of nature to charm you while doing so.
Reviewed by Bob Roth
---





(rated 4 and 1/2 out of 5 paws)
You Can Train Your Cat: Secrets of A Master Cat Trainer by
Gregory Popovich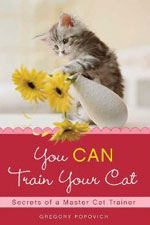 Paperback: 240 pages
Publisher: St. Martin's Griffin (October 2009)
ISBN-10:0312565283
ISBN-13:978-0312565282
Since the beginning of time, cats have convinced the world that they are untrainable so they can do whatever they want…but those days are over! Gregory Popovich is a professional cat trainer, who's worked with cats for over 20 years and has trained them to perform amazing circus-style tricks for television and stage.
Gregory created The World Famous Popovich Comedy Pet Theater showcasing the extraordinary talents of his performing pets. After every show, someone comes up to him and asks him the same question, how did you train your cats?
So, he decided to put his answers down in a book, "You Can Train Your Cat: Secrets of a Master Cat Trainer." In his book, you will find tips on how to train your cats to do circus-style tricks, as well as:
* Stop bad litter box habits
* End early-morning howling
* Banish your cat from tabletops and countertops
* Prevent begging before mealtime
* Put an end to destructive clawing
* Make peace between rival cats
One of his secrets is that you can't "train" a cat to do anything it doesn't want to do. As a result, he tries to build on the animal's natural habits and what they like to do. For example, if he has a cat that likes to walk around his legs, he has the cat do that in his show. Or perhaps he has a cat that likes to sit on his shoulders. He will then use that cat to do this is in his show. Each cat in his show only has one or two tricks. But, because he has about 18 cats in his show, he has about 18 different cat tricks.
While it saddens Popovich to think about any animal as being unwanted, he said it's important to support organizations that focus on preventing pet overpopulation and work to find every animal a good home. That is why all of his animals are adopted from shelters.
You can see Gregory Popovich and the Comedy Pet Theater at the Miracle Mile Mall at Planet Hollywood Casino Resort in Las Vegas, Thursdays through Mondays.
Reviewed by Judy Francis
---




(rated 4 out of 5 paws)

In The Footsteps Of The African Elephant by Cyril Christo & Marie Wilkinson
Hardcover: 160 pages
Publisher: Merrell (October 2009)
ISBN-10: 1858945054
ISBN-13: 978-1858945057
Environmental Artist Christo's son, Cyril, has created a stunning photo book of elephants, called Walking Thunder. His message is poignant. Elephant populations are declining because of illegal poaching and the destruction of our environment.
Cyril and his wife Marie describe their journey and mission, as well as their plea to salvage what is left of the planet. Along with the photos are quotations, myths and stories from the past 400 years. Walking Thunder is the perfect book for anyone passionate about the conservation of our planet and the African elephant, which has become an endangered species and whose future is uncertain. In fact, if things continue they way there are, we could lose these magnificent creatures within as little as 15 years.
A portion of the proceeds from Walking Thunder will be donated to the David Sheldrick Wildlife Trust in Kenya.
Reviewed by Judy Francis
---





(rated 5 out of 5 paws)

Why Dogs Are Better Than Cats by Bradley Trevor Greive
Hardcover: 224 pages
Publisher: Andrews McMeel Publishing (October 2009)
ISBN-10: 0740785133
ISBN-13: 978-0740785139
Bradley Trevor Grieve is not anti-cat he's just pro-dog and the purpose of this interview isn't to criticize cats and their owners, but to champion the many virtues unique to dogs.
Bradley thinks that cats are wonderful, exquisite creatures deserving of great love and affection and he is absolutely in awe of people who keep them in their homes. But, he thinks as a pet, dogs are vastly superior on every level!
He feels that the word "Pet" has been extremely perverted for a lot of reasons. Many of these reasons are commercial, but a pet to him is not just a creature that happens to live in your house, no matter how wonderful they are, but an animal companion, something of which you have a genuine connection with. It's not about ownership, but companionship.
In terms of intelligence and social ability that enables that connection, he feels that dogs are in a league of their own. There is a chapter in is book, not about dogs vs. cats, but how dogs acquired the status of man's best friend.
The reason dogs surpass all other species is quite simple: They get people—they really do. It's been this way since dogs and humans first bumped into one another and thought, "Hey, this could work!" For more than 15,000 years, dogs and humans have been drawn together by mutual cooperation, shared values, and a sense of joyous fraternity. Cats, on the other hand, came for the mice and stayed for the fish sticks. It goes beyond the fact that dogs are motivated by love and cats are motivated by food. In the simplest terms…dogs are social and cats are sociopaths!

What makes Bradley laugh are people defending cats' intelligence on a basis of perceived superiority. Being slim and slinky with a button nose and a sense of superiority is not a sign of advanced intelligence, and if it were, Paris Hilton would be a certified genius!
The books contains many beautiful photos of cats and dogs taken by photographer and best-selling author Rachel Hale.
Reviewed by Judy Francis
---




(rated 4 out of 5 paws)

Dogs & Devotion by Monks of New Skete
Hardcover: 96 pages
Publisher: Hyperion (November 2009)
ISBN-10:1401322964
ISBN-13: 978-1401322960
The Monks of New Skete are an Eastern Orthodox monastic community in Cambridge, New York. Founded in 1966 they support themselves by breeding German Shepherds and training all breeds of dogs at the monastery.
They are sort of known in the dog world as "The Monks Who Live With Dogs." Each brother, who is capable of it, has one or two companion dogs that he takes care of.
They didn't start out with the purpose of training dogs. Back in 1966, the founding Brothers had a mascot named Kier, a German Shepherd that they had obtained from the Seeing Eye in Morristown, New Jersey. Just the joy and spirit of that dog helped the Brothers through those first couple of years in a very unexpected way. Kier didn't take himself too seriously and he just lightened the whole atmosphere. After about two years, Kier passed away. The Brothers felt the loss so deeply, that they had to get a couple of replacement dogs, German Shepherds, naturally! The breeder who supplied the dogs suggested that since they would be raising these breeding quality dogs, they might consider breeding a few litters.
The Brothers then realized that they were in a unique position. They were able to care for the Shepherds, with each Brother taking care of one dog, without it becoming a puppy mill. Strangely enough, there were a lot of people who were interested in adopting a German Shepherd puppy that was trained at a monastery!
The Monks of New Skete are the authors of many books, with their latest on Dogs & Devotion. It was written to help people experience the deeper dimensions that are present in the human/dog relationship where dogs can actually be the window into deeper self-knowledge.
Reviewed by Judy Francis
---





(rated 5 out of 5 paws)

Inside of a Dog: What Dogs See, Smell and Know by Alexandra Horowitz
Hardcover: 368 pages
Publisher: Scribner (September 2009)
ISBN-10:1416583408
ISBN-13: 978-1416583400
Truth is that canines don't feel guilt but this look was developed to appease you, according to Alexandria Horowitz. One example of how humans assign human-based traits to our dogs is when your dog comes up to you and licks your face. To you, this feels like love and affection. But to your dog, it may mean something else entirely. If we look at their ancestor, the wolf, it is exactly the same action. But in their case, it occurs when a wolf returns to the den after a successful hunt and all of the other wolfs mob him and lick him around his face. While this is a greeting, it is also a request for him to regurgitate what he has killed, which he does. So when your dog does this, it is still a greeting but it might also be a request for your sandwich! We may also think those puppy eyes are expressing remorse or even guilt for something your dog did wrong, but it is probably anticipation that they are going to be scolded.
Another thing is the clothes we put on them. We might feel better when we put a raincoat on them in the rain, but they are probably feeling things a little different. Again, if you look at wolf behavior, wolves press down on other wolves' backs to dominate or punish them. So the feeling of a raincoat on your dog probably produces the feeling that someone who is stronger or has more authority is pressing down on them. A lot of the products for pets being sold aren't necessarily necessary for pets, but they make us feel better!
Also, when you purchased that new high-def TV, you were probably thinking how crisp the picture appears to you. Did you know that your dog couldn't see what we saw with your old TV? It just looked like the horizontal hold needed to be adjusted because all your dog saw were lines going up and down. Today's new Digital Television delivers the signal differently, and yes your dog can see the same picture you see, but probably not the same colors. Red is still white to the canine eye.
After reading Inside of a Dog you will look at your dog's behavior in a different and revealing light!
Reviewed by Judy Francis
---



(rated 3 out of 5 paws)

The Tazie Effect by Heather Whittaker
Paperback: 92 pages
Publisher: Pen-Tech Professional (April 2009)
ISBN-10: 0982096208
ISBN-13: 978-0982096208
As a primer for first-time middle managers, "The Tazie Effect" translates complex management and leadership theory into easy to understand concepts. The skills and ideas contained here are not new, but are presented in a creative and entertaining way.
Each chapter begins with a story about the author's miniature pinscher, Tazie, illustrating the concept Whittaker is presenting. For example, in the chapter "Provide Plenty of Positive Feedback," Whittaker uses Tazie's penchant for treats to segue into why it's important to provide the people you manage with positive feedback. Examples of other chapters are "Be an Optimist," "Put People First," and "Pay Attention to Detail."
While the stories about Tazie are cute, I think the links they provide to the management concepts are tenuous at best. That's not to say there's no meat to this book. Whittaker has written an easy to understand and entertaining guide for new managers. It's the kind of book you'd want to read if you've just been promoted to manager and are wondering…yikes, now what do I do now?
The concepts are not overwhelming and very easy to implement. In today's economy, when workers are finding it increasingly difficult to remain positive, Whittaker's optimistic perspective is a breath of fresh air and her concepts are sound and time-tested. But if you're looking for some unique canine relationship to managing people, I'm afraid this book falls short.
Reviewed by Lillian Seldeen
---





(rated 4 and 1/2 out of 5 paws)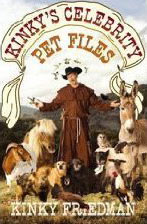 Kinky's Celebrity Pet Files by Kinky Friedman
Hardcover: 224 pages
Publisher: Simon & Schuster (October 2009)
ISBN-10: 1416592784
ISBN-13: 978-1416592785
Kinky Friedman - not only a man of the people, he's also a man of the animal kingdom! Kinky is also running once again for the Governor of Texas.
Kinky is a man who wears many hats -- not just a Stetson. Aside from being a politico, folksinger, and mystery author, he's also a longtime animal advocate and feels as passionately about his pets as he does about legislative reform.
Kinky has written a new book, "Kinky's Celebrity Pet Files." In his new book, the Kinkster writes about his famous friends and their pets you've never met, each with a story as offbeat as Kinky himself. Kinky believes that the only types of books people are buying are pet books and celebrity books. So how can he miss with a pet celebrity book! Kinky received a great response from celebrities he approached to be in his book, but was surprised when Dillon and Don Imus turned him down. However, that is why there are Volume II's of books!
Part of Kinky's platform when he becomes governor is that this book is going to be mandatory reading in the public schools and that all teachers receive a $3,000 salary raise across the board. Kinky states that the two things that came out of the book are just how high of a place that these great and famous people put their animals; and his real desire for him to make Texas a no-kill state. This means no killing cats, dogs, horses and even people!
Kinky runs the Utopia Animal Rescue Ranch, which is currently home to many dogs, pigs, donkeys, horses and cats, which are available for adoption. He also still has his pet armadillo named Dilly. Please check out the Utopia Ranch for more information.
Reviewed by Judy Francis
---




(rated 4 out of 5 paws)

The Jaguar's Shadow by Richard Mahler
Hardcover: 376 pages
Publisher: Yale University Press (September 2009)
ISBN-10: 030012225X
ISBN-13: 978-0300122251
Escape our fast moving immediate gratification world by following The Jaguar's Shadow.
This well written autobiographical journey leads the reader from the rugged high mountain deserts of the Southern United States to South American jungles in search of this powerful creature who has been imbued with mystical powers through the ages. Brimming with the reasons why conservation is so vital to the continued health of any species, the book takes a hard look at how local economic and cultural factors influence any conservation effort and offers real world examples of individuals who, by thinking creatively, develop conservation programs that become integral components of local communities.
This book is a wonderful discussion piece for any book club as well as a detailed educational tool for anyone interested in local and international conservation efforts.
Reviewed by Sasha Foster, Founder Canine Fitness Zone
Books, Classes, & Seminars for Happy, Healthy Dogs!
---




(rated 4 out of 5 paws)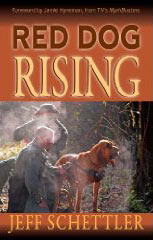 Red Dog Rising by Jeff Schettler
Paperback: 256 pages
Publisher: Alpine Publications (December 2009)
ISBN-10: 1577791045
ISBN-13: 978-1577791041
Having a father who was on the police force naturally made me curious about the justice system. To top it off, one day my father brought home two German Shepherd K-9 Cops, one that was recently retired and the other who didn't make the grade. Growing up with these two dogs hold some of my most memorable moments of the police work that these dogs do. As a result, I was fascinated with this book.
In his book, Red Dog Rising, Jeff Schettler, a retired police K9 handler, chronicles his career in law enforcement with his bloodhound trailing dog, Ronin. Both Jeff and Ronin had a tough start, as there were very few bloodhound trainers when they began and most law enforcement agencies didn't deploy bloodhounds.
Jeff writes about some of the searches he made with Ronin, some successful, some not so successful, and other that were quite embarrassing (for Jeff!). But over the years both Jeff and Ronin were able to prove themselves and became very well respected in their field.
Even if you area not particularly interested in these police dogs, but perhaps just love dogs, you will enjoy this book!
Reviewed by Judy Francis
---




(rated 4 out of 5 paws)

Badge On My Collar: A Chronicle of Courageous Canines by Marilyn Jeffers Walton
Paperback: 228 pages
Publisher: AuthorHouse (December 2007)
ISBN-10: 1434341860
ISBN-13: 978-1434341860
I found this book to be completely fascinating. The author spent 20 years collecting the amazing vignettes that compile this book. It outlines the incredible stories of 15 K9 officers and their human partners and the special relationships between them. Each story illustrates an example of how the dog's bond with their handler enhanced their ability to perform their job and the obstacles each team has to face daily in the line of duty.
This book was full of facts and descriptions about the different kinds of work that K-9 officers are trained for and what the training entails. It features many different types of working K-9's such as police dogs, cadaver dogs, bomb dogs, drug dogs, tracking dogs, and MWD (Military Working Dogs). German shepherds are prominently featured, however some other types of dogs are included. This was a great read—and for those who cannot get enough, there is a sequel--Badge On My Collar II, which chronicles working K9's from around the globe.
Reviewed by Kelly Drake
---





(rated 5 out of 5 paws)
Rescue Ink: How Ten Guys Saved Countless dogs and Cats, Twelve Horses, Five Pigs, One Duck and a Few Turtles by Denise Flaim
Hardcover: 256 pages
Publisher: Viking Adult (September 2009)
ISBN-10: 0670021164
ISBN-13: 978-0670021161
Rescue Ink is not a gang, vigilantes or a social organization, but they do have that certain "in your face" style when it comes to animal abusers. You may find them hanging out together at a hot rod show, tattoo parlors, or even hitting up the blacktop together on their bikes for a little road trip, but the main thing that brings them together is their love of animals. They met because they were all doing the same thing on their spare time: rescuing and finding homes for abandoned and abused animals. None of them did it for money; they did it because they cannot stand by while anyone mistreats an animal!

Rescue Ink was formed because the problem of animal abuse and neglect has grown beyond the resources of the existing animal welfare agencies. They love the work done by some of the local shelters, but they cannot possibly keep pace with the volume of problems that need to be addressed.

That's where Rescue Ink comes in. They will stop at nothing within the bounds of the law to protect animals at risk. They will intercede without hesitation when they are informed of a situation that needs to be addressed, and they will address it. If they need to convince people to do the right thing ... they can be very convincing, they'll even buy animals if that's what it takes to get them away from abusers. Other rescue organizations might leave notes on doors when looking for possible abusers and no one is home, but Rescue Ink might camp out in their front yard and even order a pizza until they arrive!

Rescue Ink™ is all about zero tolerance when it comes to animal abuse and neglect. Their ranks are growing every day, as Americans from coast to coast are reaching out to join in our efforts. If you know something they should know, give them a call... NOW!
In their book, Rescue Ink, you will find some of the actual rescues they have done. You will be amazed at how they will stop at nothing to make sure that every animal who is at risk is protected.
Look for their National Geographic Show, Rescue Ink, every Friday by checking your local listings.
Reviewed by Judy Francis
---




(rated 4 out of 5 paws)

Marley Goes To School by John Grogan
Hardcover: 40 pages
Reading Level: Ages 4-8
Publisher: HarperCollins (July 2009)
ISBN-10: 0061561517
ISBN-13: 978-0061561511
In his debut bestseller, Marley & Me, John Grogan showed how a dog can become an extraordinary presence in the life of one family. John has now begun writing children's books about Marley and has been going around to the schools and talking to the children. He's brave – he is sometimes in the room with 200 first graders! The kids really enjoy being read to about Marley, and can actually relate to him. Marley himself was like a little kid who couldn't control himself and had too much energy. While the movie was sort of a "date" movie, most of the kids have seen the movie and know who Marley is.
In Marley Goes to School, It's the first day of school, and Cassie is all set to go. So is her dog, Marley! Although he's told to stay, Marley digs a tunnel out of the backyard and sniffs his way to school. As he roams the halls looking for Cassie, he finds trouble instead. From wolfing down hot dogs in the cafeteria to setting free a bunch of mice in science class, Marley won't stop until he locates his best friend. This lovable and rowdy dog may not be much of an academic, but he's certainly full of school spirit. Packed with action and hilarious Marley bad-boy antics, this follow-up to the best selling Bad Dog, Marley!
This is perfect timing for those little ones embarking on a new journey of going to school for the first time!
Reviewed by Judy Francis
---





(rated 5 out of 5 paws)

Homer's Odyssey by Gwen Cooper
Hardcover: 304 pages
Publisher: Delacorte Press (August 2009)
ISBN-10: 038534385X
ISBN-13: 978-0385343855
Homer the cat is blind and has always been blind. He was found at two weeks of age with a very bad eye infection. Nothing could be done to save his vision, and as a result, his eyes have been removed.
The last thing Gwen Cooper wanted was another cat, as she already had two. But when her vet called her and told her about a three-week-old eyeless kitten who'd been abandoned, she just had to go meet him. That was all it took – it was love at first sight!
Everyone, including Gwen, originally thought that Homer would have a hard time getting around. But Homer has proven everyone wrong. Gwen's husband even compares Homer to Daredevil, the Marvel Comic Hero who is blind but has super-power-other-senses. In fact, Homer can tell the different between a can of tuna and a can of tomatoes while they are still in the cans! Homer doesn't bump into things and can leap five feet into the air to catch flies in mid-buzz.
Before Gwen was married, she had to explain her cat to anyone she brought home. One time she failed to tell a date. When they arrived at her house, Gwen opened the door to find Homer with a tampon in his mouth. It turns out Homer thinks they're cat toys and can find them anywhere Gwen hides them, as he can open drawers and cupboards with ease! Gwen never saw that guy again!
Homer even survived being trapped alone for days after 9/11 in an apartment near the World Trade Center and even saved Gwen's life when he chased off an intruder who broke into their home in the middle of the night.
You have to read this story about this amazing little guy who is now 13 years old!
Reviewed by Judy Francis
---




(rated 4 out of 5 paws)

Safe Dog Handbook: A Complete Guide to Protecting Your Pooch, Indoors and Out by Melanie Monteiro
Spiral-bound: 168 pages
Publisher: Quarry Books (March 2009)
ISBN-10: 1592535194
ISBN-13: 978-1592535194
We live in a world full of disasters, both manmade and natural. For example, California is currently going through their wild fire season and Florida is gearing up for hurricanes. But when these occur, that is not the time to think about the safety of your pet. You should plan ahead for all emergencies.
The Safe Dog Handbook gives you some great information and tips for your family evacuation plan and your emergency preparedness plan, which include your pet. This means preparing an evacuation kit for both you and your pet. These should include a supply of food and water for about 3-5 days; a spare leash; make sure your pet's collar and ID are current; vaccinations records, microchip information and all medication. It is also very important to have a current photo of your pet.
A good idea is to learn CPR for pets. Another good idea is to make sure that you have your pet's veterinarian's phone number programmed in your cell, as well as the number to the local pet emergency clinic.
Some of the things you will find in this guide are:
* Dog- and puppy-proofing basics
* Color, illustrated first-aid guide
* Complete toxic plant guide
* Dangerous "people" foods and safe alternatives
* Disaster preparedness
* Tips for safe driving, flying, boating and outdoor adventures
* Holiday safety and how to avoid weather-related hazards
* Special section for toy breeds
Dog owners can feel comforted by the fact that their pets have an even better chance of staying safe because they know how to spot hazards, prevent accidents and respond to emergencies.
Reviewed by Judy Francis
---





(rated 5 out of 5 paws)
A Big Little Life: A Memoir of a Joyful Dog by Dean Koontz
Hardcover: 288 pages
Publisher: Hyperion (August 2009)
ISBN-10: 1401323529
ISBN-13: 978-1401323523
Everybody knows Dean Koontz. He is an enormously popular novelist with eleven #1 New York Times bestsellers to his credit. But do you know Trixie? She was the Koontz family's beloved golden retriever who passed away in 2007. Trixie even authored her own book, Bliss To You, and she had quite a following of her own.
In Dean's latest book, A Big Little Life: A Memoir of a Joyful Dog, Dean's first non-fiction work, he talks about Trixie's life and how she touched all those who knew her. Trixie weighed only sixty-something pounds and Dean occasionally called her Short Stuff. While she lived less than twelve years, she lived a big life.
Dean describes Trixie as a little dog with a huge heart. He talks about her ability to recognize good character, her adventurous nature and her love of practical jokes! Trixie affected everyone who was lucky enough to cross her path. Like no other book authored by Dean, this one lets you into his private life and gives you a look into his home and family life. Find out about his past, his inspiration for writing and his life with his wife.
After about eight months of grieving the loss of Trixie, Dean and his wife felt they were ready for another dog. They contacted Canine Companions for Independence (CCI), a nonprofit organization that trains dogs to assist people with disabilities, once again for another Golden Retriever and received Anna. She has a totally different personality from Trixie, but what Dean didn't know when adopting her, was that she is a descendent of Trixie. Anna's grandfather turned out to be Trixie's littermate.
Dean also reveals that Trixie's book, Bliss to You, sold more copies than any book of his, so we think there is a little envy in the Koontz' household! But don't expect his new dog Anna to author any books of her own, Dean says she is more of a mathematician!
All of the author's proceeds from the sales of A Big Little Life will be donated to CCI.
Reviewed by Judy Francis
---






(rated 5 and 1/2 out of 5 paws)
Don't Dump The Dog: Outrageous Stories and Simple Solutions to Your Worst Dog Behavior Problems by Randy Grim
Paperback: 240 pages
Publisher: Skyhorse Publishing (August 2009)
ISBN-10: 160239640X
ISBN-13: 978-1602396401
Randy Grim knows that "bad" dogs are often "returned" when their behaviors don't improve—he runs the biggest stray rescue organization in the Midwest, called Stray Rescue. He's heard all the excuses. In fact, one dog was returned because the guardians put in white carpet and the dog had black hair that shed.
In his new book, Don't Dump the Dog, Randy tries to figure out how to stop people from dumping their dogs at shelters without going on a rant or yelling at them, so he made fun of himself.
In one chapter, Randy talks how he adopted out some puppies. When a prospective adopter would arrive, Randy would be decked out in his robe, have disheveled hair, a bottle of vodka under one arm with a bottle of Visine and a cigarette dangling out if his mouth, while holding the puppy in the other hand. He would then ask for a light. At this point, the prospective adopter would usually grab the puppy and run.
There is also a chapter where Randy's mother states that his house smells like pickled beets, while he thinks it smells like salad. This is because he uses lemon juice for barking, vinegar for urine and Randy's Tequila Lime Turd Spray for those dogs who eat turds. Randy states that this spray is also great when sprayed on grilled fish, acting as a marinade. But whatever you do, don't label it TURD SPRAY while using it when preparing dinner in front of guest, like Randy did!
But on a more serious note, Don't Dump The Dog features:
Tales on how Randy helped desperate dog owners rethink their decision to return their acquired animals

Essential advice dog owners can't live without, from how to properly housebreak your puppy to managing your dog allergies

Dozens of poignant anecdotes from Randy's years of dog rescue
Randy believes that the hardest thing to do is to fix the people who have "bad" dogs!
Reviewed by Judy Francis
---






(rated 5 and 1/2 out of 5 paws)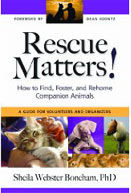 Rescue Matters: How to Find Foster and Rehome Companion Animals: A Guide for Volunteers and Organizers by Sheila Webster Boneham
Paperback: 160 pages
Publisher: Alpine Publications (July 2009)
ISBN-10: 1577791010
ISBN-13: 978-1577791010
As a pet lover, I have frequently come into contact with many people who participate in rescue. My experiences have been both positive and negative. I was curious about the premise of this book but somewhat apprehensive about whether it would come off as a preachy, biased manual about dealing with people who have to relinquish their pets to rescue. Everyone knows that rescuers are exposed to every situation imaginable when it comes to people abandoning pets for the wrong reasons and that most are very zealous in their mission to educate people and place animals in appropriate homes. I was pleasantly surprised to find that this book was very different from what I expected.
It is a comprehensive manual about how to start a rescue from the ground up that includes tips on fundraising, training volunteers, advertising, legal issues, adoption paperwork, dealing with potential adopters and obtaining medical care for the animals. It offers a very practical and most importantly professional approach to managing and organizing a rescue group.
I found it to be an easy and very informative read. I highly recommend this book as a must read for anyone that participates in rescue!
Reviewed by Kelly Drake

---



(rated 3 out of 5 paws)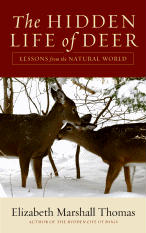 The Hidden Life of Deer: Lessons from the Natural World by Elizabeth Marshall Thomas
Hardcover: 256 pages
Publisher: Harper (September 2009)
ISBN-10: 0061792101
ISBN-13: 978-0061792106
Well, my thoughts on deer: I have none. However, after reading The Hidden Life of Deer, I must admit that I have a new appreciation for those who do. The anthropologist Elizabeth Marshall Thomas, who wrote this book, told me more about deer than I could ever imagine anyone knowing. Her various "families" that she watched were interesting, especially as they added more fawns to their groups and seemed to take on personalities. She allowed them to come alive for me and my assistant, which was fortunate, for neither of us really were enthused about the book to start with. My favorite parts were, of course, the dogs. I liked how the cow dog helped track the injured bear and how the various dogs reacted to the deer, turkeys, and other animals that came to the house to feed. My assistant, Cindy, thought the bear stories were best, (but she always was a sucker for big furry animals).

Since she's the writing expert, I asked her opinion of the book. She was impressed by the clear style and well-related episodes of Mrs. Thomas. Additionally, she commented on the fact that the author had so much experience observing animals of all types in many parts of the world. She also liked the fact that it was well-researched and that there were so many "footnotes" (whatever those are). As she explained it, that meant that the information was not just that of Mrs. Thomas, but that she also used information from other experts in the various fields--I guess that's important.

At any rate, our final rating for The Hidden Life of Deer by Elizabeth Marshall Thomas is twofold--2 paws up for the book if reading about the habits of deer is just not your thing, but 4 paws up for those who enjoy such subject matter. What we'd really like to do now is find The Hidden Life of Dogs which she wrote in 1993: now THERE'S a subject we can both get our teeth into!
Reviewed by
Her Majesty Latte the Cavalier King Charles Spaniel

---





(rated 5 out of 5 paws)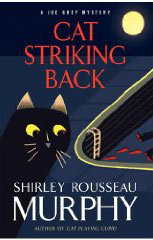 Cat Striking Back: A Joe Grey Mystery by Shirley Rousseau Murphy
Hardcover: 336 pages
Publisher: William Morrow (October 2009)
ISBN-10: 0061123994
ISBN-13: 978-0061123993
Walk through the world with the eyes of a cat and catch a murder in progress with Murphy's dynamic cat duo, Joe Grey and Dulcie. Through field and over roof, the mystery solving felines find themselves sleuthing through the neighborhood houses in search of clues. Along the way they find a jeweled cache of worldly treasures and evidence of break-ins, but they'll need the help of a scruffy wild cat to help them solve the murder.
A delicious book that meanders through hushed shadowed nights of a cat's world towards a secret grave site ending that readers will love.
Reviewed by Sasha Foster, FounderCanine Fitness Zone
Books, Classes, & Seminars for Happy, Healthy Dogs!
---





(rated 5 out of 5 paws)

The Healthy Way To Stretch Your Dog: A Physical Therapy Approach by Sasha Foster
Paperback: 201 pages
Publisher: Dogwise Publishing (February 2009)
ISBN-10: 1929242549
ISBN-13: 978-1929242542
A few years ago, I attended a canine massage seminar. I was impressed when I learned about the benefits of massage for your pet. As the owner of an active dog who participates in many performance sports, I have seen with my own eyes, the important role that holistic medicine such as chiropractics and massage can play in keeping canine athletes safe and in top working condition.
This book takes canine massage a step further, looking at it from a physical therapy viewpoint. Where massage can be beneficial for relaxing muscles and joints and releasing stress, stretching your dog prior to activity, can lessen the wear and tear on muscles and joints and decrease the chances of strains or injuries. But don't be fooled, this book is practical not only for canine athletes, but also for learning to stretch dogs who suffer from conditions such as hip dysphasia and arthritis to alleviate their discomfort. What makes this book a must have for pet owners is the detailed explanation of each exercise, coupled with photos demonstrating the correct way it should be performed. The book also illustrates canine anatomy and physiology and breaks the stretches down by muscle groups. Each section features helpful safety tips and answers to questions that the reader may have while doing the exercises.
It is packed full of great information and the reader will no doubt consult it again and again.
Reviewed by Kelly Drake

---



(rated 3 out of 5 paws)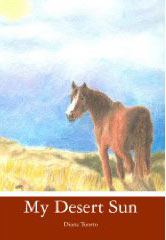 My Desert Sun by Diana Tuorto
Paperback: 58 pages
Publisher: BookSurge Publishing (March 2009)
ISBN-10: 1439232377
ISBN-13: 978-1439232378
My Desert Sun is a story about a wild mustang named Cayuse and his life after being caught during a round-up and separated from the only family he has ever known. He is sold to a cruel rancher, but his saving grace is a gentle stable boy named Charley who earns his trust. When the rancher is unable to break his spirit, Cayuse serves no useful purpose, so he is sold in succession to a rodeo circuit, a riding stable and an auction barn. As he suffers horrible cruelty and becomes resigned to his new life of servitude, he cannot help dreaming of his former life in the desert.
One day, his luck changes as he and Charley meet again at the auction barn and Charley purchases him. But, unable to keep Cayuse, Charley has to make the heartbreaking decision of what to do. The story has a happy ending when Charley takes Cayuse to a mustang sanctuary where he can live out his days in freedom.
This story is written from the mustang's point of view. The story line is reminiscent of Black Beauty in a modern setting. It is an entertaining story that brings to light the abuse that the wild mustangs endure when captured and forcibly trained for man's use. It gives a great deal of explanation about man-made objects that are foreign to the mustangs--so much in fact that at times it becomes redundant and retracts from the story.
Although the premise of the book is a good one, the telling of this story could have been better executed. Regardless, I found My Desert Sun to be a compelling and enjoyable read.
Reviewed by Kelly Drake


---



(rated 3 out of 5 paws)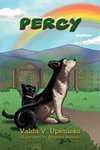 Percy by Valda V. Upenieks
Hardcover: 216 pages
Publisher: AuthorHouse (February 2009)
ISBN-10: 143894666X
ISBN-13: 978-1438946665
Lovers of all things dog will enjoy the story of Percy's journey towards a home. Because her person Valda allowed her to tell her tale herself, I could identify with it, and her time in the shelter made me realize how lucky I am to be loved and cared for. Whether we're registered, designer, or simply "mutt," all dogs can understand her feelings, and Percy does a good job explaining her loneliness, fear, and pain when one friend after another finds a home and leaves her. Maybe I haven't felt that, but I know that my people can better understand what dogs go through when they're left alone after I shared Percy's story with them. Her theme that all creatures--people, dogs, and yes, even cats--need love and security radiates from every chapter. It's about time that someone let us dogs tell our story! Thank you Percy, and thank you Valda.

(My best friend Cindy asked me to add that Percy's language was simple enough for a young child to understand, and that her book would be good for a third or fourth grader to read alone.)
Reviewed by
Latte the Cavalier King Charles Spaniel


---






(rated 5 and 1/2 out of 5 paws)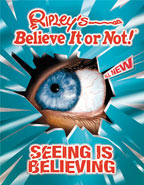 Ripley's Believe It Or Not! - Seeing Is Believing
Hardcover: 254 pages
Publisher: Ripley Publishing (August 2009)
ISBN-10: 1893951456
ISBN-13: 978-1893951457
What we liked most about this book was the animals. You can't crack open the new Ripley's book, Seeing Is Believing, without running into an animal. In fact, there are over 30 pages in this book dedicated to the "crazy creatures."
The biggest challenge for Ripley's is to verify that the photos are not fake or photo-shopped. They actually have a team of people who inspect all photos for accuracy. They also do DNA testing on some of the animals (for example those with two heads or faces) to make sure it isn't taxidermied and are genuine before they place it in the book.
Some of the animals you will find are:
-Charlie, a standard poodle from Canada, gave birth to 16 puppies in March 2008
-A 14-year-old boy in Hawaii has taught his pet rats - Tofu and Fin to surf. They ride custom-made surfboards just their size!
-A dog in Australia saved his owner's life by fetching his cell phone. Albert Hoffman fell from a tree and was badly injured, but called for help after his lab fetched his cell phone from his backpack.
-A trio of Chihuahuas has made back-to-back issues of the Ripley books. Venus de Milo, Carmen and Pablo were featured last year because they have all learned to function despite being born with only two legs. They are in this year's book because the North Shore Animal League has equipped them with two-wheeled carts that allow them to get around better.
-A U.S. company builds luxury houses for dogs that include air conditioning, custom beds and exquisite interiors. They can cost $50,000!
But that's not all. There are so many pictures of so many strange things, that it will take you hours to go through the book. And hours are just what you will need - as you can't put it down!
Reviewed by Judy Francis
---



(rated 2 and 1/2 out of 5 paws)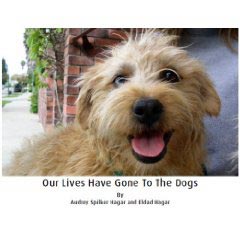 Our Lives Have Gone To The Dogs by Audrey Spiker and Eldad Hagar
Hardcover: 100 pages
Publisher: Hope For Paws (December 2008)
ISBN-10: 0615246508
ISBN-13: 978-0615246505
Many people think that they can't make a difference. Good thing Audrey Spiker and Eldad Hager didn't feel that way! Together they created Hope for Paws, a non-profit 501(c)(3) animal rescue organization in Los Angeles.
Their book, Our Lives Have Gone To The Dogs, is made up of stories about some of the many dogs and other creatures they have rescued in the last few years from the streets and shelters. Some stories you will see are the dogs that were mistreated, others hit by cars and left to fend for themselves, and others who were turned in to shelters with the excuse that they were "vicious." (The only thing "vicious" about them was their tongue, which could lick you a million times a minute!)
Not only do Audrey and Eldad run their organization, Hope For Paws, but they also participate in an "underground railroad" of rescuers who are available night and day to help an animal in need. Over the years they have saved hundreds of animals – so remember – you too can make a difference. Just start with one animal at a time!
Proceeds from the book go directly to Hope For Paws, allowing them to save more homeless, abused and injured animals.
Reviewed by Judy Francis
---



(rated 2 and 1/2 out of 5 paws)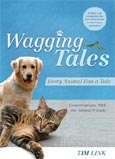 Wagging Tales: Every Animal Has A Tale - Conversations With Our Animal Friends by Tim Link
Hardcover: 216 pages
Publisher: Emerald Book Company (May 2009)
ISBN-10: 1934572144
ISBN-13: 978-1934572146
Tim Link's heart-warming Wagging Tales, Every Animal Has a Tale, brings light to the age old question, "What is my animal saying?" Blessed with the psychic ability to communicate with animals, Tim's intimate connection with animals is woven into each story.
Link shares his psychic conversations with the reader which ultimately lead to some incredible outcomes. Shelter dog, Frazier, finds his forever home. Frightened cat, Scarlet, is discovered where no one would ever look. And, Pepe, the Praying Mantis, makes his intentions perfectly clear.
Sprinkled between the thirty-three stories are wise animal tips ranging from the importance of updating collar tags to researching before adopting a new pet. Link also provides a final chapter full of wonderful recommendations to keep our animals healthy, happy, and injury free. To further demonstrate the author's connection with animals, a portion of all proceeds will be donated to animal rescue organizations.
Reviewed by Sasha Foster, MSPT, CCRT candidate
Co-author, The Healthy Way to Stretch Your Dog, A Physical Therapy Approach
http://www.emeraldbookcompany.com

---





(rated 5 out of 5 paws)

Energy Healing for Dogs: Using Hands on Healing to Improve Canine Health & Behavior by Nicole Wilde
Paperback: 160 pages
Publisher: Phantom Publishing; 1st edition (March 2009)
ISBN-10: 0981722725
ISBN-13: 978-0981722726
This book really surprised me. I have no experience with any type of alternative medicine and was rather skeptical when I received it for review. The author gives a very insightful description of how and why energy healing works and what areas of the body to focus on for specific problems, but it is not just based on her opinion. She gives the reader the scientific explanation to back it up.
I tried some of the simple exercises she gives the reader to sense energy, center it and channel it. She gives instructions that are easy to understand and there are plenty of illustrations. I used some of the techniques with my own dog, who gets stressed in new environments, and she seemed to respond well to our sessions and they did help her to relax.
For those who are still cynical, give it a try. Any quiet time spent one on one with your dog can only benefit both of you.
Reviewed by Kelly Drake
---






(rated 5 and 1/2 out of 5 paws)

Dogged Pursuit: My Year of Competing Dusty, the World's Least Likely Agility Dog by Robert Rodi
Hardcover: 288 pages
Publisher: Hudson Street Press (June 2009)
ISBN-10: 1594630542
ISBN-13: 978-1594630545
Robert Rodi had previously trained a Sheltie for agility, who was a natural. She has since retired and Robert was looking for a new Sheltie. He went to a Sheltie rescue and saw many dogs who were "go getters" and possible candidates. He then saw Dusty, whom who called a misanthropic, sociopathic fear biter, who had been lingering on their adoption list forever.
Robert's heart got the better of his head and he took Dusty home and tried to go ahead with his original plan. Comparing Dusty to his previous agility dog, he says it was like going from a Ferrari to a tricycle! Not only that, he says Dusty is a strange looking Sheltie and looks like Willie Coyote.
Despite the odds, Robert was determined to tame his unlikely partner and take him all the way to the pros. Dogged Pursuit follows a year spent of this crazy owner-pet relationship – the victories, defeats and roster of hilarious characters they meet along the way!
You can now follow Dusty's pursuit on his twitter page http://twitter.com/DoggedPursuit.
Reviewed by Judy Francis

---





(rated 5 out of 5 paws)

Reaching the Animal Mind: What Clicker Training Teaches Us About Animals by Karen Pryor
Hardcover: 272 pages
Publisher: Scribner; 1 edition (June 2009)
ISBN-10: 0743297768
ISBN-13: 978-0743297769
Reaching the Animal Mind is a book about clicker training, which has been around for about 10 years. We now know much more about it and what it teaches us about the animals. The clicker training "movement" has taken off and now there are so many people doing it.
Clicker training is way of communicating with animals completely different from they way we've been training animals since the stone age, which was by making them do stuff and being nice to them when they did what we want, and being nasty to them when they didn't. This is now old fashioned compared to modern clicker training.
Clicker training is used to identify for the animal exactly what it's doing that we like. Dogs respond to clicker training not because they love you, not because it respects you (which really means it fears you), but because it understands the game and wants to win, and the two of you are in the game together. This system leaves punishment out when you are teaching an animal something new.
Reaching the Animal Mind is a great tool for anyone with an animal in their life. Want to teach your dog to sit or get off the couch? Train your cat to give a high-five? Or even instruct your dog to find your car keys? You will find this and other amazing activities in Karen's book.
Today, clicker training is used worldwide on dogs, cats, horse, birds, zoo animals and increasingly, humans! The fundamental principle is that in order to change what somebody else is doing, you have to change what you're doing. That's often a lot of trouble – as most people don't want to change they way they do things!
http://reachingtheanimalmind.com
Reviewed by Judy Francis

---




(rated 3 and 1/2 out of 5 paws)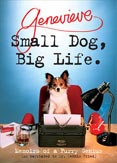 Small Dog, Big Life: Memoirs of a Furry Genius By Dennis Fried
Hardcover, 240 pages
Publisher: Simon Spotlight Entertainment (May 2009)
ISBN-10: 1416599509
ISBN-13: 9781416599500
Did you ever wonder what it is like to view the world through a dog's eyes? I have to admit normally I am put-off by books "barkated" to their humans. But in this case, I forgot that I was reading a book "written" by a dog!
Genevieve, through her "barketing" tells it like it is. If you have a dog, no doubt you will now understand a little more of what is going on his head. I am sure you will come across those "aha" moments when you see things more clearly, through the eyes of your dog, and understand what they are thinking.
In one chapter, Genevieve contemplates whether humans think. She does this by using the mirror. For example, dogs don't have in interest in mirrors, as they know who is looking back at them. Humans, however, spend hours throughout the day looking at themselves in a mirror. You will have to read the book to find out her conclusions.
This is a funny read for anyone who has a dog or has ever had a dog, or is even considering getting a dog!
Reviewed by Judy Francis

---





(rated 4 and 1/2 out of 5 paws)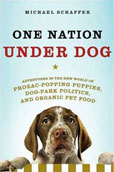 One Nation Under Dog: Adventures in the New World of Prozac-Popping Puppies, Dog-Park Politics, and Organic Pet Food by Michael Schaffer
Hardcover: 304 pages
Publisher: Henry Holt and Co.; 1 edition (March 2009)
Language: English
ISBN-10: 0805087117
ISBN-13: 978-0805087116
Nowadays we are way over the edge with our dogs compared to our parents and grandparents. But, it's not a bad thing! Changes in the way we are currently treating our pets sort of mirrors the way we are thinking about family, health and nutrition. For the most part, these are good changes.
When was the last time you saw a doghouse? Currently, 50% of people let pets sleep in their own bed with them. This is great for groomers, as most people care more about the pet that is sleeping next to them in bed as opposed to a dog that is sleeping in the backyard.
Michael Schaffer recently got his first pet, a mistreated St. Bernard puppy named Murphy, and didn't know what to do. So, he just did what people around him were doing. But his family started looking at him like he was crazy. At one point, he put his dog on anti-depressants because he came from a shelter and had separation anxiety, and he was fed good food. These are all things Michael thought were normal, but his family thought he was crazy.
Michael never wanted to become "One of those people" referring to dog owners that go over the top. But, that didn't last long!
His book, One Nation Under Dog, introduces us to people who will spend their life savings on medical treatments for their pets; to the darker side of the pet industry; going undercover at a puppy mill; talking to victims of the tainted-pet-food scandal and looking at current legal battles over what can constitute on paper, the pain and suffering brought from a pet's mistreatment or untimely death.
You will also find some amazing facts that Schaffer uncovers, such as:
*Nine-three percent of pet owners would risk their lives to save their animal
*Two million pets are covered by veterinary health insurance
*Pet spending spiked after 911 and Hurricane Katrina
http://michaelschaffer.net/about
Reviewed by Judy Francis

---




(rated 4 out of 5 paws)

Hobo Finds a Home: by Hobo the kitten as told to Kevin Coolidge and Illustrated by Annette Maiorano
Reading level: Ages 9-12
Paperback: 36 pages
Publisher: Edgecliff Press (October 2008)
ISBN-10: 0979865999
ISBN-13: 978-0979865992
This wonderful little book is about the misadventures of Hobo the kitten. Hobo lives in Farmer Brown's barn, sleeping on a bed of hay and trying not to be stepped on by clumsy cows, until one day when he decides to leave the farm. He has a grand time exploring all the new places and things until he gets cold and wet and hungry and begins to miss the farm. He attempts to make some new friends with a possum and a smelly black and white "spice kitty" with no success. Hobo seems to have run out of luck until he follows a man home and discovers a whole new life better than he ever dreamed possible.
This book has a very simple story line and would be especially appropriate for very young children and beginning readers. The colorful, eye-catching illustrations fill every page and are sure to catch a child's interest. If that is not enough to entice people to buy this book, a portion of the profit of it's sale is being donated to the Second Chance Animal Sanctuaries in North Central Pennsylvania. You can learn more about Second Chance at www.secondchanceas.org.
Reviewed by Kelly Drake
http://www.edgecliffpress.com/hobo.html

---




(rated 4 out of 5 paws)

An American Trilogy: Death, Slavery Dominion at the Cape Fear River by Steven M. Wise
Hardcover: 304
Publisher: De Capo Press; 1st edition (March 2009)
ISBN-10: 0306814757
ISBN-978-0306814754
An American Trilogy is about the checkered past of Bladen County North Carolina, where for centuries human and animal victims have been unable to advocate for themselves in the midst of exile, slavery and slaughter.
The book takes the reader from the forced relocation of the Native Americans who once lived there to the enslavement of African Americans on the plantation which was its hub of activity and finally to the pig farms and pork processing plants which out number its residences today.
It takes an in depth look at the historical mistreatment of humans and animals and explores how over time our society has changed it's values regarding the humane treatment of people, but not the horrible cruelty and suffering of animals, specifically the pigs of Bladen County.
These pigs are enslaved to meet the demands of the consumer, enduring horrific acts of cruelty and living in squalid conditions for their entire lives. The author visited an industry convention where he was shocked to find that leaders in the pork industry have become so used to the archaic methods being used that they have become callous to the suffering of the animals on which the industry is built.
This book is a revealing and somewhat shocking look at not only the plight of the pigs of Bladen County but of our society and the way we view animals. I recommend it as a very deep and thought provoking read for all animal lovers.
Reviewed by Kelly Drake
http://www.perseusbooksgroup.com/dacapo/book_detail.jsp?isbn=0306814757

---




(rated 4 out of 5 paws)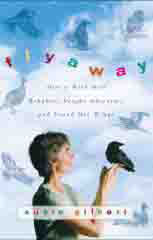 Flyaway: How A Wild Bird Rehabber Sought Adventure And Found Her Wings by Suzie Gilbert
Hardcover: 352 pages
Publisher: Harper; 1 edition (March 2009)
ISBN-10: 0061563129
ISBN-13: 978-0061563126
How do you explain rats in the freezer and maggots in the refrigerator? Only a bird rehabber would understand. That is what Suzie Gilbert dealt with when she decided to become involved and handle small songbirds from other bird rehabbers.
Suzie had planned on starting out with just small birds and wasn't going to deal with any injured birds. Well, we all know how good intentions usually start off – but then seem to drift off in their own direction.
Soon, Suzie was not only taking in injured birds, but some larger birds such as red-tailed hawks, herons, falcons even ducks.
As some of the baby birds needed to be fed every half hour, Suzie made it a family affair and had her kids participate in their feedings. Even her husband joined in the care of the birds.
Whether you are a dog rescuer, cat rescuer or bird rescuer you will be able to relate to the trials and tribulations of caring for animals in need. Even if you just love animals, this book is a must read.
Suzie Gilbert opened Flyaway, Inc., her home-based bird rehabilitation organization in 2001, in New York.
http://www.harpercollins.com/books/9780061563126/Flyaway/index.aspx
Reviewed by Judy Francis

---






(rated 5 and 1/2 out of 5 paws)

Animals Make Us Human: Creating the Best Life for Animals by Temple Grandin
Hardcover: 352 pages
Publisher: Houghton Mifflin Harcourt; 1 edition (January 2009)
ISBN-10: 0151014892
ISBN-13: 978-0151014897
Not many people know that Temple Grandin is autistic, and you would never know it by speaking with her. She is now 61 years old, but when she was 2 and 1/2 years old, she had all of the autistic behaviors, including rocking and temper tantrums along with no language. At that time, no one knew what autism was and her parents were told she should be institutionalized. Fortunately, she was able to get good, early education.
Her autism has made her a visual thinker, which enables her to design equipment for animals and do test runs in her head. This also allows her to go inside the minds of animals. As a result, she has designed humane and stress-free slaughter systems that are used now to process about half of all the cattle in the United States and Canada. Animals are sensory-based thinkers, which means they don't think in language, they think in smells, sound and in visual pictures, as well as in touch sensations.
As an autistic person, Temple knows that fear is her main emotion. So she knows what fear is like, and a lot of animals get scared. What she has tried to do in her new book, Animals Make Us Human, is to look at behavior from an animals' point of view. She discusses the core emotional system that all animals have of fear, rage, seeking and separation anxiety.
Temple Grandin has a Ph.D. in animal science and is a professor at Colorado State University. She is also the author of four previous books including the classic memoir Thinking in Pictures. HBO has just wrapped production on "The Temple Grandin Story" starring Claire Danes as Temple, which is set to air in May 2009.
http://www.templegrandin.com/templehome.html
Reviewed by Judy Francis
---





(rated 4 and 1/2 out of 5 paws)

Alex & Me: How a Scientist and a Parrot Uncovered a Hidden World of Animal Intelligence--and Formed a Deep Bond in the Process by Dr. Irene Pepperberg
Hardcover: 240 pages
Publisher: Collins; 1 edition (October 2008)
ISBN-10: 0061672475
ISBN-13: 978-0061672477
Alex is known as one of the most famous African Grey parrots in history, pioneering new avenues in avian intelligence. Over Alex's lifetime, he learned to identify about fifty different objects; seven colors; five shapes; quantities up to eight; he understood concepts such as bigger and smaller; and same and different. His vocalizations were intentional, so if he said he wanted a grape and you gave him a banana, you would be wearing that banana!
While Alex had the kind of training that no other bird has ever received, the species is capable of this type of behavior.
Alex's personality was very evident in his everyday life. He was "in charge" of his home and relished ordering "his" humans to perform various tasks for him. He also acted as a coach and cheerleader to his fellow birds, Wart and Griffin, alternately encouraging or admonishing them during their lessons. His favorite toys were cardboard boxes, key chains and corks.
Alex was purchased from a Chicago pet store in June 1977 when he was 12 to 13 months old. Alex came from humble beginnings. His accomplishments proved that all African Grey parrots have an intelligence far beyond what was previously thought before his decades-long work with Dr. Pepperberg.
Sadly, Alex passed way on September 6, 2007, dying of unknown causes. He was 31 years old. The book, Alex & Me, is a tribute that covers the struggles, triumphs, setbacks and the unexpected and often stunning achievements during a groundbreaking scientific endeavor spent uncovering the cognitive abilities in Alex.
http://www.alexfoundation.org/alex.html
Reviewed by Judy Francis
---





(rated 5 out of 5 paws)

All Pets Go To Heaven: The Spiritual Lives of the Animals We Love by Sylvia Browne
Hardcover: 224 pages
Publisher: Fireside (January 2009)
ISBN-10: 1416590994
ISBN-13: 978-1416590996
Sylvia Browne, the world famous psychic, states that all animals have a personality as well as an afterlife. One of the reasons that she wrote this book is not only because she is a maniacal pet lover, but also because she got sick and tired of scientists and even some religious people saying that animals don't have souls and that fired her up. She states that she has seen pets from the other side with their owners, and not only that, but when we go over we see our pets.
Animals communicate with us from the other side almost telepathic. You just know that if you get centered into your animals, and you love them, and you're very cognizant of their behavior, you can really tell when they're happy or sad, when they are grieving or when they are comfortable.
Her book, "All Pets Go To Heaven," contains stories of such encounters as well as communicating with your pets. In fact, she states that she was able to potty train her dog in a couple of days just by taking his face in her hands and talking to him just as she would if he were a person. Now people might think she is crazy for doing this, but she states that it works! And stop that baby talk – your animals think you are an idiot when you do this!
Reviewed by Judy Francis
---




(rated 4 out of 5 paws)

Grandma's Dead: Breaking Bad News with Baby Animals by Amanda McCall & Ben Schwartz
Paperback: 88 pages
Publisher: Collins (October 2008)
ISBN-10: 0061673765
ISBN-13: 978-0061673764
Studies have shown that if you put a baby animal next to bad news, the person will not react to the bad news, but will concentrate on the kitten or baby bunny wearing a bonnet.
So, are you afraid to tell your girlfriend that her butt looks fat? Do you need to explain to your nephew that dreams don't come true? Why not let a cute, fuzzy bunny do it for you! It is very hard to tell someone that you're sleeping with his wife, so let a photograph of a duckling sleeping on a teddy bear soften the blow. These 40 perforated postcards answer all of your cowardly prayers--you'll finally be able to tell the truth without ever conquering your fear of confrontation. Let these adorable baby animals supply a silver lining to any bad situation and avoid, a long, tearful afternoon explaining why daddy's never coming home!
http://breakingbadnewswithbabyanimals.tumblr.com
Reviewed by Judy Francis
---





(rated 4 and 1/2 out of 5 paws)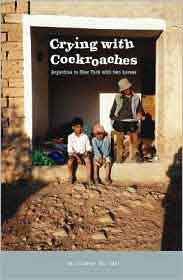 Crying with Cockroaches: Argentina to New York with Two Horses by Marianne DuToit
Paperback: 415 pages
Publisher: Liendi Publishing (September 2007)
ISBN-10: 0955371406
ISBN-13: 978-0955371400
Marianne Du Toit was born in South Africa but traveled to Ireland 17 years ago in pursuit of a famous dolphin named Fungi. Of course she didn't think she would still be there 17 years later! But even after meeting Fungi, she was not finished traveling. Marianne was determined to follow her dream - adamant that with only two horses for company, she should do something out of the ordinary and explore the Americas, traveling from Argentina to New York City over 21 months, even though she had no horse experience. Of course her friends and family thought she was a little crazy but that didn't stop Marianne.
She titled her trip TATA: Travels Across The America. Marianne's expedition took place from May 2002 through March 2004, and chronicled the event in her book "Crying With Cockroaches."
Marianne is currently a director of Pegasus, (http://www.pegasuscentre.org) a therapeutic riding centre in Sligo. Marianne campaigns for animal rights by supporting the DSPCA and other welfare organizations.
Reviewed by Judy Francis

---




(rated 4 out of 5 paws)

Stretch Your Dog Healthy: A Hands-On Approach to Natural Canine Care by Raquel Wynn
Paperback: 224 pages
Publisher: Plume; 1 edition (September 2008)
ISBN-10: 0452289904
ISBN-13: 978-0452289901
Just like people, dogs experience muscle pain, stress and general body breakdown; unlike people, they don't have yoga, Pilates, tai chi and medication to help them recover form injuries.
When Raquel Wynn first told people she was interested in writing a book on stretching your dog, they asked her if she was serious! She even stretches her dog on a regular basis. Raquel Wynn is a personal trainer, does massage therapy and studies holistic health.
In her book, Stretch Your Dog Healthy, Raquel has many different types of stretches and includes pictures so you can see how they are properly done. And while you may set out with a plan in mind, your dog may have other ideas and help you guide you to what they would like to do. She states that about 99% of the dogs like to be stretched. Stretching your dog on a regular basis can keep them healthy for a long and happy life!
You can even find some videos on her website www.raquelwynn.com.
Reviewed by Judy Francis

---



(rated 3 out of 5 paws)

Bliss to You: Trixie's Guide to a Happy Life by Trixie & Dean Koontz (Author)
Hardcover: 160 pages
Publisher: Hyperion; 1 edition (September 2008)
ISBN-10: 1401323006
ISBN-13: 978-1401323004


Everybody knows Dean Koontz. He is an enormously popular novelist with eleven #1 New York Times bestsellers to his credit. But do you know Trixie? She was the Koontz family's beloved golden retriever, and she had quite a following of her own.
The author of two previous books, Trixie had a megawatt personality that attracted her own loyal contingent as a guest blogger on Dean's website, signing off each post with the phrase "Life is good, bliss to you." Sadly, Trixie passed away in 2007. After her death, her blog received 50,000 condolence emails.
Though Trixie is no longer with us, she still has plenty of sage advice to share, and many adoring fans to share it with. Here, in loveable, humorous, and touching language, Trixie talks to Dean from the other side, taking readers through her eight steps to bliss: Calm, Beauty, Fun, Meaning, Others, Humility, Loss, and Gratitude. As Trixie herself says, "You know is true. I am dog, and dog can't lie."
Trixie Koontz (1995-2007), a good dog, was trained by Canine Companions for Independence to assist people with disabilities. Released from service because of elbow surgery, she went to live with Dean and Gerda Koontz in southern California. The successful author of three books, Trixie would be proud to know that her royalties are donated to CCI to pay medical bills for other assistance dogs.
Reviewed by Judy Francis
---





(rated 4 and 1/2 out of 5 paws)

A Hunt for Justice: The True Story of a Woman Undercover Wildlife by Lucinda Delaney Schroeder
Hardcover: 296 pages
Publisher: The Lyons Press (April 2006)
ISBN-10: 1592288820
ISBN-13: 978-1592288823
Hunt for Justice is the true story of an Undercover Wildlife Agent. For thirty years, Lucinda Delaney Schroeder held an unusual government position: she was one of the handfuls of women special agents with the U.S. Fish and Wildlife Service. Her job: to investigate crimes against wildlife.
In August 1992, she accepted an assignment that forever changed--and endangered-her life. She left her husband and seven-year-old daughter behind in Wisconsin and posed as a big-game hunter in order to infiltrate an international ring of poachers out to kill the biggest and best of that state's wildlife.
A Hunt for Justice recounts her dramatic story--a story she was not legally permitted to write about until her retirement in 2004.
This is such a page-turner, you won't want to put it down!
http://www.ahuntforjustice.com
Reviewed by Judy Francis

---





(rated 5 out of 5 paws)

Speaking for SPOT: Be The Advocate Your Dog Needs to Live a Happy, Healthy, Longer Life by Dr. Nancy Kay

Paperback: 384 pages
Publisher: Trafalgar Square Books (October 2008)
ISBN-10: 1570764050
ISBN-13: 978-1570764059

Dr. Nancy Kay wanted to become a veterinarian for just about as long as she can remember. Her veterinary degree is from Cornell College of Veterinary Medicine, and she completed her residency training in small animal internal medicine at the University of California-Davis Veterinary School.
Her book, Speaking for Spot, teaches people how to be effective medical advocates for their four-legged best friends. Gone are the days of simply following doc's orders-today's dog lovers are confronted with health-care decision-making on many levels.
And when selecting a vet, Dr. Kay states that there are even some of her own veterinary classmates that she wouldn't let near her dogs with a ten-foot syringe! Kay suggests you go to the dog-park and be a fly on the wall. "Guardians talk about two things, politics and their vet. You'll soon know which ones are keepers."
Kay provides an insider's guide to navigating the potentially overwhelming, confusing, and expensive world of veterinary medicine. Speaking for Spot is the consummate guide on how to be your best friend's medical advocate!
http://www.speakingforspot.com
Reviewed by Judy Francis


---



(rated 2 and 1/2 out of 5 paws)

Dog Blessings: Poems, Prose, and Prayers Celebrating Our Relationship with Dogs by June Cotner

Hardcover: 160 pages
Publisher: New World Library (October 2008)
ISBN-10: 1577316169
ISBN-13: 978-1577316169

Dog Blessings is a collection of poems and short essays about our four legged friends. While the celebration of St. Francis of Assisi's blessing of the animals is held in October every year, this book shows us that we can bless and celebrate our dogs every day of the year.
Chapters range from heartfelt poems to classic poems such as Richard Kipling's, "The Power of the Dog."
A perfect book for any dog lover and perfect timing for that stocking stuffer!

http://www.junecotner.com/jcjunebio.html
Reviewed by Judy Francis
---




(rated 3 and 1/2 out of 5 paws)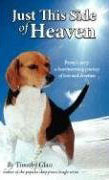 Just This Side Of Heaven by Timothy Glass
Paperback: 184 pages
Publisher: Platinum Paw Press (June 2008)
ISBN-10: 0981706711
ISBN-13: 978-0981706719

If ever someone truly loved Beagles, it is Timothy Glass and his wife Cathy. Timothy has written a true-life story about the life and loss of his beloved Beagle, Penny. He takes you from the beginning of their relationship down to their very last minutes together.

Timothy reiterates something we all go though with our animals. At first, we are the parents of these young babies, but as they grow, we forget that they age much faster than we do and therefore grow older than us and also have a shorter lifespan.
Those of us who have a bond with our dogs will truly understand the relationship that Timothy has with his Beagles and the grief that comes from losing them. He also shows us that there is no right or wrong way to grieve for out pets and that we each have our own way of dealing with our loss. But, no matter what type of dog you have (or any type of animal for that matter), this book will touch you!
Timothy has also written a children's book series titled "Sleepytown Beagles," based on the lives of his beagles. A percentage of the royalties from the Sleepytown Beagle series is given to various rescue groups. Tim also makes himself available for talks about pet grief.
http://www.justthissideofheaven.com
Reviewed by Judy Francis
---



(rated 2 and 1/2 out of 5 paws)
My Name is Henley: My Life and Times as a Rescued Dog by Judith Kristen
Paperback: 152 pages
Publisher: Aquinas and Krone Publishing, LLC (November 2007)
ISBN-10: 0980044804
ISBN-13: 978-0980044805

This is a book written in a dog's voice and is geared towards children, ages 9-12.

It is about a dog born in a puppy mill, named Henley, who is an Old English Sheepdog. Henley has a rough start in life but he eventually gets adopted into a loving home with five rescued cats.
Many people don't think about where that cute little puppy in the store comes from or what kind of life sentence their mothers serve. Perhaps if we can reach children and teach them about the fate of dogs in puppy mills, then maybe we can stop this horrific abuse.
Part of the proceeds from this book will benefit animal rescue organizations.
Reviewed by Judy Francis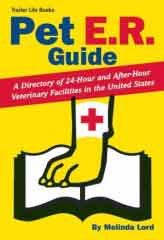 Pet E. R. Guide by Melinda Lord
Paperback: 198 pages
Publisher: Trailer Life Books (January 2008)
ISBN-10: 0934798893
ISBN-13: 978-0934798891

While this book was intended for the RV lifestyle, everyone who travels with a pet can benefit. And, if you travel with a pet, what do you do if something happens to your pet along the way? Because, as well all know, emergencies always seem to happen at night, on a holiday or when you are away from home! A sudden illness or a run in with wild life can put them at risk. Where do you turn when you are away from home on the road?
This guide is a must have for anyone who travels with a pet. It is a directory of 24-hour and after-hours veterinary facilities throughout the United States. It will direct you to the nearest facility closest to you so you don't waste precious time trying to find a veterinarian in cities you are not familiar with. It will also provide you with their phone number, so you can call ahead and let them know you are coming. And, by calling ahead you can verify that they are still in business and what their hours of operation are.
There is also a section in back of the book for you to record your pet's information, from vaccinations to microchip numbers.
While you hope you never need it - you can't afford to be without it!
Reviewed by Judy Francis
---
Listen to these authors on Animal Radio®
Send review copies and comments to: Animal Radio Book Club Reviews, 699 Paula St, Morro Bay, CA. 93442. Call 805-772-1314 to arrange author interviews for an Animal Radio segment.

---
Close Window