(rated 5 out of 5 paws)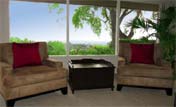 As a cat owner, I have always wanted to try a product like this ! I have plenty of ugly litter boxes scattered around the house, and while I don't mind the ones in the back of the house, I hated to have them in the living areas in plain sight, visible to company. The Designer Catbox came to my rescue. They have created a beautiful litter box cover in three elegant finishes (Expresso, Black & White). While design and attractive furniture is important to me, it would be of no use if my cats didn't like it. However, the Designer Catbox has a large entrance hole and plenty of room inside for my large cats. They were a little hesitant at first to try something new, but it took very little time before they all wanted to try it.
Don't be afraid when you get to the instruction booklet to put it together. It seems a little complicated, but I found it easy to put together.There is also an interior panel, which staggers the entrance to prevent litter from being kicked out. I opted not to use the panel, as I wanted to place a larger litter box inside and I don't seem to have a problem with litter escaping. The have also made the lid with a hydraulic safety hinge so that you can easily open it and it will stay open while you clean it.
The design is such that it can be placed in any room. You can put it in a bathroom and place towels on top; you can place it in your living room and have a place for your purse and keys; you can even place it in your bedroom and put a cushion on it for you cat to lie on. No matter how you use it, the Designer Catbox will make a great addition to any home and no one will know what's inside!
Reviewed By: Judy Francis & The Studio Cats
---





(rated 4 and 1/2 out of 5 paws)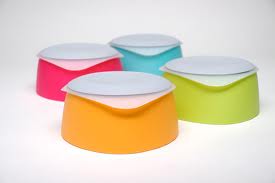 Sleepypod is one of our favorite companies, so as usual, we are always anxious to try out their products. They are usually known for their great carriers, but now they have come up with a great traveling food bowl. Their Yummy Travel Bowl is basically an all-in-one. That means you not only can carry water (without it spilling) but you can also carry your pet's food in the same container.
It's a multi purpose bowl, where you can use the lid as an extra bowl when flipped over, which lets you serve dry food, wet food and water in separate bowls. How great is that! The bowl comes in great colors: Very Berry; Mango Tango; Key Lime; and Sea Breeze. Best of all, they are freezer, dishwasher and even microwave safe!
Reviewed By: Judy Francis & The Studio Animals
---






(rated 5 and 1/2 out of 5 paws)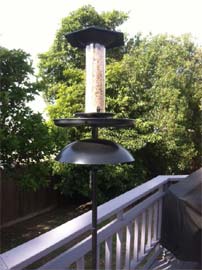 If you're like me, you have a bird feeder in your yard that is empty. It's not because we don't want to attract the birds, it is just too much of a hassle to take it down and fill when it is empty. Plus, it is a pain to clean it. So when I heard about the Effort-Less Birdfeeder, I had to check it out.
The first thing I noticed was the design. Not only is it appealing and looks great on my patio, it is sturdy and can standalone. We get some pretty good wind gusts and I was worried about whether it would topple over. However, when I put sand in the base, it stood through the toughest winds without any problems. Because of this, I was able to place it on my balcony, giving my cats a "birds eye" view of the hungry birds and entertain them for hours just outside their front door. And thanks to the squirrel guard, those pesky little guys have to search elsewhere for food!
At first I was a little daunted by all of the pieces you have to put together. However, it was a BREEZE to do with their step-by-step guide, which made it so easy even someone like me could put it together in just minutes!
But, is it effort-less? Yes! To fill the feeder you just have to pull out the safety pin, lower and fill – it's that easy! You then just slide it back up and replace the pin – what could be easier! To clean, all you have to do is lower it and hose out the feed tube with a garden hose and scrub with a bottlebrush if necessary. They have thought of everything.
This is definitely one of those must have items for the bird lover or even the cat lover in the family!
Reviewed By: Judy Francis & The Studio Cats
---





(rated 5 out of 5 paws)
We reviewed the Purina Pet Stain & Odor Eliminator; the Giant Pet Hair Roller; and the Ultra Dry Training Pads.
Pet Stain & Odor Eliminator – You can usually remove a pet urine stain from a carpet, but getting rid of the odor is another problem. You might think you have cleaned it thoroughly, but unfortunately our pets have those great noses and they can still smell the urine. So, you want to make sure that you not only remove the visible stain, but also the odor that you can't smell! This product contains a pro-enzyme formula that not only cleans the surface but gets down to the pad. What it leaves behind is a pleasant odor that you can smell! You want to get to the stain right away for the best results, but it also works on old stains. It also has the CRI (Carpet and Rug Institute) seal of approval and is safe on carpets. But to be safe, always test on a small area before using on your carpet.

Giant Pet Hair Roller – While most pet hair rollers work well, the difference between this roller and others is that it is very sticky. Also, as the name says, it is very large. This means that you can clean a larger area more thoroughly and more quickly than the others.
Ultra Dry Training Pads - I have to admit that while these pads contain a puppy attractant, we actually used them on a senior dog, who has lost the use of his back legs. We wanted something that he could urinate on, but we also wanted something that would keep him dry. These pads passed the test with flying colors! The pads held up to his moving around and when he urinated, it immediately pulled the urine away from him and kept him dry until we could change the pads. This also prevented the surface the pads were on from getting wet as well. These also work well overnight when you can't get to them right away. Now you don't have to worry about your dog lying in urine all night!
Reviewed By: Robin Cole
---




(rated 4 out of 5 paws)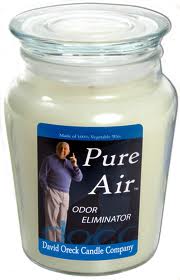 Oreck Pure Air Candles use counteractants, which are released in the air and consume bad odor enzymes. I don't understand how it works, I'm just glad it does!
We have many animals here in the Animal Radio studio (both the two-legged and four-legged kind!). So, you can imagine there are times when it doesn't smell the greatest. You don't want someone immediately coming into the studio looking around for the source of the smell.
We wanted to get rid of the smell, but just didn't want to cover it up with some sweet, heavy air freshener. After getting rid of the odor, the candle leaves a slight fragrance that is definitely not overbearing.
The candles also work on kitchen, bathroom, cigarette and mildew odors. Just remember to use caution if you have pets or children in the household.
Reviewed by:
Reviewed By: Judy Francis & the Animal Radio Studio 4-legged & 2-legged Animals
---






(rated 5 and 1/2 out of 5 paws)

I have tried using my nail polish on my little dog Ladybug, but it wasn't easy. First of all, trying to use the brush on her little nails while she stood still wasn't going to happen without it getting all over her fur. And by the time it dried, she had smeared most of it off.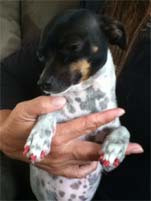 I had been on the search for not only a fast-drying, easy to apply polish for my dog, but something that was also non-toxic. That's why I was so excited when I came across Warren London Pawdicure Polish Pens. Not only are they easy to apply, they dry fast, cover in one coat and are non-toxic. The pen makes it so easy, it just takes minutes to give your dog beautiful nails without the mess.
They come in 7 standard colors of pink, red, blue, white, purple, yellow and black, and now they also have 4 new NEON colors! Paw-ty In Pink, Smooch The Pooch Purple, Blue, Orange You Glad I'm Neon and Walk In The Park Green.
Polishing your dog's nails has never been so easy - Doesn't Ladybug look great!
Reviewed by:
Reviewed By: Judy Francis & Ladybug
---






(rated 5 and 1/2 out of 5 paws)
Diggin Your Dog Dehydrated Pumpkin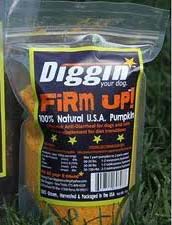 Finally, dehydrated pumpkin! No more cans! No more waste! Just add water! What could be easier?
If you have pets, especially dogs, I'm sure your vet has recommended pumpkin when your dog has a bout of diarrhea or constipation. So, you buy the can, you give them a small portion of it, they get better and the rest of the can goes to waste! Until now! Diggin Your Dog has created the first dehydrated pumpkin.
You will find Firm Up! Pumpkin for diarrhea and constipation; as well as Firm Up! Cranberry for urinary tract health. Both are dehydrated; 100% grown, harvested, made and packaged in the U.S.A. with no fillers.
This is such an easy way to give your pet pumpkin. All you do is mix one part Firm Up with one part water. The even have an easy guide on the back with regard to the weight of your pet. And it works!
This is one of those great ideas where you say, "Why didn't I think of that!!!
"
Reviewed by:
Reviewed By: Judy Francis & Ladybug
---





(rated 5 out of 5 paws)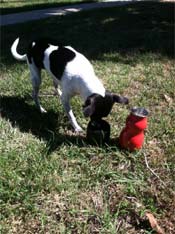 We previously reviewed the H204K9 25oz water bottle and recently received the new 9.5oz water bottle. What can we say? Just like the larger bottle, this smaller one has great features, and is the perfect size for the smaller dog. When I take Ladybug out for the day, there is no way she will drink 25oz. So this size is just perfect for me to carry. When I get tired of carrying it, I can put it in the neosling and carry it over my shoulder. The sling also helps to insulate the bottle, keeping your dog's water cool for hours. It is made of neoprene material and is so comfortable and stylish, you don't mind wearing it!
The bottle is stainless steel and is a breeze to clean, all you do is just wash it out with soap and water. And did I mention it is 100% recyclable and sustainable! Both the bottle and the sling come in many different colors, so you are sure to find your favorite color. This is not one of those bottles you will use just once and then forget about. You will get plenty of use out of it
Reviewed by:
Reviewed By: Judy Francis & Ladybug
---





(rated 5 out of 5 paws)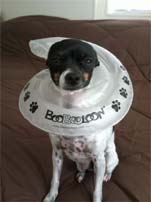 BooBooLoon Protective Petwear
People who listen to Animal Radio know that Ladybug, our studio stunt dog, recently had surgery to repair a torn ligament in her knee. As with most surgeries, the doctor sent her home with one of those hard plastic Elizabethan cones. But, I didn't have the heart to put it on her. The cone seemed so hard and uncomfortable, it seemed wrong to do that to her at a time when she really needed comfort to help her heal.
I was looking for an alternative when I came across the BooBooLoon inflatable collar. It is just as the name says. It is an inflatable collar, which you place partially inflated around your dog's neck and then inflate for a snug and comfortable fit for your dog. There are also Velcro "dots" which help you adjust it to the right size for your pet.
This is such a great idea! Unlike the cones, it didn't impair Ladybug's vision and it even gave her a soft pillow to rest her head upon. And best of all, while wearing the BooBooLoon, she was unable to reach her surgery sight, she healed beautifully, and I didn't feel guilty because I didn't add to her discomfort.
You can also use the BooBooLoon on cats, but make sure that their nails have been clipped and are not sharp!
It's time to retire the cone!
Reviewed by:
Reviewed By: Judy Francis & Ladybug
---





(rated 5 out of 5 paws)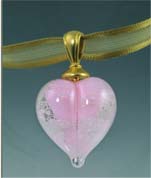 Pet Cremains In Glass
I love the idea of thinking that if anything ever happened to any of my beloved pets I could always have a part of them with me. These portable memorials are made of glass that contain a small portion of the actual remains of your pet. They can be made in a variety of different colors and designs, all very beautiful.
They are made in the USA and signed by the artist. They are also custom made to your order. What a beautiful way to memorialize your pet!
Reviewed by:
Animal Radio® listener Nancy Castaneda
---





(rated 5 out of 5 paws)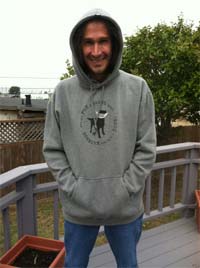 We previously reviewed the Dog Is Good T- Shirt, "Know Dog, Know Joy, Know Love." It is one of our favorite tees and when we had the opportunity to review another product from Dog Is Good, well, there was no thinking about it. We couldn't wait - we love their products!
This time we are reviewing the Hoodie, "It's All Fun And Games Until Someone Ends Up In A Cone."
This is a very comfortable sweatshirt in athletic gray. It is thick and cozy with a soft fleece lining. It fits great and looks good. You don't want to take it off! You can't wear this outside without someone commenting on it. It is a great way to start conversations with people and everyone wants to know how they can get one for themselves.
If you're a dog lover, you want everyone to know it! Dog Is Good makes it easy with their hats, mugs, tees, cards and stickers. These also make great gifts for the pet lover in your life.
GreaterGood.org partners with and funds leading nonprofit organizations around the world in order to alleviate poverty and hunger, promote peace, address cancer and other widespread health problems, foster literacy and provide education, preserve vital habitats in peril, and provide protection and care to vulnerable animals. In 2010, GreaterGood.org distributed more than $3.4 million in grants to charitable partners around the world. For further information, please see www.GreaterGood.org.
Reviewed by:
Judy Francis & Hal Abrams (the model)
---





(rated 5 out of 5 paws)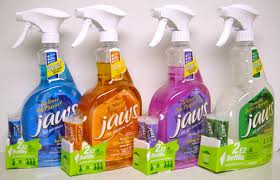 In this day and age everyone is (or should be!) environmentally conscious about the products we use around our house. So many times we buy spray bottles of cleaners and throw them away when they are empty. But with the new JAWS system, you just put in a cartridge refill, add water and reuse the same bottle over and over again. And the cartridges themselves can be recycled. How great is that! Also, they are fun – it is almost like coloring Easter Eggs! You can now get your children involved with the cleaning process by letting them prepare the bottles and using them around the house with you.
Plus, they have many different types of cleaners for everything around your house such as Glass & Hard Surface Cleaner; Bathroom Cleaner/Deodorizer; Multi-Purpose Cleaner/Degreaser; and Disinfectant Cleaner Degreaser. They are each a different color so you can easily identify them and tell them apart.
But do they work as well as other cleaners you regularly use? We put them to the test, and yes - they will clean and disinfect your house like any other products on the market. All of the JAWS products are non-toxic and safe for use in households with pets when used properly. Just be sure to rinse any and all food and drinking water surfaces before your pet uses them.
And lastly, are they cost effective? Definitely! For the one price, you get 2 cartridges – that is like getting two bottles for the price of one.
What a great idea!!
Reviewed by:
Judy Francis
---






(rated 5 and 1/2 out of 5 paws)
Natural Pet Care by Aussan Natural
We receive many different types of pet cleaners here at Animal Radio and the Natural Pet Care by Aussan Natural was received at the perfect time. We recently moved our offices and were looking for something to clean up some of the animal surfaces as we moved out.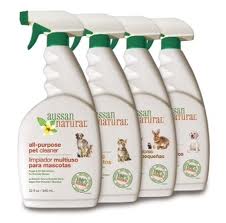 The first thing we noticed about these products was that there were several different types. As we have both cats and a dog, it was easy to choose the right product for the job. They have an All-Purpose Pet Cleaner, a Dog Odor Eliminator and a Cat Odor Eliminator.
But they didn't forget about small animals. They have a Small Pet Odor Eliminator made just for ferrets, bunnies, hamsters and a variety of other smell pets.
We also liked the way they smelled. They were not "perfume-y" and they did not try to cover up the smell with their own fragrance. But best of all – they worked! We were able to clean all types of surfaces from walls, doors and even the kennels and litter boxes. They made cleaning easy and removed that "pet smell." They will also clean furniture, the car and any other washable surface where you might have a pet odor.
And last, but not least, they are pet safe and environmentally friendly. You don't have to worry about your pets inhaling any toxic fumes. They are also easy on your pocket book at $7.99 a bottle. Now that we are all settled in our new studios, we will be sure to keep these products on hand – and no one will know that we have animals when they first walk in and take a deep breath!
Reviewed by:
Judy Francis & Studio Animals
---




(rated 4 out of 5 paws)
Go Green Pet Safe Odor Control & Cleaner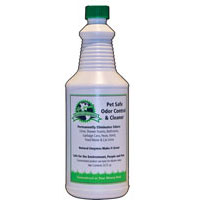 With a proliferation of cleaners on the market, we are always on the lookout for the one product that will permanently remove the smell of urine. Without getting rid of the smell, house-training can be fruit-less.
Go Green offers a natural enzyme product that is concentrated. It came to our studios with one big bottle and a smaller one with spray nozzle. The theory is that you can make 32 bottles for "light duty" use.
The product works well. We tested it on urine, feces and vomit. It cleaned all three spectacularly. However, these are all "heavy duty" applications. Using the suggested 1:32 mixture of the concentrate simply didn't work. For heavy duty applications, it is recommended to mix the concentrate 1:1. In the long run, it didn't save us a lot of money, but it sure did take care of the problem.
So if you're planning on buying this for it's "concentrate" feature, think again. If your only concern is getting the stain and odor out the first time, Go Green may be the solution you need.
Reviewed by:
Hal Abrams & Studio Animals
---



(rated 3 out of 5 paws)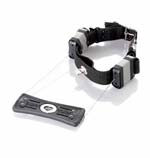 So a bit of explanation is in order. The Supercollar is a plain ol' collar with a built in leash. Sounds great, right? Well, Cindy my person really likes it, but I'm not so sure. So, I'll give you my view first, and then let her talk--I know, that's rare, but occasionally I do ask her opinion.

First, it's black. Well, I'm black, so I can't show off my "jewelry" that way. That's a minor item.

Second, it's HEAVY!!! I realize, for many dogs, that would not be much of an issue, but I'm a TOY dog. The part that has the leash is a kind of little box that has a pull-out leash. That's the heavy part. I feel like my head's going to fall because of the added weight.

Third, It's a buckle-on collar--Don't the experts say we should have quick connect latches on our collars?

Fourth and most important, it only has a three-foot leash. I can't go explore with a three foot leash. Cindy makes me walk right beside her. Where's the fun in that?

Therefore, I'm not really crazy about this new invention. Now, I will say that it's faster to put on than the harness. Faster to put on, faster to go out. That is worth something. Plus, Cindy doesn't make me wear it all the time. I take off my usual, beautiful red decorated collar and put that one on just for walks. But that three foot leash did get in my way the other day when she took me to the nursing home. I couldn't jump in my favorite ladies' laps with that thing on. It did make walking beside Nana's wheelchair a bit easier, though.

All-in-all, the Supercollar is a pretty neat invention if you're a dog of size, especially if you don't like to explore a lot.

Here's Cindy:

The Supercollar is a really innovative creation. The leash is contained in a sort of box (to use Latte's words) which becomes the handle--easy to hold on to because it's not just a loop, it's a real handle about three inches in length and one in width (maybe 1/4 inch in thickness, too). The leash is a two-strand one of coated steel cable which extends only to the three-foot length. This way, your dog pretty well has to stay by you, so it's great for training. The website claims that the strength of each cable is 100 pounds. Since Latte only weighs 25, that didn't much matter to us; however, if you have a larger dog, that could be really important.

The leash pulls out and retracts easily and does not get tangled or twisted. I've found it particularly helpful in trying to convince Latte to stay beside me rather than heading off elsewhere. When the leash is not used, there's a fastener that keeps it in place.

I really like the action of the leash, the two-cable system, and the large, padded handle. I feel like I'm controlling her walk more efficiently and that I'm not having to use my arm muscles to keep her in place.

The collar does have a buckle rather than a quick connect fastener. I've worried about that a bit, but since we don't leave it on her all the time, it's not really important.

The item is a collar and not a harness. That means that when she pulls, she hurts her neck. That would happen, however, with any collar--it has nothing to do with this item in particular. There is also a D-ring on the collar in case we wanted to use a real leash, but I can't imagine wanting to do that after using the built-in version.

Now, to agree with Latte, it is rather heavy for a toy dog. She's on the upper end of "toy" weight, and it's heavy on her. I can't imagine a smaller dog wearing it. When I examine the website, however, there is not a "small" size, so perhaps they don't expect small dogs to use them. Simple fix: use it only for walks and use her regular collar for every day.

All-in-all, I like the collar. I hope that its construction will help us learn to walk together better and will convince her not to pull so much. If it ever stops snowing and/or gets above 10 degrees outside, we'll enjoy taking those long walks together again, but this time with the help of the Supercollar.


Reviewed by:
Her Majesty Latte the Cavalier King Charles Spaniel and her person Cindy
---





(rated 4 1/2 out of 5 paws)
Pet-e-Pure Sanitizing Spray and Wipes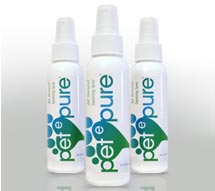 We all do it. We let our dogs out one last time for a potty break just before bedtime. They walk around on the grass until they finally find that perfect spot. After their break, they either walk through their piddle or on areas where they have previously eliminated on. Then they come in and crawl into bed with us. But do you ever think about those dirty little paws in your bed?
Or what about road trips with our dogs? We stop at those rest stops where they trudge through areas where many dogs have dared to go before. Then they get back in the car with us. Just the thought of those dirty little paws walking all around the car and even on our laps is disgusting!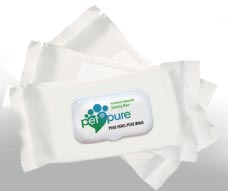 When we received the Pet-e-Pure sanitizing spray and wipes, we couldn't wait to put them to the test. All we had to do was to just spritz our dog's paws with the spray. We did this at night just after her last potty break before she crawled into bed. We saved the wipes for the times when her paws were visibly dirty. All we had to do was wipe them down.
These are also eco-friendly animal care products. The ingredients are things you would find in nature such as thyme extract, green tea extract and lavender. While they smell good, they don't just cover the odor they actually disinfect and kill 99.9% of bacteria. Their prices are also very reasonable.
We can now rest easy (and sleep easy) knowing that our little dog's paws are just as clean as her breathe – ok- so we still have to work on that end of her!
Reviewed By: Judy Francis & Ladybug
---





(rated 4 and 1/2 out of 5 paws)
We did a lot of traveling with Ladybug over the Holidays. We never leave home without her "Doggie Bag," but this time we included a couple of extra items.
We put LaFresh Group's Divas & Studs "Ear Buff" and "Shine Divine" to the test. The ear buffs are pre-treated finger mitts that make it extremely easy to clean your pet's ears. The shine divine is a bath & body wipe to be used in place of a bath.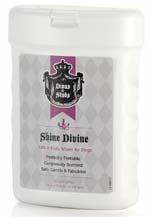 Being on the road makes it a little bit harder to keep your dog clean. We were able to spruce up Ladybug between visits to the relatives. We just wiped her down periodically with the wipes (you can even use them daily). She looked great and everyone commented on how good she smelled (we didn't tell them she hadn't had a bath in weeks!).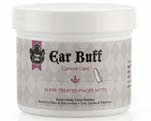 While we didn't have to clean her ears as frequently, we were able to easily clean them by placing our finger inside the pre-treated mitt and wiping the inside of her ears. How easy is that!
We do many trips with Ladybug around town, to the beach and to the parks. These products are extremely portable. We will make sure that we always have these items on hand, as you never know!
Their prices are also very reasonable!
Reviewed By: Judy Francis & Ladybug
---





(rated 5 out of 5 paws)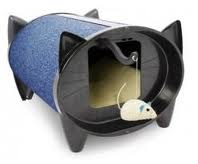 The KatKabin was originally made as an outdoor cathouse to provide your pet with the safety and warmth that they would find inside the house. But their new ScratchKabin was made as an indoor enclosure for your cat.
The outside of the new ScratchKabin is covered with a textured scratching surface, while the inside is nice and cozy. Our cat loved to snooze inside and when he woke up, he immediately stepped out, stretched and starting scratching the outside. Most cats like to scratch immediately upon waking. So this provided both the place to sleep and the place to scratch, saving our furniture!
It also comes with a removable, washable cushion. It is available in 3 colors to fit with any décor. It is such a beautiful shape, you will want to display it in your home and show it off.
And if you do have an outdoor cat you would like to keep warm in the winter, check out their original KatKabin.
Reviewed By: Judy Francis & Boog
---





(rated 5 out of 5 paws)
Bergan products cover everything from cat products to pet containment items. Animal Radio tested the Turbo Track, Pet Travel Barrier and the Dog Safety Harness.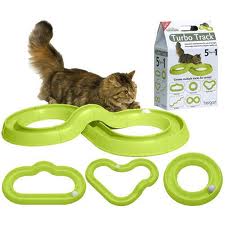 Turbo Track – Some people think only dogs need a job. However, there are some cats that need to be challenged as well or they can get into trouble too. Luckily (or unfortunately!) we have one of those cats here at Animal Radio that needs to be kept busy. Nike was immediately interested when we opened the box (okay – so he is interested in all boxes!) but when we got the track set up, which took minutes, he was intrigued and glued to it for hours. But he wasn't the only one, all of the cats came by to see what was going on. It was great to watch them all so interested and taking turns hitting the ball around the track. The Turbo Track can keep most cats entertained for hours.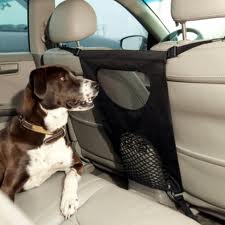 Pet Travel Barrier – Having dogs roaming around the car is both dangerous to the driver and the pet. The Pet Travel Barrier took a few minutes to put in place, but when we were done, we had a secure barrier to keep all the dogs contained in the back seat. We were also able to still adjust the car seats up or back while it was in place.

Dog Safety Harness – We believe you should travel with your pet in the back seat. We also believe that they should be secured. You never know when you might have to make a sudden turn or stop and you don't want your pet to go flying and become injured. The Dog Safety Harness can safely secure your pet with the added tether to secure your dog. It was just a matter of time before our dog accepted the harness and the fact that he wasn't going anywhere!
Reviewed By: Judy Francis & Ladybug
---





(rated 5 out of 5 paws)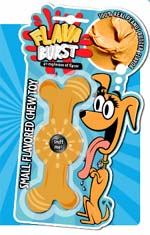 Animal Radio's own Ladybug is a chewer! But if I find her something to chew on, she leaves the things she is not supposed to chew on alone. As a result, I am constantly on the search for something to fulfill her need to chew.
When I received the Flava Burst Chew Toy (pizza flavored) I couldn't wait to put it to the test. Neither could Ladybug! She could smell it before I even opened the packaged!
The Flava Burst pet chew toys are scented and infused with the taste of bacon, peanut butter or pepperoni pizza. They also come in 3 different sizes and shapes.
Needless to say, it was a hit (and still is!). Ladybug just loves to chew on the toy, which still smells like pizza, so I am sure it still tastes like it as well the way she chews on it!
But Flava Burst didn't forget the cats. I also saw on their website that they have scented chew toys for cats in red rooster, orange fish and green mouse!
Reviewed By: Judy Francis & Ladybug
---






(rated 5 and 1/2 out of 5 paws)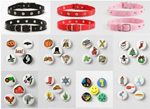 The Snaps Pet Collars is a cool collar that can display a wide variety of fashion ornaments. You can dress up your pet by just snapping in the new ornaments and using the same collar over and over again.
There are 24 different ornaments, which include holiday ornaments (Christmas, Halloween, Easter, etc) and everyday ornaments (sports, road signs, beach scenes) so your pet will always have something cool to wear.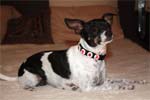 The collars come in nylon or leather and different colors and sizes. These are not just for dogs either – you can dress up your cat as well!
You will have a lot of fun "decorating" your pet everyday. And if your dog is like my Ladybug, they will love all of the attention they will get when wearing their collars!
This is such a great idea – I wish I'd thought of it! I want to collect the whole set!!!
Reviewed By: Judy Francis & Ladybug
---





(rated 5 out of 5 paws)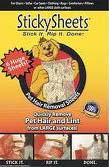 Sticky Sheets are just what they sound like. Imagine the lint rollers to remove pet hair – now imagine one HUGE sheet (6 square feet). With Sticky Sheets, you can quickly and easily remove pet hair on items such as chairs, couches and even the seats in your car.

How many sheets of the lint roller have you run over your furniture? I am sure plenty! Plus, it takes some time to constantly remove the used layers, but with the Sticky Sheet, you can do it all at once – in just seconds!

You can imagine the fun we had in the studio cleaning all of the furniture because, as you can imagine, with all of the pets running around, there is hair everywhere you sit!

Each package contains 12 large 23x35 inch sheets, the same surface area as 30 adhesive lint rollers. And Sticky Sheets works ten times faster on large surfaces than any lint roller or vacuum cleaner.

Plus, each sheet can be used an average of 5 times.

Reviewed By: Judy Francis & the Studio Animals
---




(rated 4 out of 5 paws)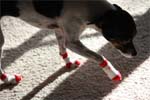 Power Paws are socks that are made for your dog. You might think this is a crazy idea, but think again.
There are many circumstances where you might need socks for your dog. You might need them for an older dog who has a hard time getting around, a dog learning how to walk on tile floors or even a dog recuperating from surgery. The Power Paws are great for these circumstances because of the non-skid rubber on the bottom.
While none of these circumstances applied in our case, we just thought they were cute! They come in many different sizes and colors (from XXS to XXXL) and there are even holiday themes.
Ladybug was up and running after just a few awkward minutes until she got the feel of them. Ladybug not only wears them to keep her feet warm during the winter, she will wear them on those summers walks on hot pavement. And if they get dirty, just throw them in the washer!
Reviewed By: Judy Francis & Ladybug
---





(rated 4 and 1/2 out of 5 paws)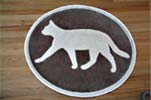 The PURRsian Style Cat Rug is about 34 x 39 inches, 100% nylon, flame retardant and has a skid proof back.
We put the PURRsian Style Cat Rug to the test in our very busy studio to see if it could stand up to the heavy traffic and messes from the staff (and animals!).
We were not only pleased with the way it looks, but it stood up to the traffic and spills were easy to clean. Even after all of that, it still looks great.
I don't think anyone else would have such a high volume crossing over it, but if they did, they needn't worry! This rug is a great size, will fit into any décor and can be placed anywhere in your home.
Reviewed By: Judy Francis & the Studio Animals
---




(rated 3 and 1/2 out of 5 paws)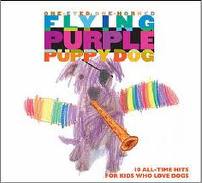 If you're a baby boomer (even if you're not!) you might remember some of the songs from yesterday which included For Your Precious Love, Little Darling and Girls Just Want To Have Fun, to name a few.
Well, this CD has redone these songs, changing the lyrics to be about dogs. If you're like me, you will find yourself singing along to these old classics. It is a great CD to play in the car with Fido at your side.
10 All-Time Hit Songs For People Who Love Dogs:
*The Purple People Eater = The Purple Puppy Dog Jim Dawson
*Girls Just Want To Have Fun = Dogs Just Want To Have Fun Kelly Bird
*For Your Precious Love = For My Precious Dog Eugene Pitt & The Jive Five
*(Girls, Girls, Girls) Made To Love = (Dogs, Dogs, Dogs) Made To Love Matt Scaptura
*Wake Up Little Susie = Wake Up Little Puppy David Mccarthy & Michael Deangelis
*True Fine Mama = True Fine Doggie Garland Nelson With The Jive Five
*Little Darlin' = Little Doggie Randy & The Rainbows Featuring Dom "Randy" Safuto
*Village Of Love = Village Of Dogs Eugene Pitt & The Jive Five
*Because They're Young = Because They're Dogs Robert L. "Duane" Cohen
*Wings Of A Dove = Paws Of A Pup Jim Dawson
I am sure you have heard of these songs and will enjoy listening to them with their new lyrics!
Reviewed By: Judy Francis & the Studio Animals
---





(rated 4 and 1/2 out of 5 paws)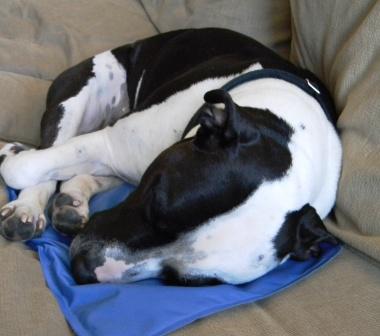 Cool Pet Pad
The Cool Pet Pad is a weight-activated cooling cushion for pets that requires no power, water, refrigeration or electricity, which makes it very convenient.
It gets hot here at the animal Radio Studio in California. All I did was open the Cool Pet Pad, set it down and watch the studio dogs go to it. I checked it after about 3 hours (I had to move one of the dogs aside) and it was still cool to the touch.
One of the dogs was always lying on the kitchen floor which is tiled. We had to step over him constantly. I placed the pad just out of the way of foot traffic and he gravitated to the pad.
I then moved it from the studio to the car. I felt that this was the best usage of it. I placed it in the crate (it was the perfect size) before loading up one of the dogs and didn't worry about them getting too hot.
According to the manufacturer, it will last up to 4 hours and will re-charge automatically after a brief period of non-use. They say you can refrigerate it if you want, but I didn't find it necessary.
While our animals are young and healthy, the Cool Pet Pad is great for relieving pain, swelling, discomfort and stress. It also helps with heat stroke, hip dysplasia, Cushing's Disease, allergies, skin conditions and post-operative pain.
I like the convenience of not having to plug it in or fill it up and that I can easily move it from one location to another. I think the dogs really enjoyed it as well.
Reviewed By: Judy Francis & the Studio Dogs
---

(rated 1 out of 5 paws)
KatPak Disposable Kitty Litter Box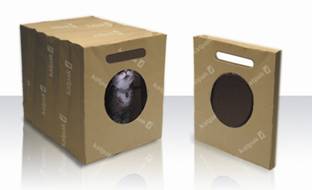 When Animal Radio® received the KatPak, I thought it was a good idea. However, upon further inspection and usage, I formed a different opinion.
The KatPak is a biodegradable, disposable kitty litter box. I thought it came with litter, but found out I had to use my own. Which is okay, as the studio cats are used to their own special litter.
Upon opening, I noticed the bottom is cardboard (the sides are made out of thick paper) which doesn't quite cover the entire bottom. There is about a one-inch barrier on the bottom sides without the extra protection. But even the cardboard did not provide adequate protection against urine.
Out of 4 cats, I could only get one to actually enter and use the KatPak. The other cats prefer to use an "open" litter box. The manufacturer's recommendation is that you don't have to clean it and can simply throw it away after about seven days. I clean out our litters everyday and can't imagine leaving a litter alone for a week. With the KatPak, it is almost impossible to scoop, as it is made of paper and extremely flexible.
With one cat using it for a few days, I found the bottom getting very soggy and starting to fall apart. It seems our cat urinates up against the side and it also get very saturated. When I went to pick it up, the litter was too heavy and it actually started ripping from the handle. I then had to grab it from the bottom (which was now wet) and throw it away.
Again, I like the idea but I think they need to go back to the drawing board and come up with some other water-proof material.
Reviewed By: Bob Roth
---






(rated 5 and 1/2 out of 5 paws)
Stainless Steel Dog Bottle & Bowl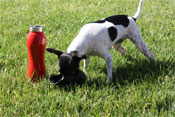 I had been searching for that perfect dog bottle when I came across the Stainless Steel Dog Bottle by H2O4K9. I was tired of using Tupperware containers, only to have them spill all over me when I tried to open them. I also wanted something that not only contained the water, but something that had a lid my dog Ladybug could actually drink out of. And I didn't want anything plastic!
This bottle is perfect! It is a good size (it holds 25 oz.) so I don't have to worry about running out of water. It also has a lid that converts to a bowl for your dog to drink out of. (I have to admit I also use the lid as a food bowl in a pinch.)
It is so stylish and comes in many colors. There is also a carabiner clip for you to attach it to your backpack or belt loops so you can go hands free. Or if you want, there is the neosling so that you can carry it over your shoulder. The sling also helps to insulate the bottle, keeping your dog's water cool for hours. It is made of neoprene material and is so comfortable and stylish, you don't mind wearing it.
The bottle is stainless steel and is a breeze to clean, all you do is just wash it out with soap and water. And did I mention it is 100% recyclable and sustainable! Both the bottle and the sling come in many different colors, so you are sure to find your favorite color. (I think Ladybug looks best with red - and she just loves to drink out of it!)
This is not one of those bottles you will use just once and then forget about. You will get plenty of use out of it - so you might just want to order two!
I just LOVE this bottle! My search for the perfect bottle is finally over thanks to the Stainless Steel Dog Bottle by H2O4K9!
Reviewed By: Judy Francis & Ladybug
---


(rated 2 out of 5 paws)

We all love the advances in GPS technology. Especially when it help us locate our pets online.
That's exactly what the LovemypetsGPS is supposed to do. So when we received the pager size locator, we immediately wanted to try it.
The actual locator device is small and tucks away nicely in a specially designed collar pocket. And while small, it really works best with a bigger sized dog. Your Chihuahua might find it cumbersome.
It comes with a charger cord and we found the device lasted a couple of days without charging, although we never tested it under normal or extraneous conditions.
We checked out the online interface and had trouble logging in and registering. After finally getting assistance and logging on, we were dismayed to see that it did not display the location of the GPS device. We consulted technical support and they resent a new device FedEx. We still had the same problem. The website was unable to locate the device.
It turns out that the GPS device uses not only the GPS satellites to locate your pet, but also cell phone towers to triangulate location. The locator uses the woefully underpowered Sprint network. And while we tested this unit in a pretty major city in Central California (San Luis Obispo/Paso Robles), it's not Sprint territory, making the Lovemypet(s) GPS unusable and un-testable.
Remember how big the cell-phone used to be during its infancy? This is the infancy of a great idea.
Reviewed By: Bob Roth
---




(rated 4 out of 5 paws)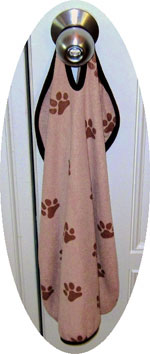 Just after I received this beautiful little towel (the color of part of my fur with little paw prints on it), we had the once-a-year rainy season. I hate having my paws dried, but this felt good on the pads and seemed to dry them quickly. I'm all for quick with the towel--after all, when I want to come in, I want to come IN--not be delayed for some cleaning up. Is is my fault that I have to go potty in the rain? Someone should invent an indoor dog potty, not just that faux grass thing or worse, newspapers.
Back to the topic. The little towel hangs very neatly on the the door knob, and, since we have an old house with weird doors, if it will fit on them, it will fit on any of them. Also, because of the color, the dirt doesn't show, so it looks just like it came out of the package. My people are very pleased with it--easy to grab, looks great, and I like it--what more can a dog want? Add to that, it's only $12.95 this month and it's named after two dogs. Furfect! (OK, "purrfect" would be better, but that's a cat word, and I HATE cats!)

(I just gave it 4 paws because I don't know how it would work for a big dog, but I wasn't willing to take it over to the pit bull across the street to try it out!)


Reviewed by:
Her Majesty Latte the Cavalier King Charles Spaniel
---





(rated 4 1/2 out of 5 paws)

Here at Animal Radio® we see hundreds of dog toys a month. We've always felt the cat toy market is small, with few choices at best. That's why we were excited to see Neko Flies interactive cat toy with interchangeable attachments.
It was immediately obvious why they're called "Flies," especially if you fly-fish. A few of the attachments appear like different fishing-flies, designed to look like a dragonfly and cicada.
The one we tested looked like a very realistic hairy little house mouse. The stick is clear acrylic and has strong double or triple-knit green and black string (it's assumed cats don't see green well).
Yes, there are a few dull stick and feather toys on the market, but nothing like this collection. Neko Flies are high-quality, realistic, durable, safe and most importantly they captivate your cats attention for hours on end. Neko Flies are a great way to bond with your furry friend.
Reviewed by:
Boog, UH-OH, Tiggers, Nike and Hal
---



(rated 3 out of 5 paws)
Uncle Norman's 1-Step Pet Bath Sponge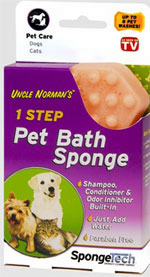 I have several dogs and tried two different sizes of Uncle Norman's Pet Bath Sponge by SpongeTech.
The larger sponge worked great on my Mastiff and she enjoyed the massage. I did have to keep dipping it in warm water to keep the suds going but it worked well and took off a lot of the hair she was shedding.
I then used it on my Border Collie and it was a little more difficult. The nubs on the sponge were having a tough time getting through her long hair and undercoat and it seemed to pull a bit, so I finished washing her by hand due to the fact she didn't want anything to do with it anymore!
Then I used the small sponge on my Jack Russell (Terror!) and he enjoyed the massage of the nubs like the Mastiff. It removed a lot of his dead hair as well. Because he is smaller, I didn't need to continually dip it in water to keep the suds going.
Then came my two Chihuahuas. Because they have so little hair their skin is quite sensitive and they really didn't want anything to do with the nubby portion. I turned it over to the smooth part and (tried) to wash them running it down their bodies rather than against the way their hair grows. It might just be our two little girls but they didn't like it at all and prefer being washed by hand.
Due to the size of the Mastiff, I may get one more use out of the large sponge but will probably have to use dog shampoo as well. I will probably be able to use the small sponge on the Jack one or two more times before having to add dog shampoo.
From my experience I think these sponges are great for "tougher" dogs, like the Jack Russel and the Mastiff, and those with short hair, with the exception of Chihuahuas if they have sensitive skin like ours do.
Reviewed by:
Mindy Koval & Dogs
---






(rated 5 and 1/2 out of 5 paws)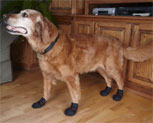 At first, my dog was a little leary of wearing the boots. She has always tolerated clothing, but having something on her feet was a little different. As she would walk, she would pick her feet up real high with each step. While it was cute, I know it bothered her. But with a little patience and a little coaxing, she got used to them very quickly. To start with, I put them on her for a few minutes at a time and gave her treats. Over time, she learned that when the boots were on, it was a good thing! In no time, she easily adjusted to them and now walks normally in them (even though I kind of miss the high steps!).
The Ultra Paws Durable Dog Boots by SeniorPetProducts.com are perfect for taking your dog out in the snow or mud. They keep your dog's feet dry and protect them from injury. They are very easy to put on and they don't slip off. They come with two Velcro straps for a secure fit. There is also foam at the straps to cushion your dog's foot when they are in place. But just like human shoes, make sure you get the right fit.
But the best thing about them is that just because the weather is warming up, doesn't mean you should put them away. They come in handy for so many different things. For example, if your dog has a foot injury, this makes a great cover-up until they heal, as they will keep bandages dry and clean. And if you have a dog that needs to get used to hardwood floors, they have a great gripping-sole. And for the older dog that just has a hard time getting around, they work great for all around traction. And of course, they are great for the hiking dog in the summer.
There are many different kinds of boots on the market, but the Ultra paws Durable Dog Boots are the best in their class!
Reviewed by:
Judy Francis & Ladybug
http://www.seniorpetproducts.com
---




(rated 4 out of 5 paws)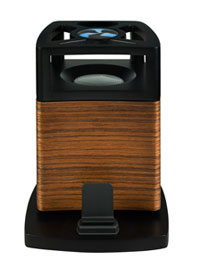 I've always known that our pets can hear different frequency ranges than lowly humans. But it isn't until now that anyone has made the equipment for pets to hear the highs and the lows that we simply miss in traditional acoustics. That's why we were delighted when Pet Acoustics sent us My Pet Speakers to review. For the pet guardian that has everything, you'll want to check this out.
Pet Acoustics says this is a better solution than leaving on the TV or Radio to comfort your pets. The speaker creates a sense of balance for your pets well-being, optimized for your dog, cat or even horse to help them feel calm and soothed. In theory, a great idea. But I'm not sure the music we would be connecting to this speaker has the highs and lows anyway that could be reproduced by this fine piece of high-fidelity gadgetry. Since we found it hard to discern the difference between our studio speakers and this speaker, we had to leave it up to the pets. We tried playing CD's designed for pets, like Pethoven and Companion Music. It seemed our pets were more influenced by the selection of music more than the speakers the music came from. That said, the sound from this 10 watt speaker was warm and sounded great for human consumption.
So if you have a pet, why not get a great speaker that you both can enjoy. Pros: Beautiful casing and compact 'big' sound. Cons: Designed specifically for use with iPod type player. Jack cable too small. Power cord attaches on front alongside power and volume. Costs as much as an iPod at $249.
Reviewed by:
Hal, Boog, Nike, Ladybug, Tiggers and UH-OH
---




(rated 4 out of 5 paws)

Fetch Flyers™ are sports balls that look like they've been flattened by a steamroller. They got a baseball, soccer ball, and the one we tested, a football. They're specifically designed for fetch! They're soft and most importantly very durable, as my pup is a "chewer." Our test toy included the all important squeaker. They are Phthalate Free and BPA FREE. My only gripe is they are for bigger dogs...as they are 8 inches across. My 7 lb. Min-pin finds it too big for play. Other than that, I highly recommend this $14 investment in a strong toy that will last and be a favorite. Pros: Strong and Durable. Cons: Too big for small dogs. Still big for medium sized too.
Reviewed by:
Bob Roth
---






(rated 5 and 1/2 out of 5 paws)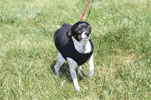 Animal Radio's Stunt Dog Ladybug is a small dog with a short coat. During her winter walks, and walks at night, she has a problem keeping warm. When I put a jacket on her, I was forced to put her harness over her jacket. This meant that I had to adjust the harness to fit over the bulky jacket. And if I took her out without a jacket, this also meant adjusting the harness back to the original fit. All of that adjusting lead me to believe that there had to be a better way!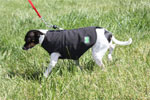 And there is! The 1Z is a 2 in 1 hi-tech coat designed like a great ski jacket with a built-in harness system. All you have to do is put on the jacket, attach your leash and you're ready to go.
And talk about style! This coat has everything I wanted in a nice coat for Ladybug. It is warm (the inside is lined with fleece), waterproof, windproof and washable – what more could you ask for!
I knew when I first saw this jacket it would be great – but I am very impressed as to how great it truly is – I LOVE this coat!!! (and so does Ladybug!!!)
Reviewed by:
Judy Francis & Ladybug
---



(rated 3 out of 5 paws)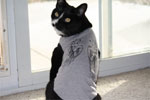 I was curious when I heard about a website called "Cat-Toure." Just what is it? Well, it is actually a website that caters to cats by providing clothing and accessories. I know what you're thinking – clothes for cats – no way – cats won't wear clothing! But, I must tell you that all cats are not created equal. And besides, why should dogs have all the cute outfits!
One of our studio cats, Nike, really enjoyed wearing a cape at Halloween. He strutted around and loved to go to the door when the children showed up just to show them how special he was.
So, you can guess where this is going. I just had to try a tank on Nike. However, I was a little disappointed that he wasn't as excited about wearing a tank (even thought it was adorned with wings on the back) as he was a cape. (I guess he is more of the Super-Hero type!)
I have tried dog clothing on him before, but they just didn't fit right. They severely restricted his motion and made him sit there like a zombie. In his Cat-Toure Tank, he was able to move about freely if he chose to do so. Unfortunately, he didn't move and sat there instead!
But before you make fun of cat clothing, remember there are many breeds of cats, such as the Sphynx (a hairless cat), that sometimes need protection from the cold and sun. So for those cats, I say go get "tanked" with Cat-Toure!


Reviewed by:
Judy Francis & Nike
---



(rated 3 out of 5 paws)

ArmorLite Safety Eco CFL Lightbulb
We all love to save the environment, making as small footprint as possible. But let's face it. The new curly CFL bulbs look funky, especially in fixtures that show the bulbs.
ClearLite to the rescue. They've encapsulated the curly CFL bulb in a familiar looking lightbulb case, making it safer to change and protect from children and pets. CFLs are more energy-efficient and last longer, but also contain liquid mercury, which is harmful to adults, children and pets if airborne. You won't break the CFL in ClearLite We love it. Our only gripe is that the amount of light is somewhat diminished by the cover, making it not as bright as the CFL alone.


Reviewed by:
Kevin Spacey
---






(rated 5 and 1/2 out of 5 paws)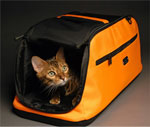 A while back we did a product review on the Sleepypod Mobile Pet Bed. So, we were excited when we received their new Sleepypod Air and the Sleepypod Cater Dot.
The Sleepypod Air is a carrier specifically designed for in-cabin pet travel. The large zippered opening makes it easy to load your pet and it comes with a shoulder strap that is removable. It is also adjustable (the end panels fold in) and easily adapts to the under-seat storage requirement of different airlines. Sleepypod has thought of everything from the cozy interior to the pass-through pocket that fits over the telescoping handle on your luggage.
But if your pet isn't a frequent flyer, like mine aren't, the bag makes a great sturdy carrier for routine visits to places like the vet's office. It easily clips to your car's seatbelt for secure transportation. I get many compliments from people who want to know what kind of a carrier it is. And if you do use it for flying, you no longer have to worry about a carrier that isn't going to fit under your seat!



(rated 2 and 1/2 out of 5 paws)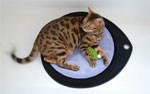 The Crater Dot is a lounge for your pet. The polyester dot center provides an easy to clean and comfy spot to relax. The foam lounge base is polyester fabric over a molded foam form that is contoured to provide just the right padding for you pet.
I don't understand it, but the studio animals weren't crazy over lounging on the Crater Dot. They were interested in it at first when it was placed on the floor, but they soon lost interest and lay down next to it.
The Crater Dots come in multiple colors such as Blossom Pink; Mossy Green; Lunar Grey; Orange Dream; and Lavender Field, to match any décor. There is also a Warmer Kit that can be installed in the pocket of the base to keep your pets warm.
Reviewed by:
Judy Francis and Studio Animals
---

(rated 1 out of 5 paws)

When I first opened the box, I was not impressed with the construction. While it only took moments to put it together, it took hours trying to figure out how to get the three layers to stay together! I then went out and purchased potty pads in hope that this would keep the three layers together, it did not.
The first time my 3-pound-puppy used it, she jumped off and separated the 3 pieces. This sent the urine everywhere, as the tray wasn't deep enough to hold the urine from a small puppy.
When I left her alone in her play pen with a few toys, a blanket and the potty patch, she proceeded to urinate on her blanket and sleep on the potty patch. She also used it as a chew toy and has destroyed one corner completely in just two hours.
I don't think this is the product for me. I'm going back to using litter!
Reviewed by:
Sherri and "Ruby"
---




(rated 3 1/2 out of 5 paws)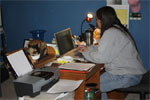 What is a Kit-In Box? It is exactly what it says. The Kit-In Box is like an "In Box" that attaches to your desk. But instead of putting the normal papers in the box, it is meant for your kitten.
If your cat is like mine, they love to walk across your desk and keyboard and then plop down right in front of your monitor. In fact, I often joke that my cat knows more computer shortcuts than I do! It is so hard to shoo them away when they come to you for attention while you're working. But, their presence can be a nuisance while you try to work.
With the new Kit-In Box, you just attach the wooden box to your desk with a clamp, without the need for drilling any holes in your desk. It can also be placed in various positions and angles on your desktop. Or if you have a large enough desk, you can even place it on top of your desk, because it has rubber feet which will protect your desktop. You can then adjust it to multiple positions and angles.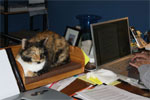 The Kit-In Box is large enough for your cat to comfortably snooze in while you work, making more room for you on your desk. It also has a cushioned cover that you can easily remove, which is also machine washable. The Kit-In Box can support a 20 lb. cat or small dog and comes in 3 finishes: Birch, Cherry or Mahogany.
What a surprise your cat will find the next time he jumps on your desk and finds a place just for him within your arm's reach - so you don't miss a beat on those scratches! Now, if I can only remember the shortcut for "save!"
Reviewed by:
Judy Francis and "Tiggers"
---




(rated 3 1/2 out of 5 paws)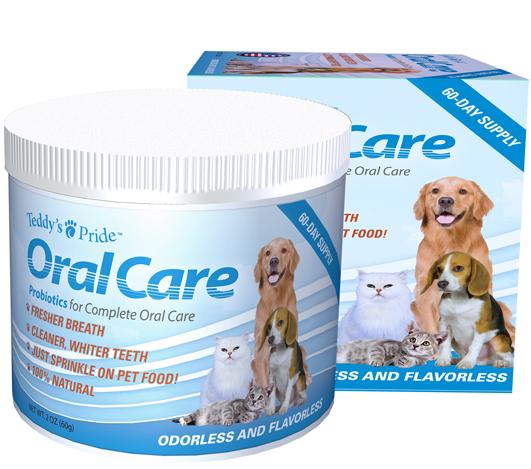 Dr. Jeffrey Hillman, D.M.D., Ph.D. just introduced a new oral care additive called Teddy's Pride. This is the first probiotic designed to promote oral health for cats and dogs. Teddy's Pride is supposed to eliminate doggy breath and whiten their chompers.
Good dental health is important for so many reasons. Gingivitis can cause infections that could be fatal, simply because we didn't keep our pets teeth clean.
Teddy's Pride Oral Care is easy to give to your cat or dog. Simply sprinkle over your pet's food once a day. It's all natural with no harmful chemicals. A 60 day supply costs $24.95.
We tried it on our studio animals over a six-week period of time. While none objected to the flavor, results were mixed. "Boog" the Studio Cat had a lot of Gingivitis to begin with, so results weren't as impressive as if we started with a clean palette. Those whose teeth we're clean at the start of testing maintained their fresh breath and shiny teeth.
This is a good supplement, however, it won't clean neglected teeth. You should start this regiment with young animals or after your vet has done a cleaning. This is not a substitute for regular veterinary oral care. It should be used as an adjunct to brushing teeth regularly.

Reviewed by:
Bob Roth and Studio Animals
---





(rated 5 out of 5 paws)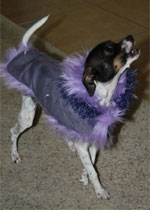 Okay, I have to admit that even though I dress my dog Ladybug in clothing (hey, she gets cold and needs protection!) I thought that the Kiara LuxeCoat by Scarlett DreamCoats was a little over the top. That is until Ladybug tried it!
Ladybug looked fantastic in the Kiara LuxeCoat (which came with a coordinating collar and leash). I am not sure if she was replicating my sentiments when I went crazy over the way she looked, or if she truly liked the way she felt. But when I put it on her, she started strutting her stuff like the true Diva she is! Just look at her - Ladybug has arrived!
The Kiara LuxeCoat fit fantastic and I just love the purple color. It is made from a plush suede fabric and is lined with lavender faux fur. The Velcro neck and bellyband closures gave her a perfect fit (it's also adjustable if she should put on a little weight over time – hey, it happens!), and it keeps her extremely warm.
If you have a big dog, you may think that your dog is too large for these coats. But, while a lot of companies don't cater to the larger dog, at Scarlett DreamCoats you can find the same great fashion for dogs as large as a Great Dane.
The Scarlett Dreamcoats are a lot of fun for both you and your dog. And who knows, maybe one day they will create a matching coat for you, the human!
And that's not all; they even have raincoats, light coats, totes and vests in many different colors. Your dog can stay warm and dry while looking fantastic!

Reviewed by:
Judy Francis & Ladybug
---






(rated 5 and 1/2 out of 5 paws)
Happy Trails PLUS Pink Pet Stroller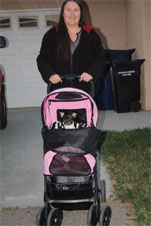 While I have never tested a pet stroller, I have seen many people using them for their pets. When I first saw the Happy Trails PLUS Pink Pet Stroller, it looked more like a human stroller than a stroller for pets. (But please, do not put a human baby in this stroller!) In fact, most people think I am pushing a human baby, until my dog barks. But, we are working on that!
After trying out the stroller with my dog Ladybug, I have to tell you, this is the Cadillac of All Strollers – pets or humans! And, I have tested a few human strollers in my day and I just love this stroller!
It was so easy to push and just glided along as I tested it on both a smooth surface and the rough streets. You can use it on both cats and dogs up to 30 pounds. But since Ladybug is only 6 pounds, I put a few weights in the storage compartment to help it grip the terrain a little easier. It also comes with a soft padded handle, which feels great on your hands.
Your pet remains secure in the zippered compartment while they sit or stand on a fleece pad, which is easily removed for cleaning. Ladybug just loves to look out the mesh screen that surrounds her and I don't have to worry about her getting out (I have it unzipped in the picture so you can see her). There is also a screen on top so you can look down on your pet and see them at all times. You will also find a second zipper opening at the back for easy access to your pet. There is also plenty of room inside for her favorite blanket and toys.
I just love the way the Happy Trails PLUS Pink Pet Stroller looks with all of its bells and whistles, plus it's a pretty pink! There is a storage basket underneath and even two cup holders, which can hold everything from your drink to your cell phone and keys. And forget the days of bulky strollers that took a genius to close them up for storage. This one has an easy one-handed folding mechanism that lets you close it in just seconds. When you are ready to use it again, you just pull it up and it pops into place. It also comes with a free rain and wind cover.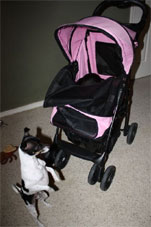 However, I leave mine continually up and open in my office. Perhaps this is a mistake, as Ladybug frequently comes into my office, stands up and dances around her new stroller. This is then my sign to get up and take her for a walk!
Just Pet Strollers has many different types of strollers for everyone. There are strollers for large dogs and cats, strollers that hook up to bikes and strollers that hold multiple pets. If you are looking for a pet stroller, you don't need to look anywhere else and you won't be disappointed with their selection!
I have to admit that I am able to keep at least one of my New Year's Resolutions because of my new Happy Trails PLUS Pet Stroller – the one where I get out and exercise more! I just love this stroller – and so does Ladybug!
Reviewed by:
Judy Francis & Ladybug
---





(rated 5 out of 5 paws)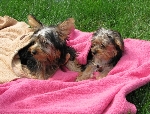 I received the furr me blanket set to review just before I was to fly to New York. It looked so soft and cozy that I decided to try it out before my dog did, as I knew once I gave it to her, I would never get it back!
It was the perfect size for the plane (32 x 48) and kept me nice and warm. Plus, it was a pretty pink (it also comes in camel and a limited edition red) and everyone asked where I got it. I was also able to put the blanket in the zippered pouch and use it as a pillow.
But now I'm back and the blanket has been turned over to my dog Ladybug. I'm happy to say that she loves it just as much as I do. She loves to snuggle down into it and bury her face.
It is made from Kashwere chenille yarn, which I had never heard of. But, it is so soft to the touch it feels like real Cashmere. It is also machine washable and dryable and holds up beautifully after several washings.
It is now our favorite blanket!
Reviewed by:
Judy Francis & Ladybug
---





(rated 5 out of 5 paws)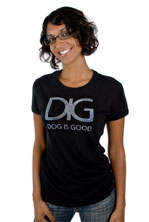 Finally a tee has come along that is for the dog lover and looks fantastic!!! Dog Is Good has made a line of chic dog themed apparel with many different sayings, styles and some even include rhinestones. Some of the sayings you will find are: "It's all fun and games until someone ends up in a cone," "Know Dog, Know Joy, Know Love" and "DIG BLING" (someone was recently seen on the tv show Dancing With the Stars wearing this tee).
The fitted tees are made from ultra-soft prima cotton, which breathes well and has a nice stretch making it extremely comfortable to wear.
We just love the way they look and feel. These are not the doggy themed tees that you sleep in or wear when you do laundry, these are the tees that you can pair with your favorite jeans and look great when you go out! You won't want to hide these!
If you are looking for the perfect gift for the pet lover, forget the other cheesy tees, give them something with style that they will wear proudly. And, don't forget to pick up an extra for yourself!
Reviewed by:
Judy Francis & Bobbie Hill
---






(rated 5 and 1/2 out of 5 paws)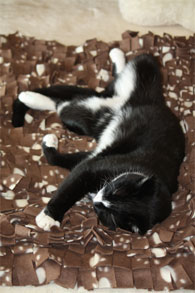 What is a Bindy bed? If you don't know, don't worry, because I didn't know either! A Bindy Bed is a bed made with a high-lofting plush polyester fleece fabric that can help regulate your pets' body temperature, helping them stay cool in the summer and warm in the winter. The curly fringe cut texture of the fleece also encourages pets to knead and snuggle their way to maximized comfort.
Okay, so what's wrong with this picture? I didn't think this bed had a chance here with the studio cats and dog. Maybe the cats would be okay with it, but I thought my dog Ladybug wouldn't waste any time shredding the fringe to pieces.
To my surprise, Ladybug snuggled right down into it and never once chewed on it. This is, of course, when she can get the cat, Nike, off it! Ladybug is a hoarder and loves to hide her snacks and this bed makes the perfect hiding place for her "stash!" The cats also love to knead the fabric.
This is one of the most popular beds here in the studio. It is never empty. It is like the animals wait their turn and as soon as someone vacates it, another one takes its place!
My only complaint is that it is not large enough for me to join them!
Reviewed by:
Judy Francis, Nike & Ladybug
---




(rated 4 out of 5 paws)
Ruff Ruff and Meow Fashion Apparel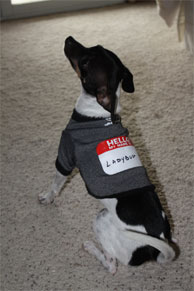 I love the name-tag sweatshirt by Ruff Ruff and Meow. I am always looking for a perfect fit for my little dog and I don't want to put just anything on her. I want Ladybug to wear something chic. The nametag sweatshirt fits her perfectly and she gets excited when she sees it. She knows she is going somewhere special. Plus, it keeps her warm. She loves the attention when people notice her shirt and call her by name. No one knows my name, but now they all know Ladybug!
Everyone loves to express themselves with fashion apparel. And who wouldn't want to do the same for their pet! Ruff Ruff and Meow has thought of everything, which includes outfits for your pets in the hippest of designer dog clothes. While most apparel caters to the little dogs, they cater to all sizes, even dogs up to 90 pounds. And they haven't forgotten the cats! Nor you! You can also purchase a matching human tank! They have so many funny sayings; you will find exactly what you and your pet are looking for.
Reviewed by:
Judy Francis and Ladybug
---






(rated 5 and 1/2 out of 5 paws)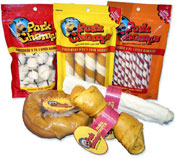 Pork Chomps are made of 100% baked pork skin and is bacon flavored. The package says that it's preferred 9 to 1 over rawhide. Now, I don't know that I'd go that far, because rawhide is pretty good, but I LOVED Pork Chomps.
It's pretty big--about the size of our hometown newspaper (well, it's a small town), and is like pieces of paper rolled up. That means that I can wiggle a piece out of the roll and turn the big treat into lots of smaller ones. I've been happily chewing through the first one (my people insist on referring to it as a "bone," but I know better) for the last week and a half or so. It's about gone.
Now, before you get all excited about it not lasting for your pet and your having to buy another one frequently, let me assure you of two things:
1) there are two in the package
2) I am a CHAMPION chewer
I may only weigh 18 pounds, but I can chew my way through some unsuspecting "soft" toy in an afternoon. My people think I need to join a competition for toy destruction. That aside, the Pork Chomps offers me an excellent alternative to my Nylabone (for powerful chewers, of course): it tastes better, I can eat all of it, and it doesn't leave that gloppy mess on the floor that the rawhide bones do. Maybe that's why 9 of 10 dogs prefer it--they don't get yelled at when their person steps on the remains of their rawhide!

Pork Chomps are sold by Scott Pet Company in Rockville, Indiana. I hope they sell them at our local pet stores, though, because almost every time my people go there to buy my food, I get a treat, too. I think I'll start asking for Pork Chomps.


Reviewed by:
Her Majesty Latte the Cavalier King Charles Spaniel
---


(rated 2 out of 5 paws)
Spotless Paw Dog Paw Cleaning Glove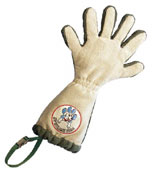 OK, I know. I hate having my paws cleaned--I like them the way they are. This being said, I defer to my person, Cindy, who feels it necessary to clean.
She says that Spotless Paw seems to work fairly well, but she has trouble with the glove platform (whatever that means). It seems that I'm so fast on my feet that she can't get the thing on her hand before I've gone and tracked up her clean, white kitchen floor. Is it MY fault that they chose white 15 years before I came along? Fortunately, it doesn't rain much here (I think that's the water that seems to fall from above, but I can't be sure, since I've only seen it twice in my 10-month life), so all I'm bringing are the sticks and leaves which I like to chew.
Oh, yes, back to the review. Cindy thinks that if you live in a place that has lots of wet ground, Spotless Paw could be a really good thing. She's mentioned using it when she gives me a bath next, but I don't like to think about that. At any rate, if your dog has a tendency to track up your floor, Spotless Paw might be just the thing you need. After all, you could use it without putting it on your hand! You can get Spotless Paw from BrightSpot Solutions in Boulder, Colorado.

Reviewed by:
Her Majesty Latte the Cavalier King Charles Spaniel
---



(rated 2 and 1/2 out of 5 paws)

Chewbies Pink Bunny; Chewbies Green Bunny Dog Toys

I'm always looking for great toys for my overactive toy dog. She's a chewer - so I need to be vigilant when it comes to durability. When we received the Chewbies for review, we naturally assumed by the name that they would be strong toys for chewing dogs. My pup loved the toy, and that's worth 2 and 1/2 paws alone. But she loved it too much ....too fast. She immediately started to shred the fluffy tail and tear apart the plastic. Another one bites the dust.
Reviewed by:
Guido Compari
---






(rated 5 and 1/2 out of 5 paws)
Tazzels by Gracie's Mom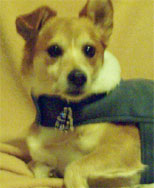 I have always wanted to buy something for my dog Bandit to let him know how special he is to me. He is not to keen on wearing doggie hats and I haven't tried a little sweater on him yet. But he is a real show off when he meets someone new.
When I saw Tazzels, I knew it was just what I was looking for. Tazzels are personalized beaded dog IDs and jewelry that easily clip on to either your dog's collar or harnesses that look like "tassels." No muss or fuss of putting on and changing doggy clothes! They are made with quality lightweight materials including acrylics, brass to sterling silver and 100% nylon that will not rot or mildew AND are made to last the life of your pet. They have many sizes and types with everything from the dog park tazzel and tiny tazzels to the toy size and the stunning pedigree tazzel, which are priced according to size. They are also introducing birthstone tazzels and healing stones tazzels.
When we got his Pedigree Tazzel, I just loved the colors and the way it sparkled. I put this one on his collar (and have to admit I put his Dog Park Tazzel on my key chain). I then took him down to our local dog walk, where they can run leash free.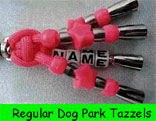 Everyone there noticed the sparkle on his collar and thought it was great that it had his name on it too! He somehow knew that the Tazzel was bringing him more attention than usual and he really enjoyed showing it off to everyone!!
I am hooked! The next thing I am going to get for him is his birthstone. I just love spoiling my little guy, and what better way to do it than with Tazzels!
Reviewed by:
Sherri Francis
---




(rated 4 out of 5 paws)
Puppy Cake – Fifi's Favorite Carob Cake Mix


Looking for fun activities to do with your dog? 'Fetch' is so 'yesterday's news.' How about bringing the fun into the kitchen? Puppy Cake delivered 2 boxes of cupcake mix to the Animal Radio® studios. And since I'm a big cook, I figured that there was no better way to bond with the studio stunt-dog than to share the experience of making a treat that would warm her belly.
While I enjoyed the ease in which all the ingredients came together, 'Ladybug' licked the bowl batter clean, and probably far exceeded her caloric intake. The box says a half a cupcake is a serving for the small dog.
When we were done baking, we frosted the cupcake with a yogurt frosting that was included in the box. Both the Carob and the yogurt are safe and good substitutes for chocolate and sugar.
We baked the Carob flavor and they looked good enough for human consumption, although I doubt they taste good to humans. I was half tempted to offer the other airstaff cupcakes without telling them they're for dogs. They look 'that' good! Ladybug played with her half-cupcake, rolled in it, then ate about a quarter. I think she had more fun making them than eating them.
All in all, the Carob flavor was not necessarily a winner with the finicky stunt-dog, however, the time spent with her making them was worth the $7.00. Makes a great gift for the dog-lover.
Reviewed by:
Hal Abrams
---




(rated 4 out of 5 paws)
CableOrganizer.com


Protecting computer, appliance, home entertainment and other cables and wires around the home from your dog or cat and, in doing so, keeping your four-legged friend out of harm's way, is critical. Believe it or not, this isn't the first bunch of cable organizers we've been asked to review, but it is the best.

An extremely inexpensive and convenient product to protect your wires is the split wire loom flexible and durable plastic tubing with a slit down the side allowing for easy insertion of a cable bundle. We redid the whole Animal Radio® studio with the review samples. It was fast and easy. Thanks Cable Organizer!
Cable Organizer has several great solutions available in different sizes and various colors to match your décor. They should be considered when your pet-proofing the house.
Reviewed by:
Hal Abrams
1-866-222-0030.
---






(rated 5 and 1/2 out of 5 paws)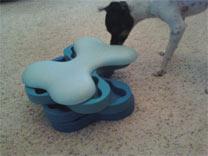 We receive plenty of toys here at Animal Radio but when we received the Dog Tornado toy, "A Fun Interactive Game" by The Company of Animals, it made our ears perk up so to speak! It was fun trying this on Ladybug, Animal Radio's Stunt Dog. We know she's a smart dog, but we still wanted to put her to the test.
The Dog Tornado is a four-layer puzzle with rotating discs. Three of the layers conceal a treat so the dog has to rotate the discs with either his nose or paws to get at them. You can also make it a little harder by placing a bone in one of the pockets, which stops the disc from spinning. The dog then has to dislodge the bone to get the discs spinning again and to get at the treats. Dislodging the bones was a little difficult for Ladybug, as she only weighs 5 pounds and has a small nose. She was therefore trying to remove them with her paw.
I am not sure how long an average dog takes to find the treats, as this game is marked at the hardest skill level, but Ladybug achieved success in a short matter of time. It was fun watching her and it only took her about a minute to figure it out (you could almost see the wheels spin in her little head) before she was able to move all of the discs and remove all of the treats. It was great to see Ladybug work for her treats.
This is a great toy for you to play with your dog together and will make a great holiday gift!
Reviewed by:
Ladybug

---



(rated 3 out of 5 paws)
Wellness Simple Food Solutions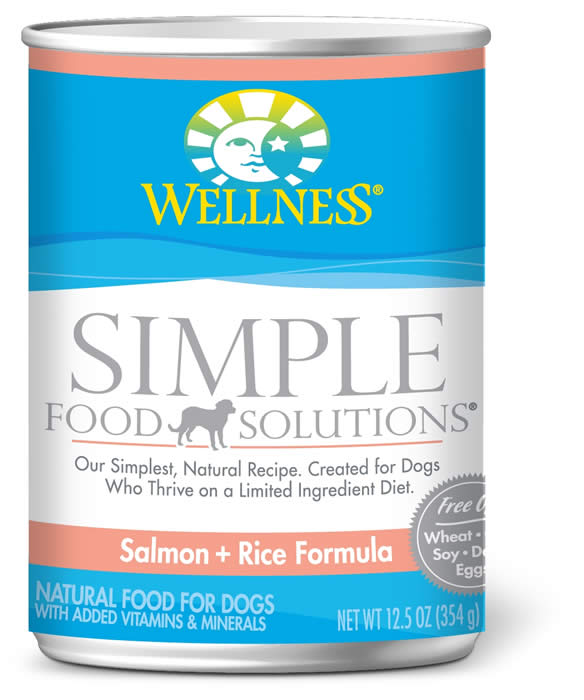 Signs that your dog has allergies may include sneezing, incessant scratching, licking a hot spot, recurrent ear infections, even frequent messes on the living room floor. More than half of all guardians feel their dog has some sort of allergic reaction. Wellness Pet Food addresses these concerns with a 'simple' diet.
A limited ingredient diet is designed to manage allergies naturally, by removing additional proteins, carbohydrates, fillers and additives.
We were sent one can of the new moist Rice and Salmon DOG formula and one small sample bag of the dry Rice and Salmon DOG formula. So we can only speak on the Rice and Salmon flavor.
Animal Radio® already knows the goodness of the Wellness line of food. We already feed our fat studio cat Wellness Healthy Weight formula, and have been delighted with its long-term performance. It is a highly edible diet, giving our felines a shiny coat and tasty treat.
Because of the limited review sample, we can't evaluate the long-term results from such a diet or the claims made by the manufacturer. However, we can say that both the moist and dry food summoned all the felines in the Animal Radio® studios. The cats loved the new Wellness Simple Food Solutions for Dogs. Our studio canine turned up her nose and went looking for something smelly to roll in.
Reviewed by:
Animal Radio® Animals

---




(rated 4 out of 5 paws)

Blue Dog has been around almost as long as Animal Radio®. Ever since their beginnings, they've always delivered wholesome delicious snacks that our dogs AND cats love! The latest delivery from Seattle includes cookie sized Low-fat treats and animal shaped crackers. Ladybug the Animal Radio® Studio Dog loves to play with the cookie, hiding it and finding it before she devours it. I know it's good for her. Take a look at this small company that's becoming available in more places. They'll do your dog good!

Ladybug's Favorite. Small Snacks Peanut Butter Flavor Treats
Made with the highest quality bakery ingredients and our famous Peanut Butter flavor recipe, Small Snacks are a mid-size treat between our larger treats and the Doggie Paws. We like that they're Low-fat. When is Blue Dog going to introduce a daily food?
Reviewed by:
Ladybug

---

(rated 1 out of 5 paws)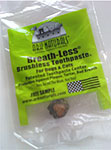 Ark Naturals sent over some small plastic wrapped samples of the new Breath-less line of their plaque-zapper and brushless toothpaste. Unfortunately, they only sent 2 single doses of each; below the recommended dosage on their packaging directions. Because we were unable to verify or validate normal usage of this product, we can neither endorse nor discourage the product.
Boog the Studio Cat (a feline that needs dental cleaning) didn't have any interest in the Brushless Toothpaste Treat, but he's finicky. So, to make it fair, we tried the treat on all the studio animals except the fish. All the cats rejected the treat. The dog played with it for a while and then eventually ate it. Too bad her teeth are the best of all of ours!

Reviewed by:
Animal Radio® Studio Cats and Dogs

---






(rated 5 out of 5 paws)
Snoozy OrthoAir Inflatable Pet Bed by Precision Pet Products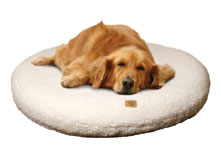 When the OrthoAir bed arrived at the Animal Radio® studios, we figured the studio stunt dog had a new comfy-looking bed to try out. But it wasn't long before we caught the studio cats kneading the 'air' filled mattress before falling into a long slumber. What better way to test the strength of the inflatable bed than with a cat's claws. I'm here to say that not only is the wooly cover warm and soft, but the bed is strong and durable.
Precision Pet Products make some great items, like their popular pet-playpens. They tout this bed as being therapeutic, like a Tempurpedic for Fido. And if your dog...scratch that, if your pet is living with senior joint pain, this bed will give your friend even support with individual air chambers. Made of 32 gauge PVC, it resists bacteria and odor. The Fleece can be dropped in the washer for easy and fast cleaning. It's available in six sizes. No human size yet though....darn!
The bed is prized territory now. Always somebody sleeping in it!

Reviewed by
Boog the Animal Radio® Studio Cat

---





(rated 5 out of 5 paws)

Ticks and Fleas from Multipet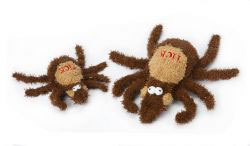 We're really excited about Mulitpet dog toys at Animal Radio®. Our test dog is a 'chewer.' In most cases, any stuffed toys are out-of-the-question. But we're proud to say that the Multipet 'Flea' stuffed toy is still around and still 'Ladybug's' favorite toy. Every dog has a 'Survivor' toy. This Flea will be your pets favorite.

I am not sure who had more fun with Ticks and Fleas ­ the dogs or the guys in the Animal Radio® studios! The plush toys also have squeakers and come in two different sizes ­ 12" and 6". This toy has become the favorite squeaker of "Ladybug," the Animal Radio® Stunt Dog!
Give your dog Ticks and Fleas and let them finally have their revenge!
---






(rated 5 and 1/2 out of 5 paws)
Deluxe Tagalong Bicycle Basket from Solvit Products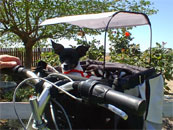 The weather has just turned nice and it is a great time to get outdoors with your pet. But unlike large dogs who can run alongside of you when you bike, it is not possible for the little dogs.
In looking for the perfect bike basket for a little dog, we came across the Deluxe Tagalong Bicycle Basket from Solvit Products. The Deluxe Bicycle Basket comes with lots of storage and even a removable sunshade. No more figuring out where to put your keys, cell phone, water bottle, etc. while riding your bike. And if the sun is too hot for your pup, you can put up the sunshade. It is also large enough for my dog and her favorite blanket or toys.
The basket even comes with a bonus - it becomes a portable pet carrier. All you have to do is remove it from the bike and use the shoulder strap – how great is that! Now when you bike to the farmers market, you have something to carry your pup in!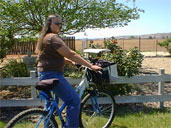 Solvit has thought of everything. The basket comes in a breathable fabric, holds pets up to 13lbs. and has a reflective strip on the front for safety when it gets dark. And it is so easy to install – just minutes. And best of all, you can easily see your dog when you are riding with them.
The bicycle basket comes in two styles. The Wicker Bicycle Basket or the Deluxe Bicycle Basket. The hardest part is in trying to decide which one to chose! But whichever one you decide on – both you and your pup are sure to be pleased!
Now go dust off your bike and get out there!
---





(rated 4 and 1/2 out of 5 paws)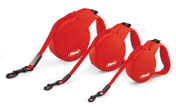 What makes the Flexi Tape/Belt Leash different from other retractable leashes is that instead of a retractable cord, you have a retractable tape. This makes it easier to handle, not as easy to get rope burns and it seems to slide back in the case a little more smoothly.
The Extra Small Leash was perfect for my 5-pound dog and was made for small dogs up to 26lbs. I hate having to lug around bulky, heavy retractable leashes when walking a dog this small. This leash fit perfectly in my hand (I have pretty small hands) and it was comfortable to hold without getting my hand tired. I liked the length of 10 feet, which allows my dog to explore her surroundings without getting too far away. I was also able to control the locking position with one hand and then easily released it.
The leash is available in many different colors, styles and sizes for small to large dogs. Flexi also offers a Deluxe and Designer leash as well.
If you are looking for a retractable leash, I think you will find just what you are looking for at Flexi.
---





(rated 5 out of 5 paws)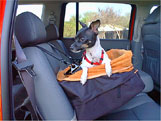 The laws in California are changing, and while it is not yet illegal to drive with a pet on your lap, we here at Animal Radio feel it is still dangerous. We therefore went searching for the perfect car carrier for Ladybug, the Animal Radio® stunt Chihuahua.
We didn't have to search too far before we found the Kurgo Skybox Booster Seat, which allows Ladybug to ride safely and secure in her own little carrier while still allowing her the ability to look out the windows.
The Kurgo Skybox Booster Seat provides enough elevation for her to have a clear view of the road (and other dogs we might pass by!). The Skybox Booster Seat keeps her safe with an adjustable tether that attaches to her harness so she can't get out. It also keeps her within arm's reach and allows her enough room to travel with her favorite blanket or toys.
Remember, all pets should ride in the backseat of a vehicle. If they are placed in the front passenger seat, during an accident the air bags may deploy and they can become injured.
The Kurgo Skybox Booster Seat can hold up to 30 pounds. It also has a washable liner that you can remove and clean. It's so easy to install and just takes seconds - no tools necessary. Ladybug just loves it!
---



(rated 3 out of 5 paws)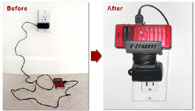 When I visited the E-Z Charge website, I had to laugh when I saw the video. I could definitely relate to the cellphone being charged on the floor with the chord all around it.
Why is it that it always seems like the only outlet that is ever available is not near anything to set your cellphone on? You therefore end up setting your cellphone on the floor where there is not only a good chance it can be tripped over, but there is also the greater chance of the wires being gnawed on by your pets.
The E-Z Charge docking station sticks directly on your cellphone's charger. You then wrap the chord around the post and plug it into an electrical outlet – it's that easy!
The E-Z Charge is a great little device to finally get those chords off the floor. It comes in two colors, grey and black and is priced at $9.95. It will not only work on cellphones, but also on iPods, Bluetooths, etc.
It not only keeps your chords out of the reach of your pets, it also unclutters your floors and countertops.
Will it change the world? No – but it can make your life just a little bit easier!
---





(rated 5 out of 5 paws)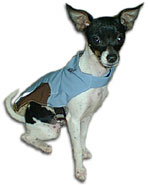 We are just now experiencing the rainy season here in Central California, so it was no surprise that Ladybug, Animal Radio's Stunt Chihuahua, got real excited when the received the Cloudburst – Stylish Eco Rain Jacket for Dogs from West Paw.
The great thing about the Cloudburst jacket is that it not only is made with 100% recycled polyester fabric, but that it is recyclable AGAIN after your dog either outgrows it or wears it out. It also reflective flares on the back of the jacket for those dark rainy days or nights.

The Cloudburst comes in 6 sizes (to accommodate everything from the Labrador to the Chihuahua) and two colors, moss or sky. And when it gets dirty, all you have to do is throw it in your washing machine and let it hang dry.
Look at that twinkle in Ladybugs' eyes – she knows she is wearing something special and now she doesn't have to worry about those April showers!
---





(rated 4 and 1/2 out of 5 paws)
The Dirty Little Cover-Up! These are round corrugated plastic devices that you can put around your plants, indoors or out. They come in 2 sizes and 5 different patterns such a rocks, pebbles, ivy, cocoa shells or barn wood. They can also be trimmed to fit most pots. Now you can keep out cats, wild animals and even these people who put out their cigarettes in your plants!
What a great idea! I have had many plants around my house, which my cats used as litter boxes. I tried to keep the cats out by placing plastic bags, tin foil and anything else I could get my hands on in and around my plants. While the items usually worked, they were not very pretty to look at. I also got tired of explaining to my guests why these items were there.
While they are a little steep in price ($9.50 for the 14 inch; $14.50 for the 24 inch) they will last a long time and they look great.
However, I would like to see a circular guide on the backside to help me trim it to fit my pot, as I never seemed to learn how to cut a perfect circle in kindergarten!
---




(rated 4 out of 5 paws)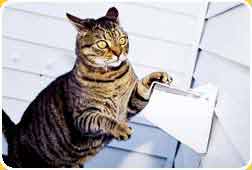 Most pet owners find themselves getting up and down constantly to check and see if their dog needs to go outside to do his business. You may also get up frequently thinking you hear your cat crying outside to come in. Or worse, by the time you do get up, your dog or cat has already destroyed your door or screen. Maybe you even thought about installing one of those doggy doors but were afraid you would end up with unwanted critters in your house.
How cool would it be to actually have a device that lets you know when they want either in or out? The Pet-2-Ring device can let you know! This is a doorbell that allows your cat (yes, cats can be trained to use this) or dog to ring their doorbell just like you or I ring a doorbell. This is not only a fun product to work with and bond with your animal during the training sessions, in the end you will have a useful tool for both you and your pets.
Just think how amazed your friends will be when they find that you have trained your cat or dog to ring the doorbell!
---





(rated 5 out of 5 paws)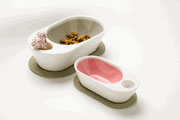 Zen Pet Food Bowls by WETNõZ
Face it, anyone who has animals has food bowls some place in your house, and usually your kitchen. Most dog bowls are plain and some are fairly unattractive. There is nothing wrong with wanting a pet food bowl that is both practical and attractive.
The Zen pet dining bowls from WETNõZ are both practical and attractive. They are made from fine bone china/porcelain and best of all are dishwasher safe!
They are shaped in a pill like form, sort of oblong, and there is a reason for this. You can place them in either direction ­ one for cats and one for dogs. For the cat, (placed perpendicular to their body) reduces whisker contact with the sides of the bowl. For the dogs, the opposite direction allows their ears to fall outside of the bowl ­ how clever is that!
There is also a thumb hole for easy gripping, which can double as a treat receptacle for that 'two-course meal' dining experience. What dog wouldn't love that!
---





(rated 4 and 1/2 out of 5 paws)

Wingscapes BirdCam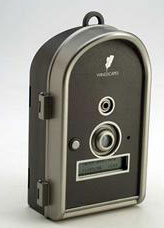 After moving our studios from Utah to California, we were very fascinated by the wildlife in this area, especially the birds and in particular the hummingbirds. And anyone who has ever tried to photograph hummingbirds knows how hard it is. Those birds are just too darn fast!
When we heard about the Wingscapes Bird Camera, which is a digital camera and digital video camera, we just had to try it. It makes taking pictures of birds so easy, whether or not you are a serious birder or just curious about the birds in your own backyard, like we were.

The camera is digital, weatherproof and motion-activated. No wasted pictures when nothing is there! It's so easy to set up and use, and comes with everything you need to start using it right away, except for four D cell batteries. All you have to do is set it on the ground, use the mounting arm or place it on a tripod, and let it do its thing. It can be set on auto, manual or time-lapse, using a remote control.
And not only does it capture pictures of birds, it can also detect small animals. So now you can find out what your dog has been doing in the backyard all day long!
This is the perfect Christmas gift for the bird lover in your life!
---





(rated 5 out of 5 paws)

Puppy-PenZ by Epic Pets


This is a great item! Not only is it a puppy playpen when you're not home or can't watch your dog, it is also a potty area. And when you're finished potty training your new pup, it also becomes a long-term indoor potty place. Just leave the door open and teach your dog to use it on a regular basis.
It also gives your pup plenty of room to stretch and play. No more leaving him in a crate where he can't move around, or where if he has to go to the bathroom, he either has to hold it or he goes and then steps in it. Also, no more taking him out in the middle of the night or on those cold or rainy days! (Priceless!!!)
One end has been set up for your dog's bed and the other end contains synthetic grass for your puppy to use as a potty area. There are also openings at both ends for your dog. It has a drainage system underneath the grass, and all you have to do is pull out the removable waste container, which can hold up to 3 and 1/2 gallons, and dump it in your toilet. You can also use the Puppy-PenZ Deodorizer (which is biodegradable and non-toxic) to keep it odor free.
It is so easy to put up. You don't need any tools and can set it up in just minutes.
If you're thinking about getting that new puppy ­ you won't want to be without a Puppy-PenZ. Puppy-PenZ is recommended for puppies and medium sized dogs.
---






(rated 5 and 1/2 out of 5 paws)

Sleepypod Mobile Pet Bed by Meowme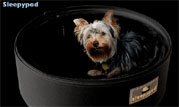 Every once in a while we get a product for review where our studio cats will barely let us get it out of the box. And while they usually like to play with the box first, they immediately were attracted to the Sleepypod.
Wow, what a bed! This Sleepypod does it all! It's not only a great bed for your pet to sleep in, but it can also be heated for chilly nights and is great for the older pet.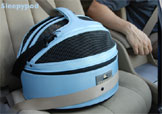 And, we all know how our pets hate to go to the vets, but with the Sleepypod, they can be moved right in the comfort of their own bed. The Sleepypod is easy to move to and from your car with the handle that comes with a handgrip, and easily fits on your seat where it can be securely buckled in. And if you travel by plane, the Sleepypod fits under the seat on commercial airplanes.
The price may be a little steep, but when you think you'll only need one bed instead of the usual bed for the house, the bed for the car, the bed for transporting your pet, etc., it is a deal! And, it is available in many different colors.
This is an attractive and sturdy bed, as well as being very versatile, and is a big winner at Animal Radio®!
---





(rated 5 out of 5 paws)

Odorzout by No Stink, Inc.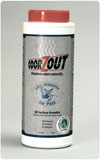 Odorzout Cat Litter Additive Powder ­ we added this directly to the litter boxes to eliminate the odors between changes. (While we didn't apply it directly to our pets, you can do this to eliminate odors and to deter fleas and ticks.)

Odorzout Pet All Surface Granules ­ we used this on our cattery, which sometimes our cats use as an outside litter box. Now, it no longer smells like one! (You can also use this in crates, kennels, bedding and even your car.)

Odorzout Cat All Surface Granules ­ we sprinkled this on the carpet in the studio where the studio cats like to hang out. It no longer smells like a cattery in there! (Can be used on cat posts, window perches, carpet, etc.)

Odorzout Laundry Additive Powder ­ (our favorite!) you add this to your washing machine with your regular wash load. (We also used this on clothing that had been left in the studio that was getting a little musty!)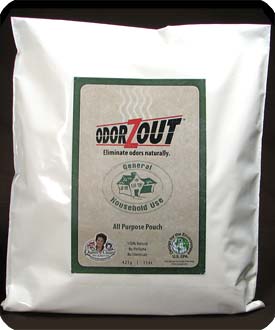 Odorzout All Surface Pouches ­ we put this in the studio refrigerator (you know how the community refrigerator never seems to get cleaned out!) and it helps to keep fruit and vegetables fresher and longer.

Odorzout is 100% safe for pets and people too, which is very important to us here at Animal Radio®. You can eat it, roll in it, or lick it. And, their products are "Green," made from recycled plastic and paper.

We found the use of Odorzout Products endless - just use your imagination!

---





(rated 5 out of 5 paws)

Permascratch Scratching Post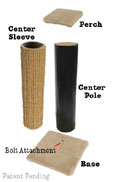 We see a LOT of Scratching posts here at Animal Radio®. That's why we stood at attention when the Permascratch posts arrived at our studio. They've been designed strong, sturdy - and best of all, you can replace the outer sleeve with carpet or a sisal. And if you have active cats like we have - that can save you money in the long run.
Usually we don't like the smaller posts - but the Permascratch is just the right height (and can be adjusted) for any aggressive cat-workout.
The post that Permascratch supplied Animal Radio® for this product review was handmade. All the interchangeable parts were engineered by the inventor Polymer. He is the part of this father-daughter owned business. Hand-care is
put into every post. Get one before some big company buys them up!
---





(rated 5 out of 5 paws)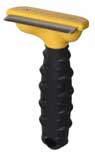 The FURminator
This reviewer was already a big fan of the FURminator before the review product was sent to Animal Radio®.
We believe that brushing your pet has many purposes. Besides the obvious removal of excessive hair - it deepens your bond with your pet - and allows you to examine his/her body for abnormalities. So 'every-day' brushing is the norm here. And it's made simple with the only brush that easily removes loose hair from even the hairiest of creatures. It also removes other undesirables that a regular brush misses.
Our studio cats love being "FURminated" sooo much that they'll come running to me at the sight of the yellow handle.

Our only gripe, it's pricey. And while it's the only brush you'll ever need - and it will pay for itself by lasting longer than traditional brushes, I did need to pull out the credit card to pay for one for my house.
The FURminator is one of Animal Radio's top ten of 'all-time' pet products. The same company also now makes low-shed shampoo and dog treats too.
---





(rated 5 out of 5 paws)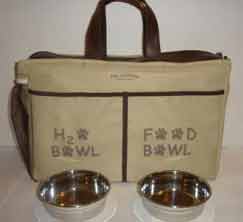 Doggie Diaper Bag
How many times did you leave something behind when taking Fido along on a trip with you? Wouldn't it be nice if you had one bag that you could grab which contained everything you need?
Metzger's Designs has come to your aid. They have designed a Doggie Diaper Bag that includes two heavy stainless steel bowls for food and water, six exterior pockets for miscellaneous items and room inside for toys, food, a blanket, etc. And the best part, the strap can be used in a pinch for a leash ­ how cool is that!
This is something that you can always have packed and ready to go. No more spending time searching for all of Fido's necessary travel items, only to leave something behind.
---





(rated 5 out of 5 paws)

Kids-Did-It!


Kids-Did-It is an art collection of images created by children ages 5-14. Their teacher, who is an artist, art director and teacher compared work her students to the traditions of the classics. She also encouraged her students to take their artwork off of the refrigerator and frame it!
But why limit it to their homes! Kid-Did-It allows the artists to both enjoy the thrill and satisfaction of being published, as well as earning royalties on the licensed reproduction of their work.

Some of the available items include:
Art Education Book
Art Calendars
Note Cards and Gift Bags
Prints and Posters
Collectors Postage Stamps
Promotional Calendars
Do-It-Yourself Containers
Images available include everything from animals and flowers to landscapes and people.



My favorite was the Kids-Did-It! mug that changes color as it heats up. I know it is around here somewhere, but I can never find it as it is always in use. Perhaps I should have ordered two!
And remember, when purchasing items from Kids-Did-It! you will not only get a great item, either for a gift or for yourself, the artists will also earn royalties on the licensed reproduction of their work.

A win-win for everyone!
---
---
See other reviews at AnimalRadio.com. Send products for review on-air and in the newsletter to:
Animal Radio Network™ Product Reviews
699 Paula St.,
Morro Bay, CA. 93442

Product may not be returned. Allow 5 weeks for review.