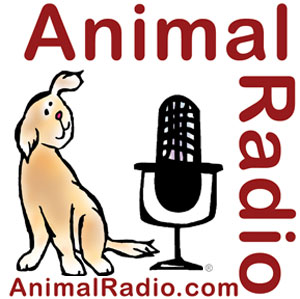 Animal Radio® Show #578 January 1, 2011
Experimenting With Shelter Animals
Allie Phillips – How Shelter Pets Are Brokered For Experimentation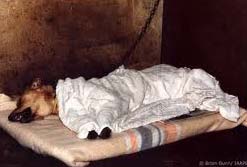 What happens to the animals that are not adopted at the shelters? Most of them are euthanized. Currently there are about 500,000 animals euthanized in the United States every year.
But there are still animals that don't fit into either of these categories. They are neither adopted nor euthanized. These animals are being brokered for experimentation. Some shelters across the country voluntarily send these animals to places where they will be experimented upon. These animals could end up in a medical school (surgical techniques or medical tools), a veterinary school or they may be sold to into biological research and even into the pharmaceutical (human and animal drugs) industry.
Allie feels that this is a bad thing, even though the animals would most likely be euthanized anyway. She states that when you think about an animal shelter, the word sheltering by its own is a safe place for that animal. When a shelter engages in pound seizure, it is not a safe place for that animal for many reasons. One of the main reasons is that these cats and dogs were not brought into this world to be experimented upon. They were brought into this world to be socialized and may have even been in a home at one time. But just because they lost their home, doesn't mean that they can just change their lifestyle, learn how to live in a cage, learn to be handled by strangers and be experimented upon.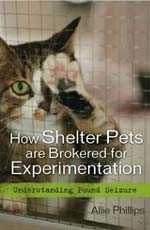 There are currently 17 states, along with the District of Columbia, that outlaw this practice. The remaining states have left it up to the individual shelters to decide. There are two states, Minnesota and Oklahoma, that have mandated this practice. So if an animal broker, Class B Dealer (animal brokers licensed by the U.S. Department of Agriculture) or a research facility goes to shelter in either of these two states, they cannot turn them away.
Allie feels that people need to know, because shelters are not putting out a plaque that says, "If you bring your cat or dog into this shelter, we may resell it for experimentation." She feels it is a betrayal of trust for the community.
Though many organizations are phasing out the use of such testing, these sections are still disturbing. Taking readers methodically through the facts of the issue in her new book, How Shelter Pets Are Brokered For Experimentation, Phillips hopes to not only create awareness but also advocacy and provides a bounty of practical resources for anyone who wants to take action.
Nation's Largest Pet Insurer Reviews Year of Foreign Body Ingestion Claims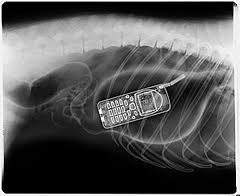 With nearly 2,000 foreign body ingestion claims received over the past year, Veterinary Pet Insurance Co. (VPI) – the nation's oldest and largest provider of pet health insurance – saw plenty of pets make meals of inedible objects. Many of the usual ingestions showed up again and again; socks, hand towels, sticks and rocks were especially popular pet "snack" choices. Other ingested items were not quite as common. Following is a list of just some of the more noteworthy items that were removed from the stomachs of VPI-insured dogs and cats in 2010. All pets made full recoveries and received insurance reimbursements for eligible expenses
jellyfish
glue
estrogen patch/make-up brush
tube of denture adhesive
dead poisoned vole
bikini
ink pen
plastic nose from teddy bear
magnetic purse clasps
baseball
glass Christmas ornament
hearing aid
bed sheet
box of pencils
popsicle stick
avocado pit
dental floss
coffee filter/coffee grounds
fishhook
pain relief tablet/B.B. pellet/highlighter
tent door
toy squeaker
watch
16 steel wool pads
pseudoephedrine/sponge/snail poison/tampon
20 cherry pits
light bulb
barbecue brush
Frisbee
jumper cables
razor blades
uncooked rice (1 pound)
wallpaper paste
squirrel
balloon ribbons
bird (whole)
butter/sand
deer antler (partial)
extension cord
leash/3 sticks of butter
pin cushion
portion of wool rug
tobacco
TV remote control
10 quarters/one penny/one Canadian coin/three arcade tokens
foot-long submarine sandwich
fire log
wooden toy train
pine cone
round chew bone (whole)
caulk
eye glasses
money (paper)
oil-soaked dirt
sand
rosary crucifix
25 to 30 soiled diapers
bath bubble mix
bathtub cleaner/outdoor plants
duck bone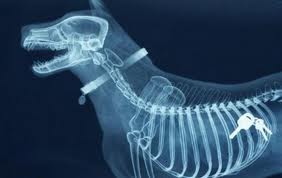 VPI policyholders spent almost $3 million treating pets that ingested foreign objects in 2010. To avoid costly ingestion incidents, VPI recommends that all pet owners keep a close eye on their pets and place any item they suspect a pet may want to chew or eat safely out of their pets' reach. As the list of 2010's unusual ingestion claims indicates, pet owners should never underestimate their pets' ability or desire to eat anything they can find.
About Veterinary Pet Insurance
With more than 485,000 pets insured nationwide, Veterinary Pet Insurance Co./DVM Insurance Agency is the No. 1 veterinarian-recommended pet health insurance company and is a member of the Nationwide Insurance family of companies. Providing pet owners with peace of mind since 1982, the company is committed to being the trusted choice of America's pet lovers and an advocate of pet health education. VPI Pet Insurance plans cover dogs, cats, birds and exotic pets for multiple medical problems and conditions relating to accidents, illnesses and injuries. Optional Pet CareGuard® for routine care is also available.

Medical plans are available in all 50 states and the District of Columbia. More than 2,000 companies nationwide offer VPI Pet Insurance as an employee benefit. Policies are underwritten by Veterinary Pet Insurance Company in California and in all other states by National Casualty Company, an A+15 rated company in Madison, Wisconsin. Pet owners can find VPI Pet Insurance on Facebook or follow @VPI on Twitter. For more information about VPI Pet Insurance, call 800-USA-PETS (800-872-7387) or visit www.petinsurance.com

Dodge Journey Pet Destinations
What Is Your Favorite Place To Take Your Pet?
People who have pets love to travel with them. At Dodge, they have made it easier with their pet friendly vehicle, the Dodge Journey, which contains concealed storage bins, Chill Zone glove box cooler and second-row dual in-floor storage bins with removable and washable liners (very handy for muddy paws!) Call us with your favorite place to take your furry-friend: 1-866-405-8405
This week's Dodge Journey Pet Destination: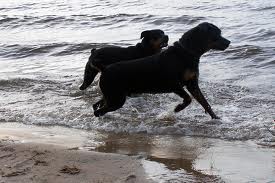 Daniel, who lives in Florida, likes taking his two dogs, a Labrador and Rottweiler, to St. George's Island in Florida. There is a State Campground that he stays at. While the dogs are not allowed to be on the beach at the campground, just a short distance away are the public beaches where all dogs are welcomed. St. George's Island is located on the northwest part of the state on the Gulf of Mexico.
Past Dodge Journey Pet Destinations: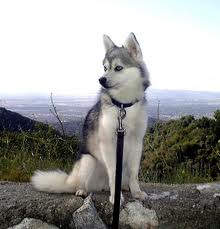 Leslie of Richland, Washington loves to take her Alaskan Klee Kai dog to the Columbia River Park in Kennewick, Washington. Leslie states it is a wonderful place to take a dog because there are wide-open spaces along the river with a mile long paved walk that follows along the river. It's a very clean and dog friendly place, as long as you keep your dog on a leash and clean up after them.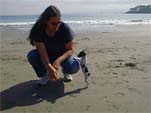 "Julie" likes to take her dog Ladybug to the San Simeon Beach in San Simeon, California. The beach is across the street from Hearst Castle, which you can see up on the hill. It is a great little beach to walk your dog on and if you are there at the right time of year, you might even see sea lions. The City of Cambria is just minutes away where you will also find a great dog park.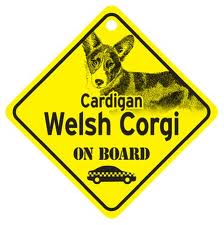 Randy is an Over The Road Trucker (OTR) and never travels without Bridget, his venerable Cardigan Welsh Corgi, traveling companion. Randy has a Dodge Journey Pet Destination that is great for truckers with pets. It is in Salt Lake City, Utah, and is the Cottonwood Dog Park at 850 Redwood Road. What makes it so great for truckers is that it is about 3 blocks away from the Sap Brothers Truck Stop. A trucker can actually take a bobtail truck and drive it to the park, parking on the street right at the dog park. Randy actually found the dog park using the website www.dogparkusa.com.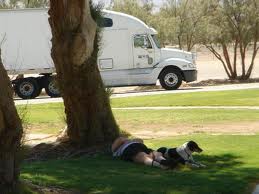 Larry is an Over The Road Truck Driver (OTR). He travels with his six-year-old Chocolate Labrador that's been traveling with him for over four years. After many years of trucking, Larry tries to avoid truck stops. He finds that there is too much garbage from truckers who throw their trash on the ground. He has come across many items that have been tossed, including chicken bones. As a result, he now stops at Rest Stops across the country. One of his favorite rest stop is the Dows on I-35 about 70 miles North of Des Moines, Exit 159.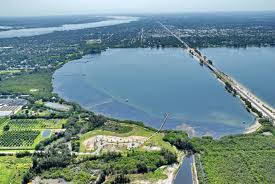 Bill is a trucker who travels all around the country. One of his favorite places to take his dog is the Manatee Avenue Causeway in Bradenton, Florida (Highway 64). There is the bay on both sides of the road. People take their dogs, everything from Chihuahuas and Great Danes, to even horses to this beautiful bay.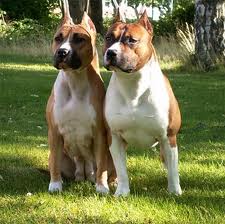 Mike who lives in Grand Junction, Colorado loves to take his dogs Glade Park just outside of Grand Junction. It is on the Grand Mesa National Forest and it has a good wide-open area to let your pet run around and play in. His two Staffordshire Terriers love this park. It is a big recreation destination and people not only bring their dogs, but you will see many people out riding their horses. A glade is an open space, and in this case, it is surrounded by natural wonders: Colorado National Monument, Piñon Mesa (with a chunk of Grand Mesa National Forest), and McInnis Canyons National Conservation Area.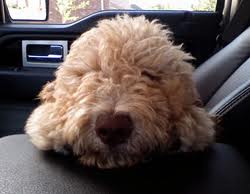 Sharon is a trucker and travels around the country. She has a Labradoodle named Phoebe who has been riding with her in the truck all of her life. One of her favorite places to take Phoebe is the Executive Suites in Wichita, Kansas. Having a big parking lot for her truck is very important to Sharon, and the Executive Suites can accommodate her, her dog and her truck very easily. The Executive Suites are very "trucker" friendly and even offer free laundry and breakfast.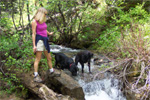 Theresa from Montana says that there are lots of beautiful places to take your dogs in Montana. But, her favorite place is Heart of the Valley Dog Park in Bozeman, Montana. The park is six acres and it is like a social event for dogs. There are usually at least ten to twelve dogs there at a time. Theresa has 2 black labs and they go weekly to the dog park.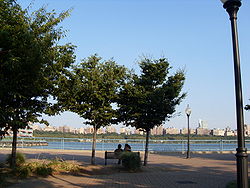 Joey Villani, the Dogfather and Animal Radio® Groomer, recommends a place back in New Jersey called the Riverwalk. Riverwalk runs about three miles along the Hudson River with a beautiful view of the Manhattan Skyline. You will see the most posh pooches in the world with the greatest haircuts, well, maybe not so great now that he is no longer there!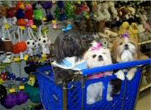 Mike of Santa Maria, California likes taking his dogs to PetSmart in Santa Maria, California. He has 2 Shih Tzus and they love going there. It is their treat of the week. They like to run around the store and smell all of the items on the shelves. He states that they are very social dogs and they get to meet and great all of the other dogs and people. They even enjoy riding in the carts!

Animal Radio® nominates the Loews Lake Las Vegas as this week's Dodge Journey Pet Destination. This was the first time anyone from the Animal Radio dream team had ever visited Loews Lake Las Vegas and we were all truly enchanted by the grounds. The fact that they let your furry friend (with all sorts of pet amenities) enjoy it with you, makes it that much more inviting. If you are ever in the area, don't miss the opportunity to check this hotel out - we give it a 5 Paw Rating!

While Victor was currently in the process of moving to Alaska from Alabama, he recalls the fond memories he had with his Lab who loves any place that has water. Her favorite place was Twin Mulberries in Alabama, which has a Little Mulberry Creek and a Big Mulberry Creek. She loved playing in the Big Mulberry Creek with her football. I am sure she will find some exciting places to play in Alaska as well!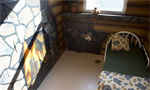 Carol from Pennsylvania loves to take her dog to the Nemacolin Woodlands Resort, which is a family and luxury vacation destination on 2,000 wooded acres in the Laurel Highlands of Southwestern Pennsylvania. You will also find the Nemacolin Wooflands, Pet Resort and Spa, Pennsylvania . You will find everything from climate-controlled rooms with elevated beds to a grooming salon, daycare and obedience training classes. The only problem you will have is that your dog will not want to check out!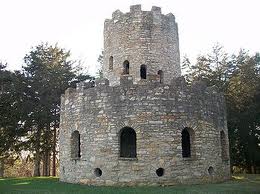 John of Clinton, Iowa loves taking his dogs to Eagle Point Park in Clinton Iowa , which has a big dog park and is situated in the northern section of Clinton. There, you will find a place to walk your dog on the levee along the river. Eagle Point Park overlooks the Mississippi River and General Zebulon Pike Lock and Dam (No. 11). It is a 164 acre park. Visitors are provided with spectacular views of the river and parts of Illinois, and Iowa. In the fall, you might even get lucky and glimpse hundreds of eagles fishing in the river.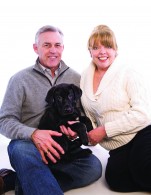 Susan Sims, Publisher of Fido Friendly Magazine, travels constantly around the country exploring Fido friendly places. So, we asked her what her favorite place was for her and her husband Gregg to take their dog, Junior. Susan loves Seattle, Washington, and tells us some great places. Susan picks Kimpton's Hotel Vintage Park in Downtown Seattle as her favorite hotel. During her stay, she enjoyed a view of the Space Needle from her room. Next, she picks Tulio Restaurant in the hotel. While your dogs can't dine in the restaurant, she was able to order some fabulous food from room service. And lastly, while she was in Seattle, she took her dog to Marymoor Dog Park in Redmond, Washington , which has 40 acres of off leash fun for your dog!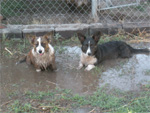 Mark, from Southeastern Wisconsin, recommends the Burlington Dog Park in Burlington, Wisconsin. He tells us it is a great place to take your dogs in the summer. They have some great open fields to let your dogs run free. It is also next to the Fox River, so if you have a dog that likes to flop around in swampy mud, it is a great place!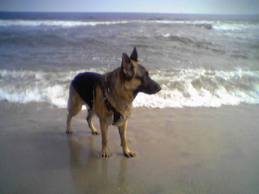 Vladae, Animal Radio's own Russian Dog Wizard, is one busy guy. He sees one client after another and is always hard at work turning unruly dogs around for their guardians. But after a hard day of training dogs, he and his wife like to take their dog Mika (who is of course very well behaved), to the Huntington Beach Dog Park in Huntington Beach, California. There, Mika can run free with the other dogs and just be herself!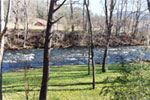 Steve from Tennessee recommends the town of Townsend, Tennessee, one of three gateways to the Great Smoky Mountains National Park, which has dubbed itself "The Peaceful Side of the Smokies." You can find many roadside parks along the Little River to take your pets. Steve states that his dogs first learned how to swim in the Little River.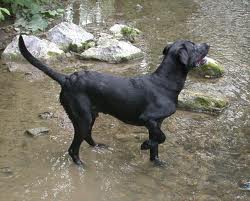 Richard of Bend, Oregon likes to take his Labrador Retriever to Tumalo State Park in Bend, Oregon, in the heart of sunny central Oregon. Tumalo State Park rests along Oregon's spectacular Deschutes River, which is a great place for your water-loving dog to romp.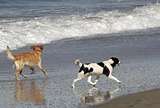 Glenn of San Diego recommends Ocean Beach Dog Beach in San Diego, California. Ocean Beach Dog Beach is open to canines any time. This small beach has plenty of sand for the dogs to run on, and waves for them to run through. On weekends there can be up to 100 dogs there.

Bo from Los Angeles, California tells us her 2 black labs like to go hiking and to the beach. But one of her favorite places to take them is Runyon Canyon Park in Los Angeles, California. It is a 130-acre park in the Santa Monica Mountains, two blocks from Hollywood Boulevard. She states that this is a great place where your dogs can frolic with other dogs and have a good time! And who knows, you might even catch a glimpse of a celebrity and their pet while you're there!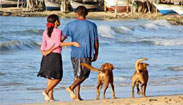 Danielle from Shell Beach, California tells us her favorite place to take her dogs is Avila Beach, California. She states it is a very secluded beach with a nice protected area to let your dogs run free. Everyone brings their dogs to this beach and it is a very pet-friendly place.
The Dogfather's Grooming Tip with Joey Villani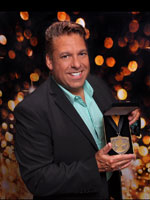 What Does Salad And Your Dog's Coat Have In Common?
Olive oil! Give your dog a hot oil treatment!
To start with, bathe your pet like you normally would with your favorite pet shampoo. The amount of oil you use depends upon the size of your dog. For a small to medium sized dog, you will use about 1/4 to 1/2 cup of olive oil. For large dog, you will use about 3/4 to 1 cup of oil. It doesn't matter if you use virgin olive oil or regular.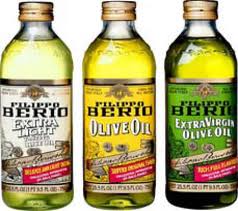 Heat the oil just a little bit. Don't make it too hot or it will scald your dog. You want it warm. You can test it by placing a small amount on your wrist. Pour the warm oil over our dog and work in into their body. Cover your dog from head to toe, working it in the legs, between the toes, nails and head.
Then, wrap your dog in a towel. This will give the oil a chance to sink into and be absorbed by their skin. Do this for about five minutes. Then shampoo your dog again and rinse it off.
Your dog will have a really nice, silky, shiny coat without the itch!

DOGFATHER'S GROOMING TIP Brought To You By SeniorPetProducts.com. Use the code "radiospp" to receive 25% off!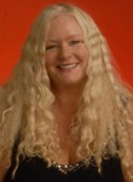 Animal Radio® News with Laurie Roberts

Breeder Euthanizes 1,200 Dogs
A breeder in Kansas had to have an estimated 1,200 dogs euthanized after an outbreak of distemper at his kennel. The Beaver Creek Kennels near Oberlin had been quarantined twice after health officials had received complaints of sick puppies being sold out of state. When owner Jeff Fortin couldn't sell the dogs because of the quarantines, he ran out of money to pay his staff and to care for the animals. Nearly three years of records show violations at Fortin's kennels for failure to keep adequate records, failure to treat animals with health problems and allowing trash, junk and more near the kennels. Distemper is usually deadly and very contagious. 24 cases were reported in Wyoming, all citing Fortin's kennels as the source. No other shelters would take the animals, so in Kansas, the Animal Health Dept., had to make the agonizing decision to euthanize by intravenous injection, the nearly 1200 dogs, which were buried on nearby farmland.
What To Get The Pet That Has Everything
Here are some of the latest items you can score for your pet if you have deep pockets: Perhaps you could shop at the Mutt Club, in Beverly Hills, where they offer pet bowls with their name etched in gold, pink mink stoles from Saks Fifth Ave., and more. Sandra Bullock, Jamie Lee Curtis, Susan Sarandon, Billy Joel and Vince Neil are amongst the regulars at the Mutt Club. If your pooch is getting a bit, well, poochie around the middle, you can get a special doggie treadmill, priced $600-$1500. Too hot in the doghouse? Get that air conditioner, only $550. And not only dogs get the red carpet treatment - cats can get a floor to ceiling kitty tree for $300 and even Petco, far from Beverly Hills, offers an impressive upgrade for your hamster's condo. You can get a kit that includes a couch, TV, lamp and other furnishings.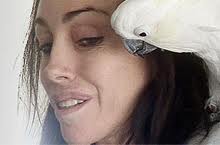 Madam Fleiss Gets Own Show on Animal Planet
Hollywood Madam Heidi Fleiss is getting her own reality show on Animal Planet. The show will focus on her care and training of the 20 exotic birds she has uncaged in her Las Vegas home. She doesn't advocate the selling of exotic birds, saying they are complex, intelligent, require a huge time commitment and should not be caged. She is caring for these birds because she promised a dying friend she would care for their birds. Don't think Heidi is going soft on us, though, she says she is a madam and a skin trader and not the type of person that has pets.
Should Vick Be Allowed to Have Dog?
NFL quarterback Michael Vick, who spent 18 months in federal prison for running a dog fighting ring, is now saying he loves animals and would like to have another dog in the future, saying it would be a big step in his rehabilitation. Vick explains his cruelty to dogs by saying when he was young, he got caught up in dog fighting. He says he doesn't want to blame his culture, but nobody ever told him it was the wrong thing to do. He adds that he loves animals, dogs, birds and all types. There were 66 dogs taken from his farm in Virginia when the dog-fighting ring was broken up. Most have been rehabilitated and found homes all over the country. Vick is legally not allowed to own a dog at the current time.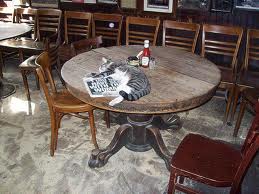 Woman Claims Being Mauled By Bar Cat
McSorley's Old Ale House in New York City has served libations to numerous US Presidents, also Harry Houdini, Woody Guthrie, Babe Ruth and other legends. They are also known for their entire 156-year history of having a resident cat. In recent years the Health Department has made them keep the kitty in the back during business hours and not out amongst patrons. But enter Cheryl Sibley, a 53-year-old woman, who says that she was mauled by Minnie, the bar cat, and it left her with serious injuries. She says this attack took place in October of 2009. However she just filed a lawsuit last month. McSorley's owner, Matthew Maher, says he has no recollection of an attack and would have been the first to call her to see how she was. He adds that since the cat is not allowed in the bar during business hours, Ms. Sibley must have been there after hours for the attack to have occurred.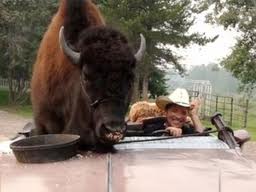 Customized Pontiac for Buffalo
Don't mess with Jim Lautner of Alberta Canada. He is the one with the customized Pontiac, which is set up so it can fit him and his close friend and pet, a 1,600 pound Buffalo named Bailey Jr. Jim taught the buffalo to sit. He also snuggles and joins Jim in town for a beer or three on occasion at the local watering hole in Spruce Grove.

Medical Marijuana Not Just For Humans Anymore!
A French Farmer was given a one-month suspended sentence and a fine of around $700 for feeding marijuana to his ducks for medical purposes. The farmer admitted to giving the ducks marijuana to de-worm them. After reports of a theft, Police found 12 cannabis plants on his farm. The farmer stated that he was advised by a specialist to give the ducks the substance because it is the best worm repellant available. Even though it was for the ducks, the farmer admitted to smoking some of it himself.
Listen to the entire Podcast of this show (#578)

indicates XM Satellite Radio and Podcast versions only.