Animal Radio® Show #526 January 2, 2010

indicates XM Satellite Radio and Podcast versions only.
Betty White

When one thinks of celebrities and animals, one can't help but think of Betty White. They go hand in hand. Or paw in hand. That's because Betty White is as passionate about animals as she is about acting, which is the other reason we know and love her. When asked what type of animal she prefers, she states "anything with a leg on each corner."
Betty's first animal was even before she remembered. When she first came home from the hospital, her family had a Marmalade cat named Toby who would sit on the corner of her crib. Her mother would always say that if Toby hadn't approved of the new baby, she would have sent Betty right back to the hospital!
Betty is a current trustee and former president of the Morris Animal Foundation, (MAF), having been with them for 40 years. MAF is the world's largest nonprofit foundation 501(c)(3) dedicated to funding research studies to protect, treat and cure animals, including companion animals (dogs, cats, horses, llamas/alpacas), as well as wildlife (mountain gorillas, elephants, rhinoceros, wolves, and many varieties of birds, reptiles, amphibians, and fish). The MAF is currently doing research on a cure for cancer.
Drug Sniffing Dogs For Hire
Raul Perez, Abet Security Systems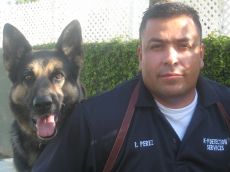 Parents have a new tool in the war against drugs – drug-sniffing dogs!
Raul Perez, of Abet Security Systems, began to offer the drug-seeking dog service to the public in 2000 and has seen the requests for his dogs steadily increase over the years. Parents who believe their children might be involved with drugs personally request his service.
Raul believes in the privacy of children, even his own, but if he believes that they are doing something behind his back, he wouldn't hesitate to use one of these dogs.
Raul currently has three dogs. It normally takes 6 to 12 weeks for them to complete their training. He will also do training sessions for guardians who want to train their own dogs.
Abet Security is certified by the Drug Enforcement Agency in order to conduct these searches in the homes of consenting parents. However, they can only search rooms that belong to the minor child of the adult. And if they happen to find any drugs, they do not have to alert any law enforcement. They can hand the drugs over to the parents and let them decided how to handle it with their
child.
Take a Fashionable Walk In the Park
Sandy Lewis, The Shabby Dog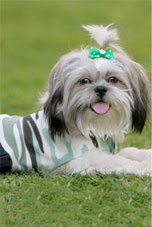 Sandy Lewis just opened up the Shabby Dog Boutique in Sierra Madre, California. The Shabby Dog offers a variety of items such as dog bows, fancy custom dog beds, and of course their Designer Tees.
We were immediately drawn to the tees because of all of the great sayings. You will be sure to find one to fit you and your dog.
Some of the Designer Tees sayings you will find are:
"Been there – sniffed that!"
"Born to Snooze"
"Fleas Navidad"
"I Have No idea Where I'm Going"
"iPaw"
"My Other Leash is a Gucci"
"OMG – BOL"
"Sniff Happens"
"Stop Texting' Walk Faster"
"Too Cute To Fetch"
"Yes, I've seen her naked!"
Who thinks up these sayings? Sandy also owns a fitness facility and one of her clients is Tom Gammill, a Seinfeld writer who also writes for The Simpsons and Monk. Tom is one really funny guy, so he easily came up with these great sayings on some of their tees.
The Shabby Dog has also introduced the hands free –leash. Of course Hal would like to see a "leash free" leash, but that's just not going to happen. But what the Shabby Dog has done is to create a leash with clips at both ends. There is a clip to attach to your dog's collar, and there is also a clip that attaches to a designer wrist cuff that you personally wear. They come in hyper, fun colors including a patent leather hot pink, black and white blend, or a navy, yellow and white combo for the super preppy. These are so cute you may want to wear them even without the leash and your dog!
Make sure your best friend is properly cared for and loved with the Shabby Dog's range of products!
Animal Radio® News with Bobbie Hill


Flu precautions can also extend to pets
Although two cases of H1N1 "swine" flu involving cats were confirmed in Colorado recently, a Glenwood Springs veterinarian doesn't believe it's a huge concern for pet owners. However, with pets headed to kennels in the coming weeks while their owners are traveling for the holidays, it's a good idea to take precautions. Those planning to kennel a dog or cat ideally would want to have a vaccine done five weeks beforehand and again two weeks prior for the greatest immunity. He also stated that vaccines could be done the same day a pet is put in the kennel and still be effective.
Another dog is exiled
A spate of high-profile dog-biting incidents has prompted debate over appropriate punishment for aggressive pets in Massachusetts. Three biters were recently banished from their hometowns: Lester, a blue tick coonhound, bit four people; Gabriella, an English mastiff, bit the wife of the Red Sox pitcher; And now Hawk, a 3-year-old Belgian Malinois, must leave town after biting a 71-year-old woman. But, if a dog is dangerous in one town, it is probably dangerous in another town. So banishment may not be the best solution. Legislation is being sponsored to define and strengthen the dangerous-dog ordinance without banning specific breeds.

Kiss a frog? Veterinarians warn against it
Don't Kiss Frogs - In the movies, kissing a frog can result in a prince. But, as the disclaimer often says, "Do not try this at home." Frogs, like all amphibians and reptiles, can be a source of Salmonella infections in people. The American Veterinary Medical Association (AVMA) and Association of Reptile and Amphibian Veterinarians (ARAV) are reminding the public that instead of a prince, improper handling of amphibians and reptiles—and that includes kissing a frog—can result in a nasty illness.
Domestic shelter in Victoria to include pets
A $2 million domestic violence facility expected to open next year in Victoria isn't just about helping people. The Women's Crisis Center in Victoria is adding a pet shelter. Jo Janssen with Mid-Coast Family Services says the organization has had victims of domestic violence refuse to seek shelter because there were no accommodations for their pets. Janssen says some people who left pets behind have told horror stories of animal abuse and death. The Women's Crisis Center has formed a partnership with the American Humane Association to take part in the pets and women's shelter program.
Victims want stiffer penalties for stealing pets
A man who has lost several dogs in his Dallas neighborhood is speaking up in hopes the city will create stiffer penalties for people taking other people's pets. Brad Kirby said his eight-year-old husky "Dusty" was stolen two years ago. While Kirby got her back, he said he has never found his other huskies, "Cosmo" and "Diamond." He has tried to get Dallas City Council to adopt a new ordinance, forcing people to take stray animals to a shelter or veterinarian's office so it can be scanned for a microchip. The problem for police is that state law considers pets property, and any thief who gets caught often only gets charged with a misdemeanor.
Too-long tethering of pets could spur charges
Leaving the family pet tied up outside for excessive time periods or in severe weather could result in criminal charges under a new ordinance the Salt Lake County Council approved Tuesday. The statute allows for a warning on a first incident but could result in a citation and fine on a subsequent offense. Under the rule, anyone who leaves a pet tethered for more than 10 hours in a single stretch or in severe weather conditions could be issued a citation. It also includes language that requires a tied-up pet to have adequate food and water.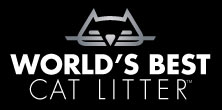 NEWS UPDATE Brought To You By World's Best Cat Litter™
Listen to the entire Podcast of this show (#526)
---