January 6, 2007

Who Gets the Money?
Merritt Clifton, Animal People


Once a year Merritt Clifton, Animal People, does a watchdog report on major non-profit organizations in animal protection and animal habitat protection, which includes some of the big conservation groups, to see "Who gets the money," which is a financial report, sort of a financial page, on about 140 organizations. They also look at some of the leading opposition groups. Then in the spring, they update this with the Watchdog Report, which also adds program and policy information and comes out as a handbook. Who gets the money is a section of the Animal People Newspaper. You will be surprised at the six figures some of these CEO's take home!
http://www.AnimalPeopleNews.org
So Your Man's Just Not That Into You? Your Cat Is!
Molly Katz, 101 Reasons to Dump Your Man and Get a Cat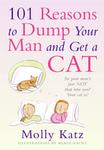 The modern woman has enough hassles without having to put up with the antics of the man in her life. Why endure another day of snoring, football, and wet towels on the floor? With this hilarious, fully illustrated guide, learn 101 reasons why you should dump your chump and hook up with a cat!
So, besides the fact that your man's just not that into you, can he scratch his ear with his foot? Is he adorable when he pounces off the fridge onto your shoulder? Do you get to watch him nudge another man aside and eat his food? And can you improve his mood by tossing a fuzzy mousie for him to chase?
Of course not. There; that's four reasons to dump him and get a cat instead! Plus, you never have to remember how your cat takes his coffee. You don't need to pretend to your cat that you haven't had many other cats. And if your cat thinks your friends are hot, so what?
For every woman who's had enough of men, 101 Reasons to Dump Your Man and Get a Cat is the perfect gift-chock-full of humor, inspiration, and great advice. Why look for love in all the wrong places when it's right across the room chasing its own tail?
If one is to cohabit, feline is the species of choice!

Webmuttster - Online Rescue Dog Show
Ande Tallarida, Papillon 911 Rescue & Adoption


All rescue and shelter, and stray dogs you have given a home are eligible to enter. You may enter your foster dog too. Webmuttster was started as a fundraiser for our group and to share some of the proceeds with other rescues/shelters. It was also a way to have a little fun.
There is a $5.00 donation fee to enter. Visit the web link listed below for the entry form or to make a donation to this worthy cause. Four of the placing dogs will receive a portion of the proceeds for their shelter or rescue. There are prizes for the all the categories. Judges are Rescues, Shelters, and those with show experience.
Some of the categories are: Best In Show; Most Photogenic; Biggest Ham; Honorable Mention; Best Rescue Survivor; Best Rescue Athlete; Best Canine Citizen; and Best Dressed.
Starts January 1st through February 9th. Winners will be announced on February 14, 2007, the same day as Westminster.


Fido Friendly Travel
Susan Sims, Fido Friendly Magazine

Mountain Lodge and Spa in Breckenridge


Editor Nick Sveslosky of Fido Friendly Magazine talks about his Colorado snow adventure with his dog Tasha. Together, they flew from Orange County, CA to Denver, CO and visited the Mountain Lodge and Spa in Breckenridge where they experienced a snowshoe adventure. They also traveled to Telluride where there seemed to be more dogs than people. Staying at the Peaks resort, home to the world famous Golden Door Spa, Tasha was treated to her own spa experience while Nick was on the slopes.
Cypress Inn in Carmel


Those of you new to traveling with your dog will love to hear from Don Weiss who is the General Manager for the Doris Day owned Cypress Inn in Carmel, CA. The Cypress Inn welcomes your dog and his well-behaved guardians. At the Cypress Inn, your dog is greeted with welcome treats and can stroll with you on the grounds as well as accompany you for afternoon tea with scones in the lobby and dine with you in the courtyard and the Library Bar.
Midwest Airline

s
Susie Kerwin Hagen, marketing specialist for Midwest Airlines and who founded the Midwest Airlines Premier Pet Program, talks about the process of preparing your pet for air travel as well as the importance of crate training. Susie was awarded by the Business Journal in 2006 the 'Women of Influence Award' for innovation,' for pioneering the Midwest Airlines Premiere Pet Program.
http://www.FidoFriendly.com
Veterinary Technicians Are Key to Behavior Health Programs
Dr. Jim Humphries, Veterinary News Network
Technicians can be team captains in behavior treatments for pets by working with the patient, the client, and the attending veterinarian, according to Julie Shaw, Senior Animal Behavior Technologist at Purdue University's Animal Behavior Clinic. Shaw spoke to this year's AVMA Convention about teaming up, utilizing your technicians in your hospital's behavior health program. She shared her thoughts about the role of the veterinarian, technicians and time effective consultations and owner complaints.
Shaw said the veterinarian's role is to develop hospital policies and consult on cases, ruling out health issues, diagnosing behavior problems, prescribing treatments and giving prognoses. The veterinary technician's role in behavior health programs is to advocate for the patient and communicate with the client and veterinarian. Veterinary technicians should guide, organize, clarify and empathize. A lot of times clients don't think there's hope, Shaw said. People are really pushing veterinary medicine to address behavior problems.
Veterinary technicians should prepare clients for the consultation by emphasizing appropriate expectations, indicating what to bring and providing a price quote. Shaw said her clinic tells clients to bring a hungry pet, treats, all collars and leashes, a video of their pet's behavior if they have it, a diagram of the house when the patient is a cat and information about other pets in the household. During the consultation, veterinary technicians can fill out a portion of the history form, which the veterinarian will complete. Technicians can try to determine the trainability of the patient and anticipate treatment options. When the veterinarian talks to the client, they can work with the patient.
Shaw says she watches the body language of clients to ensure that they will follow the treatment plan. It's all about shaping their behavior too, says Shaw. At the end of the consultation, the veterinary technicians answers questions from the client. Sometimes doctors are intimidating and the clients are more likely to talk to the veterinary technicians or nurse. The veterinary technicians also should demonstrate any behavior modification techniques with the patient while teaching the techniques with the client. When working with aggressive animals, Shaw advises remaining cautiously calm. Veterinary technicians should know how to avoid confrontations and when to back off. If your pet has a behavior problem, more and more veterinarian hospitals are developing behavior treatments along with knowledgeable staff to help our pets cope with us in our world.
http://www.VetNewsNet.com
Talk With Your Animals
Joy Turner


Joy speaks with Butch, a dog who gets upset riding in the car. It turns out his guardian is having problems with her eyes and needs to visit a doctor.
http://www.TalkWithYourAnimals.com
http://www.JoyTurner.com



Listen to the 1st Hour ABRIDGED VERSION Podcast of this show (#371).
Purchase a CD Copy of this Show

View Animal Radio Network® Broadcast Schedule in a new window.


Listen to Animal Radio® - Go to the launch page


Return to Animal Radio Network® Home Page


Read January Newsletter
Copyright 2007 All Rights Reserved Animal Radio Network LLC