January 7th 2006
Kevin Fitzgerald - "Emergency Vets"
When Puppy Gets into Things He Shouldn't...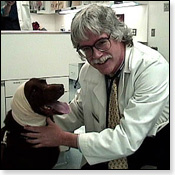 Everyone's heard about plants such as poinsettias being bad for your dog, but did you know that Macadamia nuts are toxic and can produce devastating neurological results? And what do you do when your puppy gets into your medicine on your nightstand? Also, do you think your dog will be fine if he swallows a few pennies? Beware, the zinc in pennies can destroy a dog's red blood cells. Dr. Fitzgerald has great information regarding these subjects and many more. If you have a dog ­ you don't want to miss this!

Male Mice Sing Songs of Love
Britt Savage


Male mice serenade females with ultrasonic love songs, a U.S. study had found. Birds, insects and frogs commonly sing during courtship but until now, the only mammals known to croon have been people, bats and cetaceans such as whales and dolphins.
Scientists realized decades ago that male mice emit squeaks too high-pitched for humans to hear when they encounter female mice or their urine. However, the cries could have been random. When a team from Washington University in St. Louis, Mo., analyzed the vocalizations, they found that male mice were actually repeatedly producing a series of differently-pitched "chirp-like" syllables ­ similar to bird songs.

Music Created For Your Pet's Happiness
Demitric Collins and Papa Kash, Allo Records They've produced for Maria Carey, Earth Wind and Fire, and even Seal, but their favorite work is their production of The Doggie Dog World and Kitty Cat Kingdom CD's. These relaxing and mindful stimulating tunes provide both the animals AND their people with genuine bonding and fun. There are tunes to perk your pet up and also tunes to calm him down. Next time you are enjoying time with your animal, pop one of these CD's in the stereo and enjoy the music together.
Talk With Your Animals
Joy Turner
A caller asks if her 3 dogs are happy and are enjoying life? Of course the dogs think she is crazy, because she has provided a very loving home for them. The dogs also say not to worry when they run off for 20 minutes or so, they are just exploring and want their guardian to trust them more.

Disaster Preparedness For Pets
Dr. Jim Humphries, Veterinary News Network


In a natural or man-made disaster, you could be told to leave your home on very short notice ­ and that includes your pets. You should plan in advance for what to take along when you leave, what steps to take when an evacuation order is made and what do to when you return home. Good planning even includes preparation for disasters that occur when you are away from home.
Introducing a New Dog
Darlene Arden
Darlene tells us some great things you can do to help ensure that a new dog will get along with your old dog. First, they should be introduced on neutral grounds, such as outside the house. They should both be on leashes because you don't know how they are going to react. You can also put vanilla on both their tails so that they have the same "scent." And don't adopt sibling dogs. They sometimes fight for dominance, and you could end up with more problems than you bargained for.
Exhibit Explores Relationship Between Americans and Their Pets
Lynn Robertson, McKissick Museum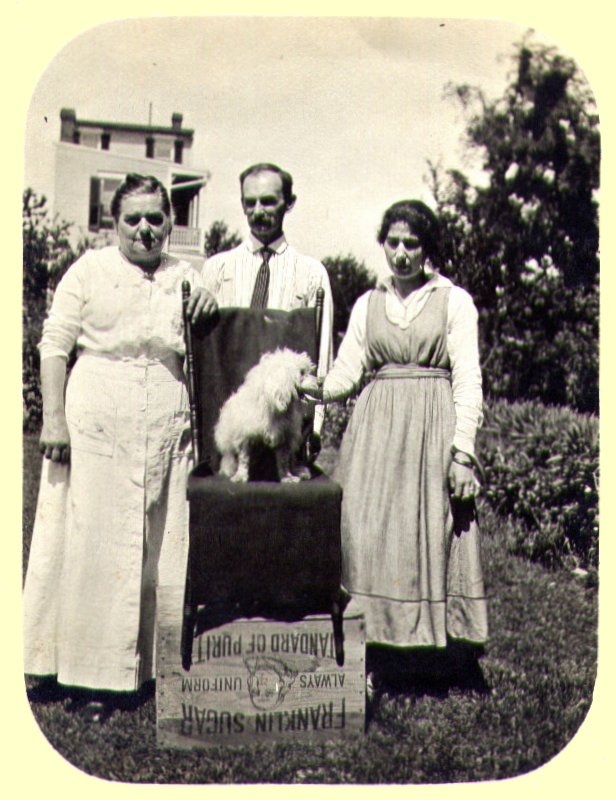 The University of South Carolina's McKissick Museum has a new exhibit on display called "Pets in America: The Story of Our lives with Animals at Home." The exhibit was created to illustrate people's changing attitudes towards pets. You will find everything from the first bag of commercial litter, which enabled people to keep their cats indoors, to a doggie treadmill, no, not for exercise, but was originally used by working dogs to generate energy. The exhibit will also travel to sites in Indiana, Michigan, Massachusetts and Illinois, so keep an eye out for it.
Katrina Pets Now on 2006 Calendar
Pia Salk, Animal Rescue New Orleans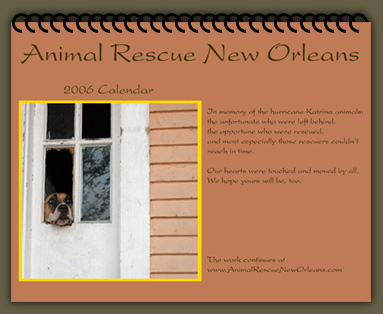 The striking faces of almost 20 pets, abandoned in New Orleans during the initial weeks following the devastation of Hurricane Katrina, now grace the pages of a just-published calendar for the year 2006. They represent the countless pets that were left behind but helped by dedicated volunteers from AnimalRescueNewOrleans.com (ARNO).

The Animal Rescue New Orleans 2006 calendar is a collection of images which she says were captured by "doctors and veterinarians who were there in the first wave of volunteers, 1-800-Save-A-Pet.com co-founders David Meyer and Pia Salk, vet technicians and regular volunteers like myself." The photographs are accompanied by heartwarming stories of heroic rescues and poignant observations.
The 2006 calendar costs $19.95 and is tax-deductible with 100 percent of the proceeds directly benefiting the animals found by Animal Rescue New Orleans. Listen to find out how you can get a copy and help the animals at the same time.
Forget the Romance, It's all About Rover
In a recent study by the AKC of dog owners, one third of women say "If my dog was a man, he'd be my boyfriend." Nearly 90% of women find at least one quality in their dog that they'd like to see in their significant other. Asked the same of men, 33% said the number one canine quality they wished their woman had is "always being in a good mood."
EBay Won't List Live Pets
A plan by eBay Inc. to allow live pets to be listed for sale on the online marketplace has been suspended after eliciting a barrage of criticism from the company's users. Under the plan that was being explored, breeders could have put up listings, paying only a listing fee. Animal shelters could have listed pets for adoption for free. For years, eBay has prohibited the sale of live animals, except for fish and snails, on its Web site.
The rethinking of that policy was spurred by the burgeoning sale of pet supplies on eBay and the potential that users really wanted a pet listing service. EBay may still add a new pet services category, where dog walkers and groomers could offer their services, but it no longer intends to allow pets to be listed on the Web site.
Cat OK After Traveling 70 Miles Under SUV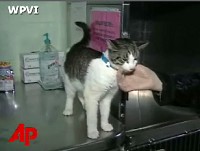 Curiosity didn't kill one cat on a wild ride on the New Jersey Turnpike. The kitten, now known for obvious reasons, as Miracle, hitchhiked a ride on the underbelly of a sport utility vehicle. The gray and white feline traveled some 70 miles under the vehicle as it whizzed along the Turnpike.
The SUV's driver was traveling from Newark to Cherry Hill and didn't know she was giving the kitten a ride until another motorist saw the tabby through a wheel well and flagged the driver over near Interchange 4 in Mount Laurel. The kitty, estimated to be about 8 or 9 months old, was not unscathed, though. His paws were burnt, one claw was missing and his fur was singed. The furry hitchhiker will soon be put up for adoption.
Developing High Achievers with Dr Carmen Battaglia
Darlene Arden
By using early neurological stimulation exercises on a puppy, you can help it achieve a stronger heartbeat, help it resist stress and fight off disease, all of which can give a dog a superior advantage. Unfortunately, there is only a small window of opportunity to do this, which is from the 3rd day of age to the 16th day of age, and must be done everyday.
Certain exercises you do with a puppy will achieve these things, but never over stimulate a dog. Over stimulation will produce behavior problems that are not reversible. Hear Dr. Carmen Battaglia explain just how and when to do this.
www.breedingbetterdogs.com
King of Wisdom - The Salmon
Rae Ann Kumelos, Voice of the Animal


If a contest was held to determine who was the wisest of all animals, Salmon might just take the prize. From the ancient Celts to modern-day ceremonies, Salmon reigns supreme in spirit and knowledge.


View Animal Radio Broadcast Schedule in a new window.


Listen to Animal Radio - Go to the launch page


Get one of the limited edition Animal Radio® T-Shirts for 9.95


Return to Animal Radio Network® Home Page
Sponsor

Copyrighted Animal Radio Network LLC 2006