Animal Radio® Show #527 January 9, 2010

indicates XM Satellite Radio and Podcast versions only.
Davy Jones, The Monkees

If you don't know who Davy Jones is, just ask your mother - she'll know! If Davy hadn't been so successful with his career as one of the "Monkees," he probably would have ended up as a horse jockey. He still races his horses and his four daughters would like him to quit and just put the horses out to pasture. Davy currently doesn't own any dogs, but that doesn't stop him from being drawn to them. He has owned many dogs over the years and loves all animals. Davy feels that they can enrich your life in one way or another.
Davy states that he was mentioned 47 times in one episode of the Brady Bunch. And he says while most people think he's dead, he's not! He actually still tours around the country and perhaps you can catch him - He May Be Coming To Your Town!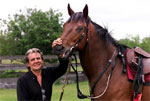 Davy is still a celebrity in the town he lives in, and is still stalked in the grocery stores. In fact, one time someone stopped him and asked him why he was there. He was a little surprised and told them because of the "food!" I guess they didn't think that he needed to eat too!
Maintaining his allure as a sexy icon through generations of fans, Davy Jones first invaded teen hearts as the international idol of millions in the 1960s Emmy Award winning television classic The Monkees. Since the show hit the small screen, Davy has triumphed as both a serious actor and a comedian on the theatrical stage; as a rock musician, composer and artist; and, true to his first love, as an extremely able horseman.
Davy currently lives in Florida with his horses, which he rides everyday.
Fido Friendly Travel Talk With Susan Sims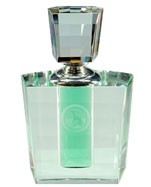 Susan speaks with Michele Raviol, owner of Les Poochs, who said it all started years ago when he had "one too many" in college and woke up next to a smelly dog!
After college, since his family had a background in human perfume, he decided that he could do something for the smelly dogs. He came up with his own fragrance, and after knocking on many doors, he was able to get his doggy perfume in Bloomingdales in New York, and the rest is history.
He launched Les Poochs back in 1987, right after "Black Friday" and after the crash of the stock market. However, it didn't take long before he was one Bloomingdales' highest selling fragrance, beating out the human fragrances.
Using only the finest ingredients from around the world, the Pooch line features conditioning fragrances, finishing shampoos, creme rinses, natural botanical extracts, organic treats, brushes and so much more! Les Poochs is indeed more expensive but, to the people who care for their companions, Les Poochs products are well worth the investment!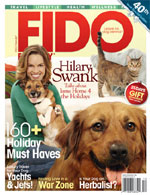 Fido Friendly Magazine:
The Travel Magazine For You & Your Dog, a complete guide to Fido-friendly accommodations across the United States and Canada. "Fido Friendly is the only magazine dedicated to the travel lifestyle of man's best friend, and the one magazine your dog will thank you for." And don't forget to join the Fido Friendly Travel Club.
Animal Radio® News with Bobbie Hill


Chickens As Pets
Nikki Stoddart's husband wasn't sold on the idea of raising chickens his San Mateo, California home. That was before he tasted the fresh eggs. The eggs are one of the biggest draws for many residents who have brought chicken farming from the country to the suburbs. But backyard chicken enthusiasts say there are plenty of other reasons for tending your own flock, including the entertainment of a new pet and teaching children about where their food comes from. Another benefit is knowing exactly what went into the eggs.
Dealer to Pay Penalty for Re-Labeling,
Hunte Kennel Systems and Animal Care, Inc., of Goodman, Mo., has agreed to pay a $56,632 civil penalty to the United States to settle allegations that it violated the Federal Insecticide, Fungicide and Rodenticide Act (FIFRA) by repackaging, relabeling and selling an insecticide meant for use on cattle and hogs as a flea and tick treatment for dogs. An inspection found that the company had bottled the pesticide Prolate/Lintox-HD into different packaging and sold it as another pesticide.

Flying Chihuahuas
Chihuahuas have been flying out of California since other states learned about the glut of little dogs in the Golden State. A group of 25 already arrived at the Humane Society for Greater Nashua in New Hampshire, thanks to "Grey's Anatomy" actress Katherine Heigl, Kinder4Rescue in Studio City and American Airlines. Due to movies such as "Beverly Hills Chihuahua" and "Legally Blonde," shelters found that Chihuahuas made up 30 percent of their dog populations. Los Angeles shelters currently have more than 300 Chihuahuas.
Max, Bella Are 2009's Top Pet Names
If you have a pet named Max, you're hardly alone. Max was the most popular name for both male dogs and male cats in 2009, according to the Angell Animal Medical Center in Boston. The hospital compiled its unscientific list from the more than 50,000 patients it treated this year. The top name for female dogs was Bella, the top name for female cats was the old standby, Kitty. Some of the other top male dog names were Bailey, Charlie, Jake and Buddy.
Tax Deductions for the Family Pet
In the nation's capital, a bill is pending to establish up to $3,500 in annual tax deductions for the family pet. The legislation is known as the HAPPY Act - Humanity and Pets Partnered Through the Years. The bill will allow individuals to deduct certain expenses from their taxes associated with caring for a pet. Animal rights activists and others say animal shelters are "overrun" with stray and unwanted pets. They say a tax deduction could help ease the strain of providing for pets in a struggling economy.
State Lawmakers Consider Making 'Dog-Napping' A Serious Crime.
The American Kennel Club® continues to remind pet owners to heed warnings about an alarming rise in "dog-nappings." The AKC tracked 115 dog thefts in 2009, up from the 71 in 2008. Earlier this year, a bill was introduced in Texas, which would make it a felony to steal a pet, with two years in prison if convicted. California and Delaware have tried to regulate roadside pet sales as a way to combat the trafficking of stolen pets to unsuspecting consumers. State houses are now proposing laws to toughen penalties for those who steal pets.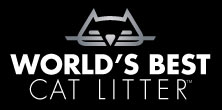 NEWS UPDATE Brought To You By World's Best Cat Litter™
Listen to the entire Podcast of this show (#527)
---