January 10, 2007

Most Outrageous Bird
Marc Marrone, The Pet Shop


Not only can he roll over, play dead and fetch a ball like a well-trained dog, but he can sink a putt like Tiger Woods, dunk a basketball like Michael Jordan and even water-ski. For these and many other outlandish physical and verbal antics, 17-year old Bradenton, Florida parakeet "A.J." has been crowned victor in "Mag Rack TV's Most Outrageous Bird Video Contest."
In September 2006, Mag Rack TV network and its show, The Pet Shop with Marc Marrone, launched a viral video contest to give America's most outrageous birds and their owners the chance to showcase their boldest achievements on the web. Since this contest was all about "star-quality," Mag Rack enlisted a quorum of 13 celebrity animal lovers to help pick the winner, including designer Todd Oldham, actresses Tippi Hedren and Rue McClanahan, actors Ed Asner, Dom DeLuise and Ed Begley Jr. and, of course, Carol Spinney, the thespian best-known to the world as Sesame Street's "Big Bird." A second prize was created for the bird that received the most votes from web-surfers who visited the contest site showcasing the best entries.
"Talking Tongo," 13 year-old Congo African Grey with a 400-word vocabulary owned by Debbie Kalstein of Southhampton, PA. has earned the "Peoples' Choice" award.
Mag Rack, the premier on-demand television network, has launched an original 25-Part On-Demand series by Marc, bringing him into the living rooms of America to help the nation's 170 million pet owners care for their furry friends with his new series The Pet Shop. The service offers special interest programming not widely found on other channels with advanced ability to fast-forward, rewind or pause the program.
http://www.ParrotsOfTheWorld.com
http://www.MagRack.com/birds
Bird With 400+ Word Vocabulary
Debbi Kalstein and Tongo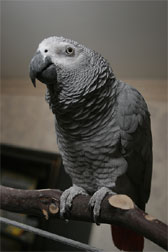 "Talking Tongo," 13 year-old Congo African Grey with a 400-word vocabulary owned by Debbie Kalstein of Southhampton, PA. has earned the "Peoples' Choice" award in MAG RACK TV'S Most Outrageous Bird Video Contest.
EXCLUSIVE ANIMAL RADIO VIDEO
Tongo 1 He sings!
Tongo 2 He's so nice!
Tongo 3 See Tongo proud of his Poo
"Talking Tongo" was an abused animal adopted 12 years ago by Debbie Kalstein, a resident of the suburban Philadelphia community of Southampton, PA. In his contest tape, Tongo demonstrates both his astonishing vocabulary and a penchant for telling his owners, their children and other pets in the household what to do. In his tape, Tongo says "bless you" when his owner sneezes, tells the dog Rexi to "go fetch the paper" and instructs the Kalstein's children when it's either "time to go to bed" or "sit down and control yourselves!" Tongo shows his musical side by performing the self-penned tune, "Got the Beak!" Tongo began singing this appropriate variation one day after hearing The Go-Gos' hit, "We've Got the Beat," on the radio.
http://www.MagRack.com/birds
"The Talking Pug"
Erica Volkman with Odie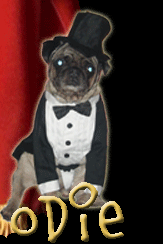 Odie is a pug that can say, "I LOVE YOU!" Anyone who sees Odie's trick is rendered speechless, followed by hysterical laughter.
Odie is a pure bred pug who is seven years old. He lives in Pittsburgh, PA with his two owners Erica and Ruth Volkman. Odie is 7 years old but has only lived with Erica and Ruth for two years. After owning Odie for about a month his owners finally found out that Odie has a VERY special talent. Odie can clearly say "I LOVE YOU!"
http://www.TheTalkingPug.com
Refuge - Meet the Animals of the Arctic National Wildlife Ref

uge
Rae Ann Kumelos, Voice of the Animal
Meet the animals of the Arctic National Wildlife Refuge, including the ones that visit your backyard every winter. And, renew your acquaintance with the sixty-five million year-old animal whose presence is fueling the desire that may threaten the lives and livelihood of all who inhabit this most fragile and sensitive eco-system in the world.
http://www.VoiceOfTheAnimal.org
911 Rescue Dogs Found to Be Healthy
Dr. Cynthia Otto, University of PA School of Veterinary Medicine


They dug in the toxic World Trade Center dust for survivors, and later for the dead. Their feet were burned by white-hot debris. But unlike thousands of others who toiled at ground zero after Sept. 11, these rescue workers aren't sick.
Scientists have spent years studying the health of search-and-rescue dogs that nosed through the debris at ground zero, and to their surprise, they have found no sign of major illness in the animals.
They are trying to figure out why this is so.
"They didn't have any airway protection, they didn't have any skin protection. They were sort of in the worst of it," said Cynthia Otto, a veterinarian at the University of Pennsylvania, where researchers launched a study of 97 dogs five years ago.
Although many ground zero dogs have died - some of rare cancers - researchers say many have lived beyond the average life span for dogs and are not getting any sicker than average.
Owners of the dogs dispute the findings, saying there is a definite link between the toxic air and their pets' health.
Otto has tracked dogs that spent an average of 10 days after the 2001 terrorist attacks at either the trade center site, the landfill in New York where most of the debris was taken, or the heavily damaged Pentagon.
http://www.vet.upenn.edu
http://www.AKCCHF.org
Fence Enclosure for Cats
Al Benner, PurrFect Fence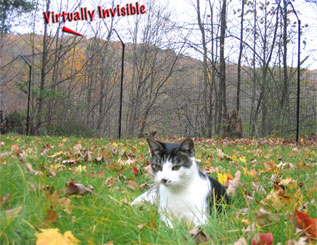 It has been noted that indoor cats live longer than cats that live outside. And while cats like to enjoy the outdoors, unfortunately it is not a safe place for them. That is why the Purrfect Cat Fence is great for the indoor cat. The Purrfect Cat Fence is a free-standing backyard enclosure that is almost invisible. It is made of a flexible material that most cats won't climb. But if you do have one of those climbing cats, there is a "Houdini Proof" arch at the top that will turn them back. And, you don't have to have a pre-existing fence to install the Purr..fect Cat Fence. And if you move ­ take it with you.
Not only will the Purr..fect Cat Fence keep your cats in, it will keep other cats and stray animals out. The Purr..fect Cat Fence will change your life as well as the life of your cats!
http://www.PurrFectFence.com
911 - Labrador Lessons
Michael Hingson, Guide Dogs for the Blind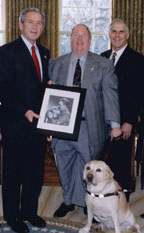 Prior to becoming the National Public Affairs director for Guide Dogs for the Blind, Michael held sales and senior management positions with several major high tech companies for nearly 30 years. Most recently, Michael worked on the 78th floor of Tower One of the World Trade Center as the Mid Atlantic district sales manager for Quantum Data Protection Division of Irvine, Calif., overseeing a sales force and field operations.
As was the case with many Americans, Michael Hingson's life changed dramatically on September 11, 2001. He and his Guide Dog "Roselle" were the lucky ones, however, in that they escaped the World Trade Center attack.
In hundreds of TV and radio appearances, feature articles, and speaking engagements, internationally acclaimed inspirational speaker Michael Hingson has done much more than simply tell his own 9-11 story. He has also explored the broader lessons and implications of the tragedy in such heartfelt, thought-provoking presentations and the power of the Human/Animal bond.
Michael Hingson was recently named as one of the top 50 educational speakers in the United States. He is available to speak on Trust, Teamwork, Risk-Taking and Creativity and Easing Your Way Through Changes in Your Work and Personal Lives, as well as The Power of the Human/Animal Bond. All proceeds from his presentations got o Guide Dogs for the Blind.
http://www.GuideDogs.com
First Lifestyle Broadband Network for Pet Owners
Gregg Oehler, PetStyle.com


PetStyle, the first lifestyle broadband network for pet owners and the leading source that provides education, community, unique programming entertainment via the latest, cutting-edge technology, has some new and exciting things in the make.
Besides having over 100 hours of video on their website you can even submit your own video of your pet.
You will also find a new segment called PetStyle USA, which will feature information on selected pet friendly cities and what pet amenities you will find there.
And look for upcoming information on Westminster. There will be interviews with judges, as well as behind the scenes information on some of the contestants. You will even find a segment called "where are they now," about some of the past winners.
Besides all of the fun you will find at this site, there is a serious side too with over 600 articles on everything from training tips to health information,
http://www.PetStyle.com
The Arthritic Dog
Dr. Jim Humphries, Veterinary News Network


Drugs, Diet and a little TLC can help an arthritic dog. As our pets age, they often appear to be functioning on worn out batteries. Older pets may become less active, limp and just not seem themselves. Owners may think this is irreversible, when in fact it's arthritis. Luckily, veterinarians can treat arthritis effectively, typically returning pets to a happy, vibrant life. The most common signs of canine arthritis are limping and lameness, lagging behind on walks, reluctance to stand, climb stairs, jump or run and stiffness or difficulty rising. New and potent anti-inflammatory medications such as Daramax , Prevacox and Rimadyl help return pets to normal activity by reducing pain and inflammation. Special joint diets are proven to stop joint degradation, delay the on-set of arthritis and therefore the need for anti-inflammatory drugs. Ask your veterinarian which specific foods and drugs are best for your pets.
Here are some tips:
Give them traction. Hardwood and tile floors are slippery and can make a dog with arthritis fell like he's a rooky ice skater. So put down some area rugs or runners.
Ramp Up. Furniture, beds, stairs and vehicles can become insurmountable barriers for an arthritic dog. Ramps or specially designed to stairs can make getting up on, or into things, practical and safe.
A Hard Day's Night. Soft bedding like foam beds, waterbeds or hammocks can really help these arthritic dogs support their bones and joints.
Magic Fingers. Massage can increase flexibility, circulation and relaxation. Pets with positive experiences with gentle hands are easy to massage at home. Just give it a try.
Rub-a-Dub Scrub. Arthritic dogs struggle with what was once routine hygiene. You may need to assist them a little bit by doing a potty path trim, kind of trim the hair around the rear end a little bit, regular brushing to remove mats and tangles, and trimming their nails that are no longer getting worn down with normal exercise.
Take a Hike. Moderate daily exercise helps a pet keep an ideal weight and strengthens the muscles and ligaments, thus improving the joint function.
TLC. As a pet ages and they hurt more, they may lose patience and be a little less tolerant. And while their brains may say go, and the kids want to go toss a tennis ball and play, their bodies are saying slow or even perhaps no. So, limit strenuous exercise and keep them away from stressful events like fireworks, Halloween visitors and noisy parties. Old dog
http://www.VetNewsNet.com
Help Your Dog Conquer His Fears
Nicole Wilde, Help For Your Fearful Dog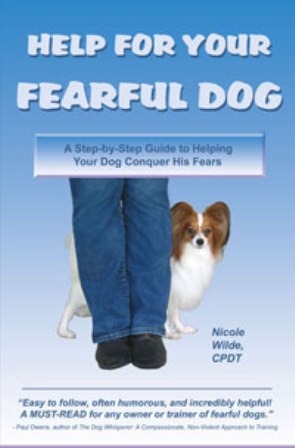 Do you know that genetics plays a part in fearful dogs? Some dogs naturally have a genetic make-up that will make them fearful. Up until now, if you had a fearful dog, it was hard finding help. But with Nicole's help, you can find all of the information you need in one book. From everything from sounds to nail clipping, if your dog is fearful, you can find the answers you need. Chock full of photographs and illustrations and written in a down-to-earth humorous style, this is the answer you and your dog have been waiting for!
http://www.PhantomPub.com
Conservation Officer Shoots at Eagle
Britt Savage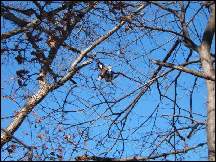 Jason Sandholdt, a Conservation Officer with the Iowa Department of Natural Resources, shot at a bald eagle that appeared to have caught one of its talons on a branch and was hanging upside down. The bird was caught in a branch that was hanging over a cliff, so rescue was not an option. Jason, a sharpshooter, was able to hit the knothole in the branch, allowing the eagle to go free, in one shot.
The bird quickly disappeared, so it was not known if he was hit. But, it was a certain death for the eagle if nothing was done. The bald eagle owes his life to Jason.
Listen to the 1st Hour ABRIDGED VERSION Podcast of this show (#372).
Purchase a CD Copy of this Show

View Animal Radio Network® Broadcast Schedule in a new window.


Listen to Animal Radio® - Go to the launch page


Return to Animal Radio Network® Home Page


Read January Newsletter
Copyright 2007 All Rights Reserved Animal Radio Network LLC