Talk With Your Animals
Joy Turner
A dog explains that he doesn't mean to get angry when sitting on his guardian's lap, but when the guardian moves, it startles him and he is only trying to protect himself. He originally came from an abusive home where he wasn't able to fight back, and now he feels safe and feels he can protect himself without harm.
Cesar Millan - The Dog Whisperer


Cesar Millan, the Dr. Phil for dogs, first developed his techniques as a youngster in Mexico and knew by age 13 that he wanted to become "the best dog handler in the world." In Mexico, he grew up with a pack of dogs that were his closest friends. It was his grandfather who taught him the one lesson he still uses today: "Never work against Mother Nature."
In the second season of the Dog Whisperer, Cesar goes into the homes of dog owners, without any prior information about the dog's case. Some examples of what you will see is a transformation of aggressive, scared, and compulsive dogs, whose guardians are usually in the dark about how their own behavior contributes to the dogs' quirky traits.
Tune in for the second season of the Dog Whisperer on National Geographic, every Friday at 8:00pm ET.
Stork Gets Nose Job
Britt Savage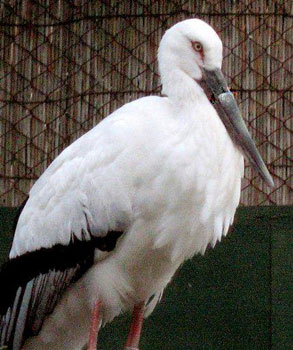 An oriental white stork named "Taisa" received a plastic resin prosthetic that was recently attached to the upper part of it's beak which snapped off after getting stuck in metal wiring at Akita's Omoriyama Zoo, northern Japan. Taisa had lost weight since he broke his beak last November because he found it difficult to catch live fish, and no longer got along with his female breeding mate due to stress.
Veterinary Acupuncture
Dr. Jim Humphries, Veterinary News Network


As interest and application of acupuncture grows in veterinary medicine, practitioners are using the modality for much more than pain control. In fact, acupuncture can be used to help treat allergies, seizures, reproductive problems, and liver and kidney disease. Acupuncture involves the insertion of small gauge needles to various points on the body in order to cause physiological responses in the body. Acupuncture works by stimulating nerve endings near acupuncture points. These nerve fibers then conduct impulses to the brain and spinal cord, causing changes in the body that speed healing. Animal owners are showing a growing interest in this field in an effort to find the best care for their pets, especially when conventional medicine and surgery options may not have been successful.
Jack Hanna, World's Most Famous Wildlife Conservationist
Announces New Top Ten Endangered Animals List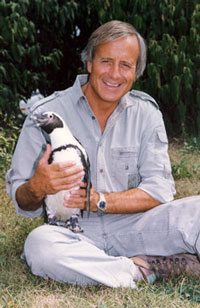 Jack Hanna, American Zoo & Aquarium Association, and popular host of the hit television series, Jack Hanna's Animal Adventures, is one of America's most beloved naturalists and adventurers. Each week, Hanna takes millions of family viewers on exciting journeys to learn about animals and the places they live. Hear him talk about some of the animals that are currently endangered, and find out how you can help save these endangered animals.
Aggressive Cat
Annie Bruce, Good Cats Wear Black


Almost everyone has encountered a cat that wanted to be petted, but when you did, he attacked. There are some signs you can look for before the attack such as his tails moves faster, his ears go back, etc. And, don't ever play with a cat with your bare hand and allow him to bite it. If your cat does bite you, yell ouch and walk away, and if he attacks your leg and won't let go, throw a towel over him.
But whatever you do, don't fight with the cat ­ you will lose!
Some Signs Your Cat May Attack:
You've seen him hitting the weights harder than usual lately
He puts out his cigarette
He sharpens his claws
He cuts the phone chord
He closes the curtains
He puts an automatic return on your e-mail saying "You are currently away"
He puts on his Black Collar (equivalent of a BLACK BELT)
Finally, he puts on the "Eye of the Tiger" CD
Best In Show
Heather Lilly, Reporting Live from the AKC/Eukanuba National Championship
Heather Lilly comes to us live from the 5th Annual AKC/Eukanuba National Championship, where she is with Judge Jane Forsyth, who will be judging the Best in Show. Jane has been with the event since its inaugural in 2001, and explains that she will be judging over 2,500 animals from over 20 countries. Hear her response when asked if she has any favorites!
The AKC/Eukanuba National Championship will be simulcast live on Animal Planet and the Discovery Channel starting at 8:00pm EST on January14th & 15th.
Valentine for Chained Dogs
Tammy Grimes, Dogs Deserve Better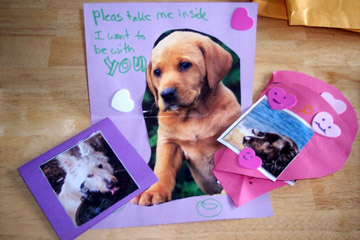 Chained dogs deserve a better life, and Tammy Grimes of Dogs Deserve Better, announced it fourth Dogs Deserve Better Announces its Fourth "Have a Heart for Chained Dogs" Week, February 7-14. Dogs Deserve Better, a nonprofit working to bring dogs into the home and family, has designated Valentine's Week, February 7-14th,
"Have a Heart for Chained Dogs Week," and is seeking students, groups, and individuals to participate by creating valentines for the chained dogs and mailing them to the organization's headquarters in Tipton, Pennsylvania.

The group is raising awareness for chained and penned dogs in a positive way by delivering Valentines, a brochure and a treat coupon to dogs living outside all over the U.S. and into other countries where they have representation, such as Canada and Australia.

Dogs Deserve Better seeks to mail and/or hand deliver more than 4500 Valentines in its 2006 campaign. In 2005 the group delivered over 3000 Valentines to chained or penned dogs.
Valentines are needed at the Dogs Deserve Better headquarters in Tipton, PA by February 7th. The group is also seeking coupons for free or low-cost dog treats to include with their packets. If you can participate by creating Valentines or mailing coupons, please send them to P.O. Box 23, Tipton, PA 16684. E-mail info@dogsdeservebetter.org, or call 877-636-1408 for further details.

View Animal Radio Broadcast Schedule in a new window.


Listen to Animal Radio - Go to the launch page


Get one of the limited edition Animal Radio® T-Shirts for 9.95


Return to Animal Radio Network® Home Page
Sponsor

Copyrighted Animal Radio Network LLC 2006