Animal Radio® Show #529 January 23, 2010

indicates XM Satellite Radio and Podcast versions only.
Animal Control Officer Fired For Animal Deaths
Jerry Lousteau, WMGO 1370A, Canton, Mississippi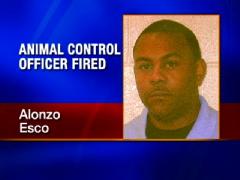 Last week came news about a Canton, Mississippi Animal Control Officer, Alonzo Esco, who was shooting dogs to reduce the population in the overcrowded shelter. More carcasses dumps are being discovered throughout Canton.
Further investigation indicates this isn't the first brush with the law for Esco.
The story, first reported by radio station owner Jerry Lousteau, told of a local animal control officer fired. In a small town, while this is normally news, the undercurrent of why he was fired and the circumstances surrounding it, became the real story.
In this case, Animal Control Officer Alonzo Esco was accused of shooting over 200 dogs, then discarding their carcasses in different rural areas.
Nepotism in government agencies is abundant, and in this case, Esco was the cousin of the previous mayor. During the mayor's six years in office, he assigned Esco to two different city departments.
After the revelation that Esco was stealing gas from the fire department, instead of getting rid him, they 'demoted' him, making him an animal control officer, "perhaps thinking that he wouldn't cause any more trouble," says Lousteau. A new mayor was appointed in July of 2009.
The investigation conducted by the Canton Police Report states that Esco killed over 200 dogs. But, Lousteau says, "It's more like 100."
Esco was also an auxiliary policeman, which allowed him to carry a weapon. This is the weapon he reportedly used to shoot the dogs.
It is reported that Esco shot the dogs and then disposed of them in rural areas outside of town over some time, with one body actually being dumped within the city limits. The others bodies have been spread out in many different areas. Some of the bodies of these dogs are still being discovered today.
There is a large stray population of animals in Canton according to Lousteau. "It is thought that Alonzo was under extreme pressure to deal with it. However, he went way outside the policy on how to deal with them. There was actually a mechanism in place to properly handle the situation, but that meant he had to drive to an animal shelter about an hour away."
Alonzo Esco has since been fired for 'improperly disposing of dogs.' The case is being handled by the Madison County District Attorney's office, and is being treated as a misdemeanor.
There are two petitions to encourage the state of Mississippi to enact a felony penalty for animal cruelty. Mississippi is currently one of a few remaining states where animal cruelty is just a misdemeanor. To sign the petitions, please visit http://www.wmgoradio.com.
Second Hand Smoke Harms Your Pets
Dr. Kim May, AVMA

Dr. Kim May is the Assistant Director of Professional and Public Affairs for the American Veterinary Medical Association (AVMA). Dr. May is letting smokers know there is another good reason to quit smoking—the health of their pets.

Most people are aware of the scientific research that shows that people who smoke are more likely to get certain types of cancer and other diseases, but a lot of people don't know that the same goes for the pets of smokers. Lung cancer and nasal cancer are particularly threatening to dogs while cats that live with smokers are twice as likely to develop malignant lymphoma—fatal to three out of four cats within a year—and are more likely to get mouth cancer.

Dogs with short noses have double the risk of lung cancer and long-nosed dogs such as collies have two and half times greater risk of nasal cancer from secondhand smoke.
So, there is no better time than now to put those cigarettes out for good!
Dog Fighting Exposed
Sgt. Michael Gabrielson, Animal Planet Investigates

In the first segment of a new series, Animal Planet Investigates, Sgt. Michael Gabrielson and his partner will show never before seen undercover work of videos that they took in Animal Planet Investigates: Dog Fighting Exposed.
Cruel and inhumane "sports" involving animals for human spectacle and entertainment have been part of underground culture for decades, but the Michael Vick case truly opened up America's eyes to the vicious world of dog fighting. This episode shows that his case was only the tip of the iceberg.
This footage can now be released because the defendants have gone to trial. The sentencing that these people can receive run from probation to a number of years in prison. This depends on other crimes that might be involved. Unfortunately dog fighting by itself its not enough to put these people away for long periods of time, and they might not receive much time for the actual dog fighting, but added charges, such as for drugs or for weapons, can make for a longer sentence. About 90% of these people are also involved with other illegal activity. These people are made up of all ages and include professionals, blue-collar workers and the average criminal. This is a crime that crosses all boundaries, with its motivation being money.
When Sgt. Gabrielson first got into this work, he was shocked as to how widespread dog fighting really is. He says you can find it in almost every city throughout the United States.
Premiering Monday, January 25, at 10 PM (ET/PT), this is the first in a line of quarterly Animal Planet Investigates specials that will take a comprehensive, investigative look at timely issues that impact both humans and animals.
Inspiring and Meaningful Candles
Fido Friendly Travel Talk With Susan Sims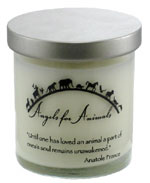 Susan speaks with Laura Kraft from Heaven To Home, a soy based candle and reed diffuser company.
Soy candles are a cleaner, longer burning candle, which don't burn as hot. Heaven to Home candles are also dye free. The 12 oz. natural blend soy candle is currently available in 7 fragrances (French vanilla, cinnamon vanilla, iced lemon biscotti, juicy apple, mandarin, pumpkin soufflé and rain forest orchid) and should provide approximately 80 hours of beautiful burn time. The reed diffusers are currently available in 3 fragrances (juicy apple, mandarin and rain forest orchid) and are packaged using recycled materials.
Their Angels for Animals line was inspired from a lifelong passion for animals. This passion was set into action after witnessing the plight of animals that were abandoned in the aftermath of hurricane Katrina. It is the goal of Heaven To Home to provide inspiring and meaningful candle, home fragrance and gift items of the highest quality and in doing so enable Angels for Animals to donate a portion of proceeds for animal welfare.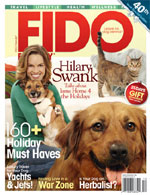 Fido Friendly Magazine:
The Travel Magazine For You & Your Dog, a complete guide to Fido-friendly accommodations across the United States and Canada. "Fido Friendly is the only magazine dedicated to the travel lifestyle of man's best friend, and the one magazine your dog will thank you for." And don't forget to join the Fido Friendly Travel Club.
Animal Radio® News with Bobbie Hill


Animal Control Officer Illegally Kills Animals
The Chief of Police of Canton Mississippi fired an animal control officer who was accused of killing numerous dogs and cats. Alonzo Esco was fired earlier this month after he allegedly euthanized dogs and cats, as Chief Vickie McNeil described, " by a process not consistent with animal control laws." An investigation was launched after Esco was accused of shooting and killing several cats and dogs. That investigation conducted by the Canton Police Department resulted in Esco being charged with shooting at least 100 dogs. Unfortunately in the state of Mississippi, that crime is not a felony and the case may end up in a lower court.
Salmonella Outbreak in 31 States Traced to Frogs
The Centers for Disease Control & Prevention has traced a 31 state salmonella outbreak to pet frogs. CDC said 85 people in several states became sick and two thirds of them had some kind of contact with pet frogs. One frog identified as the aquatic African dwarf which was won at a carnival in Utah, was traced back to the California breeder. CDC officials say the bacteria is spread by contact with water in the frogs tank, not necessarily from handling the frogs themselves. Once again, pet owners are cautioned to wash hands thoroughly after handling your pet frog, turtle or lizard.
Which Is Better "Dogs or Cats" Poll
The Associate Press conducted can only be described as the definitive "Which Is Better Dogs or Cats" poll. After surveying nearly 2-thousand adults the AP-Petside.com poll showed humans prefer dogs "a lot." The key words in the questions posed...results showed 74% liked dogs "a lot" leaving just 41% to like cats "a lot.". The poll also found out which is liked least.... 15 % of those responding said they disliked cats "a lot"...with only 2% disliking dogs "a lot."
Adopted Dog Saves Child
A man who wasn't too sure about adopting a young golden retriever is now shouting the dog's praises after it saved his 11-year-old son from a cougar attack. The drama unfolded recently on a late Saturday evening in Boston Bar, British Columbia 250 miles northeast of Vancouver. Austin Forman was gathering firewood when he noticed Angel acting strangely as she followed him. Seconds later a cougar charged out of the shadows at Austin, but Angel blocked the cat. Austin ran inside as the animals continued to fight. A police officer arrived within minutes -just in time to save Angel from the cougar. The dog is doing fine despite some puncture wounds the head and neck. Mr. Forman now can't get enough of the dog saying, "My son was saved by Angel."
Frozen Cat Brought Back to Life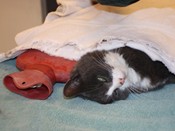 A Norfolk Animal Control officer found what appeared to be a frozen cat in a snow bank in Boston after responding to a call about a cat. Hillary Cohen told WBZ that she placed the stiff cat on a blanket on her lap with the heater vents on her when she saw a whisker twitch. Cohen said, " That was the real only sign of reflex I saw from her". The cat was rushed to Acorn Animal Hospital where she was given IV fluids and heat therapy. A few days later the cat appeared recovered and her family saw her on the news. Animal control's Peg Rusoni said the cat will be reunited with them once her recovery is complete.
Pet Limo
A pet boarding facility in southern Colorado has come up with a unique way to advertise as well as transport their clients. The "Land of Ahs" now has it's own pet limo complete with curtains so no one can see who's on the inside. Owner Merle Mazer took an old hearse and put it to work driving up his business saying the idea is helping. Mazer only charges his pet $1 per mile in the pet limo.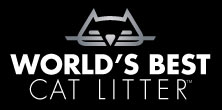 NEWS UPDATE Brought To You By World's Best Cat Litter™
Listen to the entire Podcast of this show (#529)
---