Animal Radio® Show #476 January 17, 2009


NAPPS ANNUAL CONFERENCE- LIVE FROM THE QUEEN MARY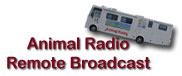 NAPPS (the national Association of Professional Pet Sitters) has been around for a dozen years and is the largest non-profit pet sitting organization in the United States. NAPPS offers certification, educational programs and business advice to pet sitters. They provide all the tools necessary to start up a business, including everything from contracts to marketing and advertising.
For someone considering pet sitting as a career, NAPPS has an annual conference both in the business field as well as people in the pet care and behavior industries. This year's 2009 Annual Conference was held at the Queen Mary in Long Beach, California. It included everything from the pet sitting business basics for the novice pet sitter to programs for the more seasoned pet sitter.
Monica Leighton – President (NAPPS)

Monica Leighton is the current President of NAPPS. When you think about a pet sitter, you no longer think about the young neighborhood kid who came in and fed your poets. Today, pet sitting is a multi-dollar, big business industry. And, like any big business, there are a lot of things involved in making it successful.
From pet sitting business basics for the novice pet sitter to programs for the more seasoned pet sitter, NAPPS offers everything from:
* All Gods Creatures Author, Debra K. Farrington
* Dog Behavior
* Cat Behavior
* Pet Loss & Grief
* Staff Management
* Liability & Bonding Insurance
* Disaster Preparedness
* Pet Sitting 101
* Pricing Theory
* Image Consulting
* Animal Attorney
* Public Speaking
* Alternative Care
* Self Defense & Security
* The Latest Pet Products and Services
* Networking with Fellow Sitters
… and much more.
Let NAPPS help you get started with your own pet sitting business!
John D'Ariano - President Elect NAPPS
John D'Ariano, the President Elect of NAPPS, explains that to get started in the pet business, go to www.petsitters.org. You will find all the tools and aids necessary to get started. Once you become a member, you will be able to access a step-by-step guide that will lead you into starting your business and advise you as to what you will need to succeed in your new pet sitting business.
There are also copies of different contracts and paperwork that is used in the business, which is free to members. And unlike other organizations, NAPPS is a non-profit organization and any monies that come in from the members, are then returned back to the members in the form of benefits.
John and his wife launched A Pet Sitter Plus one year before his retirement from the Palm Beach County School District Police Department, where he was district commander. He headed the K-9 unit - which he organized and launched - made up of 30 officers and 15 canines.
Shannon Keith - Animal Rights Attorney

Shannon Keith spoke at the conference with regard to pet sitters who might deal with liability issues. Shannon also gave a general overview that animals are still considered property. She has been striving to change that while defending animal rights activists in the courtroom, saving dogs being prosecuted in Los Angeles by getting them off death row, as well as prosecuting those who abuse animals.
Shannon specializes in animal rights defense, plaintiff's cases against animal abusers and animal exploiters, "dangerous dog" hearings and any case defending animals and those who risk their freedom for them.
http://www.animal-rights-lawyer.com
Lee Van Kirk, Tartan Media Group

Lee Van Kirk spoke at the conference with regard to advertising and public relations (without spending piles of money!)
Advertising and public relations methodology does not require tons of money to accomplish. Every business has available local and regional sources, many of which are free, that can be accessed by business owners regardless of the business size.
Lee Van Kirk is the CEO of Tartan Media Group, Inc. He has been in the insurance industry as a general agent and consultant for more than 17 years. Since 2001, he has focused on the pet insurance industry.
Arden Moore, America's Pet Edu-Tainer

Arden Moore spoke at the conference regarding "It's cool to be catty." Even though cats reign as America's most popular pet (with no apologies to those d-o-g-s), people remain puzzled as to why their cats do what they do. Getting catty no longer needs – or deserves – a negative connotation. Arden touts the fascinating, fun and yes sometimes frustrating, feline antics.
Arden is the editor or Catnip Magazine. She travels all over the country as an in-demand public speaker and animal behavior consultant, to unleash the real truth about cats, dogs and people. She is also an accomplished author, with her latest books being "Happy Cat, Happy You," and "Happy Dog, Happy You." Each week she hosts a radio show called "Oh Behave!"
Vladae, The "World Famous" Russian Dog Wizard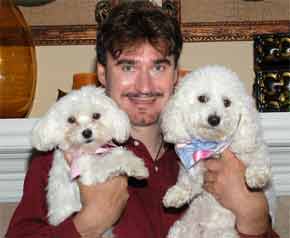 New Puppy Joins 4 Dogs In The Household And Pees In House
When you can't supervise the new puppy, keep him in a crate. Make sure you clean the spots he has peed on with an enzyme-based product. Then, put his food where he has gone to the bathroom, as a dog won't pee in an area where they eat. Take him outside frequently and tell him to "go potty." You should be able to correct this problem in about a week.
http://www.animalradio.com/vladae.html

Vinnie Penn, Animal Radio's Resident Party Animal
No More Baby Talk to Dogs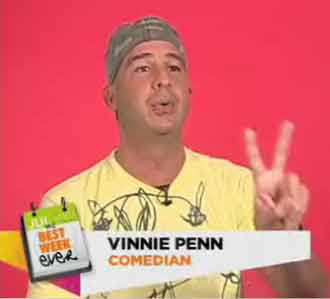 Right now I want to get right to it, something I want to stop – no matter how hot the girl – no matter how enticing the scenario, the outfit she's wearing – no more baby talk to the dogs! Real turn-off!
I was over at my buddy's house. His sister is smoking hot, and she came down the stairs in her tight little sweat pants with the word "Angel" across the back, which is not necessarily true if the words on the streets are accurate, and went up and started kissing the dog. I loved seeing the dog love her, but when she started to say, "Who's my little doggy, tell me you love me, tell me you love me too." Well, he's not going to, and when he barks, that doesn't mean he comprehends what you're doing.
The baby talk to the dogs has to stop!
Play Date With the Dogs?

I just hung up the phone with my sister who lives out in Las Vegas. She had to go because she was having what she called a "play date" with her dog. She has a girlfriend who got the same type of dog at the same time she did. Technically the dogs are brothers, or brother and sister, or sisters. I don't know. I never inquire about the sex of the animal when a dog is introduced a family. But she said she was having a play date with the dogs. I said that this was a brilliant idea.
Her friend comes over once a week and they let the dogs play in the yard and then they get to catch up. She also mentioned a yappy hour – where they have drinks and crack open a couple bottles of wine. And I thought to myself, this is not a play date for the dogs! No matter what clever name you come up with, whatever guise, this is an excuse for you to get drunk with your girlfriend under the ruse that you care about your animals, and then drive the little guy home drunk! And I have met her friend Annemarie before. I can see her propping her dog up in her lap and having that dog steer the car!
Yappy Hour!
Task Of Trying To Retrieve A Lost Animal

I just wanted to give a tip for those of you who are going through the unfortunate task of trying to recover a lost animal, a dog or a cat.
I saw a flyer in my neighborhood recently. I always check out the flyers, as everyone should, because you are always seeing animals in your neighborhood, and flyers are a great way to go, sort of an organic homegrown way to relocate the animal.
But some people who are missing a pet really have the wrong idea when it comes to what they should put on the flyer. This flyer said something like, "Please return Poochie to our house. We miss him so much and Poochie loves watching Survivor with us every Thursday night." Well, am I supposed to go home and dress up like Jeff Probst now and walk up and down the street and hope that Poochie sees me? How is knowing what Poochie's favorite television show is, going to help us find your dog?
Be a little smarter when it comes to the flyers, people!
Dr. Jim Humphries - Veterinary Minute
Aging Pets

The aging demographics of American society are creating a need for new products and services to maintain a high quality lifestyle, and that's true for both the human population and the growing number of pets entering their senior years. That was a hot subject at the recent Global Pet Expo where more than 600 exhibitors and 4,400 buyers gathered to take a look at the news and trends in the growing pet industry. According to the expo sponsor, more than 69 million U.S. households have at least one pet. The group says that 75% of those households are also home to an aging pet. Like their owners, many pets gain weight in their older years. Twenty-five percent of all pets in the United States are overweight causing some familiar conditions. Adverse effects in older, overweight pets include an increased risk of developing diabetes and cardiovascular disease and decreased immune competence. A report by the Veterinary Pet Insurance Company found that 86% of people who responded to a survey said they had taken a sick day off to care for their aging pet.
Avian Flu
While the fear of avian flu is spreading, the disease has yet to claim a single U.S. victim, human or avian. But all of that might change with a single cat. Springtime usually brings joy to Alaska after a long winter. This year, however, it's also likely to bring the avian flu virus carried by infected birds migrating from Asia. At that point, the population that worries experts most is not the human population. The virus has yet to evolve into a form that easily affects humans. It's not even the domestic poultry population, since in the U.S. most commercial bird flocks are sealed away in covered buildings. What keeps scientists up at night are the 75 million household cats plus the 40-60 million feral cats roaming the countryside. Some of which are sure to eat infected birds.
Animal Radio® News with Bobbie Hill


Change A Pet's Life Day
If the bleak economy has kept you from adopting a dog there's good news thanks to a pet food company. On January 24th adoption fees will be waved for the first ten people who head to their local animal shelter to adopt a dog. Across the country, 300 animal shelters and rescue organizations have agreed to participate in the event called "Change A Pet's Life Day". The adoption fees are being covered by event organizer Hill's Pet Nutrition but the shelters will follow their normal screening process for all prospective adoptions. The pet food company will provide free Science Diet food along with a training and informational DVD to all successful adopters. Check with your local animal shelters for more information.
3 Strikes and You're Spayed or Neutered
In a move to curb strays, the Riverside County Board of Supervisors this week approved an ordinance mandating that dogs or cats found running loose more than three times must be spayed or neutered. The new ordinance which goes into effect in 30 days applies to the unincorporated areas of Riverside County, California. Not only will the offending pooch or kitty be spayed on their third offense they will also be microchipped as part of the process of registering with the county.
First Family's Choice for a Dog
Americans are letting the new president know what they think of his choice of dogs. In a recently released Associated Press poll U.S. pet owners prefer a mutt to a purebred by a 2 to 1 margin. The survey showed more than half the country wants the Obamas to get their pooch from an animal shelter. That preference cut across party lines although the poll did show Democrats felt more strongly about the issue than Republicans. Past presidential pooches have been both mixed breeds and purebreds. As of last weekend the incoming first family is said to be choosing between a Portuguese water dog and a Labradoodle.
Fur Won't Protect Animals From Cold
The arctic cold snap hitting the country is dipping south and causing more problems for pet owners with animals outdoors. Because of the extreme temperature drop, people shouldn't assume their animals fur will protect them. Most vets say long fur doesn't compensate for the drastic change and recommend bringing pets inside. If that's not possible, provide an enclosed area cut off from wind with bedding and a supplemental heat source. Eagle Scouts helped out the Greenwood Animal Shelter in South Carolina this week by building nine wooden feline shelters each filled with straw for the centers' outside cat colony.
Law Gives Inspectors Authority Against Animal Breeders
Lawmakers in Iowa are working on a bill that would give state inspectors authority to investigate complaints against animal breeders. Currently the state's breeders are covered by licenses through the U.S. Dept. of Agriculture, which also follows up on complaints. But the department is understaffed and too slow to respond to problems, according to critics. The proposed bill authored by Representative Jim Lykam should be ready for the state legislature soon. Lykam says his state is home to many good breeders but the bad ones who run "puppy mills" are giving everyone a black eye.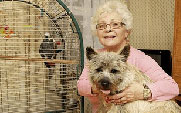 Parrot Mimics Owner - Drives Cat Crazy!
Barney the African Grey Parrot of Gloucestershire, England is quite a cheeky monkey....for a parrot. Barney's owner, Margaret Sullivan, says her 10 year old bird has gotten so good at mimicking her voice, he now orders the other animals around. Sullivan has three dogs - Harry, Tilly and Bluey along with a cat named Shadow. Barney the Parrot's favorite game is calling Shadow the cat who comes and sits atop the cage. Mr. Sullivan said , "It's uncanny. He mimics her perfectly.....he loves ordering them around......he's not frightened or scared of them at all."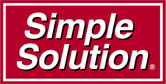 NEWS UPDATE Brought To You By Simple Solution Natural Line Of Products

Carrie Foote, Central Garden and Pet – D.A.P. Comfort Zone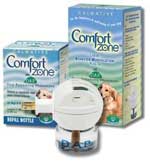 Carrie Foote tells us about Comfort Zone which is a pheromone-based product that comes in two varieties, one for dogs (Dog Appearing Pheromones) and one for cats (Feliway).
Comfort Zone with D.A.P. for dogs reduces or completely stops stress-related behavior including: barking, whimpering and whining, chewing, urination and defecation. Also reduces or eliminates separation anxiety. Calms dogs during thunderstorms and fireworks or when left home alone. D.A.P. mimics a natural reassuring pheromone produced by female dogs when nursing.
Comfort Zone with Feliway for cats reduces or completely stops stress-related behavior including: urine marking, vertical scratching, loss of appetite, reduced desire to play or interact and other stress-related behaviors. Helps comfort cats in stressful situations such as: being alone in the house, visitors to the home, new pet or family member, moving to a new home, visits to the veterinarian, adjusting to a new environment, multiple cat households. Feliway mimics a natural comforting facial pheromone produced by cats.
They both come in two forms, a diffuser and a spray. If your pet has anxiety problems – check them out!
http://www.PetComfortZone.com
Animal Minute With Britt Savage


Teen Loses Control Of Car While Trying To Catch Gerbil
Police in Springville, Utah, says a teenage driver lost control of her car while scrambling to capture her pet gerbil. While the seventeen-year-old was trying to catch her gerbil that had gotten out of its cage, she veered off the road, hitting a stranded truck hooked up to another truck with jumper cables. The impact pushed the two trucks together, pinning a woman in between. She suffered a broken leg, and a male co-worker, helping the woman, also suffered a broken leg. Neither the teenager nor the gerbil were hurt, and no charges were brought against her at this time. But, I'm sure she's learned a valuable lesson!
It's a Good Thing Elvis Was in the Building
Elvis the dog, named after the "King," came to the rescue of his family when a fire broke out in their trailer. Elvis' guardians were fast asleep in their bedroom, while he was on the couch. Elvis then ran into their bedroom and started jumping on them. At first they thought some animal outside had upset him, but soon realized that their trailer was filled with smoke, and were able to get outside. The cause of the fire has not been determined, even though firefighters believe it is suspicious and an investigation is ongoing.
Your Vet Questions Answered with Dr. Debbie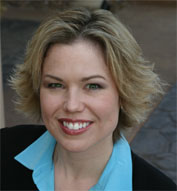 Papillion Makes Strange Gagging Sound
Dr. Debbie diagnoses this as reverse sneezing. The sound is something between a sneeze and a cough and is common in a lot of dogs. When they do this, they extend their neck out a little bit, without coughing anything up, and these episodes can last for seconds or even a few minutes. It is completely harmless and is not a sign that the dog is not getting air.
Jack Russell Has Hot Spots
Since moving to California from the east coast, this dog has been experiencing hot spots. He has been on antibiotics and they are not working. Dr. Debbie explains that a "hot spot" is an area of moist dermatitis, which is a bad bacterial infection that develops in the skin, which can be triggered by excessive scratching and allergies. She feels that this is an allergy, something that is very common with Jack Russell Terriers, and recommends a prescription hypoallergenic food for allergies.
Do Microchips Cause Cancer?
Dr. Debbie feels that there is a smidgen of the truth in this statement, but the general idea is that microchips saves lives by far more than a miniscule risk of a tumor formation. You can get tumor formations from shots, injections and foreign objects. Tumors that have developed from microchips are so rare, that you can count them on one hand. The benefits of microchipping far outweigh the risks.
Inappropriate Elimination
Tripod, a 3-legged cat without a tail, has a problem with inappropriate elimination outside of his litter box. He always did very well with using the litter box. A Labrador recently moved in the house with 7 puppies, and this woman's husband has also returned from his deployment, so there have been several changes in the household. The puppies are now gone, but the cat still won't use the box. Dr. Debbie suggests first checking a urine sample with the vet for any low-grade urinary issues. She also suggests giving the cat an extra litter box in a new location and trying cat pheromones.
Attack Cat
This cat will attack people when they come over. This reminds Dr. Debbie of a cat she once had that was called "the devil cat." However, some cats don't always have that interest in human interaction. She suggests having people give the cat a treat when they walk in the door, but not to smother him with affection. If this doesn't work, they might have to keep the cat in a back room whenever there is company.
Dog Gets Violently Car Sick
This 7-month-old Miniature Schnauzer gets violently car sick and can't even make it 5 miles down the road before he vomits. He will actually start drooling and dripping from his beard before he vomits. Dr. Debbie asks how he acts when he first gets in the car. She does this so she can determine if the dog has true motion sickness or just an anxiety problem with cars. She recommend using Dramamine for humans or a new medicine just for dogs, called Cerenia.
Dog's Front Teeth Are Coming In At An Angle

This 8-month-old Sheltie has front teeth that are coming in at an angle and protruding forward, which is forcing her bottom teeth outward. Dr. Debbie says that this is a congenital deformity, which is common in Shelties. It does need to be addressed, and one way is to extract the teeth, or cut off part of the teeth and seal them up or even braces!
Dog Goes Outside But Comes in and Eliminates
This 6-month-old Malti-poo will go outside and play, and play, and play, and then come back in the house and do his business! He was housetrained for a little while, but is now back to eliminating in the house. Dr. Debbie states that since he was housetrained before, this woman needs to get back to the core of potty training and start all over again.
Listen to the entire Podcast of this show (#477)

Broadcast on XM Satellite Radio and Podcast Versions Only.

Listen to Animal Radio® - Go to the launch page
Return to Animal Radio Network™ Home Page
Read January Newsletter
Copyright 2008 All Rights Reserved Animal Radio Network LLC