January 28th 2006
Valentine's Sex Tour
Jane Tollini, San Francisco Zoo


The Sex Tour got it's start 17 years ago when Jane Tollini put red paper hearts in the penguins' ice pond and then put on Johnny Mathis to set the mood. The men gathered up the hearts and brought them back to the mates' birthing dens. That was just the beginning. Now, a yearly event, conducted by the hilarious Jane Tollini - animal care professional and creator of the tours ­ this three-hour event includes a private tour aboard the Zoo Tram and an exclusive indoor presentation featuring up close encounters with animals. Romantic refreshments will include champagne and chocolates and the popular Knights Catering "mashed potato bar" featuring delicious mashed potatoes and scrumptious toppings. Pre-purchased reservations are required as this "sense"ational event sells out each year. Listen in and find out how you can join this tour.
Cat Dials 911
Britt Savage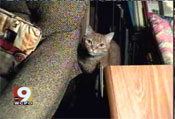 A man who fell out of his wheelchair says his cat apparently called 911 for help. Police received a 911 call from Gary Rosheisen's apartment Thursday, but there was no one on the line. When they called back and got no answer, they decided to check things out. In the apartment they found Tommy the cat lying by a telephone on the living room floor. "I know it sounds kind of weird," Officer Patrick Daugherty said.
Rosheisen was unable to get up because of mini-strokes that disrupt his balance and pain from osteoporosis. He also wasn't wearing his medical-alert necklace and couldn't reach a cord above his pillow that alerts paramedics that he needs help. Rosheisen said he got the cat three years ago and tried to train him to call 911, unsure if the training ever stuck. The phone in the living room is always on the floor, and there are 12 small buttons - including a speed dial for 911. "He's my hero," Rosheisen said.
No Animals Were Harmed
Marie Wheatley, President of the American Humane Association


For over 60 years now, the American Humane Association has been monitoring films to make sure that no animals are being harmed during production. It all started back in 1940 when a horse in the film Jessie James was ridden over a cliff to its death. This created an outpouring of public concern, and since then, the American Humane Association has created a set of guidelines for the film industry when using animals, which includes things such as not working an animal too many hours. Look for the end credit in a film by the American Humane Association "No Animals Were Harmed." And if this sounds like a job for you, Marie explains how you can get started.
Dog Saves Tot and Himself
Jack the wonder dog was on his way out before his heroics saved his biggest fan -- Hannah. The eight-year-old golden retriever's strained barking at the sight of toddler Cassandra floating facedown in the Harding family's backyard pool and saved her life, says her dad Justin.
His yelps caught the attention of her mum Rose who ran to the pool and yelled for her husband. Mr. Harding performed what he said was the "worst CPR", which he had learned in grade six. He said little Cassandra felt like a "rag-doll" as he desperately tried to resuscitate her before paramedics arrived.
After 11 days at Royal Children's Hospital, she was back out and playing with her beloved Jack again. Mr. Harding said Hannah and Jack, now king of the house, were reunited and his daughter was keeping him entertained. "We were thinking of getting rid of him because he needs constant attention and he's always digging," he said.
"But he's been getting everything since, even lamb chops!"
Dr. Joyce Brothers


Dr. Joyce Brothers is a noted psychologist, columnist, author and one of America's 10 most influential women. Her legendary books have been translated into 26 languages, with her daily column appearing in more than 175 newspapers. Hear what Dr. Joyce Brothers has to say about pets coming between partners.
Talk With Your Animals
Joy Turner http://www.TalkWithYourAnimals.com
Nikita the German Shepherd is in need of a hip replacement. Nikita feels her guardian should stop seeing her as having a problem, just because her body is doing things differently now. Nikita is also worried that it will take too long to recuperate from surgery, and wonders if it is worth it.
Dental Disease
Dr. Jim Humphries, Veterinary News Network
Are you aware that dental disease in animals can lead to liver, kidney and heart disease? You should practice daily dental care on your animal, and a trip to the vet twice a year to check his teeth, is also a good idea.
Vicky Halls, Cat Behavior Specialist - Mary Poppins of the Feline World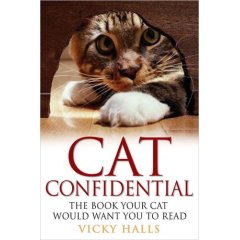 Cat Confidential: The Book Your Cat Would Want You to Read
Renowned cat counselor Vicky Halls, also known as the Mary Poppins of the Feline World, a title she doesn't mind holding, has dedicated her career to helping hundreds of cat owners to better understand their pets. She offers great information on those seeking help with a "scaredy cat," and if you have one of these cats, like we do here in the studio, you won't want to miss this!
Adopting A Great Cat
Annie Bruce, Good Cats Wear Black
It's okay to be selective when choosing a family cat, because just as with people where you don't like everyone you meet, there can be a cat that isn't a good match for you. And don't forget about the older cat. Older cats make great pets for both children and adults. One test you can try before adopting is to hold the cat like you would hold a baby and see if he will let you massage his belly. But if he fails, don't give up. A shelter situation is not the best situation to test the temperament of any animal. Also, don't adopt by looks, there is so much more to a cat than just its looks. You might also think about fostering, as fostering is also a great way to see if the cat fits your lifestyle.

Woodpecker: Loyal Friend to Humankind
Rae Ann Kumelos, Voice of the Animal
Whether saving people from cruel magicians, predicting the weather, or revitalizing the local economy, Woodpecker, a steadfast loyal friend to humankind, has never missed a beat.
Why Are These Frogs Croaking?


Hardy and plentiful as they seem, frogs are actually very frail things. So when entire species of brightly colored harlequin frogs started dying off in the cloud forests of Central and South America about 25 years ago, scientists suspected that something in the amphibians' ecosystems--they weren't sure what--had gone awry.
Now, an international team of scientists think they've solved the mystery. Comparing changes in annual temperatures with the number of frog species spotted, they've documented for the first time a direct correlation between global warming and the extinction of about two-thirds of the 110 known species of harlequin frog.
Species die-offs follow warm years 80% of the time. With tropical air temperatures from 1975 to 2000 rising three times as fast as the 20th century average, things should only get worse.
Frogs are what scientists call an indicator species: particularly sensitive animals that are the first to go when the climate starts to change. Their extinction may increase pressure on government and industry to dial back greenhouse gases. The harlequins, after all, are only the beginning.
Katrina Adoptions Gone Awry
Darlene Arden
Many guardians not only suffered the loss of their homes during Hurricane Katrina, but many of them lost their pets as well. The good news is that a number of animals were rescued, fostered and reunited with their original guardians. But the bad news is that some families have had their animals adopted, and when they tried to get them back, the adoptive family refused to give them up. Unfortunately, these cases will now be left with the courts.

View Animal Radio Broadcast Schedule in a new window.


Listen to Animal Radio - Go to the launch page


Get one of the limited edition Animal Radio® T-Shirts for 9.95


Return to Animal Radio Network® Home Page
Sponsor

Copyrighted Animal Radio Network LLC 2006