Animal Radio® Show #530 January 30, 2010

indicates XM Satellite Radio and Podcast versions only.
Every Dog Used To Get One "Free" Bite
Amy Feldman Epstein, So Sue Me Jackass

Amy Epstein Feldman, nationally syndicated legal commentator and author of the newly released book, "So Sue Me, Jackass," states that an estimated 63 percent of U.S. households have a pet according to some studies. And while we enjoy their companionship and unconditional love, we often overlook that there are legal ramifications to owning a furry friend.

Americans will file over 15 million lawsuits this year alone, that works out to one new lawsuit every two seconds...and while you don't usually think about being sued over Fido or Fluffy, you may want to think again.
It used to be that every dog got one "free" bite. This meant that if you had no idea that your dog had any propensity to do violence or damage, you were let off the hook. But now, you are held liable if your dog does damage to someone else, whether or not you knew your dog had that tendency.
For the longest time, pets have been considered property, but fortunately that is evolving There is currently a case in a Vermont court where someone visiting friends with their dog and the dog got out. The dog then went onto a neighbor's property, who then shot the dog. The neighbor said he didn't mean any harm; it was just an air pellet gun. But the dog turned around, and was shot in the chest. That neighbor plead guilty to a misdemeanor charge, did 100 hours of community service and paid $4,000 in compensatory damages to the owners. The owners didn't feel this was enough, so they sued the neighbor.
Hopefully the decision of this case will change the way the courts view the value of a pet.
Puppy Raisers
Maria Dunne, Guiding Eyes For The Blind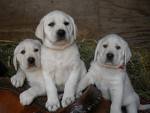 Maria Dunne is a regional manager for the Guiding Eyes For the Blind Puppy Raising Program. Guiding Eyes for the Blind is looking for people who want to become part of something bigger than themselves. The renowned nonprofit guide dog school is actively recruiting puppy raisers – volunteers that take 8 week old puppies into their homes, love, nurture, and educate them and send them off to their calling as a guide dog for a blind or visually impaired man or woman. The puppies are placed with the volunteers, who sign a contract to return the dog, until about 14 - 16 months of age, when the dogs are returned Guiding Eyes for formal training.
During this time, the puppy raisers are responsible for food, toys, dog beds, etc. But veterinary expenses, crates and classes are covered by Guiding Eyes.
Guide dogs aren't born with the skills to keep a blind person safe; they are carefully trained and prepared for the job. Guiding Eyes puppy raisers provide hours of patient teaching and numerous socialization journeys.
So, resolve to bring joy and love into your own home, and to give a puppy a chance at becoming the "eyes" of a blind person. Raise a puppy for Guiding Eyes; it will change your life, and make a profound difference in the life of a blind or visually impaired person. Call 1.866.GEB.LABS.
Animal Radio® News with Bobbie Hill
After Holiday "Returns" Include Animals
The after holidays "returns" are continuing, and sadly that include the adorable puppies, kittens and potbelly piglets given as gifts. The Humane Society of New York reports many of those pets are being dropped off at shelters after the recipients found out their adorable gifts actually require time and attention. Sandra DeFeo of New York's Humane Society said, "People admit they are not prepared and they want us to take care of the animal." She added that they expect more uninformed gift decisions to result in another big drop off just after Valentines Day.
Reform From State That Leads Nation in "Puppy Mills"
The state that leads the nation in the number of so called "puppy mills" is now trying to adopt stiffer penalties for bad breeders. Missouri's Humane Society Director Barbara Schmitz is working to pass the Puppy Mill Cruelty Prevention Act. If organizers gather the necessary 100-thousand signatures, the measure would make it on the ballot in November's general election. The act sets strict standards for breeders and carries misdemeanor penalties for violations. Currently puppy mills are illegal under Missouri law. However, there are no criminal penalties, just revocation of breeders license.
Owning A Wild Animal Is Not a Good Idea!
Reason number 7 why owning a wild animal is not a good idea. A 66-year-old Canadian man was mauled to death by his pet tiger. The incident happened in Southwold, Ontario on the man's property, which houses a number of exotic animals, according to police. Ontario Provincial Police Constable Troy Carlson said although there were no witnesses it appears the victim's 660-pound pet tiger killed him as he entered the cage to feed the animal.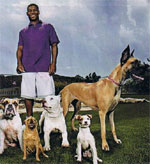 Finally, Good News from The NFL
The NFL has had its share of "bad players" in the news so here's the fair and balanced side of football players and dogs. Number 21 of the San Diego Chargers, LaDainian Tomlinson - or L.T. - owns and operates what is described as the "poshest" doggie day care anywhere. L.T. is a dog lover and his wife LaTorsha own and operate Snug. It's a one-stop location for grooming, pet day care, veterinary services, training and boarding. There's even a penthouse with a private gated courtyard and a glass-enclosed cathouse for their feline clients. And according to LaTorsha, you can find L.T. out playing in the yard with the dogs on any given Sunday.... when the Chargers aren't playing.
Dog On Walk Finds Unconscious Man
A German Shorthair named Effie was out on her usual walk with her owner when the 15-year-old dog pulled his owner in a different direction. Effie tugged owner Brett Grinde to the side of an unconscious 94-year-old man. While help was called Effie stayed next to the elderly man licking his face. According to the Minneapolis Star Tribune, despite the rescue attempt William Lepsch died at North Memorial Medical Center.
"Cat-Tastrophe" Averted
A "cat-tastrophe" was averted thanks to the quick actions of a champion climber. Kay Leclaire, a world-renowned climber, was leaving the Spokane Club when she and her companions heard the cries of a kitten stuck high above on an old railroad abutment. Leclaire, who became the second oldest American woman to scale Mt. Everest last May, got her harness, ropes and repelled over the side to rescue the kitten. Animal control officers were waiting and took the kitten - named Sky - to the shelter where he got a clean bill of health and a new home - he was adopted in just a few hours.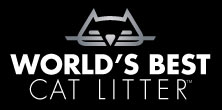 NEWS UPDATE Brought To You By World's Best Cat Litter™
Listen to the entire Podcast of this show (#530)
---