Animal Radio® Show #426 February 2, 2008


Glenn Close


Glenn Close has had a lengthy career as a versatile actress and performer. Glenn is remembered for her chilling roles as the scheming aristocrat Madame de Merteuil in Dangerous Liaisons; terrorizing puppies as Cruella di Vil in 101 Dalmatians; and as the psychotic book editor Alex Forrest in Fatal Attraction. In her new series, Damages, Glenn brings force and power as Patty Hewes, a fierce litigator who has a dog killed. But, Glenn is nothing like the characters she plays, and in fact is a big animal lover! Glenn doesn't believe there was a time in her life growing up when she didn't have animals
Glenn currently has two dogs, Bill and Jake, whom she takes to work with her everyday. In fact, they have become the mascots of the Steiner Studios.
Look for Glenn's "Lively Licks" blog, which is a profile of dogs and their people, with the launch of the website FetchDog.com, where she will ask questions such as: When did you become a dog lover? Why Dogs? And, if your dog were a famous person, who would they be? Some of the first subjects are Ted Danson, his wife Mary Steenburg. Glenn states that if her dogs were famous people, Jake would be the Dalai Lama and Bill would be Barney Fife!
Fetchdog.com is a new website that will offer you the best hand-picked products for your dog, from healthy food and comfortable beds to unique toys and fashionable collars.
http://www.Fetchdog.com
Bryan Dattilo, Days of Our Lives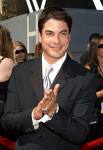 Bryan Dattilo has been playing Lucas Roberts on Days of Our Lives since 1993. Over the course of the show, he has been in a coma, has shot people and has seen his infant son grow up and prepare for college.
Bryan talks about his three labs, Vinny, Dante and Sal (whom he calls his Italian dogs). Unfortunately, Bryan recently put down Vinny who was 15 years old, due to health reasons. He states Vinny was a blessing in his life and now when he has bad days, he closes his eyes and talks to Vinny.
http://www.bryandattiloonline.com
NEWS UPDATE: Foreclosure Pets- Innocent Victims


Many people out there are experiencing financial troubles as the mortgage foreclosure crisis continues to expand across the nation. Unfortunately, as their owners find themselves facing eviction, many pets become the forgotten, and truly innocent, victims as well. It can be a heartbreaking and frustrating situation for many people.
Foreclosure-websites have stated that more than 8 million adjustable rate mortgages were given between 2004 and 2006. It is expected that almost 1.1 million of these will be foreclosed before the problem goes away. Given the current rate of pet ownership to be about 60% of the population, it is very easy to calculate the thousands of dogs, cats and other pets that could potentially face abandonment.
In Franklin County, Ohio, foreclosures this year are up more than 4 times last year's rate. Their local animal shelter states that about 20% of owners surrendering pets are doing so due to eviction proceedings. A humane society near San Diego California reports receiving 20-30 calls per day from owners looking to relinquish the family pet.
But others leave their pets behind on false hopes that someone will come along to care for them. In Cincinnati, Ohio, more than 50 cats were found in a house after the owner's eviction. Cases of starving, dehydrated and occasional dead pets have become common sights for real estate agents and law enforcement officers. The unfortunate truth is that many of these pets are left and months can pass before someone comes to check on the property. What's worse? In most cities, pets are considered to be personal property and can't be removed until after a foreclosure sale.
Many people might wonder how anyone could leave a pet behind during these trying times. But for thousands of people, their pets, regardless of their status, become just another weight, hastening their spiral downward. It is all too easy to just walk out the door, leave everything and hope for a new beginning somewhere else.
As difficult as times may seem, preparation can help to insure that your pets don't suffer similar fates. If you are facing foreclosure and cannot care for your pets, contact your local shelter or humane society. In some instances, rescue organizations may be available although their foster home space is very limited. If you must surrender your pet, do so before the eviction time comes. Gather any pertinent medical information from your veterinarian and let the shelter staff know about any behavior issues unique to your pet. These steps could spell the difference between a new home for your pet or potential euthanasia.
Dr. Jim Humphries, Veterinary News Network, for Animal Radio®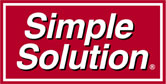 NEWS UPDATE Brought To You By Simple Solution Natural Line Of Products
National Canine Weight Check
Dr. Bernadine Cruz, Laguna Hills Animal Hospital


Are our pets really that fat? Statistics show that there are 54 million overweight pets in the United States alone.
In February 2008, veterinarians across the United States will be participating in the first-ever National Canine Weight Check. This is a health initiative to educate dog owners on how to identify a healthy weight for their dogs so that owners can begin to take important steps to avoid the serious health risks associated with canine obesity. While many dog owners realize canine obesity is a serious condition, some owners may not be aware that their dogs are overweight or obese, or they may not understand that obesity can have serious health implications including heart disease, arthritis, skin conditions and breathing problems. Obesity can also worsen the signs associated with pre-existing diseases.

Dog owners are invited to bring their pets to a participating veterinary practice in their area during the month of February for a free weight assessment, including breed-specific information. Owners will also receive information on the serious health implications of canine obesity, along with a mail-in postcard for a free gift.

For information on participating veterinarians in your area, please visit www.stopcanineobesity.com.


Pet Census


Are dogs really man's best friend?
Not so according to a recent pet census. Cats top the list - put together by the American Veterinary Medical Association.
60 percent of American households have a pet. That's 282 million non-human family members nationwide.
82 million of them are cats - up a hefty 10 million in the last 5 years.
There are 72 million are dogs, 11 million birds, 2 million turtles and 1 million hamsters.
Surprisingly, 1 in 5 homes have 5 or more pets. The state with the most cats is...drum roll please, Maine. Wyoming has the most dogs.
Man Smuggles Monkeys - in His Pants!
Britt, Savage


Robert Cusack thought he was going to get away with smuggling animals through the Los Angeles Airport until one of the birds, a rare bird of paradise, escaped from his suitcase. At that time, all he could do was confess and declare the other animals he was smuggling.
It turned out the other animals were two monkeys, which he had smuggled in his underwear.
Cusack served a sentence of five and a half months in prison and paid $1,100 in fines.
It seems his traveling companion, Chris Edward Mulloy, was able to get two newborn Asian leopards past the customs agents. Mulloy was recently arrested and is waiting arraignment.
Salmonella Sickens 103 in '07


It seems that small turtles (those less than 4 inches) are to blame for the 103 Salmonella infections in 2007 in 33 states.
Salmonella infections should be taken seriously, as they can be severe and lead to hospitalization and even death. Most of the outbreak has been in young children, who are at a greater risk. Outbreaks can be seen within 7 days of exposure to the turtles. The symptoms to watch out for are abdominal cramps, fever, vomiting and bloody diarrhea.
In 1975, the sale of these small turtles was banned, but these turtles are still being sold by various sources such a pet shops, flea markets, street vendors and the internet. While you should not have these turtles in your home, if you do, make sure that anyone who handles them or their enclosure, immediately washes their hands thoroughly with hot soap and water.
New Pet Inventions:
Tony Vena, Pet-2-Ring Doorbell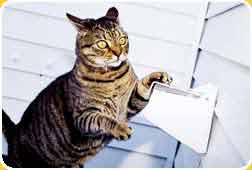 Pet Doorbell Products Inc. is proud to introduce to all pet lovers a Useful, Unique and Entertaining New Pet Product, the Pet-2-Ring TM Doorbell.
So what is the Pet-2-Ring TM Doorbell? What does it do? Why do we need such a product?
Have you ever owned a cat that is outside and does not know how to let you know that it wants to come inside? Have you ever owned a dog that wants to go out to relieve itself and just sits near the door?
How many screen doors has your cat destroyed? How many times did your dog urinate on the floor or damage your door only because another family member did not walk the dog?
Have you thought about a doggy door? But, the problem is that it allows unwanted guests in the house such as raccoons and skunks, and if you have a large one for a large dog, it will also allow burglars into your home.
Now with the Pet-2-Ring TM Doorbell "Your Pet's Own Doorbell" your cat or dog can ring their doorbell just like you or I ring a doorbell. This is clearly demonstrated in the training video included with every purchase.
We always knew that dogs could be trained. Now you can see that the cat is also trainable and very intelligent. To view a video, please visit http://www.pet2ring.com
Neither Rain, Nor Hail, But A Cat ­ That's A Different Story!
Britt Savage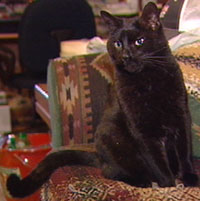 Most mail carriers will deliver the mail in rain, hail, snow, etc. But a mail carrier in Canada is refusing to deliver mail to a house after being frightened by a "very threatening cat."
The postal service is concerned about the welfare of all of their carriers, but hopes for an amicable solution to the problem. The mail carrier was brought up on a farm and is used to being around all types of animals.
The cat, Shadow, is an eight-year-old docile declawed black cat, according to his guardian. The guardian states that Shadow "likes to eat and sleep and cuddle. You could drop a bomb and he'd just open one eye, take a look, then close them and go back to sleep."
Until it is resolved, the guardian will be picking up his mail at the post office.
Microchips Do Not Cause Cancer
Dr. Marty Becker, Good Morning America


Out of the 14 million microchips that have been implanted in animals, there were only four cases in a recent study with a link to cancer. And, those cases were tested in mice that were prone to cancer. It is a myth that Microchips cause cancer, and considering that about 8,000 microchipped dogs per month are returned to their guardians, the price is well worth it!
Do you know that one out of three dogs are lost in their lifetime? The 4th of July is the #1 day with the most lost pets and Halloween is the 2nd.
Microchipping is a great way to help your pet return home. Essentially microchips are little computer chips, about the size of a grain of rice. Easily implanted under your pet's skin with a hypodermic needle, microchips provide permanent identification that won't wear out or fade, become lost, altered or destroyed. Special scanners find the microchip, translate that into a specific ID code, and then these unique numbers can be found in a database.
While there has been much controversy over different types of microchips and scanners, Dr. Becker recommends the resQ Microchip, which uses an ISO chip (International Standards Organization) that is most recognized around the world and can be read by most scanners. They also have a free registration that can be updated for a lifetime.
http://www.DrMartyBecker.com
http://www.PetConnection.com
http://www.BayerDVM.com
Ellen Degeneres In the Doghouse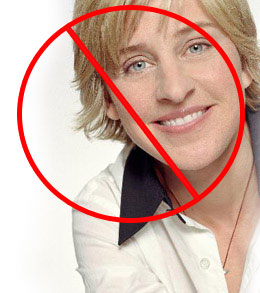 It seems that Ellen Degeneres is in the "doghouse" after violating an agreement with a dog rescue, Mutts and Moms.
Ellen and her partner, Portia de Rossi, adopted Iggy, a Brussells Griffon mix back in September. As it turned out, the cats did not get along with the new dog, so Ellen gave it to her hairdresser's family.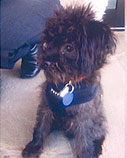 When the agency called to check on Iggy, they were told that the dog had been given to another home. This was clearly in violation of the signed agreement by Portia de Rossi, and Ellen was told to return the dog immediately. The new home also had children, and Mutts and Moms will not place a small dog in a home with children.
The owner of Mutts and Moms, Maria Batkis, has since been receiving death threats and an alleged threatening voicemail from Kelly Bush, Ellen's publicist.
Listen in as callers voice their opinions.
Listen to the entire Podcast of this show (#426).


Listen to Animal Radio® - Go to the launch page
Return to Animal Radio Network™ Home Page
Read January Newsletter
Copyright 2008 All Rights Reserved Animal Radio Network LLC