February 3, 2007

Out of Control - Clive Pearse
HGTV Design Star & Designed to Sell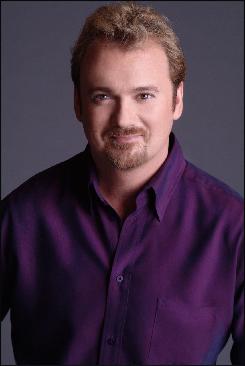 Out of Control, a documentary that was filmed when 10 volunteers from California traveled to Romania to help with the stray dog problem, will be airing a sneak peak on February 11th at the Auro Night Club in Studio City, California. Also showing will be Diva Dog, starring Linda Blair and Debra Wilson-Skelton.
Clive, star of HGTV's Design Star and the Designed to Sell series, lives in Los Angeles with his dog Delia, and is currently filming Season 2 of Design Star. Clive will also be hosting the Dream Home Giveaway on March 18th live on HGTV. Also look for last year's Design Star winner, David Bromsted's show, Color Splash, premiering on HGTV March 18th.
Listen in as Clive co-hosts the show.
http://www.Schnuffie.com
http://www.ClivePearse.com
http://www.HGTV.com
Smelly Cat Brings $2,000 Reward
Britt Savage


Even with a name like "Smelly," everyone fell in love with him. So when Smelly disappeared, his owners were so frantic they offered a $2,000 reward. As you can imagine, "Smelly" look-a-likes started coming out of the woodwork.
When another gentlemen called with what he believed to be the real Smelly, Smelly's guardians were hesitant. But, it turned out to be the real Smelly and the finder, who was out of work, collected a nice reward.
Valentine's Sex Tour
Jane Tollini, San Francisco Zoo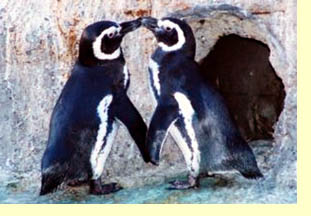 The Valentine's Day Sex Tour, which has been renamed as the "Woo at the Zoo" got its start 18 years ago when Jane Tollini put red paper hearts in the penguins' ice pond and then put on Johnny Mathis to set the mood. The men gathered up the hearts and brought them back to the mates' birthing dens. That was just the beginning. Now, a yearly event, conducted by the hilarious Jane Tollini - animal care professional and creator of the tours ­ this three-hour event includes a private and exclusive indoor presentation featuring up close encounters with animals. Romantic refreshments will include champagne, chocolate covered strawberries, sushi, a risotto bar and a delicious surprise! Pre-purchased reservations are required as this "sense"ational event sells out each year. Listen in and find out how you can join this tour that runs from February 2nd ­ February 14th. Adults 21 and over only please!
http://www.SFZoo.org
Are You Ready for a Pet Emergency?
Dr. Jim Humphries, Veterinary News Network


Are you ready for a pet emergency? Here are some helpful tips that can save your pet's life.
Even the smartest pets can't dial 911 so they have a much better chance of surviving a life-threatening emergency if the proper steps are taken right away. Emergency situations are frightening for everyone, but they are especially difficult if your pet is involved. Being prepared for a pet emergency will increase your chances of responding calmly and quickly and could save your pet's life. Here are the basics:
Approaching an injured animal ­ you should approach an injured pet carefully.
Restrain the animal - keep the pet restrained and warm.
Muzzle an injured animal - use a muzzle if available or make a muzzle out of nylons, socks or a piece of rope.
Bleeding ­ apply direct firm pressure to bleeding wounds. A bandage may not apply enough pressure to stop the bleeding all by itself.
Poisoning ­ do not induce vomiting unless your veterinarian tells you to do so over the phone. If you know what toxin your pet has ingested, bring that with you along to the emergency clinic.
Seizures ­ pets cannot swallow their tongues so don't put your hand in their mouth. Wrap them up and get them to the veterinarian office right away.
First Aid Kit - keep a first aid kit around all of the time and learn how to use it. Keep a list of emergency numbers on hand such as your veterinarian and the closest 24-hour emergency hospital. An emergency is not the time to search for a phone number, so go do it right now.
http://www.VetNewsNet.com
Beer for Dogs
Jamie Miller, Happy Tail Ale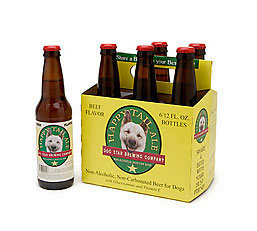 "Beer for Dogs" started when Kodi, the dog of Jamie and Kevin Miller, started knocking over beer bottles during camping trips and drinking the beer. Knowing that beer was not good for Kodi, Jamie and Kevin came up with the bright idea of dog beer.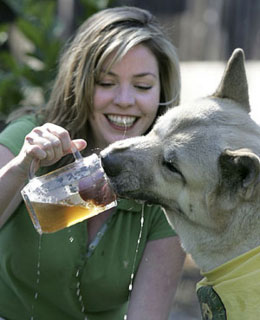 The night before Kodi's second birthday, Jamie and her husband were discussing about what they should give him as a 'present.' They talked about buying him some nonalcoholic brew that he could have all to himself, without trying to knock theirs over! And, that's how the idea came about...to make a version just for dogs. No alcohol, no carbonation. Made with malted barley and filtered water, fortified with Glucosamine and Vitamin E, with a natural beef flavor!
Hear some of their experimental formulas that "exploded" along the way!
http://www.BeerForDogs.com
Barbaro Euthanized
Dr. Jim Humphries, Veterinary News Network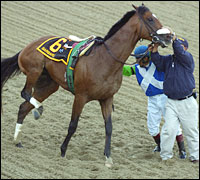 The racehorse Barbaro, who won the Kentucky Derby and was expected to win the Preakness, was euthanized because of recent complications from a leg injury suffered during the Preakness race in May of last year.
Barbaro, who had been undergoing about eight months of post-op surgeries in his ICU stall, suffered a recent abscess in the injured leg. His owners felt that it was going to be difficult for him to go on without pain. So they, along with chief surgeon Dr. Dean Richardson, felt that euthanasia was the right thing to do.
The Barbaro Fund has raised more than $1.2 million. The money will be used for miscellaneous items such as an operating table and a pool sling for the same pool recovery that Barbaro utilized after his surgeries.
Barbaro, who was 4-years-old, will always be remembered for his brave fight for survival.
http://www.VetNewsNet.com
Looking for a Dog Trainer?
Stephanie Shain, HSUS


Dog owners often seek professional advice when it comes to training their animal companion and there are many options available. From DVDs, books and television programs, to local dog trainers offering private lessons and group classes, consumers have choices about the methods and styles in which they want to raise their pup.
Are you supposed to be your dog's parent or pack leader? Do you want your dog to be an obedience champ or do you just need him to stop jumping on strangers? What are the boundaries you want set?
According to Stephanie Shain, Director of Outreach for Companion Animals for The HSUS, "Just like with human communications and psychology, there are varied philosophies, methods and approaches when it comes to communicating with your dog. It is important to define your goals and find a system that works best ­ and safely -- for you. Unfortunately, we know of many cases in which a private trainer's methods were abusive and the animal was injured or killed."
Shain warns that if people do choose to work with a trainer, they must be sure that the trainer's methods are safe. The HSUS offers these tips to help ensure that your dog is trained safely and successfully, as well as the red flags that may signal abusive training.
Red Flags:
Trainers should never use electronic aids like shock collars.
Rubbing your dog's nose in an "accident" will never work.
Screaming is not training.
If your dog is afraid of a trainer, you should be too.
Never let a trainer dominate you or your dog.
Choking is not training. "Don't worry, he's fine," is something a trainer should never have to say.
Physical violence is unacceptable.
Bleeding is bad.
Trust your instincts.
http://www.APDT.com
http://www.HSUS.org
Aquarium Toilet Tank
Brian Reel, Fish n Flush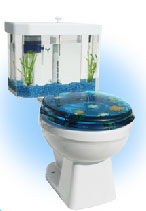 Fish n Flush Toilet Tank Aquarium - a unique new product whose decorative appeal could turn the bathroom into the most talked about room in the house. The Fish n Flush is clear two-piece toilet tank that replaces a standard toilet tank and cleverly contains a fully functioning aquarium inside.
"We wanted to develop a product that had a dual purpose - to serve as a proper, fully functional toilet and also as a source of entertainment and conversation," says Richard Quintana, CEO of AquaOne. "Fish-n-Flush is definitely an attention-getter."
"One of the key attractions to Fish-n-Flush is that we see the toilet serving as a great way to help toilet train young children," Quintana adds, "as well as a fun fashion statement for the homeowner who wants to have something unique."
See Animal Radio Product Review.
http://www.FishNFlush.com


Listen to the 1st Hour ABRIDGED VERSION Podcast of this show (#375).
Purchase a CD Copy of this Show

View Animal Radio Network® Broadcast Schedule in a new window.


Listen to Animal Radio® - Go to the launch page


Return to Animal Radio Network® Home Page


Read February Newsletter
Copyright 2007 All Rights Reserved Animal Radio Network LLC