Animal Radio® Show #531 February 6, 2010

indicates XM Satellite Radio and Podcast versions only.
Emmylou Harris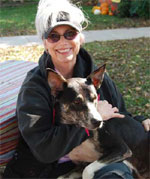 "Animals - That's what I want to devote my life to now," Emmylou Harris stated. The angel-voiced singer has been wowing audiences for decades, and as one of music's leading vocalists, has earned 12 Grammy Awards. Emmylou states that the animals have wriggled their way into her heat and life. She now feels that she has the time and opportunity to give back a little to these critters that have given her so much.
In her adult years, one of Harris' closest canine companions was Bonaparte, a poodle mix who traveled with her on tour and lived to age 15. As a result, Harris founded her own fostering operation, which she calls Bonaparte's Retreat. She has turned part of her yard into a small shelter, complete with runs and doghouses for up to three pooches at a time. Currently, her foster dogs are close to or more than 50 pounds and in need of permanent families all their own. She noted that she always tries to help out those dogs that seem to be the hardest to place—those who are older, have been relinquished more than once, or have been available for adoption for a while.
Harris states giving up these dogs that she has rescued up to a new family is not the hard part. She states the hard part is when she has a vacancy and goes to select a new dog. Unfortunately, there are always more than one dog that needs a home and it is hard to love the others behind knowing that they will probably end up being euthanized. They key is getting more people to foster these animals. And if you can't foster, perhaps you can spend a few hours each week at a local shelter and just walk the dogs. It is so important for these dogs who may be euthanized to have some kind of human contact. People in the shelters are overwhelmed and if the community came together and helped, everyone would benefit. There are so many problems in the world, but this is a problem that can be overcome by spaying and neutering.
Harris feels that animals are given to us to make our lives better and they are also sort of a test. It's as if, "God says if you can't get this one right, then I don't even want to know you!" She also feels that animals teach us how to be good people and enrich our lives in so many ways.
It seems only natural that Harris would be so concerned about animals. Her father was training to be a veterinarian at the University of Virginia when World War II began. He abandoned his veterinary studies to join the armed forces, get married, and start a family. Harris was raised near Quantico, Virginia, where her father was stationed for more than a decade. Later, she started her music career in Washington, D.C.
These days, the musician hangs out with her "road dog" Keeta, who was displaced by a hurricane in 2005 but now travels comfortably on tour.
Pet Photos Come To Life
Jack Meyer – Pet Photo Fun

Are you looking for that perfect gift? How about something for your sweetheart for Valentine's Day?
Well, look no farther! Let Jack Meyer turn your ordinary photos of your pets into photovids in which your beloved pets come to life as they talk and sing original songs that celebrate the extraordinarily special relationship that exists between people and their pets.
It all starts out with a good photo. A close-up, head-on, of your pet works best. It then takes Jack about 2 hours to make it come to life. While some people think they look a little creepy, when you see one of your pet, you will be smitten!
These are one-of-a-kind pet memories that you just can't get anywhere else.
General pricing:
Normal videos--- $35.00 per video
Custom videos---as low as $70.00+ depending on the length
Jack offers a no-risk service. His policy is that you do not pay him until you see a sample photovid that lets you see in advance just how the photo that you sent will appear as a photovid. Only when you approve of the preview appearance, will you have to send payment. After payment, he will produce your photovid, e-mail you a link to view the photovid, and also send you the photovid video file in an attachment so you may keep it forever. His reward is when he gets feedback from someone who has seen their own pet!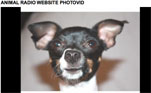 Don't waste money on those roses that won't last and aren't original. This is the perfect gift that lasts forever!
Check out the photovid of Animal Radio's own Stunt Dog, Ladybug. You have to watch this, as you never know what she is going to do next. Just please don't encourage her, as Ladybug already feels she is the star of the show!
Dating Goes To The Dogs
Mike D-Elena – Find My Dog a Date.com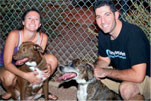 In January of 2009, Mike D'Elena found himself with a heartbreaking problem. His roommate had moved away, taking Cheyenne, his five-year-old dog and close companion of Mike's dog, Mika, with him.

"For weeks Mika moped around the house, depressed that her best friend and housemate were not returning. I realized that I had few friends who owned dogs, and the ones that did have dogs, lived on the other side of the valley. I needed to find someone for Mika to play with."

With that, Mike decided to find Mika a new friend. From asking neighbors, making phone calls, and posting ads on Craigslist, to what seemed like endless searching on the Internet, Mike had no luck finding anyone nearby who had a dog that could be a suitable companion for Mika.

So he decided to take things into his own hands, and three months later, FindMyDogADate.com was born.

FindMyDogADate.com is a website where dog owners can find the perfect "match" for their dog for free. Site visitors simply register their dog on FindMyDogADate.com and then search for specific criteria such as breed, size, temperament, location, activities desired and more.

All registration information is kept confidential. Registrants are able to converse via email first before agreeing to meet for a "doggy date." FindMyDogADate.com has already been an amazing success since its launch in Phoenix in March. Over 1000 people have registered their dogs, attended group play dates and even a dog Halloween costume party.
Animal Radio® News with Bobbie Hill
FDA Warning on Merrick Dog Treats
The FDA has issued a warning to consumers who bought dog treats made by Merrick called Beef Filet Squares after routine testing of the product found Salmonella. The U.S. Food and Drug Administration is telling pet owners who may have purchased the product not to handle or use Merrick Beef Filet Squares for dogs dated Best by 11-19-11. The FDA's follow up inspection found deficiencies in packaging and manufacturing processes. The FDA is recommending consumers who may not be able to find the "best by date" simply stop using the product.
Pharmaceutical Company to Make Vaccine for Canine Cancer
A U.S. pharmaceutical company has been given the green light to market a vaccine for one type of canine cancer. Vical's Oncept was developed to target melanoma, one of the most common types of cancer in dogs. It is highly aggressive and can spread even after surgery and radiation treatment. The new vaccine is also an important step towards finding a similar vaccine for use in humans affected with melanoma.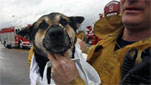 Los Angeles County Firefighter Saves Dog From Drowning
A Los Angeles County firefighter made headlines when he dropped down from a helicopter two weeks ago to rescue a German Shepard stranded in the flooded L.A. River. The drama played out on cable news outlets as firefighter Joe St. Georges splashed down to grab the frightened and fighting dog and lifted him to safety. In the process, St. Georges suffered several bites from the panicking dog. St. Georges was taken to USC Medical Center for treatment; the Shepard was taken by LAFD ambulance to the SEAACA shelter in Downey. Fire Capt. Steve Ruda told KTLA the dog is fine and is being checked for rabies, it's still not clear how the dog ended up in his precarious situation.
Veterinary Drugs Recalled After Deaths of Five Cats
The FDA has issued public recall notices for two veterinary drugs made by an Israeli based company after the reported deaths of five cats. The recall notices from December referred to two commonly used injectable drugs - butorphanol and ketamine. The problem is not only the recall based on adverse effects by the products made by Teva Pharmaceutical Industries, but also the fact that the first one issued by the FDA was back in September. However, few vets or pet owners heard about the initial recall and almost none heard of Teva Animal Health until the FDA shut it down in July for multiple violations in manufacturing practices. According to the San Francisco Chronicle it was difficult to find any information about the pharmaceutical company even on the FDA's official website. Vets and pet owners are finding that several kinks in the information links made them the last to know about this crucial flaw in the pharmaceutical products.
Michael Vick Gets His Own Reality Show
Convicted dog killer Michael Vick is telling his side of the story thanks to his reality show "The Michael Vick Project." The show carried on BET followed the admitted dog abuser back to the scene of his crimes at Bad News Kennels, his former property in Surry County, Virginia. Vick told the Associated Press "At times, it's hard to talk about it, but for the most part, if you talk about it and let it all out, it kind of helps put the demons to rest."
Flying Chihuahuas Find New Homes
Following up on the "Homeless Chihuahuas" sent to New York for a better chance at adoption - the fifteen homeless dogs were flown from San Francisco to New York where over 100 people stood in line for a chance to adopt one from New York's ASPCA shelter. When the day ended, 11 of the Chihuahuas had new homes. It's becoming more popular to send the little dogs to other parts of the country where there is a shortage of Chihuahuas, increasing their chances of adoption.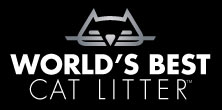 NEWS UPDATE Brought To You By World's Best Cat Litter™
Listen to the entire Podcast of this show (#531)
---