February 10, 2007
Live Westminster Coverage Feb 10-17th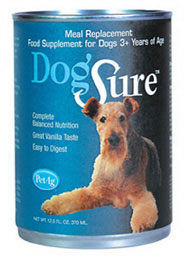 Reports from Jerry Grymek, the NY Hotel Penn, and Darlene Arden kick off our Westminster Coverage brought to you by DogSure. Don't forget to tune in to our live coverage.

Bob Barker Makes $300,000 Pledge for Elephant


Bob Barker, the Price is Right host, has pledged $300,000 to move Ruby, one of the Los Angeles' two elephants, to a wildlife sanctuary.
Bob will match gifts from the public up to $300,000, which would help move Ruby to the Performing Animal Welfare Society (PAWS) sanctuary in Northern California and to fund her care once she arrives. It will cost approximately $30,000 per year for her care.
Bob has been raising awareness of the "glaring abuse of elephants in captivity." Elephants, in their natural habitat, usually roam about 50 miles per day. In the zoo they are limited to less than 100 feet and as a result, suffer from foot problems that can be fatal and are, at the very least, very, very painful.
Ruby has been kept in isolation for quite some time now, which is actually torture for a female elephant. Female elephants are very social and live in herds in the wild their entire lives.
To find out more and to contribute, please contact Catherine Doyle at info@idausa.org.
http://www.IDAUSA.org
http://www.HelpElephants.com


Free Maggie ­ The Alaskan Elephant
Dr. Paul Joslin, Friends of Maggie

Friends of Maggie is an organization whose mission is to see Maggie moved from the Anchorage Alaska Zoo to a location where she can enjoy the company of other elephants with acres in which to browse in a year round warm climate. They are desperately trying to bring public attention to Maggie's plight and raise public awareness as to a female elephant's needs.
The Zoo had installed a treadmill for Maggie back in 2004 and stated that they would evaluate the situation in three years. That time is up in August and Maggie is still refusing to use the treadmill.
Friends of Maggie is currently campaigning to encourage the Alaska Zoo to reconsider its decision to keep Maggie in Alaska. You can help by writing letters to the Editor of the Anchorage Daily News at letters@adn.com.
http://www.FriendsOfMaggie.net


Warning: Dangerous Cat
Britt Savage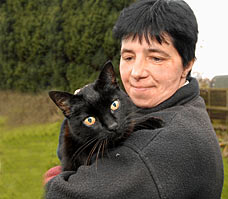 Blackie the cat is normally very friendly and affectionate, when he wants to be. But, put a man in front of him in a uniform, and Blackie goes ballistic. In the last six years, Blackie has attacked five postmen, one police officer, five paperboys, one takeaway driver and one construction worker.
Blackie's latest attack occurred when the postman inserted his hand through the mail slot in the door, and took away a bloody hand.
Blackie's guardian, Ann, noticed his Cheshire grin when she returned home and then found blood on Blackie's nails. Upon further inspection, she found that the letterbox was covered with blood.
Ann doesn't understand how this big burly cat, which is as soft as a kitten and sleeps on her lap, can have such a violent temper. To ward off further attacks, Ann has posted a caution sign: "Warning: Dangerous Cat - Has attacked 13 people in the last six years."
Help For Your Aging Pets
Darlene Frudakis, PetAg, Inc.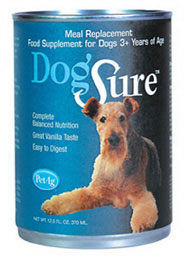 Pet ownership in the U.S. is at its highest level with an estimated 69 million households owning a pet, according to the 2005-2006 American Pet Product Manufacturer Association's National Pet Owner Survey. The survey further reported that 75 percent of those homes are estimated to have aging pets. As a result, there is a growing demand for health-enhancing products for senior pets.
As animals age, they lose their desire to eat and consume fluids, which affects their ability to maintain optimum health and body weight. PetAg has introduced DogSure and CatSure. These are the first, daily liquid nutritional supplements on the market that can also serve as an appetite stimulant or a full meal replacement for those rejecting their food. DogSure and CatSure will also help to ensure that your animal is getting plenty of fluids.
Along with using DogSure or CatSure, try to make sure that your pet has a balanced lifestyle. Listen in for some great tips for your aging pets by Darlene.
http://www.PetAg.com



Early Spring is Predicted by Punxsutawney Phil
Laura Simon, Urban Wildlife Program, HSUS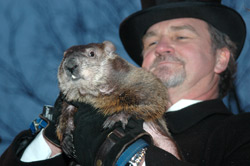 Since 1886, Phil has seen his shadow 96 times, hasn't seen it 15 times and there are no records for nine years, according to the Punxsutawney Groundhog Club. The last time Phil failed to see his shadow was in 1999.
Each February 2, thousands of people descend on Punxsutawney, a town of 6,100 people about 65 miles northeast of Pittsburgh, to celebrate what had essentially been a German superstition. The Germans believed that if a hibernating animal cast a shadow February 2 -- the Christian holiday of Candlemas -- winter would last another six weeks. If no shadow was seen, legend said spring would come early.
While at this time of year everyone reveres the groundhog, at other times he can be a nuisance in your garden. Laura gives some great tips on how to keep them at bay. One tip is to place "used kitty litter with urine" down their burrow. Tune in to hear more great tips on this fascinating creature!
http://www.HSUS.org



Pet Ownership Can Be Good for Your Health
Dr. Jim Humphries, Veterinary News Network


The dog wasn't just granted the title of "Man's Best Friend, " the animal earned it, according to the Delta Society, a non-profit organization dedicated to the human/animal health connection.
Owning pets can provide you with many benefits. Here are a few of the benefits:


Decreased stress
Lower blood pressure and cholesterol
Extend the life of coronary heart disease patients
Help develop nurturing behavior and empathy in children
Enhance cognitive development in children
Help ease feelings of loneliness
Provide a sense of safety
Any warm-blooded animal can create a calming affect on the human psyche, and that's why some hospitals are letting patients bring their dogs in for a little extra therapy. Pets mean a great deal to patients and progressive hospitals understand that pets brighten the spirits and help them strive toward wellness. From a health standpoint, they know patients under less anxiety will heal more quickly. Patients who want to spend time with their pets while in the hospital should make sure pets are clean and up to date on vaccinations. Visits range from one to two hours and occur in the patient's room with the door closed. For more information on the health benefits of owning pets, log onto the Delta Society.
http://www.VetNewsNet.com



For Gollie
Rae Ann Kumelos, Voice of the Animal
A tribute to a wise, brave and very special kitty!
http://www.VoiceOfTheAnimal.org



Yorkies Have Their Year
Daisy Okas, Spokesperson for the AKC


Even though the Labrador Retriever Continues to Reign Supreme - the "Yorkie" has overtaken the beloved Golden Retriever and the iconic German Shepherd Dog to become the second most popular purebred dog in America according to AKC® (American Kennel Club) registration figures. The Labrador Retriever is the most popular purebred dog in the country once again-a spot it has held since 1991.
Not since the Boston Terrier hit the top nearly 70 years ago has a small breed worked its way to such a high spot on the list.
Dogs have become a fixture in the American family. The recent rise of the Yorkie proves that many modern dog owners prefer a portable, pint-sized pet that fits their modern, fast-paced lifestyle.
2006 Most Popular Dogs in the U.S.
1. Labrador Retriever
2. Yorkshire Terrier
3. German Shepherd Dog
4. Golden Retriever
5. Beagle
6. Dachshund
7. Boxer
8. Poodle
9. Shih Tzu
10. Miniature Schnauzer
http://www.AKC.org
Asian Elephants
Laura Nashman, Spa-La-La


The Asian elephant has been man's companion work animal, religious icon and national symbol for many years. Officially classified as an endangered species, there numbers are estimated between 3-4,000 Asian elephants in Thailand. Half of these are domesticated, and the remainder, live wild in National Parks Reserves.
There are about 300 elephants that suffer under appalling conditions in Bangkok, working as begging elephants and tourism spectacles in the streets of Bangkok. These elephants are forced to beg with heavy saddlebags over their backs with sugar cane and bananas. Tourists are lured in because of the novelty to them and feed the elephants, snap pictures and video, while the poor elephants stand in the urban, polluted heat, balancing from foot to foot and swaying back and forth.
The Elephant Nature Park is a sanctuary for abused and rescued elephants. Here 30 elephants ranging from land mine victims to car accidents to beaten to near death have the chance to live out the rest of their lives in a dignified and safe environment. The long term aim is to work with government bodies and other elephant community stakeholders to educate and change practices throughout Asia of the treatment and use of elephants, to stop the terrible training programs currently used to break the spirit of the baby elephants where they are virtually tortured to death in a 'ritual' called 'Pajaan' leaving them with a subliminal fear of their owner- a practice that has been going on for centuries. Ultimately, they would like to see an end to the use of elephants as performers and pack animals and returned back to the wild.
Find out how you can help by logging onto the following websites:
Elephant NaturePark
Elephant Nature Foundation
Elephants Umbrella
Laura is also offering Spa-la-la flute CD's online at www.spa-la-la.com with half of the proceeds going to the Elephant Nature Park.
http://www.Spa-La-La.com
Doggy Diet Drug
Dr. Steven Hansen, VP of ASPCA's Animal Poison Control Center


Advances in veterinary science have resulted in the approval of a "diet drug" for dogs called Slentrol. "The way Slentrol works is to reduce a dog's appetite and fat absorption to produce weight loss," said Dr. Steven Hansen, veterinary toxicologist and senior vice president of the ASPCA's Animal Poison Control Center.
Obesity in dogs is defined as being 20 percent over their ideal weight. Surveys estimate that five percent of American dogs are obese, with 20 to 30 percent of them overweight. Just as in humans, obesity in dogs can lead to ill health, including joint disorders, diabetes and other problems. Side effects of the drug may include diarrhea, vomiting, lethargy and loss of appetite.
"However, we want to make clear that the ASPCA does not consider medication a substitute for proper diet and exercise. This treatment should be considered only for seriously obese dogs if regular diet and exercise programs have failed to have an effect, and if a pet's life is endangered because of its weight. Pet parents should be fully informed to potential side effects and closely involved in this decision to make sure that they are making the best possible decision for their pet
"As with any weight reduction program, Slentrol should be used as part of an overall weight loss and exercise program monitored by your veterinarian," said Dr. Hansen. Dogs will typically be prescribed Slentrol for three months, and should be re-examined at that point. Slentrol is expected to be available with a veterinary prescription in the spring of 2007.
http://www.ASPCA.org
Listen to the 1st Hour ABRIDGED VERSION Podcast of this show (#376).
Purchase a CD Copy of this Show

View Animal Radio Network® Broadcast Schedule in a new window.


Listen to Animal Radio® - Go to the launch page


Return to Animal Radio Network® Home Page


Read February Newsletter
Copyright 2007 All Rights Reserved Animal Radio Network LLC