Animal Radio® Show #428 February 16, 2008



Adrian Zmed, Officer Vince Romano on TV's T.J. Hooker
Remove Dogs from Chains


Adrian Zmed is better known for his roles as "Johnny Nogerelli" in Grease 2, and as "Officer Vince Romano" in the T.J. Hooker television series, where he starred alongside William Shatner.

We talk to Adrian while he is on the set of his new musical. Adrian was not there alone, he was with his dog Cubby. It is normal practice for Adrian to take Cubby to work with him everyday.

Adrian was shocked to hear about other dogs that live their entire lives chained outside. As a supporter of Dogs Deserve Better, Adrian joins us in asking you to bring your dog inside to live as part of the family.
http://www.dogsdeservebetter.com
New York's Hotel Pennsylvania Has Gone to the Dogs
Jerry Grymek, Doggy Concierge

The World's Most Popular Hotel celebrates another year as the Host Hotel for all canine hopefuls participating in the annual Westminster Dog Show. The 132nd Westminster Kennel Club Dog Show took place on February 11th and 12th 2008 at Madison Square Garden, across from New York's Hotel Pennsylvania. This year's Best in Show winner is Uno the Beagle.
And, as with every year since Westminster began, New York's Hotel Pennsylvania is overcome with dogs. And this year that is no different, with approximately 700 to 1,000 dogs taking over the hotel. But that's okay with them; they're a year-round dog-friendly hotel.
Hear Jerry Grymek tell some of the funny stories about the requests of Westminster guardians for their dogs. Do you know the most ordered items that are requested from room service? I'll give you a hint ­ meatballs are at the top of the list. And they even provided separate potty areas for boys (a fire hydrant) and girls (a pink sequined area). But to hear more, you'll have to tune in!
http://www.hotelpenn.com
Westminster Dog Masseuse
Debbie Zimmerman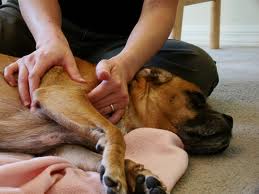 Debbie Zimmerman digs her fingers into the client's neck muscles and gently kneads. The client stretches, a glazed look in her eyes. But when Debbie looks back, she is not looking into the eyes of a human, she is looking into the eyes of a dog.
Debbie has been the Westminster Masseuse for the past 4 years. The Westminster dogs have a grueling schedule, so the Hotel Pennsylvania provides what all of the best hotels do these days, extra services for the clientele, even if they happen to be dogs!
Debbie Zimmermann charges $20 for 20 minutes and when she is not at the dog show, she can be found in Southern California. You can reach her at 805-402-4853.



Veterinarians Fight the War on Terror
Dr. Jim Humphries, Veterinary News Network


Veterinarians at home fight the war on terror. Ask anyone to describe the work of a veterinarian, and they'll tell you he is a doctor in a white coat that heals sick puppies and cats and so forth, the gentle doctor.
But veterinarians are also on the front lines of an on going war. They are the best defense we have for our bio security. Since the horrors of 911, we are actually more aware of the devastation associated with such terrorist attacks. Organizations from our local police, the FBI and the National Guard continue to upgrade plans to protect us and our borders. But who's on watch against mad cow disease, anthrax, food contaminants? Because of their background in zoonotic diseases, veterinarians are increasingly important to national security and public health.
By recognizing diseases in animals, our veterinarians can often prevent illnesses in humans and minimize the loss of animal life. The recent foot and mouth disease outbreaks in Great Britain symbolize how essential veterinarians are to protecting the health of our nation. And, veterinarians are the only ones trained to recognize these diseases as threats.
Biological agents not only cause disease and suffering to humans, but they also devastate our livestock herds and can have a huge impact on the economy. Just look at Asia to see how a single disease can cause such chaos. Avian influenza has affected millions of birds across Asia, Africa and Europe, and continues to upset human lives with its high mortality rate. Veterinarians are instrumental at sounding the early warning system.
But a decrease in the number of veterinarians treating large animals and working in the public health sector could make us vulnerable. The New York Times reports that less than 4,500 of the 75,00 veterinarians in the Untied States are considered to be large animal doctors and that number continues to drop. All of this is happening at the same time that 75% of all emerging disease in people are transmitted from animals.
http://www.myvnn.com



Dog Waste Management Officers
Nicki Walters, Pooper Trooper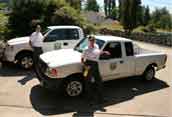 Do you know that dog poop is a hazard to people, animals and our environment if not picked up regularly and disposed of properly?
A single gram of dog waste can contain 23 million fecal coli form bacteria and can include parasites, viruses and diseases found in dog feces. One of the most devastating is Roundworm, which can cause blindness to children and can be transmitted to adults as well.
Dogs step in it, smell it, some roll in it and there are those who often eat it. Many of them pick up serious diseases from it. The most common are: · Parvo Virus · Whipworms · Hookworms · Roundworms · Giardia · Coccidia. The best way to prevent these, and many other bacterial and parasitic infections that dogs can acquire from stools, is to remove feces on a regular basis and keep your dog current on vaccinations, fecal exams and de-worming.
As our lives become busier, we can't always pick up after our dogs right away. That is where Pooper Trooper comes in. They will come to your home on a regular basis and clean up after your dogs for a small fee.
Unfortunately, they are only located in the Seattle, Washington. But if you're interested, they may be able to offer advice if you want to start your own poop business.
http://www.poopertrooper.com
NEWS UPDATE: Pets For Ransom


In a typical situation, your pet goes missing. You place missing posters around the neighborhood and sometimes even offer a hefty reward. Then, something great happens and your pet is returned.
But is this by chance? Authorities say it is a growing trend for home burglars to now take your pet. They then later call the owner and ask for the cash first, before they return the animal.
And taking your dog on vacation in foreign countries is also a risk. For example, Americans who offer rewards for missing animals in Mexico can be a very lucrative business for criminals.
You should contact authorities immediately if you suspect your dog has been stolen or is being held for ransom.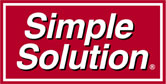 NEWS UPDATE Brought To You By Simple Solution Natural Line Of Products



Miracle Dog ­ Lab Survives With Arrow in His Body
Britt Savage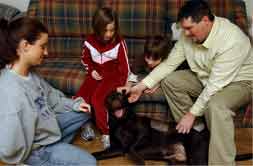 When the Cornelisse family adopted Remington, a 2-year-old Chocolate Labrador Retriever, little did they know he had an arrow stuck in his chest.
The Cornelisse family had Remington for about 6 months when they noticed he wasn't acting like his normal self. He wasn't interested in playing, nor did he seem to even want to move.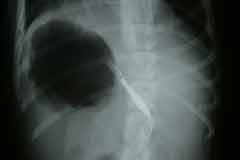 When Scott Cornelisse picked Remington up, he felt a lump in his chest, which he thought might be a broken rib. X-rays later showed that the lump was actually an arrow which had entered Remington's body under his armpit, just missing his heart. The arrow had also been there for sometime.
The Cornelisse family was not in a position to pay for the necessary operation, but a local veterinarian volunteered to remove the arrow at no charge. "There are still Good Samaritans out there who are willing to go the extra mile," the dog's owner said.
Remington is now in recovery and doing just fine.



Healing Power of Music
Diane Schneider, Harp of Hope: Animal Therapy Edition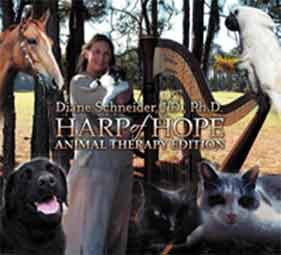 The healing power of music has long been established in people. Now a handful of harpists throughout the country are harnessing that power for animals.
"It's not a magic bullet," cautions Diane Schneider, who produced "Harp of Hope: Animal Therapy Edition," "But for animals for which it works, it works incredibly well." Schneider trained at the University of Cincinnati's College-Conservatory of Music. Later, as a pastoral theologian and hospital chaplain, she began to use the harp with hospitalized human patients.
"I use certain harp vibrations to resonate with, or entrain, a patient's own cellular rhythms to help release tense muscle tissue, calm anxiety, improve digestion, induce restful sleep, increase endorphins for pain management - to aid the body's own efforts to heal itself," Schneider said. The same holds true for animals, she said.
"Harp of Hope," a collection of 17 songs, was originally recorded for people but Schneider decided to release an animal edition last year after owners reported it helped their arthritic dogs fall asleep and calmed their agitated cats. Veterinary hospitals also acknowledged the CD's success in soothing nervous pets - and their owners.
She said every detail of the instrumentals - the tempos, rhythms, keys, note intervals, chord structures and plucking techniques - are carefully arranged to promote progressive peace and relaxation. Animals usually begin to relax after listening for just a few minutes.
Schneider recommends playing the music on an as-needed basis or before a stressful situation, such as a veterinary or grooming appointment.
"I'm hopeful that there will be a great increase in the use of this benevolent therapy," said Schneider. "It is a very cost-effective, beneficial, soothing, calming intervention for animals and the people who love animals."
http://harpist1.tripod.com/id32.html
HGTV's Hammered with John & Jimmy DiResta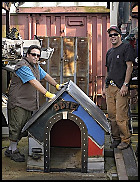 Jimmy DiResta can make anything and John DiResta can make anything hilarious in this half-hour of hard-core building. A catapult, an ice rink, brick barbecue, go-cart, fish tank, blown glass, a neon sign-Jimmy, a master builder, has a million trade secrets you can't get anywhere else. John, a professional comedian, has a million quips and questions for his brother and the occasional man-on-the-street interview. Home improvement just met the last comic standing.
Jimmy DiResta began his career in 1990 as an artist, inventor and teacher when he earned his BFA from the School of Visual Arts in New York City, where he currently teaches a course in 3D design. He has spent most of the past 16 years in the toy industry inventing, designing and developing products.
John DiResta was a member of the NYPD for 12 years before he decided to try stand-up comedy. After only five years in the business, John's outstanding talent paved the way for him to star in his first network sitcom, DiResta on UPN. Along the way, John ventured into feature films, appearing with A-list actors like Sandra Bullock, Kate Hudson and Robert De Niro.
http://www.hgtv.com
NEWS UPDATE: Car Wash Adds Pet Wash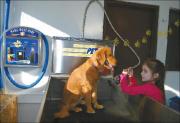 This time of year, dogs can get really dirty. It's too cold to wash them outside, so you put them in your tub and deal with the mess.
Well, Michael Seale of the Adirondack Pet Wash has solved this problem. He already had a car wash, so he thought why not add a pet wash!
People are lining up to not only wash their cars, but also wash their dogs. There is nothing else like it in the community, and the pet wash provides everything you need from shampoo, flea and tick products, and deodorizers. You don't have to go out to buy any products, nor bring your products from home.
For $5 you get eight minutes to use a system that comes equipped with all the products - even including blow dryers. But don't worry if you run out of time, you can add money before the timer runs out. And if you run out of cash, they also take credit cards.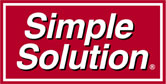 NEWS UPDATE Brought To You By Simple Solution Natural Line Of Products



Love at First Bite
Britt Savage


A recent wedding ceremony was held in India, but it wasn't your usual ceremony. It was between a woman and a snake.
The 30-year-old woman said she was in love with the snake and was therefore married by a Hindu priest with 2,000 people celebrating the event.
The groom, I mean the snake, was a little shy and did not come out of his ant-hill. A brass replica of the snake was used as a stand in for the ceremony.
Even though the cobra is very poisonous, the woman said she he has never harmed her. Her relatives are very excited about the union and feel it will bring good luck. They have even built a hut by the ant-hill where the woman will live.



Listen to the entire Podcast of this show (#428).


Listen to Animal Radio® - Go to the launch page
Return to Animal Radio Network™ Home Page
Read February Newsletter
Copyright 2008 All Rights Reserved Animal Radio Network LLC