February 18 2006
Animals Keep Us Connected - Animals And Artistry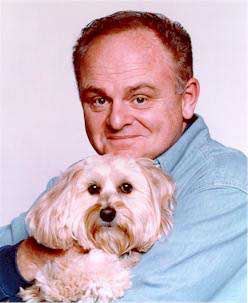 When Gary was growing up, he had a lot of close friends. But the ones he went home to everyday after school were his animal friends, his dog Patch and cats Flippy, Buttons & Bows. Gary states that animals have a way to bring people together and keeping them connected. Many years ago Gary was asked to judge a duck painting contest. After three days of judging, he was inspired and he decided to create his own wildlife art.
Kitten Goes Undercover in Vet Scam
Carol Moran, Deputy District Attorney, Brooklyn, NY


He came from the streets of Brooklyn, a cool customer on four legs, the perfect bait for a sting on a fake veterinarian. Meet Fred, undercover kitten, the 8-month-old former stray cat that posed as a would-be patient while police investigated a college student accused of treating pets without a license. Last week, an investigator posing as Fred's owner summoned Steven Vassall to an apartment rigged with a hidden camera. Authorities played a videotape at the news conference showing Vassall saying the kitten could be neutered for $135.
Vassall was arrested as he left the apartment carrying Fred in a box and cash for the operation. Investigators later recovered a price list for vaccinations and other procedures, including surgeries. It was unclear how long Vassall - a college student who once worked as a laboratory assistant in a vet's office - allegedly scammed pet owners before Fred helped put him out of business.
The Animal Care and Control, which originally rescued Fred, predicted the kitten had a future in law enforcement.
Dog Concierge
Jerry Grymek, Dog Concierge New York's Hotel Pennsylvania


As with every year since Westminster began, New York's Hotel Pennsylvania is overcome with dogs. But that's okay with them, they are a year-round dog friendly hotel. Hear Jerry Grymek tell some of the funny stories about the Westminster guardians and dogs dressing alike and even having the same hairstyle. And do you know the most ordered items that the dogs have been ordering from room service? I'll give you a hint ­ cheeseburgers are at the top of the list. But to hear more, you'll have to tune in!
Live from Westminster
Tracie Hotchner, THE DOG BIBLE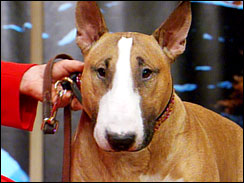 Tracie comes to us live from the Sardis Restaurant where lunch is being served to Rufus, a 4-year old colored Bull Terrier, and the first Bull Terrier to win "Best in Show." The judges are also telling their secrets on why they chose the winners they chose. Some judges were impressed by a look in the eye of a dog, while some stated that the dogs had excellent headpieces or a lovely jacket. But did you know that Rufus has the perfect "egg shaped" head?
525,600 - Measure Your Minutes in Love for the Animals
Rae Ann Kumelos, Voice of the Animal
Every year, millions and millions of animals spend their lives experiencing the pain, cruelty, and despair of lives spent in laboratories or on factory farms. Discover what happens for both you and the animals when you choose to spend your minutes each year on kindness, compassion and conscious consumerism.
Year of the Dog Stamps
Britt Savage


China has issued a set of dog stamps to mark the approach of the "Year of the Dog" which is one of the 12 symbolic animals representing a circle of 12 years. The coming Lunar New Year, the most important traditional festival for Chinese people, fell on Jan. 29.
The stamps show 16 real living dogs, of which 12 reside in Liaoning Province and four others live in Beijing. The dogs' images, names and a brief introduction appear on the stamps. "It is the first time China has issued stamps with dogs' names; previously, only mammals had that honor.
Obese Animals
Dr. Jim Humphries, Veterinary News Network


According to the national Academy of science, one-in-four pets are overweight. An obese animal can have cardiovascular problems, arthritis and even diabetes, which is more common in cats. It is not so much the type of food we are feeding them, but the quantity!
Dog Walking Can Help Ease Symptoms of Arthritis
Christopher Michael http://www.Arthritis.org


Sara Reeve of the California chapter of the Arthritis Foundation spoke with reporter Christopher Michael, where she claimed one in three people in the state suffers from some form of arthritis.
Many of these arthritis sufferers are dog owners, and the Arthritis Foundation claims dogs can help relieve the pain and stiffness associated with arthritis.
One of the ways you can protect yourself against arthritis is to increase physical activity. For dog owners, a great way to get that physical activity is to walk their dogs for half an hour each day. Doctors say a solid 30 minute walk with your dog, or walking the dog three times a day for 10 minutes each time, can reduce arthritis pain and stiffness by moving joints.
To encourage more people with arthritis to get moving, the California and Nevada chapters of the Arthritis Foundation sponsor several walks throughout the year. At many of these walks, dog owners are encouraged to bring along their pets to take part.
You can get more information on pet-friendly Arthritis Walk events in California and Nevada, by visiting this web site: www.arthritis.org.
Do You Have a New Kitten?
Mordecai Siegal, I Just Got A Kitten, What Do I do?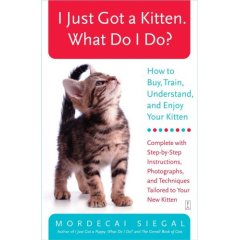 If you are a first time kitten caregiver, or just want a refresher course on kittens ­ this book has it all. Mordecai explains everything from selecting the right kitten to alternatives to declawing. If you have a problem with your kitten scratching the furniture, you don't want to miss his solutions.
Talk With Your Animals
Joy Turner
A dog explains that he does have a bad knee, but it doesn't hurt all of the time. He also lets his guardian know that the reason he is no longer enthusiastic about his dog food is that he wants a variety. And. a cat in the same family who always announces himself when he comes in very loudly, is asked to keep it down in the middle of the night.
February - Pet Dental Health Month
Dr. Jyl Rubin
Tarter on an animal's teeth can cause kidney and heart disease, so a cleaning on a regular basis is highly recommended. Avoid using plastic feeding and water dishes, as they can harbor bacteria, and use stainless steel or ceramic instead. To help improve your pet's teeth, there are dental chews that are veterinary approved, flavored toothpastes such as tuna and chicken, or there are things you can add to their drinking water. If your dog is afraid of a toothbrush, you can wrap the soft part of Velcro around your finger and use this to clean his teeth. Look for signs of red gums on cats, as this can indicate leukemia and aids.
Relay Race for Dogs
Terri May, The United Flyball League International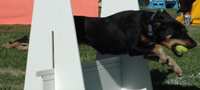 Flyball, is a relay race for dogs participating with their human counterparts. Many of the dogs in Flyball are rescues from shelters and private rescue groups. In fact, of the 1336 dogs currently registered with U-FLI, almost 400 are rescues. There are no size or breed requirements or restrictions, a dog just has to be one year old or older. Tune in to find out how you and your dog can join.
22 Year Old Dog
A dachshund in Austria has made it to the ripe old age of 22, despite a lifelong addition to cigarettes. His guardian says the dog remains fit as a puppy despite having eaten approximately 10 cigarettes a day for the last 17 years. He eats the tobacco, then the paper, and the chews a while on the filter before spitting it out

View Animal Radio Broadcast Schedule in a new window.


Listen to Animal Radio - Go to the launch page


Get one of the limited edition Animal Radio® T-Shirts for 9.95


Return to Animal Radio Network® Home Page
Sponsor

Copyrighted Animal Radio Network LLC 2006