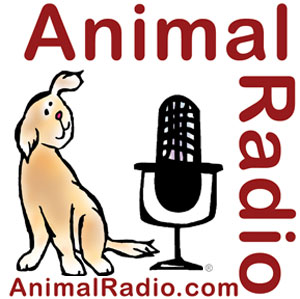 Animal Radio® Show #585 February 19, 2011
Expert Advice for Your Aging Dog
Dr. Nicholas Dodman, Good Old Dog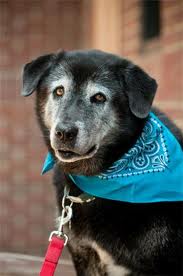 Dogs are living longer than ever, thanks to enormous advances in medical treatment and to a highly evolved understanding of what our dogs need to thrive. We will do anything for our dogs, but we cannot make them age more slowly. What we can do is help them to age more easily, more comfortably and less painfully.
First thing we need to do is to rethink our calculations about how old our dogs are in human years. Their age, weight and even breed determine a dog's age. In Dr. Dodman's book, Good Old Dog, you will find a table that will tell you how old your dog is in human years. A general rule is that smaller dogs live longer, so a 10-year-old small dog (Chihuahua) could be equivalent to a 60-year-old human, where a larger dog (St. Bernard) could be equivalent to an 80-year-old human. Old age starts when 75% of your anticipated lifespan has passed.
Besides the aches and pains of their joints, you should also be aware of dental disease in your older dog. If a dog has bad teeth, it flows down into their body and affects all kinds of other systems, including their heart and other organs.
When buying food for your senior dog, the senior dog food you see on the shelf might not be the proper diet for your dog. Unfortunately, there are no legal definitions for what is senior dog food. Manufacturers get to decide what it's going to mean on their labels. Some manufacturers might reduce the calories in their formulas because they feel a senior dog might be a little less active; or they might increase the calories because they feel an older dog might be losing steam and weight; or they might add more or less protein; and even add something like glucosomine for the joints, which is hardly ever the right concentration. If you are going to add glucosomine, you should always add it in a tablet form to make sure you are giving the right amount.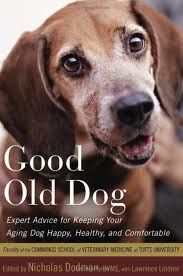 In the book, Good Old Dog, you will find essential advice needed to see dogs through their golden years, including:
Nutritional advice-not every senior diet is right for every senior dog

How to evaluate complicated procedures and decide what's right

The cost of caring for an older dog and how to shoulder the burden

How to identify cognitive decline and manage it

How to create a healthy, comfortable environment

How to determine when "it's time" and cope with the loss
A good idea is to keep your senior dog on the same diet he has been eating. If there is a problem, speak to your vet and get a custom diet for your dog.
Feed Your Pet Without The Mess
Fido Friendly Travel Talk With Susan Sims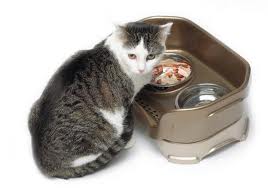 Susan Sims speaks with Jackie Beattini, who together with her husband, developed the Neater Feeder, as she felt she they had two of the sloppiest dogs on the planet!
They generally fed their dogs in the laundry room. One day her husband walked into the laundry room and found a mixture of dirty laundry along with pieces of dog food. They immediately felt that there had to be a better way!
Her husband ran out to the stores to try to find a better solution, but couldn't find anything. It then became a project for him to create something neater.
The Neater Feeder is the only product currently out there that actually manages the mess around a pet's bowl. It has a two-part system with a splashguard around the back. First, it will capture any spill or splash that is made from a slobbering dog or over-aggressive eater or drinker. Secondly, it actually separates the mess. There is a sloped channel between the food and water bowls with a colander like filter system. Any water that is splashed out will be channeled down the slope, through the filtering system, and will be held in a lower containment system – off your walls, off your floor – all contained nice and neat until you can get to it. Any food that is spilled is held in the upper reservoir. By keeping the food and water separate, you eliminate that "mush" factor. Plus, the food can be reused.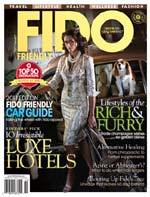 Fido Friendly Magazine:
The Travel Magazine For You & Your Dog, a complete guide to Fido-friendly accommodations across the United States and Canada. "Fido Friendly is the only magazine dedicated to the travel lifestyle of man's best friend, and the one magazine your dog will thank you for." And don't forget to join the Fido Friendly Travel Club.

Dodge Journey Pet Destinations
What Is Your Favorite Place To Take Your Pet?
People who have pets love to travel with them. At Dodge, they have made it easier with their pet friendly vehicle, the Dodge Journey, which contains concealed storage bins, Chill Zone glove box cooler and second-row dual in-floor storage bins with removable and washable liners (very handy for muddy paws!) Call us with your favorite place to take your furry-friend: 1-866-405-8405.
This week's Dodge Journey Pet Destination: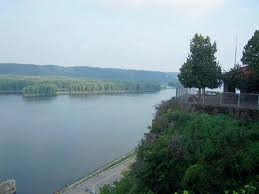 John of Clinton, Iowa loves taking his dogs to Eagle Point Park in Clinton Iowa , which has a big dog park and is situated in the northern section of Clinton. There, you will find a place to walk your dog on the levee along the river. Eagle Point Park overlooks the Mississippi River and General Zebulon Pike Lock and Dam (No. 11). It is a 164 acre park. Visitors are provided with spectacular views of the river and parts of Illinois, and Iowa. In the fall, you might even get lucky and glimpse hundreds of eagles fishing in the river.
To view Past Dodge Journey Pet Destinations, click here.
The Dogfather's Grooming Tip with Joey Villani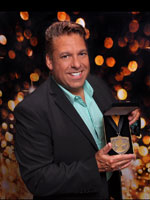 Get Rid of Fleas in a Pinch
While there are some places where fleas are not a problem in the winter, there are also some places where you have them all year round.
If you don't treat the fleas right away, you are going to have a major problem. What most people don't realize is that when pets get fleas, they will also get into your carpets and even on you! They will bite you, but then they will leave because they don't like your blood.
But your dog can get fleabite dermatitis. Fleabite dermatitis is an allergic reaction from the fleabite. Your dog may scratch at it so much that you need to take them to the vet's for some cortisone.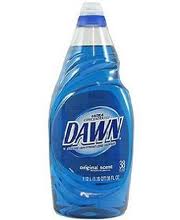 One flea can turn into hundreds, as they reproduce about every 21 days. If you don't like to use pesticides inside your home, there are topical solutions that you can put on your pet. Please purchase them from your vet to make sure you are putting on the correct product for your animal.
If you are in a pinch and need something immediately to help get rid of the fleas, and again, only in a pinch, you can use dish detergent, like Dawn, to bathe your dog or cat. Fleas have an oil coating around them. Once you break that oil coating, they are susceptible to everything. This means that they usually dry up and die.
Joey mentions a study that he participated in where they found out that dogs and cats that are kept clean are less likely to get fleas, because fleas like a dirty environment. The cleaner you keep your pet, the less chance they are going to have fleas. Contrary to popular belief, if you use the correct shampoo for your type of animal, you can bathe your pet everyday. Of course, you probably won't do that. A bath every 4 to 6 weeks should do the job.
Just remember, when bathing your pet, always start with the head, because the fleas will run into their ears, nose and across their eyes to try to get away. Start at the head and then go down the body, so you will actually be chasing them off at the end.

DOGFATHER'S GROOMING TIP Brought To You By SeniorPetProducts.com. Use the code "radiospp" to receive 25% off!
Listen to the entire Podcast of this show (#585)

indicates XM Satellite Radio and Podcast versions only.