Animal Radio® Show #533 February 20, 2010

indicates XM Satellite Radio and Podcast versions only.
"Death Predicting" Cat
Dr. David Dosa, Steere House, Making Rounds With Oscar

The scientist in Dr. David Dosa was skeptical when first told that Oscar, an aloof cat kept by a nursing home, regularly predicted patients' deaths by snuggling alongside them in their final hours. And the fact that Dr. Dosa had an aversion to cats didn't help in his beliefs either.
Dosa, 37, a geriatrician and professor at Brown University, works on the third floor of the Steere House, which treats patients with severe dementia. It's usually the last stop for people so ill they cannot speak, recognize their spouses and spend their days lost in fragments of memory.
After a year, the staff noticed that Oscar would spend his days pacing from room to room. He sniffed and looked at the patients but rarely spent much time with anyone -- except when they had just hours to live. Surprisingly, families of these patients are accepting of Oscar's and are comforted by his presence.
Dosa does not explain Oscar scientifically in his book, although he theorizes the cat imitates the nurses who raised him or smells odors given off by dying cells, perhaps like some dogs who scientists say can detect cancer using their sense of scent.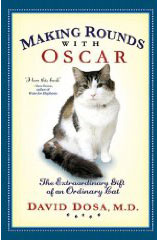 He's accurate enough that the staff -- including Dosa -- knows it's time to call family members when Oscar stretches beside their patients, who are generally too ill to notice his presence. If kept outside the room of a dying patient, he'll scratch at doors and walls, trying to get in.
The first cat at Steere House was a cat that hung around during the construction phase. When the building was finished and dedicated, the cat wandered into the lobby and refused to leave. They kept trying to chase him out, but eventually they decided to just keep him. He was named Henry, after the building's benefactor, and he lived there for about 10 years. The nursing home adopted Oscar, a medium-haired cat with a gray-and-brown back and white belly in 2005.
Currently the Steere house has six cats, which play with visiting children and prove a welcome distraction for patients and doctors alike.
You can read more about this extraordinary gift of this ordinary cat in Dr. Dosa's new book, Making Rounds With Oscar.
Surfing Dog Catches A New Wave
Judy Fridono - "Rip Curl Ricki"
Ricochet, ("Rip Curl Ricki,") the Surfin' for Paws-abilities SURFice dog, who raised over $10,000 for quadriplegic surfer Patrick Ivison and most recently raised over $3500 in a toy drive, is catching a new wave with Ian McFarland. Ricochet's current project presents a unique and exciting triple challenge: Help get Ian back on a surfboard/surfing, help motivate him through his rehabilitation and raise funds to offset the expense of his costly medical bills.
In July 2008, Ian and his family set out for a road trip to Colorado, but never made it. A devastating car accident claimed the lives of his parents, and Ian suffered a severe traumatic brain injury that left him in a coma. Ian spent almost four months in the hospital and although discharged, still had a feeding tube, could barely speak and was in a wheelchair. Over the course of 18 months, Ian has made remarkable progress in his recovery, but still has a long way to go.

Unfortunately, his rehabilitation therapies are very costly, and that's where Ricochet's fundraising comes in. Recently she raised over $3080 for Ian through her inspirational YouTube video "From Service Dog to SURFice Dog."

Ian used to surf with his daddy and it's his hope to surf again. "The Ocean is very therapeutic for Ian," says his Aunt Melissa, "It was in the water where Ian took his first steps after the accident and it would be wonderful if Ricochet could help motivate him to do even more and get back on a board... Ian loves dogs."

Ricochet recently met Ian, and although it was too cold for the beach, the pair didn't let that stop them from hanging out on a surfboard! Sessions with Ian will continue, and since Ricochet is a certified goal directed therapy dog through Pawsitive Teams, she will use her skills to help motivate Ian in his rehabilitation. As the weather gets warmer, therapy will continue on the beach... in the ocean... on a surfboard!
Surfing is popular for dogs in San Diego and had been around three years by the time Ricochet was born. In addition to her service dog training, Ricochet played around on a surfboard at a young age. Ricochet's guardian, Judy Fridono, also has an early neo-natal learning program for puppies. Part of her program included placing items in the whelping boxes to force the dogs to crawl over them. Some of these items were unstable, which helped the young dogs learn how to balance. This made it easy for Ricochet to balance on a surfboard.

Ricochet was originally slated to be a service dog for a person with a disability through the Puppy Prodigies program, but had to be released from the role due to her drive to chase birds, which could be risky for a person with a disability. Rather than focus on what she couldn't do, the emphasis was placed on what she COULD do, and the Surfin' for Paws-abilities initiate was carved out for her.
Contact "Surf Dog Ricochet" On facebook and twitter.
Animal Radio® News with Bobbie Hill
Mounted Patrol "Laid-Off"
America' s Finest City was forced to auction off its mounted patrol in a cost cutting move. San Diego Police Department sold off the entire equestrian division including saddles, bridles and horses. SDPD put seven horses on the online auction block for ten days drawing bids ranging from just under 4-thousand dollars to over ten thousand dollars. In all, the city hopes to save $243,000 by selling the horses thus saving officers from losing their jobs. The K-9 unit also let 12 dogs go thereby saving the city over half a million dollars. Thankfully SDPD still has 27 K-9 officers on active duty.
From the "Don't Be Cruel" file
Updating a story from last year involving kitties and piercing... you may recall the story of the dog groomer from northeastern Pennsylvania who was advertising "gothic kittens" complete with ear and neck piercings on the internet. She was found guilty of animal cruelty charges - the jury found her guilty of one count and one summary count of animal cruelty last week. The Luzerne County SPCA raided 35-year-old Holly Crawford's home in December of 2008 after receiving a tip about the online marketing. Attorneys for Crawford said she did not act maliciously and used sterilized needles adding she wasn't trying to hurt them. Crawford's sentencing is set for March 31st when a judge could sentence her to up to five years in prison.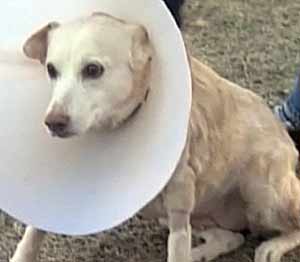 From the "Don't Try This At Home" File
A Rhode Island man is facing misdemeanor charges of animal cruelty and unauthorized practice of veterinary medicine when he operated on his dog. Alan MacQuattie attempted to remove a cyst from his 14-year-old Labrador mix. The dog has since been operated on by professionals in order to deal with a post-op infection from the first surgery. MacQuattie entered a no contest plea in court, saying he couldn't afford the vet care for his dog.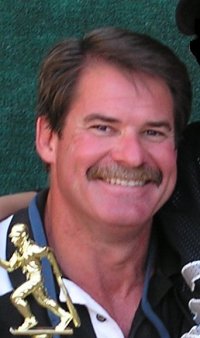 Hero Receives Backlash & Female Attention
Ever since he winched down a rope from a helicopter to rescue a lost German Shepard from the rain swollen L.A. River last month, firefighter/paramedic Joe St. Georges has been bombarded with accolades. St. Georges and the rest of his crew were awarded the MuttShack Animal Rescue Foundation's Knights of Katrina award, which exemplifies a code of chivalry. But there's been a backlash against the heroic efforts as well. Critics have said the firefighters took a big and expensive risk. But St. Georges just shrugs it off saying, "It's what we do." He's also gotten quite a bit of attention from female well-wishers since his appearance on The Ellen DeGeneres Show after being outed as "single." A humble St. Georges said, "I think this tends to touch women in a sentimental way. Men are more like, "That's cool."
Media Mogul Cares For Bison
Media mogul Ted Turner is making acquisitions again, this time its Yellowstone bison! The billionaire has agreed to take care of 88 buffalo from the National Park after a state program failed to put the animals on public or tribal land. While the herd was spared being slaughtered several years ago due to disease fears, they've remained in state quarantine in Montana. In return for caring for the bison for the next five years, Turner gets to keep 75% of the herd's offspring, which are valued for their pure genetics.
Mechanic Fishes Out Animals From Automobiles
Mechanic Dana Underwood from Galesburg Illinois says he's fished out some unusual and not so usual things out of automobiles. Underwood has found mice, rabbits even snakes in the engine compartments of cars, trucks and vans over the years, some alive, some not so alive. But last week after spending 90 minutes tearing into the dashboard of an animal shelter van, Underwood freed a kitten. Staff workers had tried for a day to rescue the kitty on their own before going to the expert. Good news continues, one of the employees at the dealership adopted "Dash" the cat on the spot!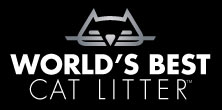 NEWS UPDATE Brought To You By World's Best Cat Litter™
Listen to the entire Podcast of this show (#533)