Animal Radio® Show #481 February 21, 2009
NEW PRODUCTS SPECIAL - Brought to you by HERM SPRENGER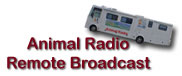 We come to you live from the Global Pet Expo, the pet industry's largest annual trade show, brought to you by Herm Sprenger. Global Pet Expo is presented by the American Pet Products Association (APPA) and Pet Industry Distributors Association (PIDA). Look for the next Global Pet Expo on March 25- 27, 2010 at the Orange County Convention Center in Orlando, Florida.
http://www.globalpetexpo.org
Herm Sprenger – Dog Training Collars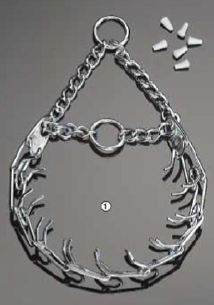 Herm Sprenger manufactures the finest quality prong collars, made in Germany. Excellent for gentle control. Shown to result in easier and faster training for both the dog and the trainer. No need to jerk or pull. Works on the same principal that pups learn from the mother dog when she picks up or reprimands the pup around the neck with her teeth. The dog knows to relax or stop an unwanted behavior. It may look like a torture chamber, but will NOT cause injury, used properly and gently as intended.
A somewhat snug (but not tight) fit is important for the collar to be effective. Proper fit is achieved by adding or removing individual links. Collar should sit high on the neck. To put on, simply unsnap one of the links in the middle of the collar, place it around your dog's neck and re-link. Links have slightly rounded ends.
For walking and training only. This collar should not be left on an unattended or unleashed dog.
Available in two models:
* Regular (no snap)
* Regular with quick-release snap
* Extra links are available
Comes in four sizes:
* Small - 12-15" neck; 2.25 mm, fits Lhasa, Beagle, Jack Russell
* Medium - 15-20" neck; 3.0 mm, fits Pointer, Setter, Brittany, Springer
* Large - 17-23" neck; 3.25 mm, fits large Pointer, Setter, Lab
* Extra Heavy - 19-25" neck; 3.8 mm, fits large Lab, Golden, and other large breed dogs
Not to be used on pups under six months of age. Should only be used during training sessions and should never be left on an unattended dog.
Animal Food Services (AFS) – Real Meat Diet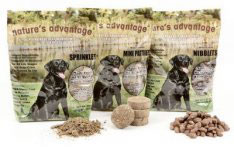 Discover what the magic of TRUE REAL MEAT can do for the animals in your care! These real meat diets by Nature's Advantage provide essential, natural, micro nutrition necessary for peak performance. It keeps the animal in top body condition and builds a foundation for a preventive health program.
These complete and balanced raw meat diets really do GO AGAINST THE GRAIN when it comes to nutritional superiority over the commercial grain based pet foods! Today's pet owners are beginning to understand what our product founder has been committed to for over 35 years -- that MEAT EATERS NEED MEAT....NOT GRAIN..... as a foundation for a proper diet.
Specifically designed for proper growth and extended health, the meat diets are ready-to-eat, conveniently packaged, frozen or freeze-dried, in either 5 lb. rolls or individual portion size pet patties.
Kurgo - Skybox Booster Seat

Ride in luxury with a skybox view. You want to give mini-Fido a comfortable and enjoyable ride. Though it may seem like the perfect spot is curled up on your lap, this is not the case. The Kurgo Skybox Booster Seat offers a safe and secure alternative by providing enough elevation for mini-Fido to have a clear view of the road ahead and a comfortable, secure padded seat to snuggle down on longer trips. The best part, is they are still within arm's reach when you have the desire to scratch their belly!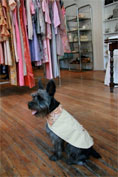 Poochie Kingdom – Spring 2009 Raincoats
Montreal based company Poochie Kingdom Inc. is the new trendsetter in exclusive, haute-couture luxury raincoats for decadent pooches around the globe catering from Chihuahuas to Great Danes. All coats are designed, hand-made and manufactured locally embracing the multitude of talent from within.
Canny Company – The Canny Collar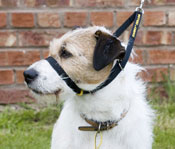 The Canny Collar is a dog-training collar developed by The Canny Company, a group of professionals dedicated to dog behavior training and control of dog behavior problems. This includes practical advice backed up by a select range of quality dog training equipment, such as the Canny Collar, designed to stop your dog from pulling on the leash.

Lucky Litter – FroliCat BOLT Interactive Laser Toy
The FroliCat BOLT Interactive Laser Toy provides hours of fun for you and your feline friend. Simply hold BOLT in your hand or place it on a flat surface, turn it on, and watch your cat pounce, chase and bat at the exciting laser patterns. And if you have to leave, you can simply set a 15-minute play session for your cat using the automatic timer. You can also adjust the mirror to aim the laser across a variety of surfaces. BOLT will automatically turn off after 15 minutes in both automatic and manual modes.
Cat Above Company – ScratchPal Chalet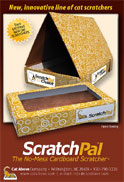 Cats love cardboard scratchers. We don't love the cardboard mess. The solution: ScratchPal – the No Mess Cardboard Scratcher. The high sides and broad lip stop scratched-off particles from escaping the box and littering the floor. The side channels accumulate the scratched off particles. And cats will love the new Chalet, not only providing them with a scratch area, but also providing them with a place to hide and take a little catnap!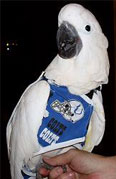 Parrot Wrapz, Inc. – Avian Clothing

Parrot Wrapz is clothing that is the only suitable means of self-expression to compliment your parrot's personality! The unique article of clothing is known as a "WRAP" that allows Parrot Owners to Easily Dress their Parrot(s) for any and all occasions. The Wrapz also provide protection against the elements of weather. These Wrapz have been tested on all sizes and breeds of Parrots and Birds and the detailed design of the Wrap and Cape afford the Parrot comfort and fashion.
Veterinary Ventures - The Drinkwell® 360 Pet Fountain

The Drinkwell® 360 Pet Fountain can provide up to five, patented free falling water streams for multiple pet owning households. The Drinkwell® 360 was designed with the multiple pet household in mind, giving owners the ability to customize their fountain with the five interchangeable spout rings included with each fountain. Pets no longer have to wait their turn for a quick lap of water; they now can each have their own fresh flowing stream of water from any angle. Utilizing the same filtration technology as the other Drinkwell® Fountains, the Drinkwell® 360 constantly circulates the water which inhibits bacteria growth, keeping the water tasting fresh and appealing to pets!

Rainbow Light – Green Dog Naturals
Humans can enhance their wellness and longevity by including supplements as a part of their daily lives. The evolution of canine nutritional science now allows us to do the same for dogs. The complementary line of Green Dog Naturals – Whole Dog Daily™, Healthy Motion® and Omega Glo-Coat 3-6-9™ – is a "whole health for the whole dog" approach to support a long and healthy life. High quality does not mean high prices: for example, Whole Dog Daily costs only $.35 per day-- a mere 10 percent of the price of a daily latte. These great-tasting supplements, in easy-to-mix powders, chewable bone-shaped tablets, or oil, are available at independent pet specialty stores.
http://www.greendognaturals.com
K & H Pet Products – All Season Snuggly Sleeper

Warm in the Winter, Cool in the Summer! Finally, an affordable pet bed that both heats and cools! The unique, interchangeable comfort system is the first of its kind. Simply use the award winning Cool Bed III insert for summer cooling and the safe plush heated pillow insert for winter warmth. It can't get much easier, and certainly can't get any more comfortable. The All Season Snuggly Sleeper is available in 2 sizes in both sage and mocha fabric colors. All covers are removable for washing. This great new product is UL/CUL listed and includes a two year limited warranty.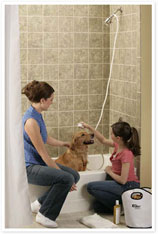 Idea Factory – Pet Shower Deluxe
You've used a bucket. You've used a cup. No need to struggle anymore to thoroughly rinse. With an 8' hose and choice of sprayer that makes showering your pet easier, you can rinse dirt away from every inch of your pet ... FAST! Pet bathing has finally been made easy!
West Paw Design – Eco Friendly Pet Toys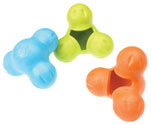 Meet Tux™. It's like a dog's chance to get his cake and eat it too! Tux™ is the perfect combination of a supremely stuffable/tossable dog treat toy and guaranteed-tough Zogoflex®. Just like our other Zogoflex® toys, Tux is pliable, bounces, nontoxic, recyclable, and buoyant. Simply stuff your dog's favorite treat into the cavity of Tux and let 'er rip. Tux is even dishwasher safe for easy cleaning! Tux™ is a treat toy and was designed to withstand chewing, but still be fun - with or without a treat!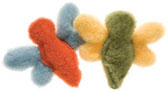 What could be more enticing to your favorite lap-warmer than a delightful little bug to stalk and pounce? The very same bug jam-packed with 100% premium organic catnip and our signature silver bell. This little bug is certified safe and eco friendly too! Using our eco fabric made from 85% recycled IntelliLofto fibers makes this high quality cat toy one that will make your kitty go buggy! No Compromises!
http://www.westpaw.com
Multi-Pet – Support Our Troops Loofah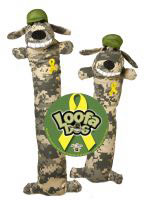 Dogs have become our new heroes of War. They have served along side our troops for the Department of Defense since World War I. Not only are they trained to protect their comrades, but also provide companionship to our troops, who are thousands of miles away from friends and family. What better way to Support Our Tropps than with the new dog toy "Support Our Troops Loofah." Multipet International will donate a portion of all proceeds to help support our troops.
http://www.multipet.com/dog_plush_troops.htm
Dynamic Accents –Pet Gate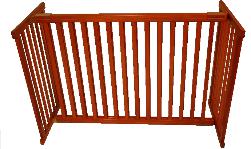 The new 30" tall Kensington Pet gates are constructed of beautiful hardwood with mortise and tenon joinery for lasting durability. These gates are loaded with features and ship FULLY ASSEMBLED. The free standing design and sliding width adjustment require no installation or tools for usage. Substantial 18" end panels and anti-skid footpads provide full stability to prevent tipping and easily fold flat for storage or transport. Available in two sizes: Small for openings 28" to 36"; Large for openings 29" to 72". The mission style compliments most decors and the unique use of woods make the products one of a kind.
Canus – Canus Nature's Dog Products

It doesn't matter whether you're human or dog, fresh goat's milk is good for you. Canus has launched Nature's Dog, a line of All Natural goat's milk products for canine friends everywhere. The initial product launch includes four dog grooming and treat products, appropriate for dogs of all ages, from puppies to seniors. Goat's milk has healing, moisture-rich properties with the right protein structure to be readily absorbed. Goat's milk is also easy to digest and has beneficial proteins, minerals, enzymes and probiotics, so creating healthy dog treats with goat's milk was a logical extension. For bath time, Canus offers Nature's Dog All Natural Goat's Milk Shampoo with an appealing Blue Cedar Fragrance and Nature's Dog All Natural Goat's Milk Shampoo Bar. There is also the Nature's Dog All Natural Health Treats, made with real goats milk, as well as the Natural Dog Wipes.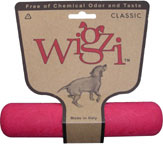 WIGZI – WIGZI Dog Toy
Finally, Wigzi has launched a new dog toy that is completely free of chemical odor and taste, lightweight, floats and made of patent pending material from Italy. Dogs go absolutely wild when they get their paws on it. Their toys are also recyclable and packaged with 100% recycled paperboard.
Big Bird Products – Bird Shoulder Cape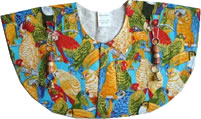 Big Bird Products, Inc. proudly presents the "new" Bird Shoulder Cape. The bird toys on our poop cape will keep your companion bird busy while riding on your shoulders; whether you own an African gray or a cockatiel. Parrots and hookbills of all sizes will appreciate being able to forage for their favorite bird treats in their own "treat pocket". Their owners will also appreciate their shirt staying free and clean of bird poop and holes.
http://www.birdshouldercape.com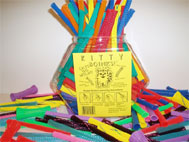 Endless Possibilities, Inc. – Kitty Boink
Turn a cat into a kitten again with Kitty Boinks. This clever mesh tube springs into action and makes cats go wild. When compressed Kitty Boinks shoot up to 30 feet, providing cats with tons of exercise and excitement. Cats can't seem to get enough of this colorful mesh pocket rocket, thus sending your kitty like a rocket across the room. They are light, safe and fun for your feline. Kitty Boinks are like a silent, springy playmate for hours of fun and as intoxicating as catnip!
Puppy Piñata, LLC – Puppy Piñata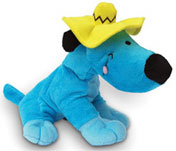 Puppy Piñata gives dog owners the pleasure of fulfilling their dog's desire to work for their treat. We have done all the work of stuffing the toy for you, and now you can give your dog a toy and a treat all in one. The stimulating Puppy Piñata toy with treats inside will allow your dog to release his inner drive to hunt and work for his food. While interacting with the Puppy Piñata, dogs will play and work to open the special treat-release pocket. And when the treats are all gone, you can restuff it with more!
BioPet – DNA Breed Identification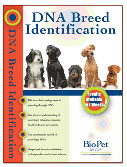 The DNA of any dog governs the appearance of the dog as well as being related to the general behavioral characteristics of the breed. In recent years, there has been a great deal of research performed on how differences in DNA give rise to the differences that are seen between breeds. Advances in DNA testing technology mean that it has become possible to identify the ancestry of any dog by performing a simple test using a cheek swab. All cells carry the same genetic material, regardless of type or location in the animal. Taking a cheek swab is therefore the easiest way to obtain the samples needed for testing. On receipt at the BioPet testing site the samples are prepared and analyzed, resulting in a rapid and accurate determination of the breeds that have contributed to the makeup of your dog. We believe that 92.5% of the mixed breed dog population in the USA is covered by our 62 validated breeds.
Wetnoz – "Zen" Dog Bowls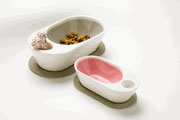 The "Zen" dog bowls are shaped in a pill like form, sort of oblong, and there is a reason for this. You can place them in either direction - one for cats and one for dogs. For the cat, (placed perpendicular to their body) reduces whisker contact with the sides of the bowl. For the dogs, the opposite direction allows their ears to fall outside of the bowl. There is also a thumb hole for easy gripping, which can double as a treat receptacle for that 'two-course meal' dining experience.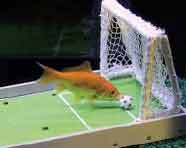 R2Solutions - Fish Training Kit
The R2 Fish School Kit is the world's first complete pet fish training system that is changing the way the world interacts with pet fish. Using marine mammal training techniques, fish training expert Dr. Dean Pomerleau and RS Solutions have developed the ultimate tools and guides that make it fast and easy for anyone to train their own fish to perform incredible behaviors. Pet owners can now teach their fish soccer, football, limbo, fetch, slalom and other amazing tricks. Now people in the market for a dog might want to consider a fish instead!
Skamper-Ramp – The Great Water Escape Ramp for Pets and Other Critters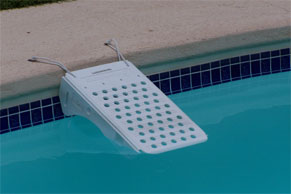 Every year in the U.S. alone, tens of thousands of pets, along with countless other creatures, needlessly drown in swimming pools or walled ponds/lakes. Pools are perilous for pets. Skamper-Ramp is the solution that helps protect them! Available in 2 sizes, the Skamper-Ramp helps them get put of the water by themselves day or night. Only dogs need to be taught how to use the safety ramp.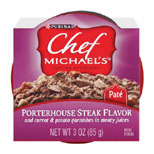 Purina – Chef Michael's Dog Food
Small dog owners know that special things come in small packages, well now, the same goes for their dogs' food. Chef Michael's canine creations help fulfill a dog's desire for a real meat meal, but with the added details of thoughtful preparation and personal touches as if their owners made it themselves. It is formulated to meet the nutritional levels established by the AAFCO Dog Food Nutrient Profiles for growth of puppies and maintenance of adult dogs. The brand consists of both wet and dry dog food formulas where the smaller size packaging provides the first cue that Chef Michaels is dedicated to refining the dining experience for small dogs.
Nutri-Pet Research, Inc – NUPRO All Natural Dog Supplement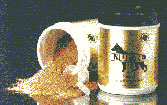 NUPRO supplements are made with fresh quality health food ingredients that are human-grade, not animal-grade. No matter what diet your pet eats, NUPRO is an essential part of your daily nutritional program. It is a totally holistic product that replaces the vitamins, minerals, and digestive enzymes that a dog does not get from his processed food. In other words, what we are doing is replacing with natural ingredients what a dog would normally have gotten in the wild. It is excellent for all breeds and all ages from puppies to geriatric.
http://www.nuprosupplements.com
Vladae, The "World Famous" Russian Dog Wizard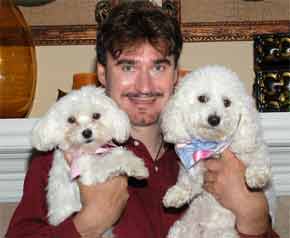 Vladae speaks with Nikki. He was able to train her dog, Phoebe, at the Global Pet Expo show. Nikki states that Vladae turned her dog into a different dog. She was having a problem with Phoebe jumping on people, going after other dogs and not walking right on the leash. Vladae was able to combine his own Dog Wizard training techniques along with the world famous training collar by Herm Sprenger, which guaranteed success. The is the only training collar that Vladae endorses because it will never harm or never scratch your dog, the collar works like a dog's mother's teeth. It might look a little odd, but it is a very safe product and will never harm your dog under proper supervision. The collar should be used for training sessions only. Eventually, you will not need to use any collar at all.
http://www.animalradio.com/vladae.html

Vinnie Penn, Animal Radio's Resident Party Animal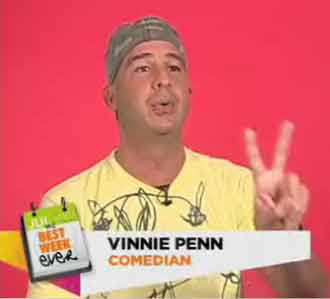 Footprints in the Snow
So those of you who have been following the Party Animal segment all of this time, know that I live in Connecticut. We received a lot of snow this winter, but I have to tell you something. Before Christmas, at one point, I got very creative. I noticed some weird footprints in the snow in front of my house. I grabbed my daughter and lifted her up, and said, "Do you see those footprints over there?" Her eyes went wide, and I said, "I think it's a reindeer." I was very proud of myself, I was quick and I pointed out that "They're staking out the house, Santa sent the reindeer to stake out a house to bring all of your gifts1"

Well, now here it is long past Christmas, and these footprints, I really can't trace what the animal is, but the other day I saw them leading up and around behind the shed. My daughter spotted them, and she said, "Is the reindeer coming back?" And I said, "No, quite frankly, daddy's a little worried." She said, "Go behind the shed and see what it is!" Now I looked at these footprints and I need to take a picture. I have to talk to the gang at Animal Radio and see if we can post a picture and maybe someone can tell me what it is. If you ask me, I think it's a gigantic raccoon, that's half raccoon, half bear. That's what I think! And I will never go behind the shed! If my daughter ran back there and said, "Daddy, I'm going to go and find out." I would just yell, "You're on your own, let me know what it is!
Animal Minute With Britt Savage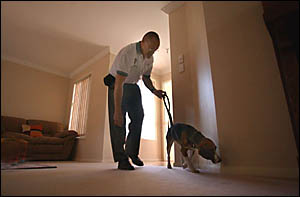 Termite Beagle Back Home
John Elder's termite sniffing Beagle, Joni, was taken from his home. Thieves took the dog by ripping open an air vent in Mr. Elder's trailer and dragging the poor dog out, leaving behind skin and hair. Joni was originally thought to have been hit by a car when a woman found her later that day wondering along a road dazed and confused, and missing so much skin and hair. The woman's daughter had read a story about a missing Beagle, and it turned out it was Joni. Joni has been returned to Mr. Elder and he said it is up to her if she wants to return to work. The thief has not been apprehended.
Under the Influence – of Dog Drugs

Des Moines resident Clarence Fenton was recently charged with driving under the influence of drugs – his dog's drugs. He's still not exactly sure what happened. Authorities say the Phenobarbital that was in his bloodstream when he crashed into a utility pole with his car, had been prescribed by a vet.
Forty-seven-year old Fenton said he took what he thought were the doctor prescribed anti-depressants, when police reports showed that his car hit the pole. His blood work showed that Fenton had actually taken seizure control pills prescribed for his dog Saturn.
Officials with the Statewide Poison Control Center said the story is more common than you'd think. They have had three cases so this year, and that people often take their pet's heartworm medication. This would be a good time to remind you to read the labels of any medication you are taking!
Animal Radio® News with Bobbie Hill


100-Thousand Dollar Grant
The American Society for the Prevention of Cruelty to Animals recently announced a monetary grant to the University of California at Davis. The 100-thousand dollar grant will fund the Center for Companion Animal Health at U.C. Davis' as part of the Koret Shelter Medicine Program. Ed Sayres, president and CEO of the ASPCA said, "The ASPCA and U.C. Davis have entered into a mutually beneficial agreement that will help continue to promote the advancement of shelter medicine."
Masked Bandits Seen at the White House
A pack of masked bandits have been seen roaming the grounds of the White House. But the Secret Service is going to need some help on this one. A pack of raccoons have suddenly shown up on the 18 acres of President's Park that surrounds the White House. John Hadidian, director of Urban Wildlife Programs for the U.S. Humane Society says these new critters may be looking for acorns. President Obama has the option of using humane traps to relocate the critters or he can take a cue from the Coolidge administration. President Coolidge had a pet raccoon named Rebecca who adored the first family but reportedly terrorized the White House staff.

Lizard Poo Goes Missing
Psst, hey buddy have you seen my bag of lizard poo? That's what a graduate student at Leed's University has been asking since his research work consisting of 77 pounds of lizard droppings collected over 7 years was accidentally tossed out. Daniel Bennett did the collecting in the rainforests of the Philippines as part of his study of the rare butaan lizard. The university offered Bennett 500 pounds or about a thousand dollars in compensation but he refused. Bennett, who is expected to get his PhD this year vowed to "See them in court."
What To Look For When Buying Pet Food
Consumer Reports Magazine tells pet owners just what they need to look for when buying food for their furry companions. The March issue looks at pet foods to see if higher prices mean better ingredients or just prettier packaging. Consumer Reports says the bottom line is to look at the overall nutrient profile of the pet food instead of the price. The March issue also cautions consumers who are considering making their own pet food. The full report is available at www.ConsumerReportsHealth.org.
Spring Habits are Dangerous to Pets
Spring is just around the corner and the American Veterinary Medical Association wants to remind pet owners that some spring habits are dangerous to pets. The AVMA has listed its top 10 tips for pet owners to stay safe this spring at avma.org. Lawn fertilizers, pesticides and herbicides can be toxic to dogs and cats as well as cocoa bean mulch. While popular with gardeners just like chocolate the mulch is toxic to dogs. One of the most common flowers of spring, lilies, are very poisonous to cats. Even in small amounts lilies can lead to kidney failure and death in cats that often chew on them.
Barbie Turns 50
This year Barbie turns 50, not bad for a "doll" that doesn't look a day over 22. The worldwide popularity of the anatomically incorrect doll has continued to soar since her introduction at the American International Toy Fair in New York on March 9th, 1959. In those 50 years Barbie has had over 43 pets. They include 6 cats, 21 dogs, 14 horses, 3 ponies, a panda, a lion cub, a giraffe, a parrot, at least one zebra and a chimpanzee.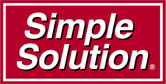 NEWS UPDATE Brought To You By Simple Solution Natural Line Of Products

Your Vet Questions Answered with Dr. Debbie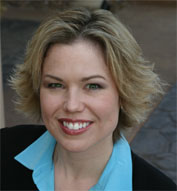 Cat Has Black Crusty Eyes
This 12-year female cat has black crusty eyes, on the inside corners. This guardian is worried that it could be caused by fleas. However, Dr. Debbie doesn't feel it is a flea problem. The interesting thing about dogs and cats, as well as some other animals, is that their tears actually have a kind of reddish brownish pigment to them. If this builds up around the eyes, you will get a red/brown staining of the fur in the area. It is normal for a small buildup, but if there is a great amount of buildup, there could be a medical problem of some sort.
Traveling Dog Now Refuses To Travel
This dog has done a lot of traveling and has always been fine in the car. He now seems terrified, and his guardian needs to get him home. He will voluntarily get in the car, but when it goes, he starts shaking and panting. He doesn't get physically ill, but he is definitely panicking. He usually travels in a carrier, so it is hard to know why he has changed, as he shouldn't have been able to see anything on the outside to frighten him. Since then, his guardian has tried to put him in the carrier or in a bed while he travels, with no luck. Dr. Debbie suggests a de-sensitizing program to get him acclimated to car travel. The guardian may have to start as far back as having the dog getting used to entering the car and even reward him for just being near the car. Then progress from there with just starting the car, but not going anywhere. Gradually move up to moving the car a few feet, to then taking small trips around the block, constantly rewarding and praising the dog with each step.
Does DINOVITE work?
This guardian says he has tried DINOVITE and said that it worked very well on his dog who had allergies. He had tried all types of remedies, but after using DINOVITE, within 3 weeks his dog seemed a lot better. However, Dr. Debbie personally doesn't use this type of supplement on her dogs, and she is leery of products that claim that they are a cure-all for what ails a dog.
Is It Okay To Give Dogs Yogurt?
While dairy products are not good for your dog, can you occasionally give them yogurt? Dr. Debbie mentions that in the veterinary world, this is currently in debate. She warns that yogurt is a diary product, and some pets can actually be lactose intolerant. This can result in diarrhea. However, yogurt has many beneficial properties in promoting good bacteria, but some experts say they would have to eat an enormous amount to reap the benefits.
Dog Has Dry Cough
This 12-year-old lab started about 6 months ago with dry coughing, only doing this when she is excited. She doesn't do this when she eats, however she will start choking when she drinks water. Dr. Debbie has labs also, and states that it is common in older labs to see a difficulty in breathing, where they breathe really loud. This is more pronounced when they get excited. They will then have episodes where they cough, gag, and it almost seems like they are going to bring something up. She suggest getting an exam complete with chest x-rays.
Dog Is Particular About Who Can Enter House

This 2-year-old dog is very particular as to whom she will let in our out of the house. This is now becoming a problem as the kids are getting older and are bringing other kids into the house. The dog also seems to have more of a problem with girls entering the house, only allowing the mother and grandmother into the home. Dr. Debbie feels that this dog is very dominant and the guardian needs to make it a positive experience when someone enters the home. Find a treat that your dog cannot resist (even something that your vet says to never feed your dog!) and make sure that anyone entering the home has one of these treats available to give to the dog. While doing this, make sure the dog is on a leash so that you have control over the situation.
Talk With Your Animals with Joy Turner
Joy speaks with Suki, a dog who is currently attending the Global Pet Expo. Animal Radio was able to have Suki test some of the new products the show and give us her opinion. The toys she tested seemed to be a hit and she wanted to take them home with her! Tune in to find out just what Suki tested and gave rave reviews to!
http://www.joyturner.com
http://www.talkwithyouranimals.com
Listen to the entire Podcast of this show (#481)

Broadcast on XM Satellite Radio and Podcast Versions Only.

Listen to Animal Radio® - Go to the launch page
Return to Animal Radio Network™ Home Page
Read February Newsletter
Copyright 2008 All Rights Reserved Animal Radio Network LLC