February 24, 2007
SPAY DAY U*S*A



Animal Radio® partners with the Humane Society of the United States with a national campaign to promote spay/neuter as a simple, humane and effective way to end the tragedy of euthanizing homeless pets, on February 27, 2007 across the United States and U.S. territories.
Thousands of kittens and puppies are born every hour in the United States. While these baby animals are adorable, the fate of most of them is tragic. Spaying or neutering our pets and feral cats is the most effective way to reduce the vast numbers of animals who are born only to die prematurely and without a family who loves them.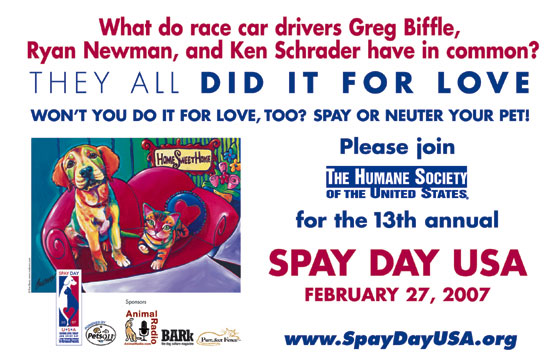 NASCAR Racers Promote SPAY DAY U*S*A
Greg Biffle, #16


Greg Biffle teams up with fellow racecar drivers Ryan Newman and Ken Schrader to support National Spay Day U*S*A On February 27th, and to promote the life-saving benefits of spay-neuter. Greg states that about 90% of the racecar drivers have pts.
Greg founded the Greg Biffle Foundation in 2005 with Nicole Lunder to create awareness and serve as an advocate to improve the well being of animals by engaging the power and passion of the motor sports industry. The foundation donates to local Humane Societies, no-kill shelters, spay and neuter clinics and the Animal Adoption League.
Greg Biffle drives the #16 Ford for Roush Racing. He has two boxers, Foster and Gracie who frequently attend race events, and two other dogs named Daisy and Savannah. Foster has made many television appearances and has been featured on the box-front of Milk Bones in 2004
http://www.GregBiffleFoundation.com

Testicular Implants for Pets
Gregg Miller, Neuticles


The neutering procedure used today on family pets was developed in the early 1800's.
Neuticles are providing a solid solution to the pet overpopulation crisis by encouraging thousands of caring pet owners to neuter that simply would not before.
The texture and firmness of NeuticleNaturals were crafted based on the firmness of actual animal testicles. Neuticles replicate the testicle in actual size, shape and weight and feel.
Loving pet owners are less 'neuter-hesitant' and their pet is unaware that he has, in fact, been altered. With Neuticles- its like nothing ever changed.
http://www.Neuticles.com
Spaying Marathon
Pam Runquist, Association of Veterinarians for Animal Rights


On Sunday, February 25, volunteers at 16 veterinary clinics in the Sacramento, Yolo and Placer Counties, will spay and neuter 800 dogs and cats in an effort to prevent thousands of healthy animals from being killed in area shelters because there aren't enough homes for them. These surgeries will prevent approximately 11,000 puppy and kitten births over the next year, and 355,000 births over the next three years.
Spay Day is organized by the Sacramento Area Animal Coalition (SAAC), a local nonprofit organization committed to eliminating pet overpopulation in the Sacramento area through aggressive spay/neuter efforts.
http://www.sacanimal.org
SPAY DAY USA
Patrick McDonnell ­ "Mutts Comic Strip"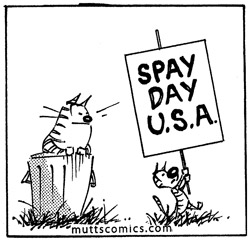 Patrick McDonnell discusses his support of Spay Day U*S*A in his upcoming Mutts comic strip that will be in newspapers all around the world on Monday, February 26th and Tuesday, February 27th, which is SPAY DAY.
Patrick created Mutts in 1994, a daily newspaper comic strip distributed by King Features Syndicate. He has since received numerous awards for his strip. Mutts appears in 700 newspapers in over 20 countries, and the Mutts cartoons have been collected and published in many books throughout the world.
http://www.MuttsComics.com
Talk With Your Animals
Joy Turner
Joy speaks with Buddy who has started whimpering and his guardian wants to know why.
http://www.TalkWithYourAnimals.com
http://www.JoyTurner.com
Behind the Posters
Ron Burns, HSUS Artist-In-Residence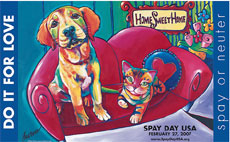 Ron Burns is The HSUS's artist-in-residence. In addition to creating the Spay Day USA 2007 poster artwork, he has created other images to benefit the mission and programs of The HSUS.
On a larger level, Ron, through his art and his regular professional activities, helps spread messages of animal protection, respect for animals, and the work of The HSUS. Ron and The HSUS share similar views on the important work done by animal shelters, the needs of pets, the relationship between pets/people, etc. Basically, he's committed to helping animals, and does so through the message in his work, and through his support for national and local groups, including us.
Ron begins each portrait with the eyes. "Their eyes hold nothing back, whether it's love or fear, heartbreak or admiration. Every portrait begins with the eyes - they have to - because from there all the life and personality radiates outward," he says.
Ron, Buff, Rufus and Loganberry currently live part-time in Scottsdale, Arizona and there he is presently creating images for his next book and working on a number of exciting new projects.
http://www.SpayDayUSA.org
http://www.RonBurns.com
Pets Need Preparation for Baby
Dr. Jim Humphries, Veterinary News Network


A new baby changes the family dynamic. This change does not go unnoticed by your pets, but with a little preparation and patience, babies and pets can be wonderful combinations. Too often when babies come into a family, pets are pushed out. So what can be done to keep the babies safe and the pets from being neglected during this special family transition? Maintaining a predictable routine is critical to helping your pet adjust to these changes in life.
First, schedule pets for a physical exam and consultation. A visit to your veterinarian can give you peace of mind that your pets are in optimal health, up-to-date on their immunizations, de-wormed and are on all of the flea and tick prevention programs that is safe and effective for even the youngest member of your family.
Here are some tips:
Get your dog around some other babies before yours arrives
Teach dogs that the nursery is off limits ­ use a baby gate when you're not training on this rule
Walking your dog daily is important, more important now then ever ­ a tired dog is a good dog
Put your dog on a leash when you introduce the dog to the baby - use a happy voice and have some treats ready
Give the dog the perception that the baby is the beginning of good times
Don't leave babies unattended with either dogs or cats, even if you believe that your pets are gentle and accustomed to the baby, adult supervision is essential at all times
If at any time your pets shows signs of fear or anxiety, or even aggression when interacting with children, go immediately to your veterinarian or contact an animal behaviorist for suggestions.
http://www.VetNewsNet.com



ScoopFree Shelter Program
Alan Cook, Lucky Litter, LLC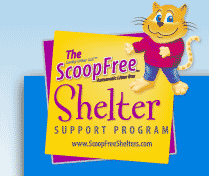 The ScoopFree Shelter Program provides financial assistance and free products to animal rescue shelters, fostering homes and adoption agencies to help promote animal welfare and enhance the care they provide cats.
The ScoopFree Shelter Program donates all products and materials free of charge to not-for-profit animal organizations. No investment is required to enjoy the benefits of the ScoopFree Shelter Program which is designed to require minimal effort by shelter staff and volunteers.
The ScoopFree Shelter Program generously provides free products, resources and ongoing donations to these organizations so staff and volunteers can spend more time with the cats and adopting families.
ScoopFree is deeply committed to enhancing the lives of cats and supporting the special bond between animals and the people who love them.
To join, please visit http://www.ScoopFreeShelters.com
February is Pet Dental Health Month
Jan Rasmusen, Scared Poopless


Most people don't know that a lot of problems and diseases with animals start with their teeth. And just like with humans, if these problems are not addressed, they can lead to more serious problems down the road.

While it is a good idea to brush your pet's teeth as often as possible, there will come a time when a veterinarian will need to clean his teeth.
There are three perspectives when deciding on dental care for you pet: a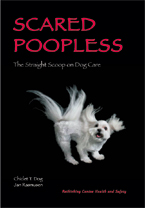 veterinary dental specialist; an everyday veterinarian; and anesthesia-free technician. However, there are concerns with all three: the specialists are hard to find, mostly do major dental (not just cleaning) and are very expensive. Everyday vets often have no dental training and almost always a tech does the work and a tech administers the anesthesia. Few people realize this. Some anesthesia free "hygienists" are well trained but many have just had a weekend course or are self-trained.

It is very important when deciding on dental care for your pet that you check the references of anyone who will be working on your pet's teeth.
http://www.Dogs4Dogs.com
Cat Adopts Rottweiler
Britt Savage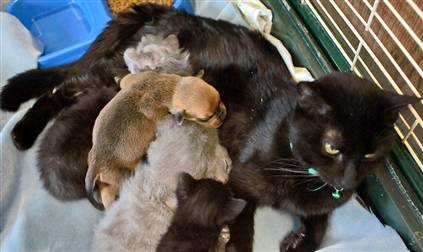 Charlie the Rottweiler was found on the roadside where her mother gave birth to two puppies. One was stillborn, the other was Charlie, whom his mother rejected.
After bottle-feeding Charlie every two hours, volunteers at the Meriden Humane Society came up with a better idea. Satin, a cat who had recently given birth to four kittens, seemed like a suitable surrogate mother. Satin and her kittens immediately took to Charlie and treat him like one of their own.
Unfortunately, as Charlie grows into an approximate 100 pound dog, things will change.
Volunteers are asking dog owners to volunteer their puppies as Charlie's playmates, so that Charlie can learn to be a well-socialized dog.
So far Charlie has not meowed about the situation.
400 Events Scheduled for SPAY DAY U*S*A
Vicki Stevens, HSUS


About every eight seconds, a cat or dog is euthanized in a U.S. animal shelter, according to The Humane Society of the United States. While some may be euthanized due to illness or injury, most are victims of human failure to provide them with the care they deserve. Despite the best efforts of shelters everywhere, there are still too many pets and not enough loving, responsible homes. The cost of pet overpopulation is staggering with more than $1 billion per year spent to provide community animal control services and care for homeless animals.
Those sobering statistics are the impetus behind Spay Day USA, an annual event when hundreds of community organizations coast to coast participate in activities that make it easier for people to get their pets spayed or neutered. February 27 is designated as the official Spay Day USA 2007 with more than 400 events scheduled throughout the month. More than 35,000 animals are expected to be spayed or neutered in February alone.
http://www.HSUS.org
http://www.SpayDayUSA.org


525,600 ­ Measure Your Minutes in Love for the Animals
Rae Ann Kumelos, Voice of the Animal
Every year, millions and millions of animals spend their lives experiencing the pain, cruelty, and despair of lives spent in laboratories or on factory farms. Discover what happens for both you and the animals when you choose to spend your minutes each year on kindness, compassion and conscious consumerism.
http://www.VoiceOfTheAnimal.org

Listen to the 1st Hour ABRIDGED VERSION Podcast of this show (#378).
Purchase a CD Copy of this Show

View Animal Radio Network® Broadcast Schedule in a new window.


Listen to Animal Radio® - Go to the launch page


Return to Animal Radio Network® Home Page


Read February Newsletter
Copyright 2007 All Rights Reserved Animal Radio Network LLC