February 25, 2006
ANIMALS ONLINE SPECIAL
Sponsored by: Cattoys.com, That Pet Place, Dogtoys.com
E-Mail for Your Cat?
Stacey Miller, MeowMail



Why should people be the only ones who are networked? We hope this won't shock you, but MeowMail was the brainchild of a dog. As scandalous as it sounds, cats around the world today owe their email accounts to a dog! Listen in to find out how your cat can get his own e-mail account.
Fido's First Cell Phones
Gordon Jessop, PetsMobility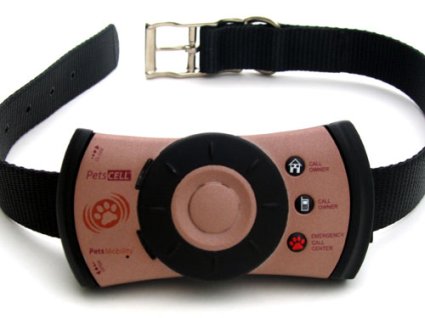 Lost a dog? Soon, pet owners will be able to drop the photocopier and staple gun and pick up the phone instead. Hung off Fido's collar, the PetCell is a bone-shaped cell phone that will let dog owners talk to their best friend over a two-way speaker.
Developed by PetsMobility, the PetCell works with standard cellular networks and has its own number. It automatically answers when the owner punches in a code on their telephone keypad that means, "Lassie, come home!" The PetCell will ship in early 2006 and will sell for $350 to $400, the company said.
The ability to track a lost pet has most dog lovers excited. The PetCell has a "call owner" button in case Rover strays. It also includes assisted GPS, or A-GPS, which works indoors, allowing dog owners to map their pup's coordinates from any web-enabled device or by dialing a voice-enabled call center.
The PetCell will also have an option called GeoFence that will alert owners whenever their dog wanders beyond preset parameters, and built-in temperature sensors to indicate if the dog is too hot or cold.
Additionally, the PetCell will support a small wireless camera, which could be useful in search-and-rescue or bomb-squad missions. But for patrons of doggy day care, it may become the canine equivalent of a nanny cam.
While a cell phone for pets may strike some as silly, the economic reality is not. One obvious user is left out of this calling plan. At 3 inches long, the PetCell is too unwieldy for your average feline. Although the company is working on further miniaturization, the battery has proven to be a formidable obstacle, unfortunately, the kitties will have to wait.
Aquatic & Pet Supply Superstore
Alicia McClune, That Fish Place, That Pet Place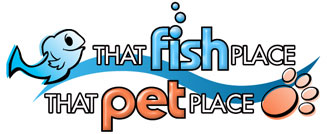 Everything for all of your pets in one place. That Fish Place/That Pet Place has all the items you will need for not only dogs and cats, but birds, reptiles, small pets, horses as well as fish. The staff is comprised of pet owners, animal lovers, and of course, trained professionals and experts. They also have six Marine Biologists who are always on hand to answer your tough aquatic questions, as well as reptile and amphibian experts glad to help you with any concerns or problems.
They have set the standard for mail order pet and aquarium supply! No one has a wider selection or larger inventory of the brand name pet products you trust. Unlike other mail order companies that only order their products after their customers do, they keep all of the products that they sell on hand, in their massive distribution center. With over 15,000 different items in stock, you're sure to find everything for your pets from the name you can trust, That Fish Place/That Pet Place.
And if you are in the area of Lancaster, Pennsylvania, visit the original Aquatic and Pet Supply Superstore! Every year, tens of thousands of visitors come from all over the US and Canada to explore their 110,000 square foot retail store. Bring your pet along and check out their incomparable fish room with over 800 aquariums! Visit their Reptile and Small Animal room, or take a stroll through their Aviary! Reach out and touch live sea creatures at their interactive hands-on exhibit, the Marineland Touch Tank!
Online Dating Service for Pet Lovers
Robert Yau, DateMyPet.com


Another dating site? No. A meeting site for pet people? Yes. The idea for DateMyPet.com started during a walk with my dog in our local park. As usual, folks will approach us and comment on how cute he is. Typically this will lead to a conversation. These conversations range from simple causal talk to details about their lives. Total strangers and we'll be conversing like old friends. The folks I meet on these walks range from long time happily married couples to singles. Though their lives are very different, they all share a love for animals. Either as a pet owner or a 'want-to-be'.
Speaking to the singles, it surprised me how many of their dates and relationships ended because the other partner was not compatible with their love for their pets. These range from "she hated my dog's drooling" to "he is allergic to my cat," and the classic "he thinks I'm crazy because I treat them like babies." When the decision came to choose between the partner or the pet - it was a no brainer for the majority. The pet won. So here we are, "if you want to date me, you have to date my pet". That's the drive behind this website. If you knew first hand that a person is a pet lover, it would make things a lot easier.
If you are not a pet owner, you are welcomed too. But just remember, "...date my pet".
"Bart Simpson" Nancy Cartwright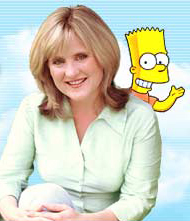 Nancy's achievements as an actor include dozens of credits in television, film and theatre. She is recognized as one of the world's leading voice-actors, Bart Simpson.
Cartwright lives with a ranch-full of animals including a plastic cow affectionately named "Milk-Dud," which she says is only appropriate because one of Bart's catchphrases is "Don't have a cow, man!"
Cartwright shares her feelings for her pets this week on Animal Radio's national weekly program. They've always been a major part of her life.
http://www.NancyCartwright.com
Toys by Breed
Jill Gizzio, DogToys.com & CatToys.com


DogToys.com and CatToys.com is one of the few internet businesses to survive the dot com crash. They have been around for 10 years, and that's because of their loyal customer base and the great products they offer.
They give their loyal customers a unique way to shop for their favorite breeds. DogToys.com offers products by breed ­ click on your breed and see the products sized for your dog. From the itty bitty Chihuahua to the gigantic Great Dane, DogToys.com offers a variety second to none.


And no one knows what cats really want - better than CatToys.com. They know that each distinctive personality demands a different toy. Maybe your cat is the nocturnal hunter ­ or you have a couch potato? It doesn't matter if your feline is timid and shy or large and in-charge, CatToys.com has exceptional and distinctive choices ­ guaranteed to please any feline personality.
http://www.DogToys.com
http://www.CatToys.com
Web Portal for Pet Information
Kate Donlon, PETS 911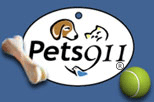 As the national web portal for pet lost and found, pet adoptions, spay and neuter resources, and other pet information, PETS 911 brings together animal welfare organizations and major corporations to save pets' lives through its website and toll-free number: 1-888-PETS-911.

Find out how you can also post your pet's information, such as picture, vaccinations, address, etc., and have it handy in an emergency should your pet become lost.
Goats Help Boy Cope With ADHD
Britt Savage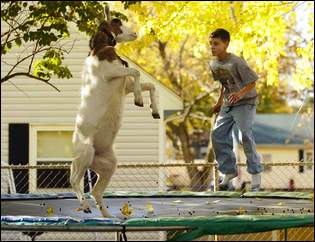 Behind a two-story house on a quiet cul-de-sac here in Clermont County, a boy jumps on a trampoline with his goats. They're David Valentine's 4-H projects, his pets. He lets D.J. and Blessing in the house to watch television, feeds them Tums and shares his sunflower seeds.
The 2-year-old caramel pygmy and the 18-month-old American Alpine are also the only things that help the 12-year-old manage his attention deficit hyperactivity disorder, David's mother, Patty, insists.
But township zoning law says goats and a subdivision don't mix. That led the family this week to federal court, where an advocacy group for people with disabilities filed a federal lawsuit against the Miami Township trustees.
The suit alleges that the township's refusal to allow the goats is a violation of fair housing laws. Patty Valentine says the family would have to move, which they can't afford to do, if David can't continue living here with D.J. and Blessing.
David, a seventh-grader in Milford schools, keeps his grades up because he knows he doesn't get to play with or take care of the goats unless he does well in school, his mother says. Both goats have won ribbons at the Clermont County Fair. David and his dad, Dale, both showed them this summer and won.
D.J. and Blessing aren't walking to the bus stop in the mornings with David anymore - the family is trying to keep them low-profile while the suits are pending.
David thinks the goats motivate him more than the other pets because they're like a kid with ADHD.
"They don't really listen very well,'' he said. "That's kind of like me.''
EBay Won't List Live Pets
Dr. Jim Humphries, Veterinary News Network
A plan by eBay Inc. to allow live pets to be listed for sale on the online marketplace has been suspended after eliciting a barrage of criticism from the company's users. Under the plan that was being explored, breeders could have put up listings, paying only a listing fee. Animal shelters could have listed pets for adoption for free. For years, eBay has prohibited the sale of live animals, except for fish and snails, on its Web site.

No More Empty Water Bowls
Erik Djukastein, Contech Electronics, Inc.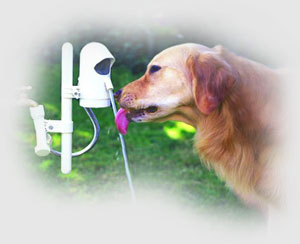 No more empty, dirty water bowls with the WaterDog by Contech Electronics. The WaterDog helps to reduce thirst and sickness by providing a fresh clean cool stream of water on demand. Smart sonar sensing technology triggers the WaterDog to turn on when your pet approaches and turns off the water when your pet leaves. You'll never have to worry about what your dog's been drinking again!
The fountain device attaches to an outdoor water spigot, or garden hose, and uses ultra-sonic sensors to determine if a dog is approaching. When a dog approaches at the right distance, the device automatically turns on the water. There is an additional hose flow-through allowing a garden hose to share water with the WaterDog.
The Waterdog can be adjusted to a variety of heights and angles to accommodate most dogs. It measures about 14 inches high when assembled, and runs on four "C" size batteries. It comes with a 30-day money back guarantee, and a 2-year limited warrantee.
DNA Solves Case of Dog-Napping
Distraught owners were convinced that a neighbor had dog-napped their Maltese named Missy. Missy's owners needed hard evidence that the neighbor's new dog was, in fact, their own beloved pooch.
So they had a lab extract DNA from Missy's favorite hairbrush. With the help of police, investigators were able to take a swab of cells from the mouth of the dog in question.
The doggie DNA was a match, and the fluffy pup was returned to her rightful owners. The fee: $500.
Westminster "Best In Show" Isn't Welcome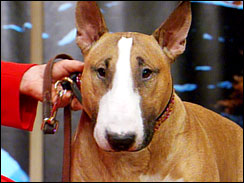 He's the darling of the dog world. He dines on steak, and hails from the same breed as Spuds McKenzie of beer fame and that dog who's the Target store mascot.
However, Rufus the colored bull terrier -- fresh off winning Best in Show at the Westminster Kennel Club -- isn't welcome in many parts of the country.
Cities in about 20 states have either passed or are considering something called B-S-L, short for breed specific legislation. The goal, say supporters, is to control certain types of dogs considered dangerous. That generally means pit bulls and pit bull mixes. But sometimes the bans refer to dogs with similar physical traits, dogs with stout bodies and distinctive heads. And his owner says as a result, there are places she won't take Rufus.
He has lots of company, though. According to the American Kennel Club, the colored bull terrier was the 62nd most popular breed in the nation last year.
Talk With Your Animals
Joy Turner
Joy find out why a dog doesn't like its guardian's co-worker's puppy. It seems when playtime is over, the older dog is put on a leash while the puppy roams free. He views this as punishment on his part. While the puppy should also be placed on a leash, the older dog must understand that he is setting an example for the puppy.
http://www.TalkWithYourAnimals.com
Horse - Highway of Hoof-Prints
Rae Ann Kumelos, Voice of the Animal


What do traveling down the highway in your car and watching a television program beamed to you via satellite have in common? Two horses. Tune in to learn why.
Fostering Cats
Annie Bruce, Good Cats Wear Black


It's that time of year when kittens are plentiful. This can be a problem for the shelters because they don't have the resources to care for all of the cats. This is a good time for you to foster a cat or a litter of kittens. There is nothing funnier than watching a bunch of kittens bouncing off the walls. And if you are looking to adopt a cat, this is a good way to get to know their personality ahead of time.
If you do foster, it is a good idea to keep them in one room in your house, until they are socialized. If you do let them out of the room, make sure that have a break-a-way collar with a bell so that you know where they are at all times. A little kitten can get in some of the smallest places, and you could spend hours trying to locate them. And once a cat starts to hide out of fear, he could become fearful the rest of his life.

View Animal Radio Broadcast Schedule in a new window.


Listen to Animal Radio - Go to the launch page


Get one of the limited edition Animal Radio® T-Shirts for 9.95


Return to Animal Radio Network® Home Page
Sponsor

Copyrighted Animal Radio Network LLC 2006