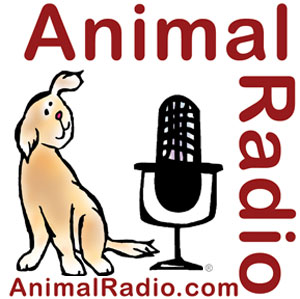 Animal Radio® Show #638 February 25, 2012
News-Anchor Bitten on Live TV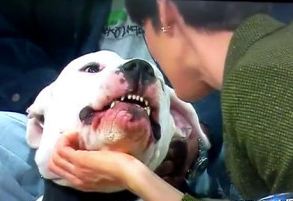 It came as quite a surprise when news-anchor Kyle Dyer, KUSA Denver, was bitten in the face during a follow up report on the dramatic rescue of a dog in an icy reservoir. The incident has caused lots of controversy, even among Animal Radio® staff, Dr. Debbie and Vladae Roytapel.
The dog first gained attention when he fell through the ice on a reservoir in Lakewood. West Metro Fire and Rescue firefighters went into the icy water to rescue Max. SkyFOX captured the incident as it happened on camera.
The dog, its owner and the firefighter involved in the Smith Reservoir rescue were in 9News studios with Dyer. In the video, Dyer is seen kneeling on the floor petting the dog's neck and getting close to its face, when suddenly Max, perhaps still traumatized from the rescue, bares his teeth, lunges and bites Dyer's face.
Denver TV anchor Kyle Dyer underwent reconstructive surgery to repair injuries to her lip after being bitten by a dog during a live segment on the 9News morning show. She received approximately 70 stitches.
The Dogfather's Grooming Tip with Joey Villani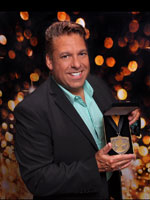 Dogs Who Don't Like To Be Brushed
Most dogs love to be brushed, however there are exceptions! Do you have one of those dogs that doesn't like to be brushed? If your dog starts biting at the brush, you might want to muzzle him; and if you have a difficult dog, you may need two people. Whatever you do, try to make a game out of it.
If you don't need two people, try this first. Start brushing your dog by his back end, near the base of his tail and stay away from the legs. Talk to your dog while you are doing this, to distract him. Scratch his face and make a game out of it. Brush him lightly, and every time he turns around to see the brush, pull it away and get his attention back on you. Then start brushing them again. Eventually, you can slowly start working up his back to his shoulders and head; and then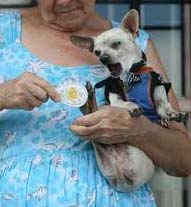 work your way down his legs, which is usually the problem area. He will eventually get used to it and may start enjoying it, sometimes even as soon as about an hour. With a more difficult pet, it may take a couple of weeks before they get used to it.
The biggest mistake people make is to feed them and give them treats during the brushing. The problem with that, is that every time the dog is to be brushed, they are going to expect that treat! If you want to give them a treat at the end as a reward, that's fine.
In some cases with a large and more difficult dog, have someone help you out. Get them to hold the head and to get the attention of the dog while you are doing the brushing at the other end!

DOGFATHER'S GROOMING TIP Brought To You By SeniorPetProducts.com. Use the code "SAVE25" to receive 25% off.
Animal Radio® News with Stacey Cohen
Would You Like Arsenic With That Chicken?
Health advocates and environmental activists are fighting with poultry industry officials in Annapolis over a bill that would prohibit feeding chickens and turkeys any additive containing arsenic. The Baltimore Sun reports proponents call it a matter of prudence, while opponents warn it could hurt Maryland's leading agricultural sector. Chicken farmers nationwide have stopped feeding their flocks a drug containing arsenic since a 2011 government study suggested the cancer-causing metal might be tainting poultry. The animal drug Roxarsone is fed to chickens and turkeys to kill parasites and boost the birds' growth. An effort to ban arsenic from chicken feed failed to get out of the House Environmental Matters Committee last year.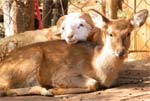 Deer And Sheep to Wed
Love will certainly be in the air at one Chinese zoo. The U.K.'s Orange News says officials at the Yunnan Wild Animal Park will be marrying a deer and a sheep. The animals, named Long Hair and Pure Girl, are said to be "deeply in love" and try to mate almost every day. Zookeepers tried to separate the animals, but they were miserable until they were reunited.
How Do You Get Rid of Ravens?
There is a serious raven problem in Rochester, New York. The raven population is massive and non-lethal efforts to get rid of them started earlier this week as crews set off noisy bottle rockets as well as other firecrackers. It's not an easy thing to solve and pretty costly too, as the city council recently gave the nod to spending more than $20,000 to get rid of the birds.

Have You Been Looking For Love In All The Wrong Places?
Move over eHarmony and Match.com! Head to your local animal shelter to Meet Your Match. The color-coded program evaluates shelter pets and the people looking to adopt them in an effort to match personalities, energy levels and needs. Meet Your Match helped workers at the Richmond Society for the Prevention of Cruelty to Animals increase adoptions by nearly 20 percent in just a few years. Potential adopters answer 19 questions on subjects such as whether they want a playful or laid-back pet, how their animal will spend its days and how they will spend together time with their new dog or cat. The best part of the program is that it encourages people to focus on things like which pet will be the right fit for their lifestyle and their personality, instead of appearance.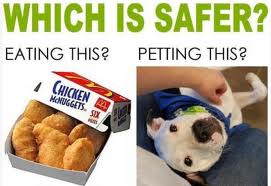 McDonald's Apologizes
McDonald's apologized and pulled an ad that came back to bite them. The ad that said eating a Chicken McBite was less risky than petting a pit bull enraged pit bull owners and their defenders. McDonald's spokeswoman Ashlee Yingling said the Kansas City-area radio ad for Chicken McBites ran just a few days before it was pulled. The company issued an apology by email and social media sites and people who called a toll free number got a recorded apology. Rachele Lizarraga, of Sacramento, says she found it reckless so she started a Facebook site and an online petition. Some critics said McDonald's should also donate to pit bull causes or use a pit in an ad. No word from McDonald's on those ideas.

Social Media For Pets
Social media isn't just for people anymore. Imagine if you could watch, talk to and even feed your pets through a Skype-like videophone. That 's what Minneapolis-based start-up Anser Innovation LLC aims to do with its PetChatz technology. The pet phone allows people to interact with their pet from a computer, laptop or mobile device anytime, anywhere. "Our research shows that pet owners don't like leaving their pets home alone," said Lisa Lavin, the co-founder and CEO of Anser Innovation. "Our goal with PetChatz is to create peace of mind." The device is designed mainly for dogs, but can work for cats too, Lavin said. Roughly the size of an iPad -- but much thicker than one -- it is plugged into the wall and comes equipped with a webcam, speaker, microphone and scent and treat dispensers. To use it, pet owners open a Web application on their computer or mobile device, which allows them to connect to PetChatz. Once connected, owners can secretly watch their dogs in "spy mode," or they can press a call button to signal the dogs to the device, where they can then talk to, watch and feed them. "I'm not aware of anything else on the market like PetChatz," Mark Kroll said. "There are parts out there that are similar, like with Skype, but there's nothing that dispenses treats or scents like this." PetChatz has two patents already and is awaiting approval for one more.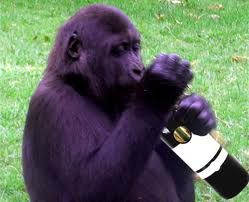 Wine Fends Off Colds In Monkeys!
A zoo in central Kazakhstan, where overnight temperatures have dipped to nearly -40C, is giving monkeys a wine concoction as a remedy against flu. Karaganda Zoo chief animal specialist told local media it was not a matter of making the animals drunk but of "relaxing" them. The red wine is diluted with hot water and mixed with sugar and fruit. They said it was "normal practice" in zoos, but London Zoo told the BBC this was "absolutely not" the case. In video, released by local newspaper, a member of staff at Karaganda Zoo was shown mixing the drink in a kettle. Monkeys were then filmed drinking the "grog" from the spout of the kettle, as a keeper coaxed them, saying "Drink, drink, drink." Pregnant monkeys and babies are not allowed to have the drink. "We give the monkeys wine because in the winter it protects them from respiratory infections," she said. "After all, primates are just like people - they enjoy drinking an alcoholic drink. Some of them even abuse it, coming up to the drinking trough several times."

NEWS UPDATE Brought To You By PetzLife.com. Use the code "RADIO" to receive 20% off!

Listen to the entire Podcast of this show (#638)