Animal Radio® Show #431 March 8, 2008
Bob Barker


Barker is best known as ringmaster for the game show The Price Is Right, a job that he held from 1972 until his recent retirement. Barker is also an outspoken member of the animal rights movement.
Since his retirement, Barker has spent a considerable amount of time championing animal rights. He helped move two elephants, Ruby from the Los Angeles Zoo and Maggie from the Alaska Zoo, to a more suitable habitat. Recently, Barker was directly involved with the passage of a Los Angeles Spay/Neuter ordinance - which requires most dogs and cats to be spayed or neutered by 4 months of age.
"I've been so busy I wonder how I ever had time for a TV show," Barker tells Animal Radio®. Barker is currently working on Bill AB 1634, which will require most cats and dogs in the entire State of California to be spayed or neutered by 4 months of age.


The Young and the Restless: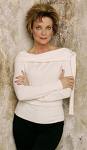 Judith Chapman was the daughter of an Air Force General and spent the majority of her childhood living outside of the United States. As a young teen, she caught the acting bug and began her career in Spain. Judith currently plays Gloria on the Young and the Restless as Gloria Fisher Abbott, the scheming mother of troubled Kevin Fisher (Greg Rikaart).
Judith currently lives with her life partner, James, in Palm Springs with their two dogs.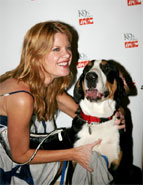 Michelle Stafford joined the cast of "The Young and the Restless" in 1994 and has since developed "Phyllis" into one of the most popular and vivacious characters on daytime to date.
Michelle grew up surrounded by dogs and is currently owned by three dogs, Beauregard, Duke and Josephine.
http://www.theyoungandtherestless.com
http://www.racefortherescues.org



Annemarie Lucas - Star of Animal Precinct
Puppy Mills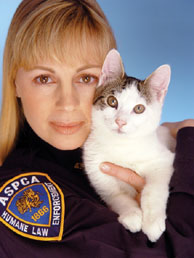 We speak with Annemarie Lucas, who is a Supervisory Special Investigator for Humane Law Enforcement (HLE) at the American Society for the Prevention of Cruelty to Animals (ASPCA). She has received training by both the New York City Police Department (NYPD) and the Federal Bureau of Investigation (FBI). Annemarie is also the star of Animal Precinct.
Annemarie speaks about puppy mills and the ways you can fight them:
1. Do Not Buy Your Puppy From a Pet Store
That puppy who charmed you through the pet shop window has most likely come from a large-scale, substandard commercial breeding facility, commonly known as a puppy mill. In these facilities, parent dogs are caged and bred as often as possible, and give birth to puppies who could have costly medical problems you might not become aware of until after you bring your new pet home.
2. Make Adoption Your First Option
If you're looking to make a puppy part of your family, check your local shelters first. Not only will you be saving a life, but also you will ensure that your money is not going to support a puppy mill. There are many dogs waiting for homes in shelters all across the country and an estimated one in four is a purebred! Your second option is breed rescue. If your heart is set on a specific breed you haven't been able to find in a shelter, you can do an Internet search for a breed-specific rescue organization.
3. Know How to Recognize a Responsible Breeder
If you've exhausted your options for adopting and are choosing to buy from a breeder, remember that responsible breeders have their dogs' interests in mind. They are not simply interested in making a sale, but in placing their pups in good homes. A responsible breeder should screen you as thoroughly as you screen them! Read the ASPCA's responsible breeding statement to find out more about how a responsible breeder behaves.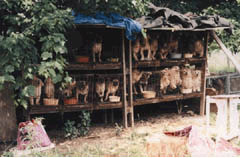 4. See Where Your Puppy Was Born and Bred
One sign that you are speaking to an unscrupulous breeder is that they will not let you see the facility in which your puppy was born. Always ask to see the breeding premises and to meet both parents (or at least the mother) of the puppy you want to take home. You should also ask for an adoption contract that explains in terms you understand the breeder's responsibilities, health guarantee and return policy.
5. Internet Buyers, Beware!
Buying a puppy from the Internet is as risky as buying from a pet store. If you buy a puppy based on a picture and a phone call, you have no way of seeing the puppy's breeding premises or meeting his parents. And those who sell animals on the Internet are not held to the Animal Welfare Act regulations and so are not inspected by the USDA.
6. Share Your Puppy Mill Story with the ASPCA
If you have-or think you have-purchased a puppy-mill puppy, please tell us your story. Every bit of evidence gives us more power to get legislation passed that will ban puppy mills.
7. Speak Out!
Inform your state and federal legislators that you are disturbed by the inhumane treatment of dogs in puppy mills, and would like to see legislation passed that ensures that all animals bred to be pets are raised in healthy conditions. You can keep up-to-date about current legislation to ban puppy mills by joining the ASPCA Advocacy Brigade.
8. Tell Your Friends
If someone you know is planning on buying a puppy, please direct them to our puppy mill information. Let them know that there are perfectly healthy dogs in shelters waiting to be adopted.
9. Think Globally
Have a webpage, a MySpace page or a blog? Use these powerful tools to inform people about puppy mill cruelty by adding a link to our puppy mill information.
10. Act Locally!
When people are looking to buy or adopt a pet, they will often ask the advice of their veterinarian, groomer or pet supply store. Download and print our flyers and ask to leave them in the offices of your local practitioners.
http://www.aspca.org



Dog Car of the Year
Dr. Marty Becker, Good Morning America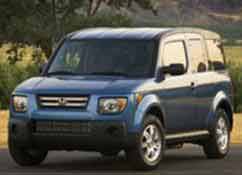 Dr. Becker states that surveys show about half of all car-buyers consider the comfort of the family dog when buying a new car ­ and 65 percent take their pets on errands.
So when you are looking for a new vehicle and reviewing car websites, you can find numerous sites that review cars for all of the usual reasons. But what about a car that is dog friendly?
DogCars.com doesn't spend a lot of time dwelling on horsepower, handling and other things that make the usual lot of car reviewer hearts go pitty-pat. They figure you know all about how many cupholders a car has, and how many pre-teen soccer stars you can fit in it. So their reviews are about ... well ... dogs. How well does a car hold dogs and their gear? How easy it is to get crates into the back or otherwise restrain a dog for safety? Can you get air in the back? Do the seats fold flat? And how economic is the vehicle? DogCars.com lists top vehicle picks in nine categories for 2007, plus the ones to watch for 2008
DogCars.com has chosen the Honda Element as the DogCar of the Year for 2007. The Honda Element's versatile cargo space, easy-clean flooring, crate-friendly rear design and optional all-wheel drive were cited as the key ingredients for the perfect dog car. They also gave high honors to the Suzuki Forenza wagon as the Best DogCarsValue among 2007 models.

The DogCars.com team also noted four vehicles to watch for 2008: The all-new Scion xB, Volvo XC70, Dodge Grand Caravan and Buick Enclave. In the closely watched Green category, they mark the 2008 Ford Escape hybrid as worth a test drive for dog-lovers who want a cleaner ride.
"We're glad to see car-makers address the comfort and safety of our dogs on the road because people don't want to leave their pets - or should we say 'four-legged family members' ­ behind. More than a quarter even sometimes take pets to work," he said.
The Web site, which also offers Dr. Becker's pet travel safety tips, pet travel product reviews and reader comments, gave honors to top DogCars for 2007 in seven additional automotive categories, including luxury, mid-size and small SUVs, sporty, truck, minivan and compact.
http://www.PetConnection.com
http://www.DogCars.com


"Lassie" Saves Guardian
Britt Savage


Like something out of a Lassie episode, a real life 13-month-old cattle dog named Lassie helped to rescue her owner after he fell from his horse in Australia. 90-year-old George Crowther broke his pelvis after being thrown from a bucking horse.
Crowther got his foot caught in the reins and ended up on the ground, where Lassie snuggled up next to him to keep him warm. As darkness fell, Crowther's wife came searching for him with a flashlight but wasn't able to hear his faint cries for help. That's when Lassie ran to her and lead her to hear ailing husband.
Lassie's very thankful owner is on the mend after having 37 screws inserted into his pelvis and hip.
Good dog Lassie ­ good dog!



Pet Friendly Realtor
Djuna Woods, Coldwell Banker


In these days of selling real estate, it helps to find your own "niche." And, Djuna Woods has done just that. While some agents set their sights on single women, and others help with the language, Djuna has carved her niche by being "dog-friendly."
"It's really a quality of life issue to have a home that makes sense for your dog," she says. "Being close to a dog park is especially important."
Woods lists other factors attractive to families with four-legged members, include having hardwood floors (instead of carpet), a fenced yard, a pet-friendly neighborhood (filled with neither anti-pet people nor violent fight dogs) and a place to separate the dog from guests or workers.
In shopping for condos, she adds, owning a dog can be a deal buster because many new condo projects restrict pets but don't advertise this in their marketing materials. "I've heard about clients falling in love with a condo, putting an offer down and then reading the CCandRs and discovering that no pets are allowed," Woods explains.
Her Web site, www.peninsulahousehound.com, and blog, Peninsula Househound (househoundblog.com) explore intersections between real estate and Fido, including profiles of unofficial as well as official dog parks, a search engine that helps find dog-friendly homes for sale, and advice on how to ready a home for market when it's still occupied by your beloved furry friend. Her Yahoo Group for Peninsula dog owners allows local dog owners to trade tips and meet each other.
http://www.activerain.com
http://www.petrealtynetwork.com



NEWS UPDATE: Raccoon tests positive for rabies in Illinois


A raccoon captured this week in Decatur, Illinois, tests positive for rabies. A resident called City Police to report seeing the sick animal in the Dearborn Park Drive area, in the southeastern side of the city.
A Dekalb County Animal Control Officer was able to trap the animal and the rabies tests have come back positive. The raccoon did not attack any people or pets and there have been no other reports of sick animals. But, any time there's an animal that tests positive for rabies, we want to remind people to be more vigilant.
Anyone who has been bitten or scratched by a wild animal should seek medical attention. And be sure to monitor your pets for aggressive or nervous behavior or excessive drooling or foaming at the mouth. These are all the signs of more advanced forms of the disease. And of course, all pet guardians should make sure that their pets are up-to-date on their vaccinations.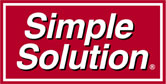 NEWS UPDATE Brought To You By Simple Solution Natural Line Of Products



Just What IS That Doggie in the Window?
Dr. Jim Humphries, Veterinary News Network


Call them mutts or hybrids, mixed breed dogs are definitely one of the most beloved pets. Some people are proud of their "half Collie, half Shepherd" and others are just as content to call their dog a "Heinz 57". But, how do you know what the "mix" is in your mixed breed dog? More importantly, does it really matter?
Until recently, most people could only guess as to their pet's ancestry. The American Kennel Club recognizes more than 150 breeds of dogs and 62 more are considered Foundation Stock. About 400 hybrid breeds are listed by the Hybrid Breed Club. Without some sort of validation from the breeder, people were at a loss to discover what type of dog their pet might be. But, the mapping of the canine genome has now given scientists new tools to help answer some owners' questions about their pet's "roots".
It is now known that humans first domesticated dogs from wolves more than 13,000 years ago, but some "tame" wolves may have associated with early humans as far back as 100,000 years ago. The mapping of the dog's genome has validated that all of our canine friends, purebred and mutt, descend from the gray wolf. It may seem far-fetched, but Chihuahuas and Great Danes have almost identical DNA and, believe it or not, could actually breed and reproduce. Although most people are content with the love and affection of their mutt, a recent survey showed that 60% of dog owners would welcome knowledge that would help them better understand their pets.
The Wisdom Panel® DNA test for mixed breed dogs enables some of these owners to find answers. This new analysis is a comprehensive DNA based test that uses unique, breed-specific markers in the DNA to identify what breeds are most common in a dog's ancestry. By taking advantage of something called "SNiPs" or single nucleotide polymorphisms, scientists have designed blood tests that can determine from what breeds your dog might have descended. SNiPs are single changes in the DNA code that allow researchers to track human population migration, or for CSI fans, to find the murder suspect from a single drop of blood.
With a small amount of blood drawn by your veterinarian, the Wisdom Panel can determine your pet's unique ancestry through the use of more than 300 SNiPs. According to Genetic Research Manager, Dr. Paul Jones of Mars Veterinary, the Wisdom Panel has the ability to identify 134 AKC registered dog breeds that could be present in your pet's past. Validation testing by Mars, which is ongoing, has shown an 84% accuracy rate.
So what does all of this mean for you? Knowing the breed predilection to various diseases, could this test predict that your pet will develop cancer or kidney failure?
Dr. Lowell Ackerman, a board certified veterinary dermatologist and noted author says that the test is "really more for entertainment rather than medical or diagnostic purposes." A point with which Dr. Jones agrees. He states "the Wisdom Panel should only be used for informational purposes. It should not be used to try and link a disease process with a pet because of its ancestry and known pre-disposition to certain diseases or congenital malformations."
And what about the legal implications? Could an insurance company deny coverage to you because of your dog's ancestry? To date, this has not been an issue, but the thought does raise questions. As an example, some cities have tried to enact pit bull bans. But, according to Jones, there is no method of proving pit bull ancestry due to the genetic variability of this dog. Could other "aggressive" breeds be singled out? Is it possible you may have to move because of your Rottweiler or Doberman? Could your homeowner's insurance deny you coverage because your dog has too much German Shepherd?
For those folks who want to provide the latest in pet identification, there is even a DNA fingerprinting test for your pet available through www.pawsitiveid.net. Using a cheek swab (just like CSI), scientists can often gather enough DNA to create a DNA fingerprint for your pet. Unfortunately, unlike CSI, pet owners often have to send multiple samples in order to generate enough DNA for the testing. Kansas State University uses similar testing to verify identity and parentage of racing greyhounds.
If you want to know more about your pet's genetic background, ask your family veterinarian about the Wisdom Panel. After a simple blood sample, you can expect results back within a few weeks. These tests usually cost between $100 and $200. The cost difference may reflect your veterinarian's involvement and consultation in the interpretation of the results.
All in all, the Wisdom Panel could be a fun way of taking a new look at your family pet. You should remember that there are limitations to this test and it will not likely provide any concrete evidence of either medical or behavioral issues. If you have concerns about breed specific diseases or problems, talk with your veterinarian. There are specific DNA tests available for many hereditary diseases of dogs. To see a video on this and many other medical advances, visit www.MyVNN.com.





Peril on the Sea ­ The Dogs of Titanic
Rae Ann Kumelos, Voice of the Animal
Not only did 2,200 passengers face the ultimate peril on the sea when Titanic sank, but so did all of the dogs on board. Discover how an ancient Greek goddess and a courageous and compassionate passenger did what they could to help the dogs of Titanic.
http://www.VoiceOfTheAnimal.org




NOT Just Another Pet Care Book
Shelley Frost, Your Adopted Dog


October is Adopt-A-Shelter-Dog Month! And every year tens of thousands of Americans pluck desperate dogs out of danger... speeding traffic... starvation... floods... to give them better lives. Two million more Americans adopt best friends from shelters.

We all know there are millions of homeless, neglected, and abused dogs. But what about the people who are out there struggling--one by one--to save them? Legions of individual rescuers around the country drain their time, health, finances, and relationships in this frustrating, never-ending battle.

This unique new book goes far beyond other dog care books, responding not only to the plight of needy canines but also to all those unsung human heroes who want to help.

It provides upbeat, step-by-step guidance to those who cannot turn away. It's the first book focusing on first-responder dog rescue--providing detailed, nuts-and-bolts instruction on what to do when you find a dog in need.

It's the first how-to guide addressing the long-overlooked needs of dog rescuers, and the fact that we rescuers need "rescue" as well.
http://www.YourAdoptedDog.com



Kyle's Auction
Kyle Orent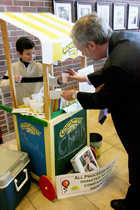 We check in once again with 9-year-old Kyle Orent from Northport, New York who raised more than $20,000 selling lemonade and donated the money to Canine Companions for Independence.
His next endeavor was to auction off celebrity-autographed dog collars (donated by Bamboo). Some of the celebrities that autographed those collars were Leslie Nielson, Betty White, Sheena Easton, Joe Namath, Donald Trump, Billy Joel and Dean Koontz (whose collars collected the highest bid) to name a few. He raised over $5,000 for his collars and was matched by a generous donation from someone who wished to remain anonymous, raising the total to $10,300.
Kyle then donated it all, $30,300, to Canine Companions for Animals. When asked why he chose this charity, Kyle says he is a big animal lover and likes how these animals have been trained to assist their humans and wants to help.
It was a pleasure working with this child whose love for the animals is so obvious. We only hope to be involved in his next endeavor. Cheers to you Kyle!
Listen to the entire Podcast of this show (#431).


Listen to Animal Radio® - Go to the launch page
Return to Animal Radio Network™ Home Page
Read March Newsletter
Copyright 2008 All Rights Reserved Animal Radio Network LLC