March 11, 2006
Loretta Swit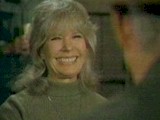 Many people remember Loretta Swit as the character "Hot Lips Houlihan" from the hit TV show M*A*S*H, but don't know that she is an earnest animal rights activist. Loretta testified before Congress in 1999, pleading for the prohibition of so-called "crush video" ­ fetish films wherein insects, snails, worms, or occasionally small animals like guinea pigs or frogs are crushed on camera, usually by women wearing spiked heals. Such films are now illegal in America,
Loretta is one of the special host of the Farm Sanctuary's 20th Anniversary Gala, which will bring together celebrity supporters, key legislators and animal advocates to honor farm animals and those who have fought so tirelessly in their defense.
The Farm Sanctuary Anniversary Gala will be held on Saturday, May 20th in New York, and will consist of a 3-course gourmet vegan dinner (and if it is like last year's ­ will leave you licking your plate!) a silent auction and entertainment. Tickets are $300 per person and the registration deadline is May 15th. To purchase your tickets or for more information about the event, including product donations, sponsorship and advertising opportunities and auction contributions to support the event, please contact: 607-583-2225 ext. 221 or gala@farmsanctuary.org
National Poison Prevention Week March 19th
Dr. Steven Hansen, Sr. VP of the ASPCA
National Poison Prevention Weeks is the week of March 19th through the 25th. Normally you automatically think of child-proofing your kitchen or putting safety latches on your medicine cabinets so that you kid's don't get into trouble. But what about the other vulnerable residents in your house? Your pets. This year, the ASPCA's Animal Poison Control Center and the Environmental Protection Agency are issuing new guidelines for keeping your pets safe inside the home. Their 24-hour poison hotline is 888-426-4435.
Some tips you will hear are keeping pills out of reach of the family pet; reading all labels thoroughly; and keeping your pet's food and bowls away from all insecticides. To see an animated video of how to pet-proof your home, visit their website.
Pet Spending On the Rise
Dr. Jim Humphries, Veterinary News Network
Pet spending is on the rise, reaching over 35.9 billion dollars. There are three major factors which have contributed to this increase:
1. New products and services
2. Medical advances
3. Animal assisted therapy
With these new developments, pet spending is expected to continue to grow.
The Hog and the Antelope
Britt Savage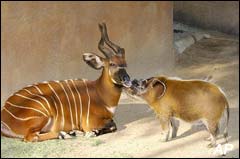 Willy didn't grieve long after his mate went to hog heaven.
The 10-year-old, 187-pound Red River hog wasted little time in taking up with his pen-mate Nicole, a much taller and heavier bongo -- the largest member of the forest antelope family.
The two share a muddy exhibit at the Los Angeles Zoo, where they have been spotted grooming, napping and cuddling together. On occasion, they've been seen snout to nose.
Talk With Your Animals
Joy Turner
Two yellow labs are currently split between two households of a mother and daughter. Now that the mother is retiring, she wants to know if she should get her own dog back permanently. But, the dogs are not willing to be split apart forever. They want to see another agreement worked out, perhaps spending more time at the mother's house.
http://www.TalkWithYourAnimals.com
Mates for Life
Rae Ann Kumelos, Voice of the Animal
Many animals, like people, do not have lifelong mates. Some, like the praying mantis and black widow spider, devour their mates. But, there are animals that pick a partner for life, and they hold the benchmark for romance in the animal kingdom.
http://www.VoiceOfTheAnimal.org
Buck Starbucks!
Merritt Clifton - Animal People
When you buy Starbucks products, you contribute to horrific rodeo animal abuse, because Starbucks sponsors rodeos. You can help stop this abuse.
In July 2005, SHARK investigators discovered that Starbucks was buying ad space in a program for the Cheyenne (Wyoming) Frontier Days Rodeo. This is one of the most cruel and brutal rodeos in the country. As has been documented with pictures and videotape by SHARK investigators, many animals are injured and some are killed.
The Cheyenne Frontier Days rodeo includes an event called single steer roping (also known as steer busting or steer tripping). Steer busting is so brutal and cripples and kills so many animals that it is allowed in only a handful of western states.
Starbucks would like its consumers to think the company's support of the Cheyenne Frontier Days Rodeo was an isolated incident. However, subsequent research revealed that Starbucks was sponsoring a number of rodeo events in multiple states, including Texas, Missouri and Washington State.
When SHARK went public about Starbucks' rodeo sponsorships, its public relations people first stonewalled concerned customers -- an oddity for a company claiming to be "socially responsible" or "ethical." Faced with a rising number of inquiries, Starbucks next issued a statement claiming that it merely took out one advertisement in the Cheyenne rodeo program. The apparent attitude was that supporting animal abuse on a small scale was acceptable.
The question is whether sponsoring cruel events that maim and kill animals is something positive. Apparently Starbucks believes that answer to that question is yes, while most of its customers across the US and beyond who have looked at this issue disagree.
What You Can Do:
Call, write, and email and let Starbucks know your opinion on this appalling form of entertainment, and ask them to halt all involvement with any future rodeo events. As one supporter told Starbucks, "I hate rodeos and animal cruelty more than I like soy lattes."
Unfortunately for them in this case, Starbucks are everywhere! We don't have to trek all the way to their headquarters-they bring their businesses to us. Some dedicated and creative advocates have copied or downloaded the photos of animal abuse at the Cheyenne Frontier Days Rodeo, and have taken these images into their local Starbucks to politely educate the management. This is something everyone can do and Starbucks can't hide from it!
Download a "Buck Starbucks" flyer, (http://www.sharkonline.org/BuckStarbucks.pdf) complete with photos and information. This is perfect for handing out to passersby at your local Starbucks and to politely educate the management.
Please write, call, and fax Starbucks' CEO:
ATTN: Mr. Jim Donald, CEO
Starbucks Corp.
P.O. Box 3717
Seattle WA 98124
Phone: 206-447-1575
Fax: 206-447-0828
Sign the online petition! One SHARK supporter took the initiative to set up a petition addressed to Jim Donald, Starbucks' CEO, complete with a letter and photos. Click HERE (http://www.thepetitionsite.com/takeaction/787688008?ltl=1130167795) to get on board!
Contact the Cheyenne Starbucks!
The local management at the Starbucks in Cheyenne, Wyoming, in addition to being a sponsor of the rodeo, proudly held extended hours for Frontier Days. Don't wait for them to hear directives handed out from Starbucks' headquarters--contact this source of support for the Cheyenne rodeo directly!
Tell them you refuse to swallow cruelty with their coffee!
Starbucks at Dell Range Marketplace
3610 Dell Range Blvd.
Cheyenne, WY 82009-5448
Phone: (307) 634-3433
http://www.AnimalPeopleNews.org
Pet Look-Alike Contest
Beth Goldberg, Latka's Treats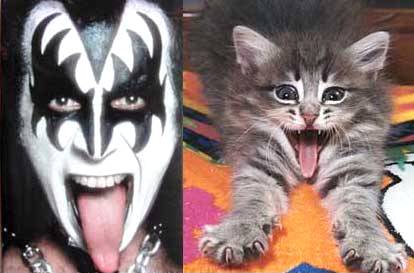 Latka's Treats is having a "Pet Look-Alike" contest and three winners are going to receive prize packages featuring assorted Latka's Treats and a mix of delightful doggie gifts from Animal Radio Network (including a KongTime - doggy day care in a box, The Poop Hound by Hound Dog and a New Puppy Kit from Planet Dog), bags from Sherpa Pet Trading, subscriptions and gift items from Bark Magazine, videos from Dog Trainer to the Stars Bash Dibra, a gift from DogCollectibles.com, books from author Darlene Arden, subscriptions to Animal Fair Magazine, books from author Cheryl S. Smith, pawsitively fabulous accessories from Purple Pebble (including LEEDZ 6-footer leashes, Buckle and Slip COLLARZ collars, FLEEZ Ravioli Fetch-a-Cinne toys and a FLEEZ Cuddle Mat) and more!
To enter the contest, email us one or two photographs (in a digital file, i.e. jpg or pdf) of you and your dog, along with your name, your dog's name, your phone number, your email and snail mail addresses to contest@delicioustreats.com or mail a hard copy photo(s) to Latka's Treats, PO Box 231384, Ansonia Station, New York, NY 10023
Contest judges are Dr, Kevin Fitzgerald, Animal Planet's "Emergency Vet" and Jen Greenberg, Pet Photographer, who will choose the winners on Animal Radio on June 3rd!
Deadline for entries is midnight EST May 31, 2006

http://www.De-liciousTreats.com
Designer Dogs
Darlene Arden



Be careful with the new "Designer Breeds." The breeders are stating that they are taking the best of two breeds and putting them together, but they are also putting the worst physical traits of two animals together as well. A problem with designer breeds is that no two look alike. No standards can be maintained when mixing two or more breeds together. In fact, Australian breeders of the original Labradoodle have given up because of this fact. So, don't forget, you can get a cute little mixed breed at your local shelter and leave the designing to the fashion industry.
Mysterious Cow Abductions
In its March 13th issue, the Weekly World News brings you the world exclusive story of the mysterious cow abductions that have been taking place all over California. Theories range from calcium deprived aliens to lactose intolerant radical fringe groups. Now we're concerned that this may be occurring in other states as well.
Beggars Do Get Choosey - The Finicky Cat
Annie Bruce, Good Cats Wear Black
Do you know that feeding your cat the same food day in and day out can cause him to be finicky? For example, if you only feed him one type of food, he may refuse to eat anything else. You should therefore feed him a wide variety of foods. If you are unsure if your cat will eat a new food, check with your store. They may have samples of the food for your cat to try, and they may even have a return policy if your cat won't eat it.
Relaxed cats eat more, so you can try massaging your cat before a meal. Also, some cats do not like to eat alone. Try talking to your cat while he is eating. And the placement of a bowl can be an issue with your cat. Also, catnip is not addictive and can actually stimulate your cat's appetite.
http://www.GoodCatsWearBlack.com


View Animal Radio Broadcast Schedule in a new window.


Listen to Animal Radio - Go to the launch page


Get one of the limited edition Animal Radio® T-Shirts for 9.95


Return to Animal Radio Network® Home Page
Sponsor

Copyrighted Animal Radio Network LLC 2006