Animal Radio® Show #536 March 13, 2010

indicates XM Satellite Radio and Podcast versions only.
Ann Leary (or Lucy Ricardo!)

When Judy Francis contacted Ann Leary, it was to schedule an interview with her husband, Comedian and Actor Denis Leary, on Animal Radio. But, Ann pulled a fast one (or pulled a Lucy Ricardo move!), and offered herself up for the interview instead. Well, we're glad she did, as we had a great time with her. (Nothing personal Denis!)
Ann and Denis are both big animal lovers. They currently have 4 dogs and 3 horses. Ann mentions that she constantly has to keep her animal hoarding tendencies in check at all times.
"These are our attack dogs," Mr. Leary said about Daphne, a Labradoodle; Lulu, a mostly Airedale "concoction"; and Coco, a longhaired Chihuahua. "They're vicious."
All of their animals belong to both of them, but one of their dogs, Lulu, is just besotted with Denis and pines for him when he is away. While Denis is a big animal lover, he can't stand to watch Animal Planet. Even when they show a dog being rescued, he can't stand the thought that someone has abused or neglected an animal.
"The dogs and horses rule around here," said Ann, a writer who has developed a loyal following on her blog (annleary.com/blog) detailing the Learys' life in the country.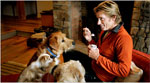 They bought a 1850s farmhouse on 50 acres in 1997. "The first thing my husband did when he got famous was buy me a horse," Ms. Leary said.
Ann has written a well-received novel, "Outtakes From a Marriage," a composite of dysfunctional Hollywood. She just finished another, about an alcoholic woman on the Massachusetts coast and is working on a fourth book, "about animals and their amazing relationships with people," she said.
Some of the stories you will find in her new book have to do with dogs who rescued babies. One was in Africa, where a dog was hunting for food and came across an abandoned newborn human baby. She then carried the baby across a busy road and took it back to her home and placed it with her puppies, where it was later discovered. It will also contain stories about her relationship with her own animals.
Look for her book later this year.

Animal Radio® Asks for Listeners' Dog Food Recipes:
My Dog Food Recipe by Sharon McLaughlin
This recipe was given to my friend from a Vet.

This is for a 3 - 4 day batch that can be refrigerated and gently heated as needed.

4 medium sweet potatoes cooked in the microwave.
1 lb. of ground chicken cooked in a skillet.
2 cups of brown rice (or white) cooked.

Peel the potatoes and cut in bite size pieces.
Add the potatoes to the cooked rice and cooked ground chicken.
Mix all ingredients gently together and refrigerate.

When serving, heat up 1 1/2 cups of the mixture
Sprinkle 1 Tums (chopped up) over mixture (for calcium)
Sprinkle the oil of 1 vitamin E pill over mixture. (400 IU)
Animal Radio® News with Bobbie Hill
Dog Fighting Continues in Georgia
For the second time in a two week period, last month the ASPCA assisted local law enforcement with busting a suspected dog fighting ring in rural Georgia. The second tip came in after a news story on the first arrests in the East Sandersville section of Washington County, Georgia, where sheriff's deputies arrested two suspects and rescued 26 dogs allegedly used for fighting. The second bust in the same area led ASPCA Investigators and deputies to property were they found two dogs in the act of fighting. Three suspects fled the scene. Eight dogs were taken into custody and are currently being treated along with the two dozen others rescued earlier.
Subaru Helps Shelter Pets
A staggering number of pets arrive in animal shelters every year - 6 to 8 million according to the ASPCA. Now Subaru is teaming up with two former shelter dogs, Olive and Zelda, to star in their new ad campaign called Dog Tested. Olive was adopted from a Denver Colorado shelter while Zelda has called Minneapolis home for the past five years. Zelda, a golden retriever mix who was found as a stray in Kansas City, can spell the words "walk," "treat" and is working hard on the word "Czechoslovakia!" Subaru has continued to partner with the ASPCA and last year donated $5,000 along with countless volunteer hours at local shelters.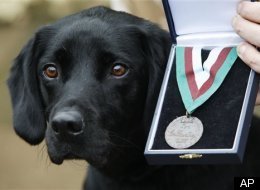 Bomb Sniffing Dog Receives Medal
Treo, the black Labrador retriever, did a great good job of sniffing out a series of bombs planted by the Taliban while serving in the Helmand Province of Afghanistan in 2008 with British forces. Treo has now been awarded the Dickin Medal recognizing his canine courage in a ceremony at London's Imperial War Museum. Treo is the 63rd recipient of the Dickin Medal - it's also been awarded to 32 pigeons, three horses and a cat cat since the recognition began in 1943.
Trial is Underway for Prominent Thoroughbred Horse Breeder
Trial is underway in the Catskills for a prominent breeder of thoroughbred horses accused of animal cruelty. Ernie Paragallo has been charged with multiple counts of animal cruelty in connection with a raid on an upstate New York farm last April in which 177 horses were seized. Animal welfare investigators and state police said the horses were seriously malnourished. Paragallo's lawyer says he will present evidence that the horses were properly cared for. Paragallo has been stripped of all horse racing privileges in New York by the state Racing & Wagering Board and the New York Racing Association.
Too Stupid For Words
From the "Too Stupid For Words File" comes the story of Playgirl and convicted dog killer Michael Vick. According to Life & Style Magazine, Playgirl has offered the NFL backup quarterback seven figures to pose naked and then donate the money to animal welfare groups. According to a Playgirl spokesperson - It's kind of a win-win situation. No word yet from Vick on whether or not he'll peel it off for pets.

Tallest Dog "De-Throned"Titan the Great Dane is no longer recognized as the World's tallest Dog - that title now belongs to Giant George - a 250 pound blue Great Dane in Tucson. According to the Associated Press, the folks at Guinness World Records were getting conflicting stats on the tallest dog, so they sent out their own judge to do some measuring. Titan came up one inch short.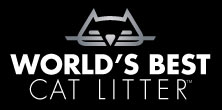 NEWS UPDATE Brought To You By World's Best Cat Litter™
Listen to the entire Podcast of this show (#536)