March 17th 2007

Gary Burghoff, M*A*S*H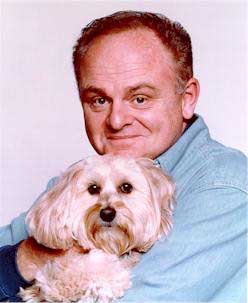 When Gary was growing up, he had a lot of close friends. But the ones he went home to everyday after school were his animal friends, his dog Patch and cats Flippy, Buttons & Bows. Gary states that animals have a way to bring people together and keeping them connected. Many years ago Gary was asked to judge a duck painting contest. After three days of judging, he was inspired and he decided to create his own wildlife art.
Boy Raises $20,000 for the Animals with Lemonade Stand
Kyle Orent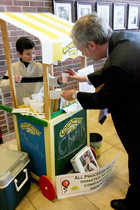 Kyle Orent, an 8-year-old from Northport, New York has raised more than $20,000 for Canine Companions for Independence through sales at his lemonade stand. Orent hopes to raise an additional $10,000 for the non-profit organization, which trains dogs to help people with disabilities.
Last month, he met his idol, Donald Trump, but politely didn't solicit the mogul. "I didn't want him to feel obligated," Kyle said. "I just wanted to thank him for giving me good ideas." Kyle, a fan of Trump's TV show, wrote a letter that won the sympathy of Trump's secretary. He and his mother, Kathy, then showed up at Trump Towers in Manhattan and were invited in for a brief session.
To raise the additional $10,000, he'll organize a golf tournament and an auction of autographed dog collars. Celebrities from George Clooney to former president Bill Clinton previously gave autographs.
"Few young people at that age would have his perseverance," said his principal, Sabina Larkin, of Ocean Avenue School.

Tune in to hear this amazing young man.
http://www.CanineCompanions.org
Dog Trainer to the Stars
Tyson Kilmer, Dogs Incorporated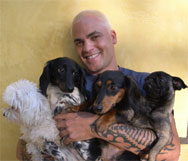 Tyson Kilmer is known as the dog-training guru of today's Hollywood canines. Since at a young age, Tyson had a knack for training animals, it was his birthright. Tyson began working with every type of animal, yet he always had a special affinity for working with canines. Without any formal instruction, Tyson began training his family's dogs and soon after, friends and neighbors hired him to do the same for their pets who were unresponsive to traditional training methods. With his own self­taught style, Tyson found that his system of obedience training was extremely effective regardless of the animal's age, temperament or breed.
Having professionally trained dogs throughout his youth, Tyson was approached by a modeling scout at the age of 15 and began a lucrative career as a professional model. Though still training dogs as a hobby, Tyson spent the next decade traveling the world and gracing international runways as a model for such high-end designers such as Issey, Hugo Boss, Dolce & Gabbana and Jean Paul Gaultier. He also graced the pages of many prestigious fashion magazines such as Harper's Bazaar, Vogue, Elle and Marie Claire among others.
By the age of 25, Tyson lost his passion for modeling and realized how much more enjoyment he has training dogs for his friends and others seeking his expertise. He soon settled in Los Angeles to launch his dog training company, Tyson Kilmer Dogs Inc., and using his connections in the fashion industry, Tyson instantly became the most sought after dog trainer in Hollywood. His celebrity clientele includes Sheryl Crow, Rob Lowe, Marilyn Manson, Mike Tyson, Joni Mitchell, Aaron Carter, Rose McGowan, Mark McGrath, Steve Carr and Mathieu Kassovitz, among others. Despite his success in Hollywood, Tyson most enjoys training dogs for those people who want to live in harmony with their canine companions.

Listen in and find out what some of the celebs have asked him to train their dogs to do!
http://www.TysonKilmer.com
Turtle Eaten Alive ­ Survives!
Britt Savage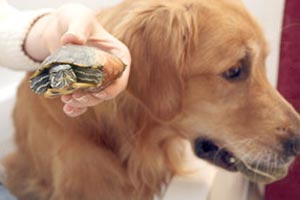 When it got cold outside, 12-year-old Shelby Terihay of Ithia, Florida decided it was too cold outside for her turtles, so she brought them inside and put them in the bathtub.
Even though Shelby thought it was a good idea, the family's golden retriever thought it was an even better idea. In fact, he decided that they were lunch.
When Shelby noticed one of the turtles missing, she informed her family who then noticed the dog licking his lips. Expecting the worst, they then forced the dog to drink peroxide to induce vomiting.
After about 10 minutes, the little green turtle was expelled and began to move about. Both the turtle and dog are doing fine.
HSUS Exposes Scandal in the Fashion Industry
Kristin Leppert, Fur-Free Campaign HSUS


The Humane Society of the United States urged speedy passage of a bill to require honest labeling of fur and to bar the import of a dog species from China, so that dogs are not killed to make fashion garments passed off as harmless "faux fur." The legislation was introduced today on the heels of an ongoing HSUS investigation exposing the widespread scandal in the fashion industry.

A team of HSUS investigators found a proliferation of falsely labeled and falsely advertised dog fur on fashion clothing sold by some of the largest names in U.S. retailing. Of the fur-trimmed jackets subjected to mass spectrometry testing by The HSUS, 96 percent were found to be domestic dog, wolf or raccoon dog, and either mislabeled or not labeled at all. The raccoon dog is a member of the dog family with markings resembling those of a raccoon, known to be skinned alive for fur in China.

Nordstrom's, Tommy Hilfiger and Bluefly.com advertised jackets trimmed with fur from domestic dog as "faux," The HSUS discovered. The dog fur appeared as trim on the hoods of coats from popular brands such as Joie, Tommy Hilfiger and Andrew Marc. Additionally, The HSUS revealed that J.C. Penney was selling raccoon dog fur mislabeled as raccoon. The retailer pulled the garments, blacked out the name of the species from the label and returned the coats to the floor to be sold.

The designers involved include well-known brands such as Diddy's Sean John, Jay-Z's Rocawear, Beyoncé Knowles' Deréon, Calvin Klein, Andrew Marc, Michael Kors, Oscar de la Renta, Bogner, Baby Phat and DKNY. Many designers and retailers were shocked by The HSUS's test results: Deréon, Macy's, Rocawear and Sean John pulled the offending garments, with Rocawear and Sean John pledging not to use raccoon dog fur in the future, and Calvin Klein announced it will phase out the use of all fur.
Half of all fur garments entering the United States come from China, where large numbers of domestic dogs and cats as well as raccoon dogs are killed every year for their fur by brutal methods, sometimes skinned alive. The Dog and Cat Protection Act of 2000 banned the trade in domestic dog and cat fur after an HSUS investigation revealed the death toll at 2 million animals a year and found domestic dog fur for sale in the United States.
The Moran-Ferguson legislation will outlaw raccoon dog fur and close a loophole in the Fur Products Labeling Act of 1951 that exempts garments with a "relatively small quantity or value" of fur from requiring labels disclosing the name of the species, the manufacturer, the country of origin and other pertinent information for consumers. The Federal Trade Commission defines that value today as $150-an amount that allows multiple animal pelts on a garment without a label.
Don't buy real fur by mistake! TAKE ACTION ask you representative for truth in fur labeling! And take the Fur-Free Pledge at https://community.hsus.org/campaign/furfreepledge_jay
http://www.FurFree.HSUS.org
Good, Bad & Ugly of Declawing
Leo Bloom, Declaw Hall of Shame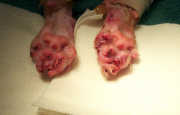 The Declaw Hall of Shame publishes the names of veterinarians and animal hospitals as well as other individuals and organizations that practice, promote, and perpetuate the cruel and needless practice of digital amputation, popularly and euphemistically known as declawing.
Please boycott the veterinarians and clinics listed on this site. Contact them and let them know that their behavior is inhumane and unacceptable.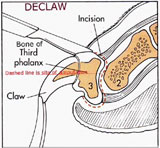 You will also find the "Pimp of the Month." A real declawing pimp promotes declawing in a particularly outrageous manner, lies about declawing, or describes their favorite method of declawing as humane. No credible discussion of alternatives.
Listen in to find out why claws are so important for a cat, that declawing isn't just removal of the nail and what alternatives are available.
http://www.DeclawHallOfShame.com
Man Sues After Dog Dies on Cross-Country Air Trip
Terrence Ing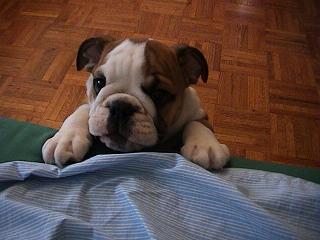 For one San Francisco pet, the seemingly safe trip across the country on American Airlines proved to be fatal. "Willie," a two-year-old English bulldog died after arrival from a cross-country flight last year. Terrence Ing, the owner of Willie, placed his dog under the care of American Airlines to safely transport his pet on a New York to San Francisco flight. Ing never expected Willie was not going to make the trip alive.
Upon arrival in San Francisco, Terrence noted that Willie was having difficulty in breathing. An American Airlines baggage manager denied him access to Willie and had the dog relocated pending instructions from airline superiors. It was only after Ing contacted several area veterinarians that animal paramedics arrived five hours after the flight landed. By then, Willie had died. An animal paramedic who examined Willie's body at the airport believes the dog may have survived had American Airlines provided adequate medical care.
Terrence states that American Airlines has done nothing to improve the handling of animals since Willies' death. Now, Terrence is taking America Airlines to court.
http://www.AnimalLawAssociates.org
http://www.lclark.edu/org/ncal/willie.html
Bill Will Help Minnesota Regulate Puppy & Kitten Mills
Mike Fry, Animal Ark Animal Shelter and Host of Animal Wise Radio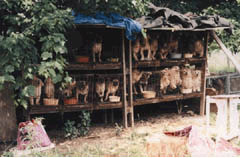 Senate File 121 and House File 1046 Need Your Support!
On January 18, 2007 a bill authored by Senator Don Betzold was introduced in the Minnesota Legislature to address puppy and kitten mills in Minnesota. The companion bill in the Minnesota House or Representatives is House File 1046.

Minnesota is among the top states for mass-produced puppies and kittens (referred to as puppy mills and catteries) with the number of dog and cat breeders increasing annually. Many animals live out their lives in small, overcrowded wire cages and are bred repeatedly. Their cages are often stacked, allowing feces and urine to fall onto the animals below. Animals may be sick from inadequate food, water and veterinary care, stress, fleas, worms, etc. Many have deformed paws, are severely matted, or are burned from sitting and standing in urine and feces. These animals are then sold to the public.

But there are no specific State laws that regulate dog and cat breeders. While the licensing of certain breeders and dealers falls under the United States Department of Agriculture (USDA), many breeders are not required to be licensed and aren't inspected. Loopholes exist and federal enforcement resources are scarce.

The public increasingly demands accountability from puppy and kitten mill breeders.

S.F. 121 closes the gap in State law by giving state and local officials the tools they need to: (1) license and inspect dog and cat breeders in Minnesota, (2) make sure those breeders meet specific standards of care, and (3) take appropriate enforcement action to protect vulnerable dogs and cats from unscrupulous or negligent breeders.
Ironically, at least one group most people would think should support this bill has come out against it. The American Kennel Club, or AKC has launched a campaign to get small, private breeders to oppose this bill. In doing so, they have spread false information about S.F. 121.
AKC has asked small breeders to oppose this bill because they say it would create an unnecessary burden on small, responsible breeders. However, the opposite is true. Small breeders are, in fact, specifically exempted from this bill. Moreover, Senate File 121 would likely help small breeders by enforcing a more level care standard across this industry.
Currently, small responsible breeders provide care standards beyond what is required in S.F. 121, yet they are forced to compete in the marketplace with large-scale puppy and kitten mills who often do not even meet the lowest of standards required by the USDA.
Requiring large, commercial breeders to increase their care standards would, therefore, only help the smaller breeders.
On a recent appearance on Animal Wise Radio AKC Communications Director Lisa Peterson had a difficult time trying to explain the AKC's position on this bill. Following much obfuscation, her argument eventually came down to this statement, "Well, you know, we like to believe that, ah, dogs are your property. And, by law, they are considered that. And we like to leave the option to the owner of the property, of the dog, with the breeder because its their right. It's their decision as to how to, um, how many intact females to own or how many litters to produce."
It is worth noting that Senate File 121 does not limit the number of animals a breeder may have, breed or sell. It simply sets minimum care standards for breeders who maintain 6 or more intact, breeding females.
For people concerned with animal welfare or for those concerned with maintaining quality breeding standards, S.F. 121/H.F. 1046 is a bill to support.
Please let your State Senator and State Representative know that you support this effort.
http://www.AnimalWiseRadio.com
http://www.AnimalArkShelter.org
Kow Boy Kitty Gets Shot
Eli Grimes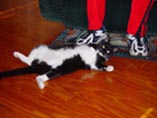 When Eli adopted his cat Sylvester from the St. Augustine Humane Society in Florida a few years ago, little did he know that Sylvester would change his life.
Eli has been able to teach Sylvester several tricks, and, in fact, Sylvester will do tricks to save the lives of other animals at the shelters. Sylvester can open the cabinet door and get his own treats, but his best trick is playing dead. When Eli "shoots" him, Sylvester will roll over and play dead. View the video.
http://www.EliGrimes.com
Heat Stroke in Dogs
Dr. Jim Humphries, Veterinary News Network


You know it stays hot even through September and people find all sorts of ways to keep cool, but what about our animals? How should we keep them cool? Yes, even into the fall thousands of dogs find their way into the family veterinary office or even the emergency room after spending just a few hours in the hot sun.
As most people know, dogs don't sweat like we do, they most often cool themselves by panting. Anything that inhibits that natural cooling system can lead to heat stroke. Normally a dog's temperature ranges from 100 to 102.5. In cases of heat stroke, temperatures over 106 degrees are considered to be an emergency, and temperatures over 110 degrees can be fatal in less than 15 minutes.
Here are the symptoms you need to watch for:
Vigorous panting
The inability to stand or weakness while standing
Thick, ropey saliva, literally foaming at the mouth
Bright red mucous membranes, although some dogs may show pale or even muddy gums
Use cool, not cold, tap water on the extremities. This will help effectively lower the body temperature. Do not use ice or extremely cold water. While this may seem logical, extreme cold water will cause the surface blood vessels to contract, forming an insulated area that traps heat in the body and literally stops the cooling of these vital internal organs. Without these life savings steps, many dogs could lose their lives to a simple hot day. Then load you pet carefully into the car quickly and get your pet to the veterinarian office.
http://www.VetNewsNet.com
The Horses in My Life
Monty Roberts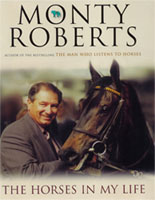 Monty Roberts, a world-renowned horse trainer and international best-selling author, is best known as 'The Man Who Listens to Horses." He is also known as "The Horse Whisperer," made famous by the Robert Redford film and Nicholas Evans book. He has spent his whole life working with horses - schooling them, listening to them, and learning their equine language. The essence of his training techniques is non-violence. Rather than break his horses he "gentles" them. With over 1500 demonstrations of his "gentling" techniques performed on 6,000 horses in 22 countries, Monty's message, "Violence is never the answer," is being listened to as never before. Listen as he tells his incredible story.
http://www.MontyRoberts.com
Listen to the 1st Hour ABRIDGED VERSION Podcast of this show (#381).
Purchase a CD Copy of this Show

View Animal Radio Network® Broadcast Schedule in a new window.


Listen to Animal Radio® - Go to the launch page


Return to Animal Radio Network® Home Page


Read March Newsletter
Copyright 2007 All Rights Reserved Animal Radio Network LLC