March 18th 2006
We're on break as we get ready for our LIVE BROADCAST next week from the Global Pet Expo. We'll be featuring New Pet Products for 2006. Don't miss it. Meanwhile, this week we're reliving a past show.
Much of todays show Originally aired October 22, 2005
---
Today, we're looking at Jobs in the Animal Field
Animal Police
Animal Psychic
Animal Psychiatrist
Animal DVD maker
Annemarie Lucas - Star of Animal Precinct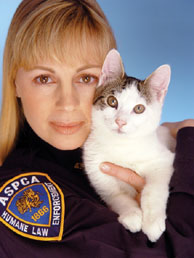 October is Adopt-a-Shelter Dog Month - Adopt a Katrina Animal Victim
Annemarie Lucas, ASPCA Humane Law Enforcement Officer and Star of Animal Precinct


Annemarie Lucas is a Supervisory Special Investigator for Humane Law Enforcement (HLE) at the American Society for the Prevention of Cruelty to Animals (ASPCA). She has received training by both the New York City Police Department (NYPD) and the Federal Bureau of Investigation (FBI). Annemarie is also the star of Animal Precinct.
Annemarie always had a love for animals. She also longed to be on the stage at an early age. Well, she has successfully combined the two as the Star of Animal Precinct. Nothing pleases Annemarie more than an arrest someone on animal cruelty charges. Even though she is out in the field on a weekly basis dealing with the "bad guys" she is not intimidated by the people she encounters because she has a secret weapon - her gift of gab.
Marty Becker, D.V.M. - Myth Busters


Marty Becker's recent appearance on 20/20 discussed the myth "Is a Dog's Mouth Cleaner than a human's?" This myth has been around forever, and you can listen as Marty sets the audience straight on the real truth ­ straight from the dog's mouth!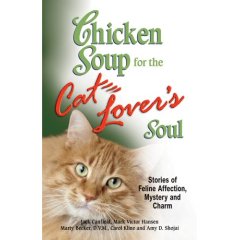 Marty also discusses the release of his new "Chicken Soup" books, Chicken Soup for the Cat lover's Soul and Chicken Soup for the Dog Lover's Soul. As usual, these books will entertain you, make you laugh and tug at your heart strings.


Vicky Halls, Cat Behavior Specialist
Mary Poppins of the Feline World


Cat Confidential: The Book Your Cat Would Want You to Read
Renowned cat counselor Vicky Halls, also known as the Mary Poppins of the Feline World, a title she doesn't mind holding, has dedicated her career to helping hundreds of cat owners to better understand their pets. She offers great information on those seeking help with a "scaredy cat", and also how to curb destructive results from "idle paws,' something we here in the studio deal with on a daily basis! Vicky also understands that cats love to hunt. Tune in to hear how she sets her cat up for a "hunt" on daily basis ­ you will be amazed!
Leslie Alexander - NBA Houston Rockets Owner
creator of Doggy DayCare DVD ­ Don't Leave Home if Your Dog's Without It


What new project has Leslie Alexander, owner of the NBA Houston Rockets, taken on? If you guessed it had something to do with basketball, you couldn't be further from the truth. Leslie's new project is a Doggy DayCare DVD.
Leslie's own dog Joy would sleep through most of the day, except when he took her on vacation. Leslie decided it was the stimulation of nature. As a result, Doggy DayCare DVD was born. There are chapters on Nature & Nurture, Socialization & Belly Rubs, as well as Puppies & More. All profits from the sale of the DVD will be donated to animal charities. Get your copy today!

Despite Disability, Molly Takes Life in Stride
Mandy Evans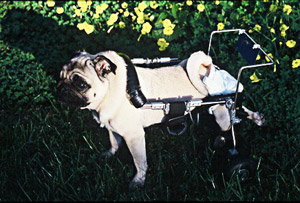 Mandy Evans stood along the edge of the sand with her dog. "You want to go for a walk on the beach?" she cooed. "You want to go for a walk on the beach?" Normally, this sort of frenzied baby talk would get most dogs all worked up. But her pug, Molly, didn't so much as wag her curly tail. She couldn't. With the lower half of her body paralyzed, she really doesn't have much sensation in it.
Inspired by her day-to-day experiences with her pug, Mrs. Evans has co-founded an online support group called "My Special Dog" for people with disabled pets. The intention of the site is not to focus on what the dogs can't do, but on what they can. Hear all about these special animals.
Talk With Your Animals with Joy Turner
Joy advises a listener calling in about a stray cat she has been feeding and wants to make part of her family.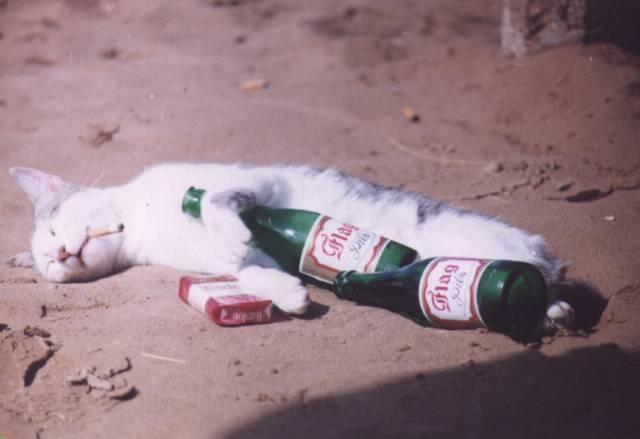 In response to last weeks report on the tobacco industry targeting pets, we received the following pic.

View Animal Radio Broadcast Schedule in a new window.


Listen to Animal Radio - Go to the launch page


Get one of the limited edition Animal Radio® T-Shirts for 9.95


Return to Animal Radio Network® Home Page
Copyright 2006 Animal Radio Network®