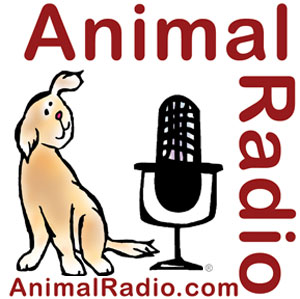 Animal Radio® Show #589 March 19, 2011
Paw-Parazzi Pet Photo Contest
Steve Pinetti, Kimpton

At Kimpton, they love pets so much that they have set out to find the cutest and most photogenic pet out there by kicking off the Kimpton Hotels Paw-Parazzi Contest.
Anyone can upload a pet photo to their site. Every two weeks, the five photos with the most "Like" votes will win pet-tacular prizes from their partners such as Olive Green Dog, Polka Dog Bakery, and Republic of Paws. The contest runs for three months through May 31, 2011.
On June 1, 2011, judges from Animal Radio will select the Grand Prize photo from the 30 bi-weekly winners for the "Ultimate hosPETality Getaway" which includes:
A two night stay at a Kimpton Hotel of the winner's choice
Two round trip tickets on JetBlue for human passengers
$500 credit for the photogenic pet on Pet Airways, a pet only airline
One $100 Kimpton Restaurant or in-room dining gift certificate
One in-room spa treatment for two
An Amelia Collection Carrier by Sherpa Pet Carrier
Use of pet amenities such as a dog bed, bowl, and treats
Anyone may enter by logging onto kimptonhotels.com to upload a photo of his or her pet.
What are you waiting for!

Dodge Journey Pet Destinations
What Is Your Favorite Place To Take Your Pet?
People who have pets love to travel with them. At Dodge, they have made it easier with their pet friendly vehicle, the Dodge Journey, which contains concealed storage bins, Chill Zone glove box cooler and second-row dual in-floor storage bins with removable and washable liners (very handy for muddy paws!) Call us with your favorite place to take your furry-friend: 1-866-405-8405.
This week's Dodge Journey Pet Destination: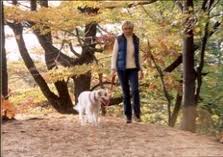 Carol from Pennsylvania loves to take her dog to the Nemacolin Woodlands Resort, which is a family and luxury vacation destination on 2,000 wooded acres in the Laurel Highlands of Southwestern Pennsylvania. There, you will also find the Nemacolin Wooflands, Pet Resort and Spa. They have everything from climate-controlled rooms with elevated beds to a grooming salon, daycare and obedience training classes. The only problem you will have is that your dog will not want to check out!
To view Past Dodge Journey Pet Destinations, click here.
The Dogfather's Grooming Tip with Joey Villani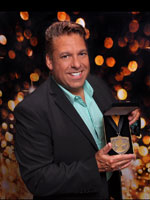 Spring Clean Your Pets!
Just like your closets and basements, your pets also need a spring cleanup! This is important, because it gets the coat in shape for the warm summer that we hopefully will have.
For the dogs that have shedding type coats (German Shepherd, Collie and Siberian Husky), you want to get them de-shedded out completely and remove all of that heavy loose hair. This will allow the skin to breath and will promote healthy skin and the right type of undergrowth.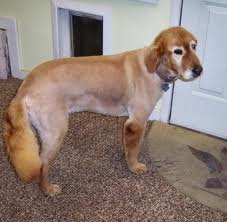 It is important on dogs that shed that you should NOT have the clipped down to the skin. This is the worst thing you can do, because now the coat doesn't work properly. A shedding dog is supposed to have the undercoat for a reason, because in the summer it will protect that pet from overheating and it will release the right amount of heat and keep enough coolness on the skin.
Dog that don't shed (Shih Tzu, Maltese, etc. - all dogs do shed – but these dogs shed to a lesser degree) have probably spent the winter in the house and they probably didn't have their hair cut. However, their hair might be long and knotted and now is the time to have them clipped down so by the time the summer comes, they can go outside without having to worry about being sunburned.
You can even follow these rules for your cats and gets them de-shedded and clipped down for the summer.

DOGFATHER'S GROOMING TIP Brought To You By SeniorPetProducts.com. Use the code "radiospp" to receive 25% off!
Animal Radio® News with Stacey Cohen
Crack Isn't a Good Place To Hide Crack
A Fort Pierce, Florida man riding a bicycle thought he had the perfect spot to hide his crack, but he didn't count on a police dog's sense of smell. He was arrested after police found a tube of crack in his buttocks after a drug-sniffing dog smelled a "narcotic odor coming from his rear," according to a police report. The 19 year old was spotted by a St. Lucie County Sheriff's Officer riding his bike in the middle of the street, where he was obstructing traffic. When the deputy approached, he jumped off his bike and started getting "very loud." When the officer tried to pat him down, the guy "pulled away when he got near his rear waist line," according to the report. As the deputy searched him he felt something tube-like in his behind. A drug sniffing dog was called in and immediately smelled the "narcotic odor" where the sun don't shine. Colbert was taken to a nearby church's bathroom so that the deputy could get the tube out in private. Colbert was arrested on charges of drug possession with intent to sell and possession of drug paraphernalia.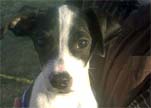 Puppy Survives Euthanasia
A puppy put down on Saturday rose up on Sunday. KWTV in Oklahoma City says the three-month old dog was found alive after being euthanized along with his littermates at an animal shelter over the weekend. A veterinarian confirmed the dogs were dead and their bodies were placed in a dumpster. An animal control officer looked in the dumpster the next day and found the puppy alive and healthy. The black-and-white pup was named Wall-E after the Pixar character who was the last of his kind. He's being cared for at a veterinary clinic until he can be placed in a loving home.
"Cat Bombs" Are Illegal
A West Virginia man was arraigned in Berkeley County court on Tuesday for allegedly trying to keep stray cats off his property. Brian Michael Bailey was arrested Monday for mixing toilet bowl cleaner and aluminum foil to create what he described as "cat bombs." Police visited Bailey's home after receiving several complaints that he was making explosive devices. Authorities searched the 42-year-old's residence and found three plastic bottles that had been exploded, aluminum foil balls and cleaning solution. Bailey eventually admitted that he had been throwing the "cat bombs" out his back door to keep the animals off his yard. He is now facing one felony count of illegal possession of destructive devices, explosive material or incendiary devices.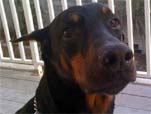 Dolphins Help Rescue Dog
Dolphins are being credited with helping to rescue a dog that became trapped in a canal on Marco Island. Island resident Cindy Burnett said her 11-year-old Doberman, Turbo, disappeared Sunday night after his gate was accidentally left open. She and her sons went looking for him. "I searched and searched and called his name," Burnett said. "I drove through this street at least five or six times.' Meanwhile, a group of dolphins had noticed the stranded dog and literally kept splashing around (for an estimated 15 hours) making such a commotion that neighbors were alerted. When they went to get a closer look, they found Turbo, treading frantically in canal water that he was unable to swim back out of. Burnett is incredibly thankful the dolphins splashed. "If he had to tread water all night long, I know he wouldn't have been able to," she said.
Baywatch Star Make Appeal for Monkeys
Former "Baywatch" star Pamela Anderson has appealed to India's top medical institute to retire old monkeys used in scientific research, animal rights group PETA India said Saturday. The Hollywood actress said she had seen a video allegedly secretly filmed at the All India Institute of Medical Sciences (AIIMS) that showed sick monkeys and rabbits, which had been kept in cages for up to 20 years. "It broke my heart to see the suffering," Anderson said in a letter written to AIIMS director R. C. Deka on behalf of the People for Ethical Treatment of Animals (PETA).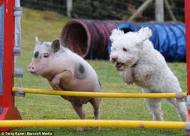 Pigs And Agility Mix
Girls are now allowed on wrestling teams and football teams. Now pigs are allowed on dog agility teams. Times are a changin! A pig from north Wales is set to join a dog display team. Ten-month old Louie spends his days training to run a canine agility course - and playing fetch. He is now so good at running like a hound, owner Sue Williams hopes to make him part of the Cheshire Dog Display Team. For the last six months, her favorite little pig has spent every day learning how to run the dog agility course. In return, he gets his favorite treats - ginger biscuits. But any hopes that Louie may graduate to competing at prestigious display competitions have been dealt a blow. Organizers say their agility competition is strictly restricted to dogs, which are at least 18 months old - and Louie is neither.

Heart Disease #1 Killer of Gorillas
In the U.S., even zoo gorillas need to switch to a heart-healthy diet. "A lot are dying of heart disease, we believe like humans," said Elena Hoellein Less, a PhD candidate in biology at Case Western Reserve University. In fact, heart disease is the number one killer of male Western lowland gorillas - the only species of gorillas in North American zoos. Less leads an effort to counter the killer disease by returning the primates to a diet more akin to what they'd eat in the wild. Instead of spending about a quarter of their day eating the old diet, the pair now spends 50% to 60% of each day feeding and foraging, about the same amount of time wild gorillas forage. Although they take in twice as many calories on the new diet, after a year, the big boys of the primate house have dropped nearly 65 pounds each.
Talent Agency Represents Unique Creatures
A talent manager in Germany has decided to represent some of the animal kingdom's more unique creatures. Tom Beser tells the U.K.'s "Orange" news that he has opened up the world's first agency for albino and two-headed animals. Beser says he was first introduced to exotic animals 15 years ago when he worked as Latoya Jackson's tour manager.

Listen to the entire Podcast of this show (#589)

indicates XM Satellite Radio and Podcast versions only.