Animal Radio® Show #537 March 20, 2010

indicates XM Satellite Radio and Podcast versions only.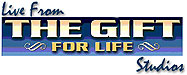 Give Your Pet Back Their Youth
Lauriston Crockett – The Gift For Life

Animal Radio was contacted by Lauriston Crockett, of St. Roch De Vita, and was asked to try Genostim GS6, which is a new science in dietary supplements far beyond vitamins, minerals or super foods, for humans.
Of course we got Hal Abrams to try it, as he is our resident "guinea pig" and will try almost anything! (Even though Judy Francis did eat dog food one time – but that's another story!)
After trying it for a few days, Hal became more alert with a lot more energy. After speaking with Lauriston about it, Animal Radio soon discovered that there was also an anti-aging canine version. Lauriston immediately sent the canine version, The Gift For Life, to Animal Radio to try it out on their studio cats and dogs.
Bobbie Hill was one of the first to try it on her dog, Cody. Cody is a 12-year-old Alaskan Malamute who acted more like the carpet in Bobbie's office, as he always stayed on the floor. Since taking The Gift For Life, Cody is up, running around and hounding Bobbie to go outside and play. He is now much more active.
Next, Judy Francis tried it on the studio cat Boog. Boog is an 11-year-old cat who was having trouble jumping onto surfaces. But after trying The Gift For Life, he started jumping up on the studio desks and chairs and now Judy is constantly trying to get her chair (one of those high bar-stool types) back from him.
Lauriston states that The Gift For Life gives you back the pet that you love and gives them the heart of a puppy or a kitten. He tells Animal Radio that the food quality for canines isn't where it should be; we live in a toxic environment; canines can be under stress; and their DNA has progressive aging compared to humans, all of which can wreak havoc with their natural hormones.
The Gift For Life signals your pet's life giving natural hormones back to a more youthful balance. This one of a kind product supports your dog's cellular recovery, muscle tissues, and organs for total health. When a canine's natural hormones and growth factors are maintained at youthful levels, your pet will have amazing energy and life.
The Gift For Life is offering 20% off and free shipping and handling for a limited time. Just visit www.thegiftforlife.com and type in "pet love" as the promotion code. Order today and change your pet's life tomorrow!
Canine Influenza (H3N8)
Dr. Paul Schwartz, Center for Veterinary Care in New York

Dr. Paul Schwartz is a director of the Center for Veterinary Care in New York. Since early January, Dr. Schwartz has seen dozens of cases of Canine Influenza, H3N8. While the virus has been around for about 5 years, it has never been much of a problem until now.
A deadly strain of dog flu, the Canine Influenza, or H3N8, has stricken pets in 30 states across the country. Canine Influenza Virus (CIV), which poses no risk to humans, is extremely contagious to dogs and kills only dogs that are weak, aged or otherwise at risk.
The scary part, nearly 100% of dogs who are exposed to the virus will become infected. Of the dogs that are affected about 80-85% will actually show symptoms. The symptoms can range from being as mild as an upper respiratory type symptom and appear to be what is called kennel cough symptoms (a dry cough with a gag), with other symptoms leaving a dog awake at night coughing, a dog that is running a fever, a dog whose appetite is off or a dog that has a discharge that is yellow or green or even bloody from the nose.
About 30% of the dogs that have symptoms, have very severe symptoms. These dogs can have pneumonia, high temperatures or gastro-intestinal symptoms. Approximately 1-5% of these dogs will die.
The virus was discovered by Cynda Crawford, a University of Florida veterinarian and researcher and Edward Dubovi of Cornell University. Crawford says in epidemiological terms the virus is similar to a human flu strain. "It's like sending a kid to school," she said of the general risk. "They may get sick but it won't kill them."

Currently, a CIV outbreak is spreading across New York City and the entire state. This is also happening in many other states and reaching all the way to California. Unlike seasonal flu in humans, this can appear all year long.
There is a canine influenza vaccine that is now available. It is a 2-dose regimen at a 2-4 week interval, which can provide protection for a year. Just like human vaccines, it doesn't provide 100% protection, but it is going to reduce the duration of the illness, the severity of the illness and most importantly, it is going to reduce the amount of virus that can be shed from the dog. The vaccine needs to be given prior to any exposure. Dogs that have been exposed already or are possibly showing symptoms, cannot receive the vaccine. However, they should be seen by a veterinarian immediately.
Chastity Belt for Canines
Dexter Blanch, Pet Anti-Breeding System (PABS)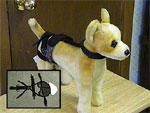 Bob Barker's signature sign-off as host of The Price Is Right was "Help control the pet population. Have your pets spayed or neutered." For Dexter Blanch, the phrase is "Stop it. Block it. Lock it When The Heat Is On." It's also the tagline for his new product, the Pet Anti-Breeding System (PABS), a kind of chastity belt for dogs whose owners opt out of spaying and neutering but want to avoid unintended pregnancy.
Blanch, a former carpenter, was in a hunting accident which damaged his right arm. It turns out his Beagle jumped on his gun, it went off, and she shot him. But, he says his dog was not wearing a PABS at the time and was not angry with him! But strangely enough, the idea of PABS came about when he was on another hunting trip with his female Beagle, and the other male Beagles were more interested in her than in hunting. Dexter ended up picking her up and carrying her about half a mile across a muddy field to put her away.
Dexter feels that diapers and caging are inhumane methods, and wanted a better option for "breeders and very responsible pet owners." His system is humane and he says it, "Leaves an intact female able to defecate, she can urinate, can't nothing penetrate to copulate to impregnate to overpopulate."
Dexter sells his PABS all over the world. Look for his next venture the "Dog Bra."
Top 10 Pet Friendly Vehicles
Fido Friendly Travel Talk With Susan Sims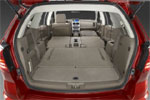 Car manufacturers have started appealing to the animal lover and are making pet friendly cars. But how do you know which one is the safest for your pet?

Bark-Buckle UP, the recognized leader and experts for pet travel safety, awarded the Pet Safe Choice Awards at the 2010 Chicago Auto Show to the Top Ten Pet Safe Vehicles.
The vehicles are evaluated on a variety of pet-related aspects, including how easily the vehicle accommodates animals and kennels of various sizes, ease of access to pet from within the vehicle, ease of pet entry and exit, ventilation for animals in the rear, as well as whether the vehicle has pet-friendly surfaces, adaptability for third party pet travel or safety gear and their ease of cleanup.
The 2010 Top Ten Pet Safe Vehicles (in alphabetical order):
Chrysler Town & Country
Dodge Journey
Ford Edge
Ford Flex
Ford Transit
Kia Soul
Honda Element
Smart Car
Subaru Outback
Volvo XC60
Bark-Buckle UP is raising awareness on why we should buckle up for safety not just for ourselves, but also our canine companions!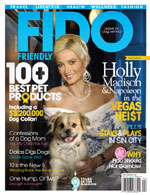 Fido Friendly Magazine:
The Travel Magazine For You & Your Dog, a complete guide to Fido-friendly accommodations across the United States and Canada. "Fido Friendly is the only magazine dedicated to the travel lifestyle of man's best friend, and the one magazine your dog will thank you for." And don't forget to join the Fido Friendly Travel Club.
Chrysler/Dodge Vehicles Earn Pet Safe Award
Ralph Gilles, Dodge Brand Chrysler Group

Ralph Gilles, the President and CEO of Dodge Brand Chrysler Group, talks about their two vehicles that made this year's Top 10 Pet Friendly Vehicles.
Chrysler Town & Country
Chrysler Town & Country is the best vehicle to transport people and pets with more than 65 minivan-first features, including Stow `n Go® seating and storage system, rearview conversation mirror, Parkview™ rear back-up camera and Blind-spot Monitoring (BSM) and Rear Cross Path (RCP) advance safety systems.
Dodge Journey
With unmatched cargo flexibility for all your pet's needs, the 2010 Dodge Journey features spacious storage bins, including the Flip 'n Stow™ front-passenger seat concealed storage bin, Chill Zone™ glove box cooler and second-row dual in-floor storage bins with washable and removable liners.
Gilles states that they have pet owners on their staff, and they get their anecdotal comments from their adventures on the weekend. This in turn led to some new pet friendly features in the Chrysler Town & Country as well as the Dodge Journey. Gilles is also a pet owner, and his dogs sit in the front in a basket while his kids sit in the back!
The Chrysler brand has delighted customers with distinctive designs, craftsmanship, intuitive innovation and technology - all at an extraordinary value - since the company was founded in 1925, and now they're catering to our pets.
Animal Radio® News with Bobbie Hill

Nike Eliminates Exotic Animals From Products
Nike's high-end fashion accessory subsidiary, Cole Haan, is eliminating exotic animal skins from their products. Nike spokesman, Nate Tobeckse, says products using lizard, snake, crocodile or alligator skins and ostrich will be eliminated from the entire line after the summer retail season.


Doogie Howser Should be Called "Doggie" Howser
The actor who played Doogie Howser may be changing his nickname to "Doggie" after a PBS documentary debuts next month. Neil Patrick Harris narrates "Through A Dog's Eyes" the documentary that follows the bond between service dogs and their owners. Harris, who owns two dogs, says he was impressed by the strong emotional bond between animal and human. The PBS show debuts April 21st - check your local listings.

Dog Added To Alice in Wonderland
Director Tim Burton's Alice In Wonderland is currently raking in the cash at the box office. One of the main Lewis Carroll characters from the book is of course the Cheshire Cat. Burton told the L.A. Times it "was a character I had a very specific image of and it's because I just have this thing about cats." Burton admitted he hates cats, which is probably the reason for a character in the film that did not appear in the book - a bloodhound. Burton admits it "may be a reaction against the Cheshire Cat."

Surgical Debarking Banned
The Massachusetts House voted to approve a ban on surgical debarking of dogs or cats. The surgery, which removes the vocal cords of the animals, is sometimes used as a last effort for chronic barkers. The bill, which is now in the Massachusetts Senate, passed the House by 150 to 1 and prohibits the surgery unless it is medically necessary due to illness or injury.

Debate Over Protection of Tiger Salamander
California state wildlife officials ruled in favor of the tiger salamander, protecting its habitat from encroaching development and vintners. While one side says the tiny amphibian deserves protection as an endangered species the other side says the loss of habitat is exaggerated. A spokesman for the Wine Institute says the projected loss is considerably overstated. The problem is the tiger salamander is found in nearly half of California's counties.

Love Sick Hawk Terrorizes City
The residents of the seaside town of Stonington, Connecticut are being strafed by what wildlife experts are calling a "love sick" red-tailed Hawk. So far, the raptor has dive-bombed one female pedestrian causing a gash in her head and the hawk has stolen headphones off a man on a lawnmower and a boy's hat. The hawk has even attacked a car. But so far, animal control officers are only planning on moving the hawk's nest to a less populated section of town.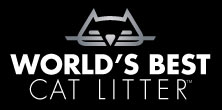 NEWS UPDATE Brought To You By World's Best Cat Litter™
Listen to the entire Podcast of this show (#537)