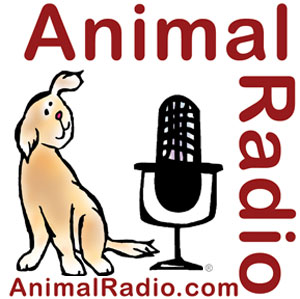 Animal Radio® Show #642 March 24, 2012
Dancing With The Stars (& Animals!)
Judge Carrie Ann Inaba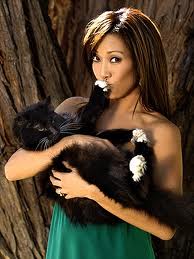 Carrie Ann Inaba will take time out from prepping for the 14th season of the hit ABC show, Dancing with The Stars, to host The Humane Society of the United States' 26th Genesis Awards. The Genesis Awards honor the news and entertainment media for their outstanding reporting and creative portrayals of animal protection issues in 19 categories, and will be held on Saturday, March 24, 2012, at The Beverly Hilton, Beverly Hills. While Carrie Ann has attended the Genesis Awards in the past, she is honored to be the host for this year's awards.
There are some amazing nominations for this year's feature films awards, including Dolphin's Tale, Rio, Rise of the Planet Apes and Warhorse. When asked which feature film was her favorite, Carrie Ann replied, "I loved Dolphin Tale, but I might to have to go with Rise of the Planet Apes." She didn't want to give the movie away to people who haven't seen it, but she encouraged anyone who loves animals to go see it. She said for those who liked the Planet of the Apes TV series, don't worry about comparing the two, because the movie takes it into a whole new dimension, sort of into the future, so you immediately let go of what the television series was about.
Carrie Ann currently has six cats and two new puppies living with her at home. She adopted one of her dogs, named Peanut, just yesterday, but is not sure of the breed. She said it is possibly a mixture of Chihuahua, Pug and Terrier. She is also solid black, because Carrie Ann knows how hard it is for black animals to be adopted. In fact, Carrie Ann had originally featured Peanut on Access Hollywood Live, which she did with Billy Bush. She felt that she had a connection with Peanut and casually mentioned that if Peanut didn't get adopted on the show, to call her. Sure enough, one week later, she received the call. Carrie Ann had thought that Peanut would get along great with her other dog, Cookie, the eight-year-old Boxer. However, Peanut fell in love with the cats!
Carrie Ann decided she wanted to do more to help animals after her beloved 19-year-old cat, Shadow, died in October. Nineteen years ago Shadow chose her by walking in her front and never leaving.

As a result, Carrie Ann has a new project in the works: She's the executive producer of Crib Cat, a new web show scheduled to debut in March on Petsami.com. The weekly show will put cats from no-kill shelters in the spotlight, in the hopes of finding them new homes.
Carrie Ann finds it interesting that the people she meets in the animal loving community "Are probably my favorite people I've met out of any community that I've met!" She adds, "I finally feel like I've found my community that I'm sticking with!"
Carrie Ann is staying busy with the animals and states that, "I feel complete now. It's nice!
NASCAR and Animals Mix!
Cory Joyce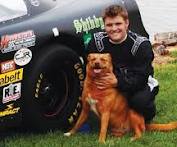 NASCAR Driver Cory Joyce loves racing, but he loves animals as well! Cory adopted his dog, a Pit Bull-Lab mix named Macy, from a homeless woman when the animal was 3 months old. He keeps her photo on his cell phone, ready to show anyone who asks. Cory took his dog to the racetrack the first weekend. Nowadays you can find her under the car with Cory, but instead of handing him tools, she licks him in the face.
If you've seen Cory's car on the racetrack, you have no doubt also seen the permanent spot for the Humane Society logo on the hood of his car. Cory does this to remind people that there are still animals out there that desperately need homes.
Cory has always had a soft spot for animals and he wanted to help out other animals to make sure that they have homes and people to care for them. Besides volunteering at his local shelter for years, Cory is also a spokesman for the North Carolina Shelter Project and will be touring various facilities around the state to promote animal welfare.
Cory also uses his fan club to help the animals. While the fan club will showcase fan support, Cory Joyce Racing is also encouraging membership for a good cause. He hopes to reach 10,000 members at which point they will donate a total of $10,000 to the non-profit organizations of his choice, with $5,000 going to both The Humane Society of the United States (HSUS) and the Humane Society of Charlotte (NC).
The Dogfather's Grooming Tip with Joey Villani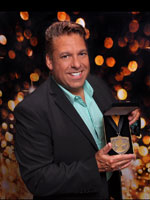 Brushes, Combs & Rakes - OhMy!
Most of Joey's tips actually come from his clients that he sees in his grooming salon. This week's tip comes from a woman who came in and was upset when her dog had to be completely shaved down. Joey didn't say it, but he wanted to tell her the dog had to be shaved down because she only comes in twice a year and does nothing to her pet's coat in between visits!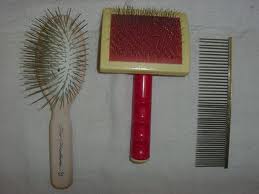 Joey says there are three things you need to know about when it comes to grooming your pet: brushes, combs and rakes! If you want your dog to look beautiful, you need to use these three items!
For a shorthaired dog that sheds, you need a rubber curry brush and a short-pinned rake. For a dog that has knots and tangles, you need a slicker brush. For a dog that doesn't have any knots or tangles, and you are going to maintain it every day, you need a pin brush.
First, brush your dog and then go through them with a comb (and a short-pinned rake for the shedding dog). They are now ready for a professional groomer to finish the job and make your dog look beautiful.
Remember, your groomer can't perform miracles. You need to start at home and groom your dog regularly in order for the beautiful end result!
Animal Radio® News with Stacey Cohen
Breed Often Determines Name
You can't always judge a dog by its breed, but you can often judge breed by a dog's name, so finds a new analysis of thousands of canine companions, with the data revealing very specific naming patterns for different types of dogs. The research offers the first evidence that it's not just your imagination that there are a lot of Rottweilers named Rocky, poodles named Coco and Shih-Tzus named Gizmo. "The names you like, and the kind of dog you like, seem to inform each other," says Laura Wattenberg, a noted naming expert. "If you love the idea of a dog named Jethro, it says a lot about the breed of dog you'll want." Wattenberg, best known as an authority on baby-naming trends, plumbed the websites of animal shelters and high-end breeders alike in compiling her list of some 5,000 dog names and photos. Though a number of common themes emerged, she found the type of name chosen was frequently dependant on the breed. "Human names are rising across the board. But the kind of name you choose probably depends on the breed and your lifestyle," says Wattenberg.
$16,000 Cosmetic Surgery For Dog
There's little doubt that a U.K. couple loves their dog. According to the Daily Mail, Denise and David Smart have spent almost $16,000 on cosmetic surgery for their bloodhound Junior. The Smarts' pet pooch suffers from a rare condition that causes excess skin to develop. The folds of skin nearly caused Junior to lose his sight and prevented him from running. To correct the issue, the Smarts paid for operations like a tummy tuck and facelift. Denise says, " Junior looks like a young man again," adding that he's got a new passion for life.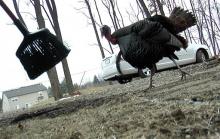 This Stalker's a Turkey!
A Commerce Township, Michigan woman remains locked in a battle with a nemesis apparently trying to take over her yard. Edna Geisler has to combat the same 35-pound wild turkey each day when she attempts to come outside, with the bird gobbling loudly and preening in front of her. Geisler says that while she doesn't want to call animal control, the turkey is now a constant problem. The turkey that Geisler has dubbed "Godzilla" spends the night with other wild turkeys on state land behind her property, but returns the next morning to stalk Geisler all over again.
$50.96 Billion Spent On Pets In 2011
Americans spent $50.96 billion on their pets in 2011. That's an all-time high and the first time in history that more than $50 billion has gone to the dogs, cats, canaries, guppies and the like, the American Pet Products Association said in a new report. Food and veterinary costs accounted for about 65% of the spending. But it was a service category -- one that includes grooming, boarding, pet hotels, pet-sitting and day care -- that grew more than any other, surging from $3.51 billion in 2010 to $3.79 billion in 2011. The pet industry is also a major attraction for entrepreneurs and investors looking for creative and innovative products. The trend is toward very specific items geared to the specific needs of pets. We are seeing a lot of puzzle feeders for dogs — not just toys but ones that are geared toward the mental needs of the animal. Then there are bionic toys for destructive chewers - a lot of very niche items.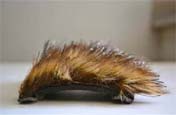 Robo-Bunny
Pets can have positive effects on their owners' emotions, the logic goes, so would a robot pet be able to do the same? A robo-bunny developed at the University of British Columbia can mediate its users' emotions, calming them down or cheering them up by leading them through deep-breathing exercises, for example. The robo-bunny also has a pulse and can stiffen or relax its ears. But for now, users of the robo-bunny need to be wired up to biometric sensors for the rabbit to sense the user's emotional state and react. Developed by graduate student Anna Flagg, the sensor — right now just a square blob a few inches long, vaguely reminiscent of a furry Star Trek tribble — can tell the difference between a pet, a scratch, even a breath and ultimately will recognize up to 30 gestures. The end goal of this would be to try to infer a person's emotional state, given how they're touching the fur. Imagine a cat that, instead of biting you when you scratch it too hard, rolls over and purrs. The one thing a robot can do that's different from an animal is truly being in the service of its owner and doing what the owner needs it to do.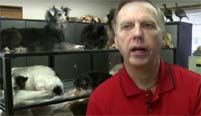 Freeze Dry Your Pet
Our pets. When they're with us, we often think of them as our companions, our best friends, even family. When they die, it is often a painful loss. Now, that emotional connection between owner and pet has many animal lovers turning to a growing trend, but not without controversy, of freeze-drying them. In late March of 2010, Maggie suffered a heart attack and collapsed. She died later that night in the hospital, leaving her owner, Tim, in grief. "I just grabbed her, went outside and she died in my arms," he said.Tim thought of ways to say goodbye. So he went to a taxidermy shop, Anthony Eddy's Wildlife Studio in Slater, Missouri, which specializes in freeze-dry technology used to preserve animals and wildlife. "Pet preservation has become a big part of our business," said owner Anthony Eddy. "People say they just can't stand to bury it or have it cremated. Once they find out that there are other ways to deal with a love one. This is an alternative and they choose it." The pets are posed, frozen forever in time. Pet owners are willing to spend thousands of dollars have a lifelike representation of their animal in their homes.

NEWS UPDATE Brought To You By PetzLife.com. Use the code "RADIO" to receive 20% off!

Listen to the entire Podcast of this show (#642)