Animal Radio® Show #434 March 29, 2008


"Bart Simpson" Nancy Cartwright


She is recognized as one of the world's leading voice-actors, Bart Simpson. Nancy Cartwright, who voices the character Bart Simpson on "The Simpsons" shares her feelings for her pets. Nancy tells us that pets have always been a major part of her life.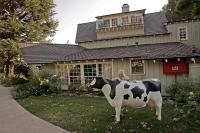 Nancy lives with a ranch-full of animals including a plastic cow affectionately named "Milk-Dud," which she says is only appropriate because one of Bart's catchphrases is "Don't have a cow, man!"
Besides the Bart Simpson character, Nancy's achievements as an actor include dozens of credits in television, film and theatre.
http://www.NancyCartwright.com



Vladae, The Russian Dog Wizard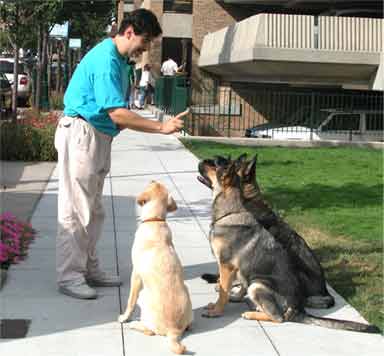 If you are fighting a loosing battle with your dog, it is because you are making the usual common mistakes. Do you want a well behaved dog? Vladae, the World Famous Russian dog Wizard, teaches people how to control their pets
Why doesn't my dog listen to me?
Vladae states that most people speak English to their dogs when they should be speaking "Doglish." He emphasizes that you should do what a mother dog does to teach her young:
Don't give any commands you can't enforce
Reinforce what you say
Don't repeat any commands
Why does my dog listen to my husband more than me?
Want to be the Alpha Female in your word? Vladae gives some great tips on how to make your dog listen to you with using only a 15-inch length of cotton rope and cutting it back one foot per week.
My dog bolts out the door!
Tie a lead to your dog and the front door. Next time he bolts, he will be stopped automatically by the lead.
Vladae's DVD "Obedience for Life" is a dog-training program available on two interactive DVDs. You can quickly and easily teach your dog how to obey you with the affective methods that deliver astonishing results.
http://www.controlyourpet.com
http://www.animalradio.com/vladae.html



Bob Barker
Los Angeles Spay-Neuter Law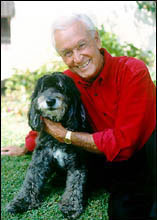 Bob Barker is best known as ringmaster for the game show The Price Is Right, a job that he held from 1972 until his recent retirement. Barker is also an outspoken member of the animal rights movement.
Since his retirement, Barker has spent a considerable amount of time championing animal rights. He was involved with moving two elephants, Ruby from the Los Angeles Zoo and Maggie from the Alaska Zoo, to a more suitable habitat for elephants called PAWS (Performing Animal Welfare Society) in Northern California.

Recently, Barker was directly involved with the passage of a Los Angeles Spay/Neuter ordinance - which requires most dogs and cats to be spayed or neutered by 4 months of age.
"I've been so busy I wonder how I ever had time for a TV show," Barker states. Barker is currently working on Bill AB 1634, which will require most cats and dogs in the entire State of California to be spayed or neutered by 4 months of age.



NEWS UPDATE: King of Pop Michael Jackson Loses His Pets


There's no doubt that Michael's been going through it lately. The fallen King of Pop will probably lose his ranch and now it looks like he can wave goodbye to the Jacko Jungle too. The Voices of the Wild Foundation, a non-profit animal sanctuary in Page, Arizona (not too far from here) has adopted the bulk of Jacko's zoo, including 4 giraffes, 9 parrots and 3 giant pythons. Jackson's 2 caymans and 2 anacondas will join the crew in a few months.
Currently, the animals are living in a temporary setup, but the Voices of the wild Foundation recently announced plans to build a multi-million dollar 186-acre wildlife preserve, and that will house Michael's critters, as well as a slew of other needy creatures.
Now it's been reported that the animals have arrived in good condition with no signs of mistreatment. The foundation is even letting Michael visit his ex-pets whenever he would like.

Preserve manager, Marc Chandler said: "It's not that he gave them up because he didn't want animals anymore. It was a financial situation and they were caught in the middle of it. Michael is welcome to be a part of their lives."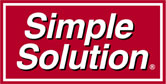 NEWS UPDATE Brought To You By Simple Solution Natural Line Of Products



Wigs for Dogs


Ruth Regina, Wiggles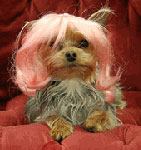 The day of emulating celebrity hairdos is now no longer reserved for fans or even humans!
Wiggles is the brainchild of Ruth Regina, a master wig maker whose notoriety in her field spans a half a century. The lover of her art and the love of animals make an odd and unique coupling twenty years ago when a friend asked her to make a wig for her beagle. One order turned into many, one interview turned into a series of high profile engagements and Wiggle Dog Wigs was born.
Wiggles takes the same level of quality found in her hair products for Ruth Regina's two legged customers, for those on all fours. A true professional at custom wigs, Ruth designs and manufactures the wigs specifically for canines keeping their comfort the primary concern.
Ruth recently made a Mohawk wig for the dog of Motley Crue's Nikki Sixx to wear on the red carpet.
Originally a sideline to Ruth Regina's primary business, the volume of interest people have shown has extended the activity of Wiggles and the time she devotes to her canine friends.
http://www.WigglesDogWigs.com



Einstein - The Trained Goldfish
Britt Savage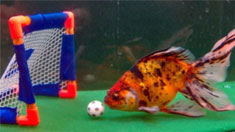 Studies are showing that the common goldfish may be a lot smarter than we thought. Nine-year-old Kyle Pomerleau agrees. He won Albert Einstein the goldfish at a school fair and soon noticed that the fish would react to him whenever he came near the tank.
Kyle and his dad decided that they would try to train the goldfish to do something. They first bought a finger soccer kit from a dollar store and rewarded Albert with food every time he swam near the net. As soon as Albert got the net trick, they added a ball. Soon Albert was trained to push the ball into the goal for a treat.

The father and son training team have heard from so many people eager to train their own fish, they've now started selling fish training manuals from their fish school website http://www.fish-school.com. They say it takes about five or six training sessions a day for about three weeks to teach most goldfish how to swim through a hoop.



Home Sweet Home, Where Bailey the Buffalo Roams
Jim Sautner, Bailey the Buffalo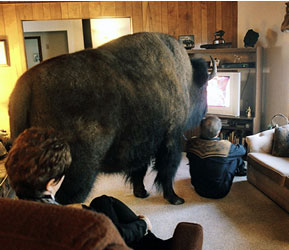 For thousands of years, the majestic North American buffalo roamed freely over the wide-open Canadian prairies. Today, most of these brown, woolly beasts spend their time grazing on ranches - or in the case of Bailey, watching TV in the living room of an Alberta family's home.

Jim and Linda Sautner are the proud owners of Bailey, who has a penchant for spending his time inside the couple's home, about 20 kilometers west of the provincial capital of Edmonton.

"My wife wouldn't let me bring my German shepherd puppy in the house one day, so I got even with her by bringing Bailey in," Mr. Sautner said.

"He's made a mess on the carpet a couple of times, so now we bring out an ice-cream pail whenever he gives us that look."

The Sautners, who own 270 head of buffalo, have become used to having the 725-kilogram beast watching television in their lounge room. "He prefers to watch The Nature of Things," Mr. Sautner said, referring to a Canadian nature series.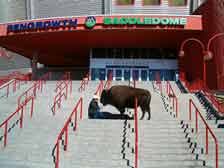 The couple rescued Bailey as a baby, after the calf was abandoned by his mother. Along with farm hands, they bottle-fed Bailey with milk daily and their affinity for one another grew rapidly. Christmas was especially memorable at the Sautners with 21 wide-eyed guests sitting down to a dinner of mashed potatoes and gravy, vegetables, and buffalo meatballs - with the furry giant snorting behind them.

The laid-back Bailey, who has been neutered, has been involved in some unusual promotional stunts, including showing up in the lobby of three-star hotels and climbing with Mr. Sautner to the top of a grandstand at the Calgary Stampede rodeo.
http://www.BaileyTheBuffalo.com



"The Talking Pug"


Erica Volkman with Odie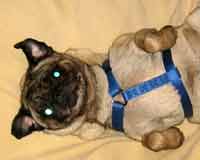 We all love our animals and believe that our animals love us in return. But when our animal actually says "I love you", that is a special treat. And Erica Volkman has such a treat in her life, named Odie.
Odie is a pure bred pug who is about nine years old. He lives in Pittsburgh, PA with his two owners Erica and Ruth Volkman. They adopted Odie when he was about 5 years old, and after a few months, they found out that Odie is a pug that can say, "I LOVE YOU!" Anyone who sees Odie's trick is rendered speechless, followed by hysterical laughter.
I wonder if his previous guardians knew of his special talent - they would have given Odie up!
http://www.TheTalkingPug.com


Listen to the entire Podcast of this show (#434).

Broadcast on XM Satellite Radio Only.

Listen to Animal Radio® - Go to the launch page
Return to Animal Radio Network™ Home Page
Read March Newsletter
Copyright 2008 All Rights Reserved Animal Radio Network LLC