April 1st 2006
Grant Aleksander, Guiding Light

Grant Aleksander briefly modeled and waited tables before landing in the soap Guiding Light in 1982. He left the show two years later, but returned twice ­ from 1986-91 and 1996-95. Grant knew at an early age that something was wrong with eating animals when his mother took him to the local meat factory. Grant and his wife, who are both vegetarians, currently live with many animals at home.
Grant is one of the special host of the Farm Sanctuary's 20th Anniversary Gala, which will bring together celebrity supporters, key legislators and animal advocates to honor farm animals and those who have fought so tirelessly in their defense.
The Farm Sanctuary Anniversary Gala will be held on Saturday, May 20th in New York, and will consist of a 3-course gourmet vegan dinner (and if it is like last year's ­ will leave you licking your plate!) a silent auction and entertainment. Tickets are $300 per person and the registration deadline is May 15th. To purchase your tickets or for more information about the event, including product donations, sponsorship and advertising opportunities and auction contributions to support the event, please contact: 607-583-2225 ext. 221 or gala@farmsanctuary.org
Talk With Your Animals
Joy Turner
Mikki was adopted from a shelter two years ago, and her guardian wants to know why she is afraid of metal. For example, she will not walk across metal, such as in manholes and hates going across bridges that have metal. Joy explains that Mikki is not actually afraid of the metal, but afraid of the openings underneath. She fears they won't hold her and they will collapse.
http://www.TalkWithYourAnimals.com
Cat Comforts Grieving Orangutan
Britt Savage
Tondalayo, a 45-year-old Sumatran orangutan, and T.J., a stray tabby cat, became an inseparable duo after a zoo employee introduced them late last year. Stephanie Willard, Education Director at Zoo World in Panama City Beach, said Tondalayo was depressed since losing her mate two years ago.
Her age prevented her from moving to another zoo or taking another mate. The ducks and turtles swimming in a moat around her island were not enough, Willard told the Panama City News Herald for Thursday's editions. When the sweet-natured orange cat wandered into Willard's life, the solution became clear.
"It's an unbelievable match," Willard said. "This has worked out a lot better than I expected it to. She's got brighter eyes now. He's brought a lot of light to her." Zookeepers named the cat, T.K. short for "Tondalayo's Kitty." They play together, cuddle and sleep together each night. They have been together constantly for more than a month "
He's perked up Tonda more than anything," Willard said.
Choosing the Right Pet the First Time
Dr. Jim Humphries, Veterinary News Network
There are three main things you need to consider when choosing a pet:
1. Which pet works best for you?
2. Who will be responsible? Remember, if a child will be taking care of the family pet, choose the child by maturity not age; and
3. What happens later when the kids grow up and leave?
House Arrest for Lewis, the Not-So-Cool Cat
In Britain authorities have imposed a restraining order on a cat accused of terrorizing its neighborhood.
Lewis has attacked at least six people and ambushed an Avon sales representative as she was getting out of her car, the Connecticut Post reported.
The order means that Lewis, a black-and-white long-haired tomcat, is effectively under house arrest, while his guardian, Ruth Cisero, has been charged with reckless endangerment.
Meditation for Dog Lovers
James Jacobson, How to Meditate With Your Dog


From Schnauzers to Shepherds, and Dachshunds to Dobermans, dogs are natural meditators. Meditating with you improves your dog's health and well-being, and makes his tail wag just a little bit wider. It also helps excitable dogs become calmer, aggressive dogs become more loving, and anxious dogs become zen-ishly calm.
Unsure how to start? Let your dog be your guru. In this "tail," dog-lover and life-long meditator, James Jacobson and his dog, Maui, unleash the simple, non-dogmatic meditation method that they have been teaching and using for over a decade. Their method makes this ancient practice so doggone simple that it works with any size, age, or breed of dog. To hear excerpts from the book call 800-675-3290 or visit http://www.meditationcdgift.com.
Reciprocal Nature of Rescue
Ken Foster, The Dogs Who Found Me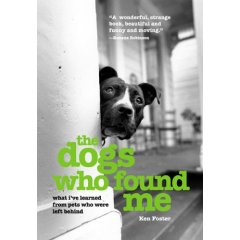 Ken Foster is a disaster-prone writer and reluctant dog rescuer who finds himself literally
in the eye of the storm during two of our nation's most devastating crises: the 9/11 terrorist attack on the World Trade Towers and years later, Hurricane Katrina. Are you, or do you know someone who can't walk by a stranded dog? Well, Ken Foster is one of those people. Foster shares the stories of the dogs who found him, from a beagle abandoned in a New York City dog run to a pit bull in a Mississippi truck stop. These and other dogs offer Foster a sense of control in tragic days and moments of personal crisis, even when Foster faces the loss of two friends and his own near fatal heart condition.
For those of us who raise dogs, the challenges are part of the appeal. And perhaps that's the key difference between dogs and other domestic pets: We raise them," observes Foster.
With advice on finding good homes for abandoned dogs, how to read a dog, and ways to test a dog's temperament without ever taking him out of his cage. A survivor of major disasters, Foster also offers advice to help pet owners prepare for the unexpected.
An Unusual Houseguest
Shirley Allen, Least Resistance Training Concepts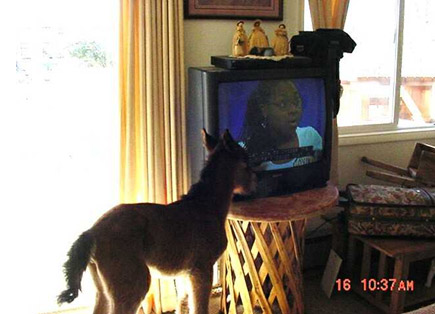 The prognosis was good Sunday for a wild horse found suffering from hypothermia after being abandoned at birth by its mother in the high desert of northern Nevada.
Wild horse advocate Shirley Allen said the animal -- named Heidi -- continues to recover after being placed on antibiotics and housed in a bedroom of her Dayton home. "She's running and playing and bucking and having a good time," Allen said Sunday. "She's a bouncing baby girl."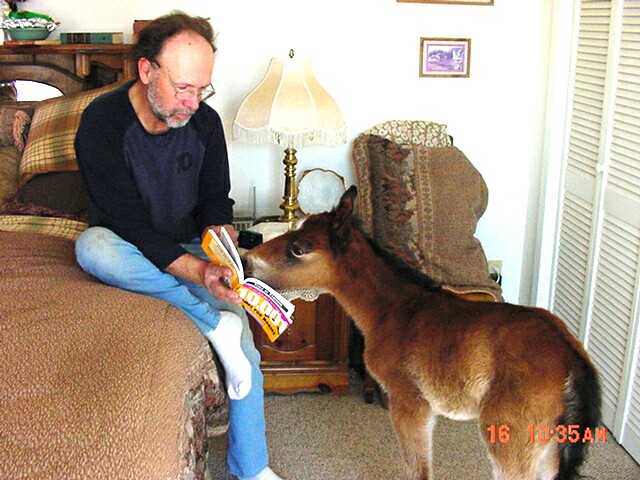 Things looked bleak after she was born in freezing temperatures in Stagecoach about 20 miles east of Carson City. Her mother soon bolted from the area with some other wild horses, and a Stagecoach resident notified authorities several hours later after the mother had failed to return.
Nonie Higley, Lyon County animal control officer, found the foal later that day with her tiny head poking over the grass, unable to walk. She took her to Allen, who rescues the animals along with husband Bruce under a program sponsored by a wild horse advocacy group known as Least Resistance Training Concepts.
Heidi now weighs about 60 pounds and is allowed to play outside, Shirley Allen said. Plans call for her to stay in the home for several more months until she's adopted.
"We try to leave Mother Nature alone and try not to interfere unless there's a situation that God puts right in our face," Allen said. "If God puts something in front of you, it's our responsibility to help that baby or critter."
Heidi may have a permanent home awaiting her as a Wellington family has expressed an interest in adopting her, Allen said. "I've been in on a lot of rescues, but this one was the greatest," Higley told the Nevada Appeal. "I love the mustangs. I think they're a gift from God to us here in Nevada, and we're kind of pushing them out."
More than half the nation's wild horses are in Nevada. "Nevada quarters" recently issued by the U.S. Mint depict three wild horses galloping across a valley.
A High-Powered Romance Novel for Animal Lovers!
Ron Hevener, High Stakes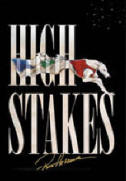 Author/Artist Ron Hevener specializes in animals and the romantic, adventurous people who love them. His latest novel, High Stakes, is a dramatic story of a lost dog and the adventurous people who love him.
An accomplished artist who started by selling handmade souvenirs to tourists at farmers' markets, Mr. Hevener's collectible figurines and the prints from his novels are now bought and traded throughout the world. His original paintings and sculptures are sold in galleries, displayed in museums and can be found in many private collections.
Today, Ron Hevener's illustrated animal stories are published regularly in magazines, newsletters, newspapers and on websites around the globe.
Listen as Ron explains the difference between Animal Welfare and Animal Rights.

Seals - Enchanting Us on this Earth and Beyond
Rae Ann Kumelos, Voice of the Animal
Discover how seals are part of many an Irish family's ancestry, bring good luck to those who help them, and inspired the name of the tenth planet in our solar system.
http://www.VoiceOfTheAnimal.org
The Declaw Hall of Shame
The Declaw Hall of Shame publishes the names of veterinarians and animal hospitals as well as other individuals and organizations that practice, promote, and perpetuate the cruel and needless practice of digital amputation, popularly and euphemistically known as declawing.
declaw
Please boycott the veterinarians and clinics listed on this site. Contact them and let them know that their behavior is inhumane and unacceptable.
http://www.DeclawHallOfShame.com

View Animal Radio Network® Broadcast Schedule in a new window.


Listen to Animal Radio® - Go to the launch page


Return to Animal Radio Network® Home Page
Copyright 2006 Animal Radio Network®