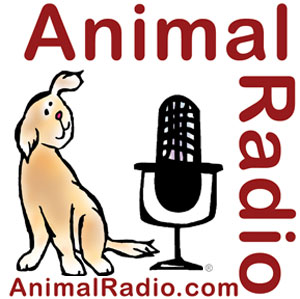 Animal Radio® Show #591 April 2, 2011
Adventures in Taxidermy
Melissa Milgrom, Still Life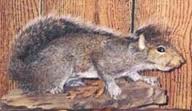 People--even her own parents! - asked Melissa Milgrom what sparked her interest in taxidermy. She tells them that in 1994 she went on a safari gone awry, which led her to the family workshop of the last chief taxidermist of the American Museum of Natural History. She was expecting him to be creepy like Norman Bates in Psycho, but he was a gentle naturalist, and his studio with its skeletons and birds, the beauty and the strange tools, evoked Darwin's study. The contradiction pulled her in, and still does.
Melissa even feels that taxidermy is like karaoke. She explains that they both are passionate mimicry. Taxidermists, contrary to what most people believe, and even what Melissa believed, love animals the most. They are obsessed with getting every whisker in place, and like when we sing karaoke, we are mimicking our favorite singers. The taxidermists want to breathe life into their most favorite creature.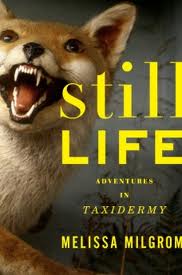 Taxidermists usually don't like to do pets, because it is difficult. It is really difficult to satisfy a grieving pet owner and get the expression right. Plus, the pay is not very good.
There is one taxidermist in England, Emily Mayer, who will preserve a pet. However, Mayer will only do this as a service to a grieving pet owner who really needs an effigy of their animal and feels the loss like the death of a child. She also does not charge for this service. While she does try to talk them out of it, she does like the challenge of getting it right.
In doing research for her book, Still Life, Melissa mounted a squirrel that sits on a bookshelf in her living room., which occasionally freaks out the neighbor's kids!
Paw-Parazzi Pet Photo Contest
Steve Pinetti, Kimpton

At Kimpton, they love pets so much that they have set out to find the cutest and most photogenic pet out there by kicking off the Kimpton Hotels Paw-Parazzi Contest.
Anyone can upload a pet photo to their site. Every two weeks, the five photos with the most "Like" votes will win pet-tacular prizes from their partners such as Olive Green Dog, Polka Dog Bakery, and Republic of Paws. The contest runs for three months through May 31, 2011.
On June 1, 2011, judges from Animal Radio will select the Grand Prize photo from the 30 bi-weekly winners for the "Ultimate hosPETality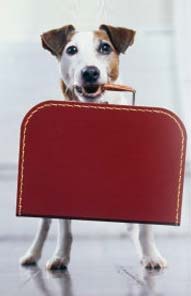 Getaway" which includes:
A two night stay at a Kimpton Hotel of the winner's choice
Two round trip tickets on JetBlue for human passengers
$500 credit for the photogenic pet on Pet Airways, a pet only airline
One $100 Kimpton Restaurant or in-room dining gift certificate
One in-room spa treatment for two
An Amelia Collection Carrier by Sherpa Pet Carrier
Use of pet amenities such as a dog bed, bowl, and treats
One of the prizes of the contest is a $500 credit on Pet Airways. We speak with Alysa Binder of Pet Airways, who tells us that Pet Airways is the only pet airline that flies pets in the main cabin and not in cargo. There is always a pet attendant monitoring and caring for the animals at all times. Pet Airways provides the necessary carriers to make sure your pet is safe and secure during flights. Pet Airways currently flies out of Fort Lauderdale, Florida; Orlando, Florida; Atlanta, Georgia; Baltimore/Washington; New York, New York; Chicago, Illinois; Omaha, Denver, Colorado; Nebraska; Phoenix, Arizona; and Los Angeles, California., and are always expanding. The airline flies animals only, not humans.

Anyone may enter by logging onto kimptonhotels.com to upload a photo of his or her pet.
What are you waiting for!

Dodge Journey Pet Destinations
What Is Your Favorite Place To Take Your Pet?
People who have pets love to travel with them. At Dodge, they have made it easier with their pet friendly vehicle, the Dodge Journey, which contains concealed storage bins, Chill Zone glove box cooler and second-row dual in-floor storage bins with removable and washable liners (very handy for muddy paws!) Call us with your favorite place to take your furry-friend: 1-866-405-8405.
This week's Dodge Journey Pet Destination: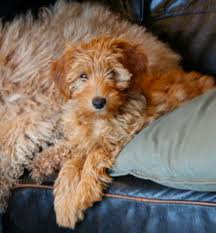 Sharon is a trucker and travels around the country. She has a Labradoodle named Phoebe who has been riding with her in the truck all of her life. One of her favorite places to take Phoebe is the Executive Suites in Wichita, Kansas. Having a big parking lot for her truck is very important to Sharon, and the Executive Suites can accommodate her, her dog and her truck very easily. The Executive Suites are very "trucker" friendly and even offer free laundry and breakfast.
To view Past Dodge Journey Pet Destinations, click here.
Tropiclean Best Smile Contest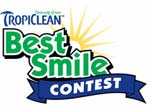 Your pet could be a winner! Share a photo of your smiling dog or cat and tell everyone why your pet has "TropiClean's Best Smile." You could win a $1,500 contribution to your favorite animal shelter plus a $500 VISA gift card and more for yourself – and there are new prize drawings every month! All entries must be submitted by June 30, 2011 to be eligible for the Grand Prize!
To submit a photo of your pet, visit www.TropiCleanBestSmile.com and create an account. Once registered, log in to upload your favorite photo of your smiling pet. Don't forget to let us know why your pet has TropiClean's Best Smile too! Got more than one pet to show off its smile? Go ahead and upload their picture too.
The Dogfather's Grooming Tip with Joey Villani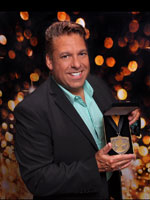 Painting Your Cat
A caller, Donna, can't seem to find a calico cat this is mostly white. Donna saw a book about people who paint their cats, so she asks Joey how she can paint red and black polka dots on a white cat. She had heard about the Kool-Aid he recommended before to dye an animal, but she is looking for something more elaborate.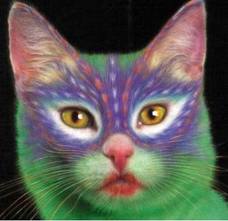 Joey said he attends many grooming events which include creative grooming. This is where this type of dyeing is actually done to dogs and cats, and it is pretty wild!
Joey suggests looking on the internet for safe pet dyes. But if you are looking for something quicker, go to your local beauty supply store. There, you should be able to find Manic Panic, which is a real vibrant dye that is safe for dogs and cats and is usually used on children. If your pet happens to lick his fur, it will not harm him.

DOGFATHER'S GROOMING TIP Brought To You By SeniorPetProducts.com. Use the code "SAVE25" to receive 25% off!
Animal Radio® News with Stacey Cohen
Crying Fowl Over Punishment
Some New Jersey high school students are crying fowl over the punishment they could receive for releasing live chickens in their school. The three seniors don't think the punishment fits the crime. They confessed to putting the live birds in the Woodbridge school one night last month. A janitor found them before school started in the morning. The trio could be facing trespassing and disorderly conduct charges, plus they're being told they might not be able to go to the prom or participate in graduation. One of them told CBS News in New York, quote, "It's not fun anymore. No one knows how to have a good laugh."

Dolphin Jumps In Boat
An enjoyable day on the water turned into a scary encounter with Mother Nature for one Florida woman. The "Naples Daily News" says JoAnn Lorek was on a private boat on the Marco River when a 600-pound dolphin jumped onboard. The dolphin sprained Lorek's ankle as it came crashing down, and left her with several bruises. Local authorities were eventually able to get the dolphin back in the water before it suffered any major injuries. Lorek says she still plans to go boating in the future, but says her upcoming tennis plans will probably be put on hold.
Croc Wrestling Not Recommended
A gym teacher in the U.K. had to take a few days off from work after messing with a dangerous animal. Scott Brand tells the "Daily Mail" that he was on vacation in Zimbabwe when he and a few friends decided to do some "croc wrestling." Brand, who admits he had been drinking, wound up getting his arm bitten by a four-foot crocodile. The 21-year-old put a bandage on the wound, but when he returned to the U.K., his arm became swollen. Brand wound up needing surgery for blood poisoning, but says the incident has made him something of a star at school. He remarks, quote, "Everyone is calling me croc bait or Mick Dundee now."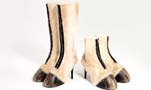 Animals Aren't The Only Ones Who Can Wear Hooves
Horse lovers can now sport the same shoes as their favorite animal According to the U.K.'s "Orange" news, a gambling company called BetFair has commissioned fashion designers to create boots that look like horses' hooves. BetFair decided to create the unique shoes to celebrate the 100th anniversary of the U.K.'s Cheltenham Festival. Each boot features a carbon-fibre hoof and as many as five thousand genuine horsehairs. Louise Dainton got the opportunity to model the boots, and says they're "really comfortable." She adds, quote, "I'm not sure they are for everyone, but I definitely want a pair of hooves."
How You Can Help With The Japan Earthquake Disaster
Relief organizations and governments around the world are responding to help people, and now several groups are stepping in to assist the animals impacted by the Japanese disaster as well. There are a number of ways for people here and abroad to help the people and pets that were hurt or displaced.
Organizations:
World Vets is an internationa
l veterinary aid organization that provides "free veterinary aid, resources and support during times of disaster all over the world".

The National Disaster Search Dog Foundation is a non-profit, FEMA-certified agency that searches for survivors in the wreckage of catastrophic events such as the one is Japan. NDSDF has already deployed six Canine Disaster Search Teams to respond to the current crisis; each task force is made up of approximately 72 members, including both humans and Urban Search and Rescue dogs, and some 75 tons of rescue equipment. To learn more and/or send a donation, click National Disaster Search Dog Foundation for their website.
Japan SPCA is taking in lost animals at their shelter as well as organizing and contributing to relief efforts. They have set up a PayPal fund for donations. A donation of 2000 yen is equal to about $25US.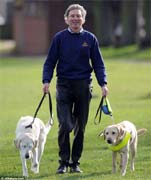 A Guide Dog For A Guide Dog
A guide dog in the U.K. is now relying on one of his own. Graham Waspe has owned Edward for six years, but was forced to get his guide dog a guide dog when Edward lost both of his eyes due to inoperable cataracts. Waspe tells the U.K.'s "Orange" news that he couldn't stand the thought of losing Edward, so he decided to get a new dog that would work for them both. Waspe, who is blind, says their new dog Opal has been a great fit for their family and Edward. He adds, quote, "Since losing his sight last October, he had just adapted incredibly well. He and Opal are very affectionate and just love to lie down together."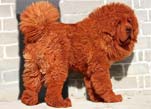 World's Most Expensive Dog
If you thought paying a few thousand dollars for your purebred Golden Retriever hurt your wallet, consider what you could have paid for one very special Tibetan Mastiff. Big Splash, or "Hong Dong" in Chinese, is an 11-month-old that recently sold in China for $1.5 million. The dog, which stands nearly three feet high and weighs more than 180 pounds, was sold in the eastern Chinese city. The Telegraph Newspaper in the United Kingdom reports that Tibetan Mastiffs have stood watch over nomad camps and monasteries on the Tibetan plateau for centuries have been bought by the very wealthy as status symbols. This dog will probably be used as a stud and Fetch up to 100,000 in stud fees!
Listen to the entire Podcast of this show (#591)

indicates XM Satellite Radio and Podcast versions only.