Animal Radio® Show #539 April 3, 2010

indicates XM Satellite Radio and Podcast versions only.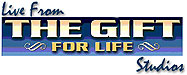 Animal Radio's New Pet Product Special 2010 is LIVE from the Orange County Convention Center in Orlando, Florida. It's the GLOBAL PET EXPO and we're giving away one of each new pet product we feature. Brought to you by KURGO.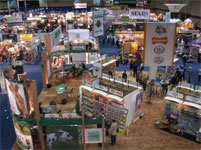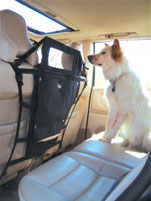 Kurgo Backseat Barrier
Dogs moving around freely in cars are a safety hazard to themselves, the driver, and the passengers. The Backseat Barrier keeps everyone safe by creating a strong wall between the front and back seats of the car. This wall keeps the dog safely in the backseat when the car stops quickly and restricts excited pups from moving between the front and back seats of the vehicle. The Backseat Barrier pet protector also has an extra partition, which separates passengers from dogs in the backseat. Great for long trips, or just around town.
Benefits:
• Protects dog from launching forward during quick stops
• Protects passengers and cargo from roaming dogs
• No need to remove when passengers ride in backseat• Front seat stays clean of dog hair
• Universal fit for most vehicles from a compact to a SUV
• Simple installation / removal (and looks good enough to make it permanent)
Dimensions:• Package: 7"w x 14"h x 3"d
• Universal fit for most vehicles
Materials:
• 600 D Nylon
• Ultrasuede
Color:
About Kurgo
Kurgo Products are designed, manufactured and marketed by Motivation Design LLC., a product development firm based in Salisbury, Massachusetts. The company develops solutions for everyday problems and awkward tasks that enable individuals to overcome life's daily annoyances. The Kurgo Product line currently includes the Tire Tote, Backseat Barrier, Auto Zip Line, Auto Tray Table, Sack Hook, Trunk Cleat, Haul-n-Stow and Tire Garage, to name a few. You can see more about this ever-evolving line of products at www.Kurgo.com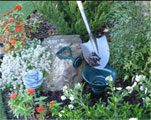 Doggie Doo Drain
Doo the green thing! No digging. No chemicals. No hassles. Screw the Doggie Doo Drain into your existing sewer cleanout (you don't need a plumber to do this). The pet waste is rinsed directly into the sewer line - the same place your waste goes when you flush your toilet - what a concept, poop in the sewer!! No more smelly garbage, flies or plastic bags filled with dog poop polluting our landfills.

Wigzi Lock n' Play Dog Toys
The Lock n' Play Puppy Formula is made for those just learning to play. They come in Baby Blue and Pink. There is also an opening at the bottom where you can place treats or even peanut butter for hours of fun for your dog. Wigzi's product line is rapidly expanding. They have chew toys, fetch toys, as well as a range of formulas specifically tailored for your pet. With the Puppy and Adult Formulas, Wigzi has you covered no matter what your needs are.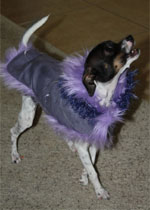 Scarlett DreamCoats for Canines
LuxeCoats are designed for the fashion-forward canine and utilize the richest textures, most luxurious fabrics and unique accents. Among the new coats this season are the Aramis – a geometric pattern in blues and browns lined with plush brown 'mink'; the Gigi – an adorable pink and black leopard print accented with pink faux fur; and the Kyle – an ultra-chic black and white accented with variegated 'fur" and black bead trim. Collars and leashes in black and gold 'patent leather' and brown 'croc' complete these fashionable outfits. If you have a big dog, you may think that your dog is too large for these coats. But while a lot of companies don't cater to the larger dog, at Scarlett DreamCoats you can find the same great fashion for dogs as large as a Great Dane.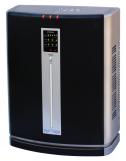 PetAirapy Air Purifying System for Pets
If you have a pet with allergies, you know the helplessness you feel when your pet is suffering. The medications, steroids and ointments only treat the symptoms. PetAirapy is here to take care of the source of these problems! With our medical grade UVC light technology and state-of-the-art allergen filters, PetAirapy's In-Duct and Portable air purifying units are sure to eliminate the underlying issues of your pets' environmental and skin allergies. A flick of a switch starts the beginning of a whole new life for you and your pet.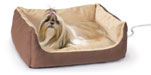 K & H Thermo Cuddle Cushion
K & H has taken heated comfort to new levels with the Thermo Cuddle Cushion. With walls on 3 sides, this bed gives the ultimate in warmth while giving a safe, secure feeling of a walled bed. The lowered front provides unobstructed access for even the tiniest of pets. A super-soft removable cushion is easily washable and can be used with or without the heating system.

Bamboo Perfect Paws™ Dog Nail Trimmer
This cordless and portable nail trimmer has a rotating filing stone that gently files your pet's nails, leaving a smooth finish. 2 different filing grits and variable speed control allow you to find just the right setting for your pet - which means a positive grooming experience for all!
Caboodle Corrugated Habitat for Cats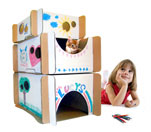 The Caboodle Corrugated Habitat for Cats is made from double-walled corrugated cardboard. You can even customize the design by knocking interior passageways into the ceilings and floors. But that's not all, you can even "Doodle on Your Caboodle!" That means you can decorate the outside to your personal taste of that of your décor. It also comes with three "tumblorz" cat toys made from scrap material — this is a kitty's dream home!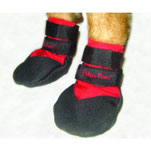 Senior pet Products Ultra Paws® Durable Dog Boot
The Ultra Paws® Durable Dog Boot by SeniorPetProducts.com is made with a dense, water resistant canvas-like nylon material and wrapped with a grippy and pliable thermoplastic sole and toe. This boot lives up to its name. Ideal for light duty applications – plus they'll stay on your dog's feet.
Side seams expand – making it easy to put on the boot.
Two Velcro® straps with slides fasten the boots.Foam at the closure cushions the dog's foot when the boot is tightened. The foam creates a secure grip - these boots stay on!
Tough, water resistant 1000 denier nylon material with the top of the toe wrapped in Toughtek®.The sole is Toughtek®, a grippy material that is flexible, skid resistant and durable. Durable Toughtek® sole is up to 0.8 mm thick; the Rugged Reprotek® sole is up to 1.2 mm thick.
Toughtek® performs in wet and dry, hot and cold conditions.
The Durable sole is pliable and ideal for indoor and light duty.
Easy to put on - difficult to slip off.

Natura Weight Management Dog & Cat Food
EVO Weight Management Dry Dog Food is grain free. With 30% less fat and 20% more protein than EVO Turkey & Chicken Formula, EVO Weight Management dog food is a first-of-its-kind extreme protein dog food containing less than 11% total carbohydrates to help you reach and maintain your dog's optimum body condition.
EVO Weight Management Dry Cat Food is grain free. With 30% less fat than EVO Turkey & Chicken Formula, EVO Weight Management cat food can help you reach and maintain your cat's optimum body condition.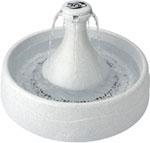 Veterinary Ventures Drinkwell® 360 Pet Fountain
The Drinkwell® 360 Pet Fountain by Veterinary Ventures can provide up to five, patented free-falling water streams for multiple pet owning households. The Drinkwell® 360 was designed with the multiple pet household in mind, giving owners the ability to customize their fountain with the five interchangeable spout rings included with each fountain. The Drinkwell® 360 constantly circulates the water which inhibits bacteria growth, keeping the water tasting fresh and appealing to pets!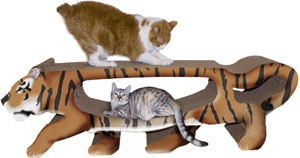 Imperial Cat Tiger Scratch 'n Shape
"Watch out, the Imperial Cat Tiger is on the prowl!"The GIANT Tiger features over 4 feet of scratching surfaces, and has ample room for playing and snoozing too. Purr-fect for multi-cat homes, or one very spoiled kitty! Protect your home furnishings by satisfying your cat's instinctual need to scratch with an Imperial Cat Scratch 'n Shape. Scratch 'n Shapes are available in a wide variety of innovative styles, each creatively designed to complement the cat owners' décor, while providing their cats an ideal surface for scratching, relaxing, pouncing and playing.
Bindi Irwin

Bindi Irwin is the daughter of Steve Irwin, The Crocodile Hunter, who passed away in September of 2006.
You may have seen Bindi in her TV show, "Bindi the Jungle Girl, " and now Bindi makes her movie debut in Free Willy: Escape from Pirate's Cove, DVD, a touching story about two unlikely friends, with award winner Beau Bridges.
Even though this was her first movie, Bindi tells Animal Radio, "That if another opportunity for another movie comes up, I'd love to do another one! It was so much fun playing someone different from who I was!"
Bindi plays Kirra Copper, who was someone who stood up for what she believed in and wouldn't take no for an answer. In one scene, Bindi had to get very mad at a bad guy and hit him; get really angry and scream. Her cheeks were actually getting very red during the scene. When she got back to her trailer, her mother said to her, "Bindi, I've never seen you that mad!" to which Bindi replied, 'I've never seen me that mad either!"
Included with the DVD there is a diary, which was a camera that followed Bindi around during the filming of the movie and got a lot of behind the scene takes. Bindi says this camera captured a lot of funny things on set. One thing she thought was funny was when she was supposed to eat a vanilla ice cream. She was getting all prepared to eat this vanilla ice cream, when she realized at the last minute that it was mashed potatoes! Looking back, she realized that they use mashed potatoes so it doesn't drip. Bindi says, "I don't think I will ever look at a vanilla ice cream in a movie the same way!"
Bindi lives wither her brother and mother in the middle of a zoo in Australia, where she never has a boring day. When she invites her friends over to play, she doesn't just have the usual swing set and slide, they get to go visit the rhinos, the red chimpanzees and the wombats!
Currently, her brother Robert has two chickens (Piggy & Isabel); while together they have two dogs called Diamond and Dot. Bindi always wanted a pony, but couldn't have one because she travels too much. So, they came up with the idea of pony rides at the zoo. Now she has a pony whenever she wants one.
Bindi is 11 years old and her brother Robert is 6 years old. Robert also had a small part in the movie as well. During filming on location, Robert got to see Africa with some friends. Bindi says because Robert loves chameleons so much, he wrangled all of the chameleons in South Africa. She states, "I really don't think there was a chameleon un-wrangled by Robert!"
Bindi tells Animal Radio that, "I definitely want to carry on in my dad's foot steps and keep his legacy going."
Bindi has done just that and has no doubt made her father very proud!
SYNOPSIS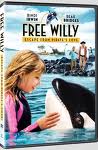 When eleven year old Kirra's father, a widowed zoo veterinarian, is hospitalized for several months she is sent to live with her estranged grandfather, Gus, in South Africa. He owns a dilapidated seaside theme park, which is quickly losing its customers to rival park owner Rolf. Business is given a miraculous boost though when a fierce storm traps a baby orca in Gus' lagoon, making his park the area's main attraction. The growing orca, named Willie, has an inhibited sense of echolocation making his survival in the wild impossible, but Kirra also knows that the orca will outgrow his lagoon very quickly. Gus thinks his only choice is to sell Willie to Rolf's park where he will be captive but safe. With little time left before Rolf claims him, Kirra must find a way for Willie to survive with his pod in the open sea.
Free Willy: Escape from Pirate's Cove is available as a Blu-ray Combo Pack, which includes the Blu-ray disc, DVD and Digital Copy of the film, for $35.99 SRP and on DVD for $27.95.
Animal Radio® News with Bobbie Hill
Complaints About Over The Counter Flea & Tick Products
The Environmental Protection Agency, which regulates topical pet treatments, received a 50% increase last summer in complaints about over the counter flea & tick products. On March 17th the EPA announced new protocols for those products that include improved labeling with more precise dosing information. Dr. Steven Hansen, ASPCA veterinary toxicologist & Senior Vice President Animal Health Services said, "This alone could save cats' lives. Improving the precision of the amount applied will also increase the margin of safety for very small pets."
The UK Proposes All Dog Owners Have "Bite" Insurance
British pet owners won't have to open their wallets to pay for dog insurance - not the health kind, the "bite" kind. The UK government was proposing a plan requiring all dog owners to take out insurance in an effort to stop those who use pit bulls and other aggressive dogs as intimidation tools. England's Environment Secretary Hilary Benn said he ruled against the mandatory insurance because he did not want to penalize responsible dog owners.

Do You Have Hazardous Plants in Your Garden?
Now that spring is upon us pet owners who are also gardeners need to know which plants are safe. Now there's an application for the iPhone that lists the hazardous plants. The Pet Safe app for the iPhone, iPod touch as well as the iPad is from the iTunes app store and lets pet owners download this lifesaving tool to keep poisonous plants and pets apart! It will alert gardeners that tulips are toxic to cats, dogs and horses and a portion of proceeds goes to the ASPCA.
Cat Hair DNA Links Murderer
A Canadian man who stood trial accused of murder was found guilty of the crime after DNA linked cat hair found on his jacket to the victim. Now comes word from Discovery News that an international team of scientists have completed an extensive cat DNA database. That means cat fur can be tested more often and accurately as forensic evidence.
San Diego Houses One of Only 5 CT Scanners for Small Animals
A Santa Barbara man headed south to San Diego in hopes of saving his pet gecko. GirlieGrrl, a 13 year old leopard gecko headed to Dr. Thomas Boyer's Pet Hospital of Penasquitos who specializes in reptiles. They headed to the Veterinary Imaging Center, home of one of only 5 CT scanners in the nations designed specifically for small animals. The test confirmed what vets believe is the first confirmed case of hyperthyroidism in a gecko. Good news is, GirlieGrrl is responding to the radioiodine therapy and should be fine.

Horses Never Forget
A team of French scientists have proven horses never forget their human friends and foes. Research from the University of Rennes studied 20 Anglo-Arabian horses and 3 French Saddlebreds over a period of eight months. Findings showed horses remembered female trainers and their instructions better. The study also showed horses possess excellent memory and can recall problem solving strategies for a decade or more. And horses understand vocal commands better than some dogs.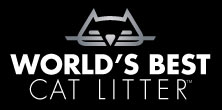 NEWS UPDATE Brought To You By World's Best Cat Litter™
Listen to the entire Podcast of this show (#539)