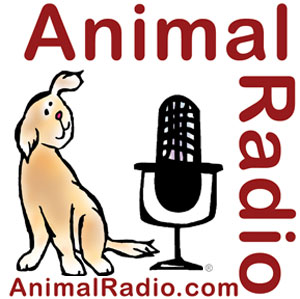 Animal Radio® Show #644 April 7, 2012
Kristin Chenoweth – GCB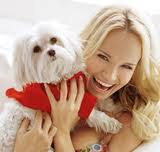 Kristin Chenoweth is an American stage, screen and television actress. In 2011, she joined the cast of a pilot for ABC called Good Christian Bitches as a character named Carlene Cockburn, which just debuted in March. ABC picked up the show and changed the title to GCB. The show is based on the book called Good Christian Bitches, and while it inspired the show, the characters are very different. Therefore, the title didn't really represent the show, so it was changed to Good Christian Belles. It seemed easier to just to call it GCB, which stuck!
Even though Kristin is a big actress, she is an even bigger animal lover! She wonders if it's wrong to love her dog, Maddie, too much! Maddie is a Maltese named after her idol, actress Madeline Kahn. Maddie is the love of her life, and has seen her through boyfriends, deaths in the family and success. Maddie is always with her and is like an extension of her.
When asked if Maddie sleeps with her, Kristin says there have been times when she woke up sore because she didn't want to move and disturb Maddie. So, she stayed in one position for hours. Later, she wondered why she was the one uncomfortable for her dog. However, after thinking about it further, she knew she didn't care, because she would do anything or Maddie!
Kristin loves to spoil Maddie, and knows that Cesar Milan (the Dog whisperer) would have a fit, but when she takes Maddie on a walk, she lets Maddie walk her! She lets Maddie do whatever she wants to do, such as sniffing and smelling everything. Kristin believes that since Maddie spends most of her time inside, if she wants to take a stroll and sniff every blade of grass, it's fine with her. Kristin also lets Maddie lick her. Maddie loves to lick, so she licks her on her hands and face.
Kristin grew up with a ton of animals. She had dogs and cats. One time, she had two dogs named Lady Diana and Prince Charles. She also had a Canary named Johann, after Bach her favorite composers. A lot of Kristin's relatives were farmers, so she had horses, cows and chickens. While she grew up being surrounded by animals, Maddie is her first pet she's had as an adult.
Maddie is also the name of "Maddie's Corner," the organization Kristin founded to celebrate the bond between people and their pets, and also lend a helping hand when needed. Her Vision for Maddie's Corner is to inspire a more humane, thoughtful and tolerant society that will benefit the quality of life of both people and animals.
They try to match homeless pets with people who need them. Currently, they are gathering some funds for tornado victims and animals that have lost their homes. They help out in all natural disasters. They also help out with vaccinations and spaying and neutering.
Her slogan is Animals Helping People Helping Animals. To find out how you can help, please visit http://www.maddiescorner.org.
Don't Call him "Prince!"
Prince Lorenzo Borghese
Prince Lorenzo Borghese was the featured bachelor on the 9th season of ABC's The Bachelor American television show. Borghese did not find his princess. "A lot of American girls like this whole royal fairy tale," he explains. "From how I saw the show, they wanted it to appear that I did not even work, that I was this prince who had this great lifestyle and did nothing but play polo – which I do not even play." "I have to work, my father had to work, even my grandparents had to work." "Putting a title in front of your name makes you sound arrogant and a snob, and that is not how I want to be viewed," he confides.
After The Bachelor Show (where he remained single), Lorenzo says his character was transformed in a big way. After the show aired, things were never the same for him. Now, when he goes to bars, the girls that would never talk to him before are now talking to him! He says this makes you get a big head, become greedy and then don't want to be in a relationship. He is not used to the attention. Girls are now flinging themselves at him, and while he can't trust their sincerity, sometimes he just doesn't care!
Lorenzo is the founder and president of Royal Treatment Italian Pet Spa, a high-end bath; body and skin care line for pets, using organic ingredients and fragrance oils from Italy. He created this line when he was dealing with his dog, a Black Lab named Belle, who had really dry skin. Lorenzo had been bathing her on a weekly basis when his vet told him that he had to stop, and to only bathe her once a month to once every 2 months. He also told Lorenzo this was because the shampoo that he was buying was the culprit.
This didn't make since to Lorenzo, as his family has been involved with cosmetics for years. Lorenzo is the son of Prince Francesco Marco Luigi Costanzo Borghese and his American wife, Amanda Leigh. Lorenzo Borghese's paternal grandmother was Princess Marcella Borghese, who founded the Borghese cosmetics line in 1958; which was a subsidiary of Revlon.
Lorenzo did his own research and found out how to make a product that was specifically created for dogs' skin. He launched his own line of pet products called the Royal Treatment Pet Spa. He is also the founder of Animal Aid of the United States. One of the things they focus on is spaying and neutering. Lorenzo states that it is a fact that if there were spaying and neutering laws throughout the United States, that every shelter would truly be a no-kill shelter. A portion of all sales from his Royal Treatment Pet Spa goes to spaying and neutering facilities in low-income areas.
Lorenzo also recently met with the State of New Jersey, trying to form legislation to make New Jersey a spay and neuter state, forcing everyone who gets a cat or dog to have them spayed or neutered. He is hoping that this will trickle out to every other state, so that the United States becomes a no-kill nation.
He is also part of what he believes to be the largest caravan to help he animals. On July 11th to the 16th, the caravan will be leaving from New Jersey going to Georgia, where they are going to empty out some shelters and bring those animals to the new homes.
Lorenzo never thought he would be in the pet industry, but he just got sucked in and now it is his life!
What's Up With Dog TV?
Ron Levi, DOGTV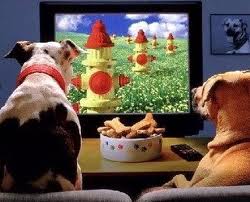 Television is going to the dogs in San Diego with DOGTV, a new 24-hour channel for pooches that is meant to keep your dog company while you are gone.
According to the people behind the channel, the combination of devouring programming and pet treats will be "A confident, happy dog who's less likely to develop stress, separation anxiety or other related problems."
DOGTV was created for the dog, which is left alone all day, to help decrease their stress of being lonely. It can also help with the dog who has separation anxiety.
What you will find on DOGTV is sights that they see, sounds that they hear, and the music that relaxes them, all catering to a dog's senses. It is scientifically designed content, which was done with over four year's of research.
There are three kinds of content. One is relaxation, which consists of relaxing music and slow images. The second segment is called stimulation, which is stimulating content of dogs running around on the beach or playing with Frisbees. Don't worry; they don't have any content that will get your dog too excited! The third segment is exposure, which exposes your dog to fears that he might normally have. This consists of things like thunder and fireworks. If you play this over and over, eventually your dog will get used to it and be less afraid when it actually happens. You will also find a segment on fear of riding in cars and even going to the vet's office.
Years ago, dogs could only see TV in a way that left it flickering to them. However, with today's new technology of LCD's, LEDS and Plasma TV's, they can now see it just was we do.
Don't worry about turning your dog into a Couch Pet-A-To, because they are not going to sit around on the couch all day eating popcorn and watch TV!
It costs $4.99 a month to order DOGTV – isn't your dog worth it!
The Dogfather's Grooming Tip with Joey Villani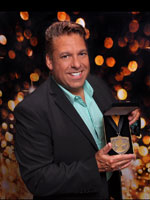 Grooming Quick Fix
Easter is Sunday – did you go to your groomer's? If you didn't, don't worry; there's a quick fix to make your dog very presentable when he greets your guests.
Start with a spray bottle. If you have any essential oils, like lavender oil, put one or two drops into the spray bottle with water for a little scent. Spray it all over your pet. However, don't tease the hair up, you want to brush it down. This will get all of the stray hairs to lay flat. As the water dries and moisturizes the coat, it is going to tighten up and keep everything down. This will leave your dog with a "neat" look.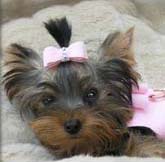 If you have a dog clipping kit, like the Wahl Kit (which includes a cordless clipper; self-sharpening blades; 4 guide combs; cleaning brush; and scissors), you can do a little bit of grooming. If you don't have a clipper kit, get a pair of scissors and trim around their feet. Also trim around their eyes and open that area up. This will leave them with a nice expression on their face.
Doing this will make your dog look "neat," because any time feet are trimmed up nice where the nails are just covered, it just make the dog look real "neat."
The final touch is a bow. If you don't know how to make a good bow, go to any craft shop and tell them you want little hair bows and they will make them for you. However, don't put them around your dog's ears, tail or legs, because this can cut of their circulation, which is not good. Don't put the bows on too tight and only keep them on for about an hour or two, until the novelty wears off. If left on too long, it can become uncomfortable for your dog.
You now have an Easter looking dog that looks "neat" and is ready for the guests to come!
Animal Radio® News with Stacey Cohen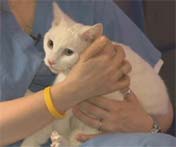 Cat Survives 19-Story Fall – Is This a Sign of Marriage?
A cat who fell 19-stories from a Boston apartment building last week is alive and suffering only a few bruises. Brittney Kirk says she slightly opened a window during the warm weather. That was just enough for the curious cat to slip out, falling 19 floors to a patch of dirt and grass beside the building. When a local vet checked the cat, she was found to have some bruises to her lungs and no other injuries. Kirk considers the lack of injuries to Sugar the cat a sign of good luck, so she got married the same day.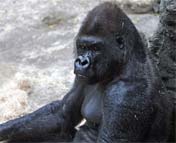 Gorilla Bites Zookeeper
A zookeeper at the Buffalo Zoo in New York is recovering after being bitten by a gorilla. Zoo officials say things could have been much worse if not for the quick action of the female staffer once she realized a male silverback was on the loose. Silverbacks are tremendously strong and zoo officials evacuated visitors from the area as a precaution. After keeping keepers at bay for a time, the 24-year-old male gorilla named Koga was eventually tranquilized and placed back in his holding area. The zookeeper suffered superficial bite wounds.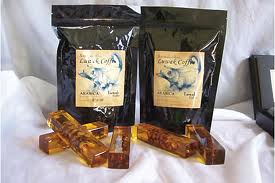 What To Do With Panda Poo!
A Chinese businessman is hoping to strike it rich by selling an organic tea he grew in panda poop. An Yanshi grows the tea in the Sichuan province using tons of excrement from pandas living in nearby breeding centers. The first batch will be sold in lots of 50 grams each for about $3,500, making each cup cost about $200. An says quote, "I just want to convey to people of the world the message of turning waste into something useful and the culture of recycling and using organic fertilizers."

The Brady Bunch Dogs
When a couple moves in together, it's not just the people who must adjust. If either partner has a dog, it's important to help a pet adjust to the combination of two households. "Dogs have different personalities, and while some are excited to have new people in their lives, other pooches may need some time to adjust," says animal behaviorist Mary Burch, director of the American Kennel Club's Canine Good Citizen program. Burch offers tips on how to ease your dog's transition into married life: Introductions are key. Consider your dog's personality when introducing her to a new love interest. Tailor the first meeting to what will make her most comfortable. And, the first meeting should be in a neutral space. For an outgoing dog, it could be a dog park, for a shy dog, perhaps a friend's backyard. Praise your dog when she interacts well with your future spouse and set aside several subsequent meetings before you combine households. Keep his schedule as consistent as possible, with walks or playtime at the same time daily. For more advice on raising a healthy, happy dog, visit the AKC website at akc.org.

Bear Bites Woman In Butt
A 300-pound black bear bit a woman in the butt while she was walking her dog. Luckily, Terri Gurley of Florida lived to grin and bare it. Gurley, 57, was walking her dog in Longwood, while also taking out the trash, when she noticed the beast near a trash bin. Her dog confronted the bear. "The dog was trying to go at her and I'm pulling her back, trying to get away. I was walking backwards and I tripped and I fell, hitting my head." She was trying to scramble back to her feet when the bear came right up behind her, shadowed by its cub. That's when the bear chomped on her behind. Luckily, Gurley's screaming may have scared the goliath away. She was taken to a local hospital with minor injuries and released a short time later.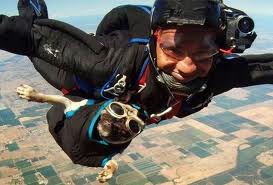 Skydiving Dog
Bravery comes in all shapes and sizes, as is true with Otis the ultimate skydiving dog. Hailing from Galt, California, this little 10-year-old pug has joined his master on dozens of skydiving expeditions (tandem of course). "He's just like a first-time skydiver…He's all excited about it, gets nervous at the door just like all the rest of the skydivers and then once he gets out he's just having a ball." His owner, Will DeSilva who initiated Otis into the sport as a puppy, has been skydiving for nine years. Together, they have had over 60 jumps! DaSilva's fiancée believes Otis sees the sport as an extreme version of sticking his head out a moving car's window. "Otis," DaSilva says, "is living the ultimate dream."

NEWS UPDATE Brought To You By PetzLife.com. Use the code "RADIO" to receive 20% off!

Listen to the entire Podcast of this show (#644)