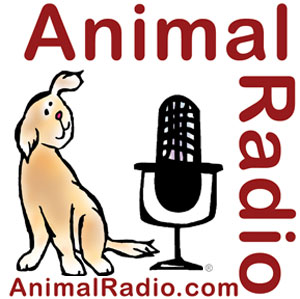 Animal Radio® Show #592 April 9, 2011
Lord Of The Wings
Jim Jenner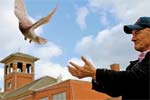 Jim Jenner has a passion for pigeons. To date, he has completed about11 movies on pigeons and footage from his movies has appeared on every major television network worldwide.
Jim states that it is only since the 1980's that people started thinking about pigeons as "rats with wings" (usually in North America), because of a movie done by Woody Allen, where he came up with the phrase. Before that, they were considered a symbol of love and revered by religions all over the world.
Jim has had pigeons for over 50 years and has hundreds of thousands of friends who enjoy them as performing birds; show birds and even racing birds. Today, over a million people still race pigeons worldwide and it is a big business. Recently there was an auction in Belgium where 200 pigeons sold for almost $2 million dollars.
Domestic pigeons are very hardy, inexpensive and easy to care for. As a result, they are a great way for children to get connected with nature. Jim feels that pigeons are the equivalent of having a horse, in that they are not an animal that will lick your hand and love you no matter what. You have to work to become a friend with it. Most people don't think of pigeons as pets because of the bad reputation it has received.
Pigeon Facts:
Today there are many pigeon races worldwide with purses in excess of $1 million dollars

Pigeon" and "dove" are two words for the same family of birds. In Spanish a single word, "Paloma," represents this species, as do most other languages.

Pigeons mate for life and their gentle courtship, including "kissing" made them an ancient symbol of love. The bird is recognized as a symbol of the Holy Spirit by all the world's major religions.

A pigeon that carries messages is called a "homing" pigeon, not a carrier pigeon. Homing pigeons have carried secret messages since the earliest days of human writing.

Homing pigeons have served in many wars, including both WWI & WWII. They have saved countless lives and are credited with a 98% success rate in the missions flown in WW II, despite enemy fire, and often with mortal injuries to themselves. In WWII, pilots carried pigeons, and if they had to ditch their plane, released the bird for help. Many pilots owe their lives to a pigeon. The birds are still used today to send secret messages that can't be detected by electronic snooping technology.
Animal Planet recently premiered "Taking on Tyson," a six-part documentary focusing on boxer Mike Tyson's lifelong fascination with pigeons. Jim tells us that Tyson's very first fight, as a Brooklyn kid, was when he hit another kid who killed one of his birds. The show profiles the former heavyweight Champion going one-on-one with his birds competing against other racing pigeon trainer's flocks in New York.
Paw-Parazzi Pet Photo Contest
Steve Pinetti, Kimpton

At Kimpton, they love pets so much that they have set out to find the cutest and most photogenic pet out there by kicking off the Kimpton Hotels Paw-Parazzi Contest.
Anyone can upload a pet photo to their site. Every two weeks, the five photos with the most "Like" votes will win pet-tacular prizes from their partners such as Olive Green Dog, Polka Dog Bakery, and Republic of Paws. The contest runs for three months through May 31, 2011.
On June 1, 2011, judges from Animal Radio will select the Grand Prize photo from the 30 bi-weekly winners for the "Ultimate hosPETality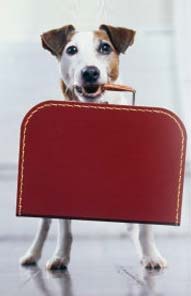 Getaway" which includes:
A two night stay at a Kimpton Hotel of the winner's choice
Two round trip tickets on JetBlue for human passengers
$500 credit for the photogenic pet on Pet Airways, a pet only airline
One $100 Kimpton Restaurant or in-room dining gift certificate
One in-room spa treatment for two
An Amelia Collection Carrier by Sherpa Pet Carrier
Use of pet amenities such as a dog bed, bowl, and treats

Anyone may enter by logging onto kimptonhotels.com to upload a photo of his or her pet.
What are you waiting for!

Dodge Journey Pet Destinations
What Is Your Favorite Place To Take Your Pet?
People who have pets love to travel with them. At Dodge, they have made it easier with their pet friendly vehicle, the Dodge Journey, which contains concealed storage bins, Chill Zone glove box cooler and second-row dual in-floor storage bins with removable and washable liners (very handy for muddy paws!) Call us with your favorite place to take your furry-friend: 1-866-405-8405.
This week's Dodge Journey Pet Destination: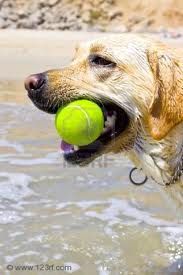 Janice from New Jersey is a traveler. On one of her travels she took her dog, a Golden/Lab named Bullet, to Mackinaw Island in Michigan. She describes the town as being like an Old Victorian Town, which feels like you have gone back in time. She even mentions a movie filmed at the grand Hotel called Somewhere in Time, starring Christopher Reeve and Jane Seymour. Janice states that it is truly an island and that you have to take a ferry to get there. She went there during the Festival of Horses held in July. Janice said the beaches are beautiful and her dog loved running through the water catching his ball.
To view Past Dodge Journey Pet Destinations, click here.
Tropiclean Best Smile Contest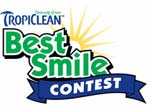 Your pet could be a winner! Share a photo of your smiling dog or cat and tell everyone why your pet has "TropiClean's Best Smile." You could win a $1,500 contribution to your favorite animal shelter plus a $500 VISA gift card and more for yourself – and there are new prize drawings every month! All entries must be submitted by June 30, 2011 to be eligible for the Grand Prize!
To submit a photo of your pet, visit www.TropiCleanBestSmile.com and create an account. Once registered, log in to upload your favorite photo of your smiling pet. Don't forget to let us know why your pet has TropiClean's Best Smile too! Got more than one pet to show off its smile? Go ahead and upload their picture too.
The Dogfather's Grooming Tip with Joey Villani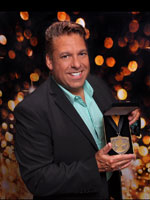 Today's Fashion Colors
Joey frequents dog runway shows and says that going into this year's seasons, especially for canine, colors are back in. At these fashion shows, you will see dogs walking down the runway wearing sometimes functional, sometimes silly and sometimes even designer attire.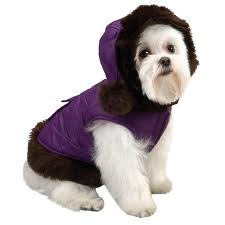 The colors for this year are Orange & Purple. Orange and purple are key. So if you are a person who buys clothes for your pet and you want to be in style, orange and purple are the way to go.
But if you are not a person who likes to put clothes on your pet, you can put a bandana or a bow on them, anything you want. Just make sure that it is either orange or purple – or both!
Don't let your dog be left out this year - keep him in fashion with this year's colors!

DOGFATHER'S GROOMING TIP Brought To You By SeniorPetProducts.com. Use the code "SAVE25" to receive 25% off!
Animal Radio® News with Stacey Cohen
Wolves Removed From Endangered Species List
The U.S. government struck a deal with wildlife advocates to remove some 1,200 wolves in Idaho and Montana from the endangered species list. Federal protections could be lifted from the wolves if a federal judge signs off on a settlement agreement filed in U.S. District Court in Montana. The wildlife groups had sued to keep roughly 1,600 wolves in the Northern Rockies on the endangered species list.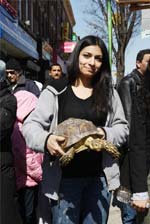 Tortoise Sets Apartment on Fire
A pet tortoise has left one New York family without a place to live. According to the "New York Post," a six-year-old African tortoise named Giovani burned down an apartment in Brooklyn after he crawled out of his tank. Giovani reportedly knocked over a heat lamp, which ignited a pile of art supplies and paint thinner. It took just minutes for the fire to rip through the third-story apartment, causing one firefighter and three police officers to suffer smoke inhalation. Ibrahim Salem says he's glad his family wasn't hurt, noting that his son's tortoise is lucky to still be alive. He remarks, quote, "Thank God my family is safe. He was pretty lucky."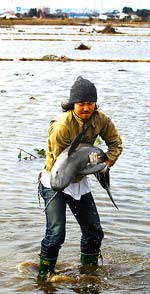 Porpoise Rescues After Japan Tsunami
Animal shelter owner Ryo Taira has seen plenty of struggling dogs and cats since the devastating earthquake and tsunami in Japan, but even he was caught off guard when he learned of a small porpoise in big trouble. Taira responded to reports that a finless porpoise had been spotted in a flooded rice paddy near Sendai, over a mile from the ocean. The 3-foot long animal had apparently been stranded there by the tsunami's massive wave. Taira located the animal, lifting it out of the water with just his arms. The porpoise was covered in wet towels, taken to the beach using a makeshift rig and then released back into the sea. Finless porpoises are so-named because they lack a dorsal fin. They are native to Asia and can grow to five feet in length. He is now romping in the ocean freely.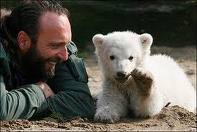 The Sudden Death of Knut
The soft, cuddly looking Knut the polar bear suddenly died at the Berlin Zoo. Knut gained international fame after his mother rejected him just days after he was born. Zookeepers decided to raise him without the assistance of his mother. Knut became so famous he even posed with Leonardo DiCaprio for a "Vanity Fair" magazine cover and article about the environment. Witnesses say Knut apparently suffered a seizure in the water in his enclosure and died. Stunned visitors to the Berlin Zoo witnessed his demise. Knut was only four years old.
Bringing Awareness The "Nude" Way
Nude PETA members showered on a Hollywood, California street recently to draw awareness to water conservation on World Water Day. Behind a banner reading "Clean Your Conscience: Go Vegan," two women showered on the corner of Sunset Boulevard. A PETA spokesperson said changing your diet helps the environment and added if Americans skipped one meal of chicken a week, it would be the environmental equivalent of removing a half-million vehicles from U.S. roadways.

Still Many Creatures Unidentified by Science
Only a fraction of the world's animal species have been identified by science, and getting to know the rest could cost about $263.1 billion, one study estimates. So far, about 1.4 million species have been catalogued and an estimated 5.4 million remain unknown to us, scientists say. But the main impediment to identifying these unknown creatures is a shortage of qualified taxonomists, the biologists who identify organisms and place them within related groups.
Monkeys Make Their Own Fragrance
Talk about "eew" de toilette—male monkeys that wash with their own urine may be putting out an irresistible scent to females, a new study suggests. Males and females of several monkey species pee into their hands and then vigorously rub the fluid into their fur. Scientists have posed various theories to explain the behavior, which range from regulating body temperature to communicating aggression. Now, brain images of female capuchin monkeys have revealed that male urine sends sexual signals, according to study leader Kimberley A. Phillips, a psychologist at Trinity University in San Antonio, Texas. "Apparently, a male covered in urine is quite attractive," Phillips said. Phillips doesn't know exactly what message urine-washing males are sending the females. But it's possible the urine—which contains the male sex hormone testosterone—is another way for females to assess a male's social status, she noted. Don't get any ideas - I can promise this wont work for humans!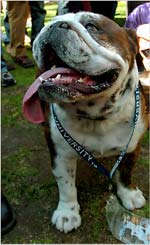 Yale Law School Has Dog-Lending Program
Yale Law School, renowned for competitiveness and its Supreme Court justices, is embarking on a pilot program in which students can check out a "therapy dog" named Monty along with the library's collection of more than one million books. While the law school is saying little so far about its dog-lending program, it has distributed a memo to students with the basics: that Monty will be available at the circulation desk to stressed-out students for 30 minutes at a time, for a three-day trial run. "It is well documented that visits from therapy dogs have resulted in increased happiness, calmness and overall emotional well-being," Blair Kauffman, the law librarian, wrote in an e-mail to students. Sebastian Swett, 26, a second-year student at the law school, said he had signed up for a session with the dog, but does not necessarily think that it will relieve all the pressures that come with being a student at Yale. "I don't think it's going to solve anybody's anxiety problems, but it's certainly nice to play with a dog for half an hour." I guess it pays to go to a private college because they really have EVERYTHING...

Listen to the entire Podcast of this show (#592)

indicates XM Satellite Radio and Podcast versions only.