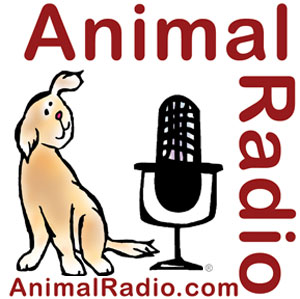 Animal Radio® Show #645 April 14, 2012
Doug Gray – MARSHALL TUCKER BAND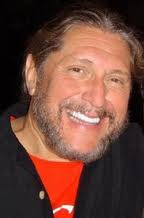 Doug Gray. He's probably one of the least known name-wise but most recognizable voice-wise lead vocalists in rock. The original members of Marshall Tucker besides Gray are long gone. But the band--which formed in Spartanburg 40 years ago--is still going strong.
The "Marshall Tucker" in the band's name does not refer to a band member, but rather a Spartanburg-area piano tuner. While the band was discussing possible band names one evening in an old warehouse they had rented for rehearsal space, someone noticed that the warehouse's door key had the name "Marshall Tucker" inscribed on it, and suggested they called themselves the "The Marshall Tucker Band," not realizing it referred to an actual person. It later came to light that Marshall Tucker, the blind piano tuner, had rented the space before the band, and the landlord had yet to change the inscription on the key.
Four decades ago, during the early days of The Marshall Tucker Band (MTB), the multi-platinum selling southern rock group never had the option of releasing their music on CD or digitally through online retailers. This past November the MTB came full circle with the release of the vinyl edition of The Marshall Tucker Band: Greatest Hits (Shout Factory).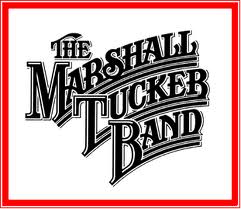 Doug says it is great to have it back on vinyl, because, "This is when the needle got down into the groove and let you feel everything that was going on!" The vinyl also includes a code for downloading. "As we continue to tour, more and more fans are showing up in the autograph lines with their original Marshall Tucker vinyl records, even more so than CDs," says Doug. "There's just something cool about vinyl. It's very retro and I think most people out there will agree that in today's day and age, retro is 'in.' This is an appropriate release for us, especially since we just celebrated 40 years in 2011."
Doug is also a big lover of animals. He currently owns two Himalayan Persian Tip cats named Cheech & Chong. They often lay together, and Doug calls them his "book ends." He also has an outside cat that refuses to come inside, named Bashful. Along with the three cats, he has a Weimaraner dog that stays at his daughter's house, as well as a Yorkie. When asked what the animals bring to his life, Doug says nerves! What he means by that, he states, "Is when your refrigerator starts slowing down because of the long hair that's on the kitty. So you know that little fan down there starts going brrrrrrrr!" He actually has his cats shaved down on a regular basis. But don't get him wrong, Cheech & Chong are his best friends and follow him around the house. Doug also admits that he is definitely a cat person!
The original lineup of the Marshall Tucker Band, formed in 1972, included lead guitarist, vocalist, and primary songwriter Toy Caldwell (1947–1993), keyboard player and vocalist Doug Gray (b. 1948), flutist Jerry Eubanks (b. 1950), rhythm guitarist George McCorkle (1946–2007), drummer Paul Riddle (b. 1953), and bassist Tommy Caldwell (1949–1980). They signed with Capricorn Records and in 1973 released their first LP, The Marshall Tucker Band. After Tommy Caldwell was killed in an automobile accident in 1980, he was replaced by bassist Franklin Wilkie. Most of the original band members had left by the mid-1980s to pursue other projects.[3] The band's lineup as of 2009 consists of Gray on vocals, guitarist Stuart Swanlund, keyboard player and flutist Marcus James Henderson, guitarist Rick Willis, bassist Pat Elwood, and drummer B.B. Borden.
The vinyl edition of The Marshall Tucker Band: Greatest Hits is available now in all vinyl record stores, online at Amazon.com and the MTB's official website, www.marshalltucker.com.
World's Best Cat Litter
Dr. Melissa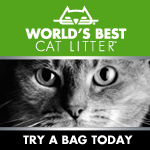 In-house veterinarian from World's Best Cat Litter, Dr. Melissa, joins us. She's a graduate of Missouri College of Veterinary Services. In 1998, she and her husband opened up a companion animal hospital, which they owned until 2005. Currently, Dr. Melissa is owned by two cats who only use World's Best Cat Litter.
The first thing a cat owner usually notices when switching to World's best Cat Litter is the lack of dust and the lack of mess around the litter box. These are some of the things that cat owners are usually confronted with, which they find frustrating. So when you make the switch, you instantly notice these things have been eliminated. While there are no published studies that show how gray silica dust from clay based litters affects the lungs of our cats and ourselves, it is not hard to figure out that it is a bad thing.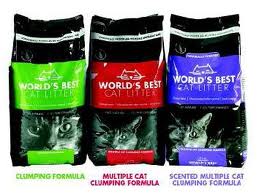 There are also a lot of litters that claim to control odor (through the use of heavy perfumes), but World's Best Cat Litter's natural corn eliminates odor without perfumes. With other litters you start to smell the ammonia build-up, but with World's Best Cat Litter, even after scooping out the waste after is has sit in the box for sometime, there is no smell.
Therre are three different formulas of World's Best Cat Litter: Clumping Formula, with outstanding cat litter odor control and tight clumping ability and is ideal for homes with one or two cats. Multiple Cat Clumping Formulla, with an added all-natural plant derivative for enhanced odor control and is ideal for homes with two or more cats. Scented Multipel Clumping Formula, made with 100% all-natural scented lavender oil and is ideal for cat owners who prefer their cat litter to be scented.
We have been using World's Best Cat Litter in the Animal Radio studios for years, and would like you to try it – for free! All you have to do is go to facebook.com/worldsbestcatlitter. There, you will find a tab you can click that will let you print out a free bag rebate!
2nd Annual Paw-Parazzi Pet Photo Contest
Steve Pinetti, Kimpton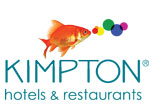 A lot of hotel companies will say they're pet-friendly, but it's really more like pet-tolerant and their policies vary from location to location - even within the same brand. At Kimpton Hotels, our pet-friendly credo is company-wide at all 50 hotels. We don't charge any extra fees for pets and we don't have any weight or size restrictions.
Our founder and namesake, Bill Kimpton, recognized that pets were every bit as much a part of the family and should therefore be able to travel along too. Since then, we've rolled out the 'grass carpet' so to speak for animals of all shapes and sizes.
Dogs are the most common type of pet we see - about 75%. However, we've seen our fair share of cats, birds, ferrets, rabbits, and fish. Once we even had Animal Planet stay at the Hotel Triton in San Francisco with two iguanas and a small monkey.
Last year we thought we'd do a fun little contest for our guests to show off photos of their pets. We imagined we'd get a couple hundred entries , but to our surprise almost 2300 pets entered the contest - dogs, cats, chickens, bunnies, turtles, lizards, even a baby calf entered - it was amazing! So, we decided to do it again!
To enter the 2nd Annual Paw-Parazzi Pet Photo Contest, upload your pet photos at kimptonpets.com and follow the contest link. The public will vote on their favorites. The 20 entries with the most votes will win great prizes from our partners like Olive Green Dog, Polka Dog Bakery, and FIDO Friendly Magazine.
The Grand Prize winner will win the Ultimate HosPETality Getaway which includes: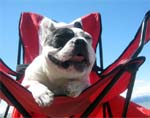 A three night stay at a Kimpton Hotel of your choice

Two round trip tickets on JetBlue for human passengers

One $100 Kimpton Restaurant or in-room dining gift certificate

One in-room spa treatment for two

Quaker Pet Group & Republic of Paws Ultimate Legacy Pet Carrier

Pet amenities such as dog bed, bowls and treats during your getaway
Last year Petey, a Boston Terrier from Seattle won and we can't wait to see who it'll be this year! What are you waiting for – take that picture!
Vet Tips By Dr. Debbie
Backyard Prisoners
Did you ever hear the comment, "Don't take your puppy out until he's had all his shots!"

What is a backyard prisoner?
Puppies that never are let out of the backyard for the first 4-7 months of their life. Usually driven from fear of infectious disease, or "catching something".

Why is it bad?
These backyard prisoners become social misfits. They are fearful, poorly socialized with people and other animals and often have behavioral issues. Vet visits are nightmare! Forget every taking him to the groomer!

The Facts Of Immunity In Puppies
Puppies get mom's immunity when born and through nursing. This wears off somewhere between 6-16 weeks. That is when they become most vulnerable to infectious disease. Booster vaccines are given to stimulate puppy's immunity during this window of time, but only works after mom's immunity has worn off. Isolating them in the yard DOES NOT guarantee that pup can avoid infectious disease. Parvo can be brought in on our shoes and even wildlife movements spread parasites & infections.

What to do?
Best advice is to balance good sense in deciding which situation are good to expose puppies to for socialization benefits, and those which too risky. Examples of good: puppy visits friends with adult vaccinated dogs, leash walk practice in less populated area. Examples of what to avoid: dog parks, community parks, pet stores

When To Go To The Vet For An Ear Problem

Should you go to the vet or not? Is it an ear infection or just dirty ears? Have your senses ready and a mild dog ear cleanser ready to investigate this for your pet.
N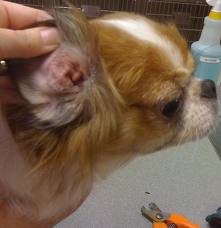 ORMAL EAR:
Watch it - Head held straight, no unusual scratching
Smell it - mild doggie odor
Rub it - most dogs enjoy a good ear rub
Clean it - small amount yellow or brown wax
INFECTED EAR:
Scratching at ears, rubbing head on floor, head tips to one side
Yeasty or stinky "old man foot" indicates infection
Crying/whining in pain. Vigorous scratch response with hind limb could indicate infection
Oozy or bloody material. large amount brown clumpy debris "oreo cookie crumbs".
The Dogfather's Grooming Tip with Joey Villani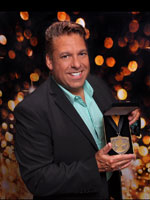 Smelly Faced Dogs
Did you ever pick your dog up, get close to his face, and then smell an awful odor? Something like a wet hamper face? This happens a lot to the dogs with the pushed in faces, like Pugs and Shih Tzus.
Don't put up with it! Stop the smell by mixing a 1/4 cup of white vinegar to a quart of water. Use regular tap water and not spring water. Spring water contains minerals which can stain your dog's face.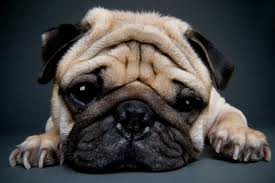 You can apply it with a sponge or cotton ball. Just wipe down their face with the mixture, making sure you get it in all of the folds and cracks. Just be careful not to get it into their eyes.
Don't be alarmed when your first apply it, because it will probably smell even worse. But once it dries, the odor should be gone. While it won't entirely remove the staining around the eyes and muzzle, it will stop new stains from growing and allow a nice clean growth.
This will destroy the bacteria and yeast buildup, which cause that nasty smell. So, go pick up your dog and give them a good sniff!
Animal Radio® News with Stacey Cohen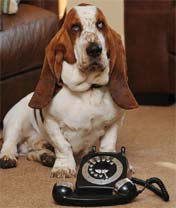 Dog Dials For Help
Emergency responders in the U.K. say a 2-year-old Basset Hound picked the perfect time to learn how to use a phone. According to The Sun, the dog called 9-9-9, which is the British version of 9-1-1, while he was choking on the phone's cord. The dog had reportedly knocked the phone over while his owners were away and became tangled in the cord. The dog somehow managed to dial for help while trying to free himself. Authorities heard heavy breathing on the other end of the call and ran in the home frantically searching for someone inside. They wound up finding the dog with the phone cord around his neck and set him free.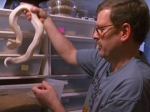 Reptilian Roommates Make House Unfit For Humans
A Minnesota man is running into trouble with city officials in regards to his hundreds of reptilian roommates. The St. Paul Pioneer-Press reports Scott Nellis has been building his collection of 360 snakes, 60 lizards and the hundreds of rodents and cockroaches he uses to feed his pets since 1996. But now, inspectors have declared his house unfit for human habitation and ordered him to remove the reptiles. A city attorney says the numerous extension cords and drawers full of reptiles have created a number of fire hazards and the excess amounts of ammonia from the animal waste have greatly lowered the home's air quality. Nellis, however, is meeting with city officials today and hopes to convince them to change their minds.
"Pigheaded" Suspect On The Loose
Authorities in Switzerland say they're looking for a suspect who's rather pigheaded. The U.K.'s Orange news says a man recently threw three pig heads in to a cake shop in Lucerne. Witnesses say the heads crashed into the displays, causing pastries and blood to fly everywhere. The owner of the cake shop says the incident was "clearly upsetting," adding that all they could do was apologize to their customers. The suspect is also believed to have thrown a pig head at a group of tourists. Police are now checking local farms to see if anyone has been buying a large number of pig heads.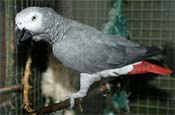 Bird's Impressions Could Be His Ticket Back Home
A man in England is hoping that his stolen parrot's Freddie Mercury impression will be the bird's ticket back home. Malcolm Booth tells The Sun his African Grey parrot named Chico was recently taken from his home in Hattersley. But he doesn't expect the separation to last long, explaining that Chico has a habit of singing "Bohemian Rhapsody," "We Are the Champions," and other hits by British rock icons Queen. Booth says the bird's squawking doesn't bother him because he's a big fan of the band, but he expects it isn't everyone's cup of tea. He hopes the entertainment drives the thieves up the wall so they have no choice but to return Chico to get a little peace and quiet.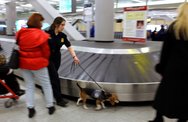 Luggage-Inspecting Beagles
Have you ever been to the airport and had a dog go through your bags? Izzy is among a small number of luggage-inspecting beagles who live and work at the airport, though federal officials won't disclose the exact number of canines employed. Technically called a "passive response dog," she is trained to sit whenever she smells one of several odors: fruit, meat, plant, seed or vegetable. With just one sniff, Izzy can determine whether a bag is worth searching — a seconds-long appraisal that would take human officers hours to do, given that about 1 million travelers pass through Kennedy Airport in a single month. During her three years of employment, she's found everything from duck tongues to pigs' heads and feet. The agricultural products vary according to the time of year. On average, about 28 pounds of food are collected every day, most of it from people who are trying to sneak in food from their native countries.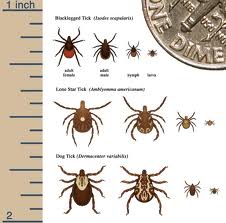 Ticks Coming Out Early
The mild winter means ticks have started stirring earlier this year as they wake from their dormant state and begin searching for meals of blood. The weather doesn't mean there will be more ticks, but people should be aware of the parasites as they head out for hikes and climbs in the unseasonably nice weather. And as usual, people are advised to be careful during the peak Lyme disease season in May and June. Dr. Ellen Friedman, a veterinarian at the Newburgh Animal Hospital, said she's already seeing cats and dogs coming in with ticks, though it's too early to tell whether they've been infected with Lyme or the other diseases they're increasingly seeing from bites. As with humans, infections are treated with antibiotics.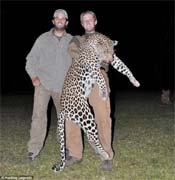 Trump's Sons Kill Endangered Animals
Zimbabwean conservationists said they are investigating the legality of a hunting spree in the country by the heirs to U.S. magnate Donald Trump's fortune, after photos showed up online of the brothers posing with dead game animals. The independent Zimbabwe Conservation Task Force said that Trump's sons, Donald Jr. and Eric, killed an elephant, an endangered leopard, a buffalo, a crocodile and other "big game" animals on a 2011 trip arranged by a South African safari firm that is not registered in Zimbabwe. Animal protection groups were outraged how "rich people" had boasted about their "shocking and unethical" behavior, the trust said. Johnny Rodrigues, the head of the Conservationists' Alliance, said investigators are sifting through records on whether license and trophy fees were paid and if the South African firm had been cleared by Zimbabwe Wildlife Authorities to operate in the northwestern province near Victoria Falls. Safari trips routinely require supervision by Zimbabwean rangers and licensed local hunters. If they are found to have breached hunting laws, organizers and hunters can face imprisonment or a fine of up to $500,000. The Trump brothers have said they were hunting last year in an area with an excess of elephants. Zimbabwe is further investigating reports that hunting dogs were used on last year's trip. Harrison said Zimbabwe's Wildlife Act of 2000 prohibits hunters from using dogs to hunt leopard or any wildlife unless given special authority in certain conditions. "A leopard doesn't stand a chance. The dogs chase it up a tree and they stay at the bottom of the tree and the hunter takes an easy shot," she said.

NEWS UPDATE Brought To You By PetzLife.com. Use the code "RADIO" to receive 20% off!

Listen to the entire Podcast of this show (#645)