Animal Radio® Show #437 April 19, 2008
Victoria Jackson, Saturday Night Live


Victoria states that every time she wanted to get pregnant, she got a puppy instead. She currently has three dogs and has been trying to convince them, although so far she has been unsuccessful, that she is the Alpha Dog.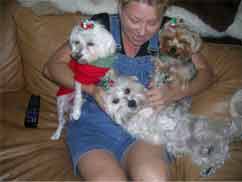 Victoria started out supporting herself as a cigarette girl and a typist at the American Cancer Society while performing stand up comedy. Her big break came when Johnny Carson put her act (which consisted of her doing a handstand while reciting poetry) on national TV. Following her 22 appearances with Johnny, she starred in many movies and TV shows, most notably Saturday Night Live.

Victoria currently lives in Florida with her husband and two daughters, as well as her three dogs, Buddy, Daisy and Peanut. Victoria still tours the country doing stand up.
http://www.victoriajackson.com



Vladae, The "World Famous" Russian Dog Wizard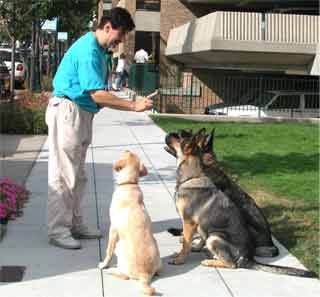 Is your dog out of control ­ barking non-stop, pulling on the leash, chewing your belongings, digging in the backyard, growling or possibly biting? If you have a problem ­ Vladae has the solution. Vladae, the World Famous Russian Dog Wizard, teaches people how to control their dogs.
My poodle marks his territory!
For the next two weeks: 1. Keep an eye on your dog. 2. If you can't watch him, crate him. 3. Be with him outside. After a while, he will get used to this new behavior of hanging out with you and will stop marking his territory. During this time, get rid of the scent where he has marked by cleaning it with an enzyme product.
How do I stop barking dogs in my neighborhood?
First, approach your neighbors and let them know that you appreciate them as neighbors, and then ask them politely to control their dog. In the meantime, you can purchase a product called Good Neighbor Barker Breaker. Place it next to the fence (it will work up to 50 feet away from the barking dog) and when the dog barks, it will emit a high pitched sound, which will startle the dog, but is harmless.
How do I teach my dogs to go potty on my boat?
Collect pee and poop from your dogs and saturate newspapers or cloth. Then place this on your boat in a designated area. You can even place pee pads in this location. One product called Patio Park Potty uses real sod, so training is easy to do since it's very natural for dogs to urinate on grass. You can also use an attractant called Predator Pee (wolf pee) to scent the grass. Once the dog urinates on the grass, he will continue to use it without having to scent it. You can also try the product Penta, which is a water that can be found in health food stores, which make dogs urinate quickly. This can also be used along with the attractant.
http://www.controlyourpet.com



Pet Training For Film and TV
Joel Norton, Hollywood Paws


Have you ever wondered how to train your dog for the movies? Hollywood Paws is an Elite Animal Training Academy where people are trained to train their pets for movie and television. Learn the tricks of the trade ­ from the commands for basic obedience to the complex cues used in movies, TV and commercials. Their graduates are equipped not merely to give effective commands but to get a perfect performance out of an animal actor under the most demanding circumstances.
However, Joel states that if you think you will become rich by having a dog in the movies, think again. Dogs, unlike people, unfortunately do not get residuals. Dogs get paid a flat rate (no overtime), sort of like being paid for a "prop," which can be around $300 a day ­ which is still not too bad!
Joel also tells us some behind the scenes stories. Like the dog who had to be trained to nudge Tom Cruise in the crotch and the dog who was fired at the last minute for being "too large," because the star preferred a smaller dog.
At a young age Joel knew he wanted to work with animals. Like most children he wanted to be a veterinarian but discovered there was more out there than just healing the sick. After seeing a few episodes of "The Crocodile Hunter" he wanted to be just like Steve Irwin and learn hands on as much as he could about animals.
http://www.hollywoodpaws.com



Bird Food Recall
Bobbie Hill, News Correspondent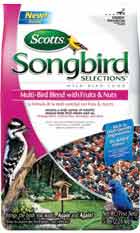 A major manufacturer of wild bird seed and animal food products announced a voluntary recall of certain varieties of Morning Song, Scotts, Country Pride and various private labeled branded wild bird and animal food products, due to the use of unapproved pesticides.
Retailers and consumers should know that the recalled products are in no way connected to Scott Pet in Rockville, Indiana. The president of that company, Mike Bassett, said "We want to reassure our customers that the recalled products are from another company and that every Scott Pet Product is 100% safe for animal consumption and human handling."



This beautiful piece of artwork by Bobbie Hill was drawn by the artist in 1990, at the very beginnings of her career. Ms. Hill is a self taught artist who's talent awoke 18 years ago exploding onto paper and canvas. The Canadian Lynx, done in colored pencil, shows each strand of fur on this magnificent animal with incredible detail topped off by astonishing eyes. This original 22" by 30" framed piece is available to Animal Radio listeners "exclusively" with a portion of the purchase price going to animal rescue organizations.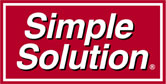 NEWS UPDATE Brought To You By Simple Solution Natural Line Of Products




What Shreds Paper, Credit Cards and Dog Tongues?
Britt Savage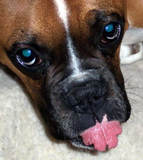 It is the feared paper shredder!
No one knows why Cross, a boxer dog from North Carolina, decided to lick the paper shredder in his family's home. When he got stuck, he started screaming for about 10 to 15 minutes, attracting the attention of his family, who finally figured out to put the shredder into reverse.
While Cross lost small chunks of his tongue, he has made a complete recovery, and will have no problems eating, drinking-and licking. And his family doesn't have to worry about it happening again, because Cross now trembles whenever he hears the paper shredder.



Everything You Wanted to Know About Your Four-Legged Friend
Dr. Justine Lee, It's A Dog's Life... But It's Your Carpet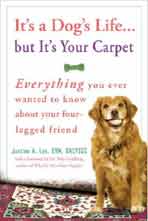 Why do dogs like to sniff butts? Do I really have to brush my dog's teeth? Is it OK to let Fido sleep on the bed? Can a Chihuahua and a Great Dane mate? These are the types of questions you know you have always wanted to ask your veterinarian, but were afraid to.
Well, you still don't' have to ask, now you can find these and other answers to great questions in It's a Dog's Life But It's Your Carpet, which offers factual and funny answers to some of the most common, offbeat questions about our beloved companions.
Whether you're looking for advice on pet rearing, solutions to your dog's most frustrating habits, explanations of his weirdest quirks, or simply a good laugh, this book is sure to inform­and entertain­dog lovers of every breed. And, it's no mystery that there are about a million questions that go through the mind of a dog owner every day.
Dr. Justine A. Lee is an emergency critical care veterinarian on faculty art the University of Minnesota College of Veterinary Medicine.
http://www.randomhouse.com



Dogs Detect Cancer in Patients' Breath
Britt Savage


Recent studies by Pine Street Foundation, a cancer research organization in San Anselmo, California shows that a dog can smell a human's breath and detect cancer.
In fact, with only a few weeks of training, most household dogs can learn to tell the difference between breath samples of healthy people or those with lung and breast cancer.
The earlier cancer is detected, the better chance someone has of surviving. And now, researchers are hoping that man's best friend, dog, can help with early screening and detection.



International Animal News with Kaye Browne, Pet Talk Radio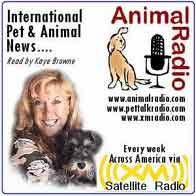 Crooks steal 18 crocodiles in Norway ­ about $18,000 worth
Two Amazing Purebred Staffordshire Bull Terriers - save woman's life
Woman bites dog on nose ­ stops attack on her dog
Octopus lead complex love lives ­ consisting of jealous murders and gender bending
Cow in India self milks ­ produces 4 pints each morning and evening
New Zealand man receives 75 hours community service after fictitious call ­ he stated a wombat was raping him
http://www.pettalkradio.com.au



The World's Only Bi-Pedal Dog


Jude Stringfellow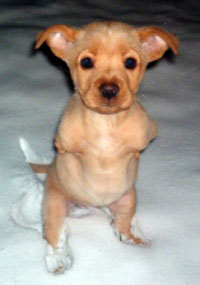 Faith Stringfellow is an amazing little dog, with an even more amazing story. She was born just before Christmas in 2002. She was born to a mother dog, believed to be a nearly full-blooded chow, along with several other siblings. Faith wasn't the only puppy born with deformities, but Faith was the only puppy with deformities to live.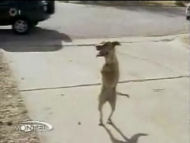 Faith was weak, small, runtish, and mostly she was nearly dead. Faith originally had three actual legs, but the left front leg was badly deformed, placed backward, upside down, and it had more toes on it than normal dog's legs. The leg was removed when she was seven months old when it began to atrophy. People ask if it was easy to teach Faith to walk upright...the answer is NO! It was not easy, and it was not natural. It was SUPER natural, and therefore, we have to give all of the credit to Jesus. Of course, it took a little....Faith as well.
See Faith's amazing video.
http://www.faiththedog.net



Puppy Popsicles


The weather is starting to heat up and just like us, Fido likes a quick treat to cool him off. But don't give him just anything, give him a special treat made just for him, a Puppy Popsicle.

Recipe:
1 Package Skinny Rawhide Sticks (the rolled kind)
Beef Bouillon cubes
Small Plastic Juice Cups (or popsicle molds)
Prepare the bouillon according to directions. Allow to cool completely. Pour about 3 inches of liquid into the juice cup (you can make them bigger or smaller depending on the size of your dog). Put in freezer ­ when the bouillon gets really slushy, place the rawhide stick in the middle of the liquid. You want the liquid slushy enough to hold the rawhide in place. After completely frozen, pull the plastic cup off and viola ­ Puppy Popsicles just for your pooch!


Is Your Pooch a Genius?


Stacy Stubblefield, PoochIQ.com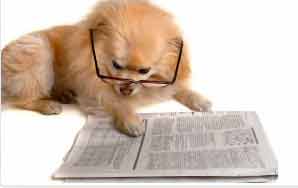 Ever wonder if your pooch is a genious? Well, now you can find out with 15 simple exercises designed to entertain and challenge your pet. The Pooch IQ Kit is a first-of-its-kind tool that lets you accurately test your pooch's intelligence level while having loads of fun with your pup!
Think you know everything about your dog's personality? Think again! Almost everyone we know who's given their pup the Pooch IQ Test has been shocked by their dog's reaction to at least one (and usually more) of the exercises. After the test is done, you'll not only be able to calculate your pup's IQ score, but you'll also understand your dog and his or her behaviors on a much deeper level.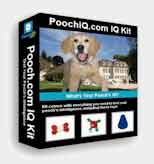 Inside the Pooch IQ Kit, you'll find a booklet with 15 mentally stimulating exercises for your dog and a scoring key you'll use to calculate your pup's IQ. Plus, the IQ Kit includes all the toys and props you'll need to do the exercises with your pet.
The IQ Kit contains 15 thought-provoking exercises that test skills like:
* Learning from Experience
* Short-Term Memory
* Persistence
* Ability to See Similarities
* Problem-Solving Skills
* Ability to Recognize Patterns
* Many more!
And remember, a low score on the IQ test isn't an indicator of the quality of your dog. As long as you have a pooch that makes you happy, his/her intelligence shouldn't really matter. Plus, super-smart dogs tend to be a lot more mischievous than their peers, so be happy you don't have a pooch who can outsmart you!
http://www.poochiq.com
Listen to the entire Podcast of this show (#437).

Broadcast on XM Satellite Radio Only.

Listen to Animal Radio® - Go to the launch page
Return to Animal Radio Network™ Home Page
Read April Newsletter
Copyright 2008 All Rights Reserved Animal Radio Network LLC