Animal Radio® Show #438 April 26, 2008
Donny Osmond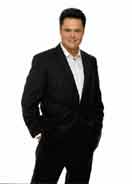 Donny Osmond has always been a big pet lover and grew up around pets. Currently, Donny lives with his wife, children and his two birds.
Earlier this year, Donny Osmond made a commitment. After cardiovascular disease affected both his parents, he's making an effort to take care of his heart. To that end, he joined up with The American Heart Association's Start! campaign, which encourages Americans nationwide to incorporate a little more physical activity into their already-busy lifestyles. In fact, we speak to Donny while he is walking on a treadmill. So far, he has racked up over 12 miles!

Studies reveal that American jobs have become more sedentary and that employees are working 164 more hours a year than they did 20 years ago. So, grab your dog (or adopt one if you don't have one) and starting walking more. Walking has the lowest drop out rate of any other type of exercise, and it is free. Also, it's healthy for both you and your dog!
http://www.americanheart.org
http://www.donnyosmond.com



Dick Van Patten
Natural Balance Eatables For Dogs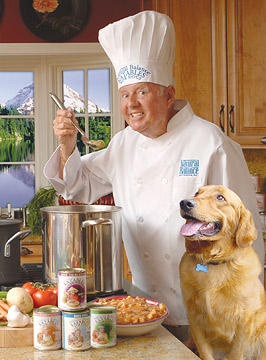 Hal is usually the taste tester here at Animal Radio, but the Eatables for Dogs "Chinese Take-Out With Sauce" looked so irresistible, Judy actually made her first taste test. And the results? She loved it!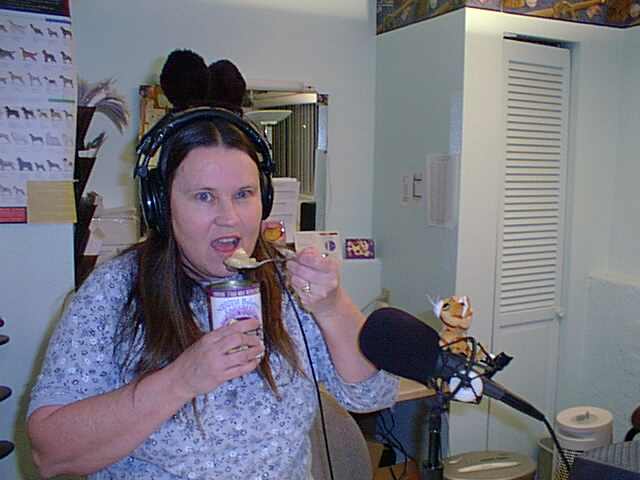 The Eatables for Dogs is a holistic dog food (they also make holistic cat food) with no fillers, no wheat, no soy and no by-products.
Dick Van Patten's Natural Balance Eatables is the first canned dog food made not in a pet food plant, but in a USDA plant, that makes food for humans. But while it looks like a home-cooked meal ­ save it for your dogs.
If it is good enough for Dick Van Patten to eat (and us here at animal Radio) then it's good enough for your dog!
http://www.naturalbalanceinc.com



Vladae, The "World's Famous" Russian Dog Wizard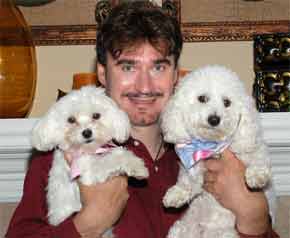 Is your dog out of control ­ barking non-stop, pulling on the leash, chewing your belongings, digging in the backyard, growling or possibly biting? If you have a problem ­ Vladae has the solution. Vladae, the World Famous Russian Dog Wizard, teaches people how to control their dogs.

My dog is treat aggressive!
For example, when the delivery person comes, she gives him a treat, which he becomes very possessive of. What to do: 1. Put him in a crate before you open the door. 2. Let the person who comes in have a very special treat in their hand in some kind of packaging, like cellophane, which will make noise when opened, so the dog knows it is coming. 3. If your dog barks at the visitor, smack the crate with just enough force to startle your dog, and make a loud growling sound at the same time. When your dog stops barking, praise them. 4. Have the visitor start making noise with the package holding the treat. Have them approach your dog sideways, not bending over the dog, have them kneel down so your dog can sniff their body. Then have them give your dog a treat. Praise him if he takes it quietly, but if he barks, smack the crate and growl. 5. After about 5 or 6 times you should be able to do this without crating your dog

I have two pit bull mixes - one is aggressive!
My dog is good with people but is aggressive towards other dogs. What to do: 1. You need to have more control over your dog. 2. Before taking the dog out, place a muzzle on him. 3. When out, if your dog even thinks of doing something bad, snap the leash and make a growling sound. After repeatedly showing you are the alpha, your dog will learn to see you as an authoritative figure.

Canine Mom has 3 rules to follow:
1. Never ever give any commands you can't reinforce. Before you say anything to your dog, think of what you will do if he does not obey. If you don't know, don't say anything to your dog.
2. Once you say something, you have to follow through by all means.
3. Never repeat yourself.
The two biggest mistakes people make when getting a dog:
1. Treating you dog as a human. When you treat your dog as a human, your dog will treat you as a dog.
2. Allowing your dog to live on your welfare. Dogs need a job to do, both physical and mental.
http://www.controlyourpet.com



German Restaurant Allows Dogs But Not Kids
Britt Savage


A German restaurant has caused a lot of animosity to come to the surface when it refused to seat a woman who wanted to bring her two small children to dinner, and yet it allows patrons to bring their dogs to sit with them in the dining area.
Dogs are welcome at both lunch and dinner, the restaurant's owner has said, but "here, children are not allowed in the evening." Jana Schmid, 32, wanted to celebrate a christening at the "Boheme" restaurant at Augsburg with a party five adults and two small children. It is the only non-smoking eatery in the area.
Peter Degle, the owner of the "Boheme" and father of two, said he had to think of the interests of his regulars. "After a hard day's work they want some peace," he said. "Recently they have complained on several occasions about crying babies. During the day children are welcome but in the evening businessmen have priority and we wanted to spare them crying children."
Many people in the conservative Bavarian town are supporting the restauranteur's decision.



Bobbie Hill, News Correspondent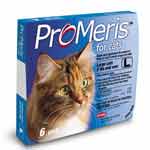 ProMeris Warning
The advertising promises a great product and for millions of pet owners, it does the trick of getting rid of ticks and fleas. But area vets like Dr. Paul Jaco from Marshall County, Kentucky, are seeing their fair share of adverse side affects due to ProMeris. Dr. Jaco describes the warning signs as "lethargic for a day up to 3 days, 24 to 72 hours, just a little bit lethargic, and they can have nervous twitching and hyper salivation associated with ProMeris." Pet owners have been hitting the internet blogs warnings others to stay away from the product.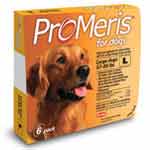 Dr. Jaco says regardless of the medicine you chose to treat your animal be on the lookout for two key side effects. The first, is your dog or cat feeling lethargic? And secondly, are they twitching? The company that sells ProMeris has had reports of some problems and deals with them on a case-by-case basis.
ProMeris' representative veterinarian Dr. Tom Linz explains, "We have a group of veterinarians in the company that handle these adverse events when people call in and we investigate them thoroughly to make sure it is the product and it's not a concurrent product or something else going on."



Military Pets
Last Christmas, Tracy Ginder of Mount Pleasant, North Carolina, collected and mailed holiday presents for military personnel. Having also rescued animals from shelters in the past, on her own, she found she just didn't have enough room for all of the military pets that needed new homes when their owners were deployed. So she created the online Military Pet Outreach program to help find homes for all kinds of pets that otherwise might end up at shelters. It's connected to the popular www.petfinder.com.
Ginder has been asked to help place hamsters from Camp Lejeune and cats from Hawaii, saying "You help one person, and word of mouth spreads,"
If you'd like to help, dog food is needed, heartworm preventive medication, litter boxes, dog houses and kennels are also needed.
You can reach Tracy Ginder at militarypetoutreach@yahoo.com.



About Animal Radio® News Correspondent Bobbi Hill: This beautiful piece of artwork by Bobbie Hill was drawn by the artist in 1990, at the very beginnings of her career. Ms. Hill is a self taught artist who's talent awoke 18 years ago exploding onto paper and canvas. The Canadian Lynx, done in colored pencil, shows each strand of fur on this magnificent animal with incredible detail topped off by astonishing eyes. This original 22" by 30" framed piece is available to Animal Radio listeners "exclusively" with a portion of the purchase price going to animal rescue organizations.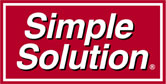 NEWS UPDATE Brought To You By Simple Solution Natural Line Of Products



"Kitty Crack"
Anitra Frazier, Nutritionist


Our studio cats go crazy over a cat food called Purina Kit' N Kaboodle. We actually call it "Kitty Crack" as we know it is not a very nutritional food, and they will do almost anything for it. So, we had to call in the expert, Anitra Frazier, to find out just exactly what is in it.
Anitra tells us corn is the first ingredient listed, which is not what cats need, as they are carnivores and they don't digest carbohydrates easily. There is also a lot of salt added, which is not labeled as such. In other words, you will find listings as sodium chloride and cheddar cheese, which is very high in salt. You will also find a listing of chicken "by products" which can include beaks, feathers, heads, maybe intestines, which all are parts of a chicken that would not normally be used. And the color of the food ­ it is just added to make it appeal to the humans.
For a truly nutritional food, look for the first item on the label to be meat (chicken, beef, lamb, etc.) not anything followed with the words "by products," or just the word "meat" alone without the type being listed. If only the word "meat" is listed, this could include horse meat or euthanized cats and dogs.
Look for Anitra's book, The Natural Cat, later this year to help you make the right choice in food for your cat.



Learn To Communicate With Your Pet
Marta Williams, Ask Your Animal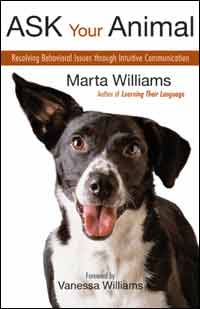 Ask Your Animal is a book about intuitive communication with your animal. And while you might be skeptical, it may help to know that Marta Williams is a scientist who was also a skeptic. But through scientific experiments she conducted, she has found that all people have this gift. In fact, we are born with it ­ we've just been trained to suppress it and taught that it is impossible!
In her new book, she shows how anyone can learn to intuitively hear what the animals are saying and be heard by them. She shows you step-by-step how to easily apply intuitive communication and to resolve common behavioral problems that crop up. Perhaps your dog constantly barks or lunges, or a cat goes missing or won't eat. Maybe there is a new animal in the household or a new child, and another animal is reacting inappropriately. All of these issues and more are dealt with through examples, exercises and case studies
http://www.newworldlibrary.com



International Animal News with Kaye Browne, Pet Talk Radio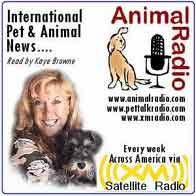 Off leash dog parks increased - not everyone agrees this is a good thing, and it creates war between dog lovers and dog haters, with the dog haters stating that parks should be for people and kids
Donkey day in Britain - donkeys won't carry anyone weighing more than 110 pounds, plus they will get one day off per week
Blue crabs create crazy dance for mate - since they have trouble seeing each other in underwater sea grass, this dance allows their pheromones to be sent out over a distance
Beauty Pageant for Camels - why would these camels be worth a prize of up to $8 million dollars in cash and 100 cars?
http://www.pettalkradio.com.au



Car Crash Puts Man on a Mission about Pet Safety
Dr. Jim Humphries, Veterinary News Network


On a frigid February evening, Thomas Rodriguez climbed behind the wheel of his Oldsmobile with his 7-year old miniature poodle, Holly, perched in his lap. The pair was headed to visit a friend in a nursing home. They did not count on hitting a patch of ice. "We were in a head-on collision," remembers Rodriguez, 75, a retired airline employee.
"I was okay, but Holly was sitting on my left leg when it happened, and the airbag came right out and hit her. I could hear her whimpering, and I thought Oh my God, I've broken her neck!" Rodriguez asked the police officer at the scene to call an ambulance. He said, "Are you hurt?" "No, not for me, for my dog, please call an ambulance, I'll pay for it!" But he couldn't call an ambulance for a dog. So, a passerby rushed Rodriguez and Holly to the Animal Emergency Center, where the severely injured poodle was treated for the next several days.
Now fast-forward four years, Holly is completely blind since the accident, says Rodriguez, who has made it his mission to educate the public about the dangers of dogs riding in cars with airbags. People strap their children in the back and they protect them, but we don't think about our pets. Veterinarians often see dogs who have been driving down the road with their heads sticking out the window and they get a bug in their eye or other foreign debris.
If Rodriguez had his way, all dogs would ride in the backseat secured with safety restraints. Holly now travels strapped inside a carrier in the backseat, and Rodriguez says it doesn't bother her at all.
http://www.vetnewsnet.com





Talk With Your Animals
Joy Turner
Joy speaks with "Booger," a semi-feral cat who wants to remain that way, even though his guardian, Stacy, would like him to be a part of the family.
http://www.talkwithyouranimals.com
http://www.joyturner.com



Canine Aggression
Karen Delise, The Pit Bull Placebo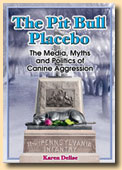 First it was the Bloodhound, sensationalized in the dramatizations of Uncle Tom's Cabin. Then it was the Doberman Pinscher, symbol of the Nazi menace for a nation at war. Now, it is the Pit bull that is vilified for the depravity of his master.
Today, police chase down fleeing Pit bulls in the street, firing dozens of wild shots in response to media-fed rumors of supernatural Pit bull abilities. Politicians coach and nurture this fear with their own brand of rhetoric used to assist in the passing of quick and ineffective legislation created to pacify communities ignorant of the real cause for dog attacks. Hundreds of animal shelters throughout the country kill all unclaimed Pit bull-looking dogs, as they are deemed "unadoptable" solely on their physical appearance.
Karen reveals how our views and beliefs about canine aggression have changed over the last 150 years and how our perceptions about the nature and behavior of dogs has been influenced and shaped by persons and organizations who often times disseminate information about dog attacks. By examining actual cases of severe dog attacks during the last 150 years-the circumstances, the individual dogs involved, the victims, and our interpretations of these events-Karen attempts to offer a reasoned and balanced perspective on the behavior of dogs and the critical role humans play in the management and treatment of our canine companions.
Karen Delise is the founder of the National Canine Research Council, comprised of canine experts created to present accurate statistics and to provide detailed information on the human and canine behaviors which have contributed to cases of severe and fatal dog attacks.
http://www.fataldogattacks.com
http://www.nationalcanineresearchcouncil.com



"Creature Comfort" Law


Jan Sluizer, Special Correspondent
There is a new law in San Francisco aimed at the backyard dogs, sometimes chained, which stay alone much of the time. The law requires the "dog guardian" to provide a standard doghouse, comfortable bedding, clean water in a non-tippable bowl and nutritious food. Tethering is discouraged.
San Francisco joins Los Angeles and counties in Texas, Arkansas, Louisiana and Arizona which have similar laws.


Canine Obesity


Dr. Marty Becker, Good Morning America


In 1970, 9% of dogs and 3% of cats were overweight. Now, 66% of Americans are overweight and 50% of America's pets are overweight. That's one out of every 2 pets.
You remember the old "Lassie" show where she used to have a job to do and would constantly run around, well, now Lassie is collapsed on the couch in front of the tv and is watching Animal Planet or listening to Animal Radio®.
Several things are the cause of the problem. The biggest thing is too much food in their mouth and too few miles on their feet. We are killing our pets with kindness. We love to go to the treat drawer, we food free choice and we feed the wrong kind of foods. Dogs are scavengers and they will happily eat everything that is put in front of them.
With humans, we think of this time of year as "bikini season" and we are trying to get back into that pair of shorts we wore last year, and they don't quite fit. Well, there is no "bikini season" for dogs. They are no stick-thin dog models on Animal Planet. They don't take a look at their hairy derriere and go "oh, wow, I need to get some of that off."
Fifty-percent of people think that their overweight pet is the ideal body weight. They also feel that if their pets look a little large, perhaps it is just because they have a lot of hair.
The four basic ways to tell if your pet is overweight:
1. Look back to when your dog was one year of age ­ that is his ideal body weight
2. Feel his ribs ­ you should be able to feel his ribs just under a light layer of fat
3. Look at his profile ­ you should see a tucked abdomen
4. Look down on your pet ­ you should see an indention at his waist like an hour glass
If you need help to determine if your pet is the right body weight, take him to your veterinarian. Your veterinarian will not charge for a weight check and will tell you what the correct body weight should be for his breed.
http://www.petconnection.com



Smart Dog Bites Dumb Man
Britt Savage


Who's the alpha dog? Well, it turns out one man was not! A German man, wanting to be the alpha male, tried to show a dog who was boss by eating out of the dog's dish. The man is now in the hospital.
A 47-year-old man in the northwestern German city had apparently had one too many when he decided to show his friend's dog who was boss. He got down on all fours in his friend's apartment and, with the large mutt presumably watching in disbelief, began to munch out of the dog dish.
As the man had hoped, the question as to which of the two should be considered alpha male was quickly answered. The dog attacked the man and bit him in the face. The severely injured wannabe mutt was rushed to the hospital.
"I have no information that he is missing any body parts," police spokesman Klaus Laackman stated, "but you can imagine the damage. The face is a very sensitive part of the body."



Listen to the entire Podcast of this show (#438).

Broadcast on XM Satellite Radio Version Only.

Listen to Animal Radio® - Go to the launch page
Return to Animal Radio Network™ Home Page
Read April Newsletter
Copyright 2008 All Rights Reserved Animal Radio Network LLC