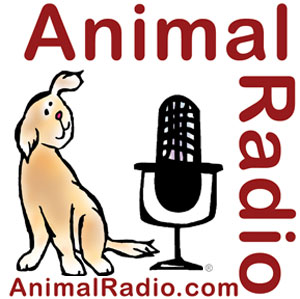 Animal Radio® Show #647 April 28, 2012
David Bellamy and The Bellamy Brothers "Zoo"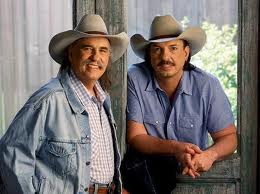 The Multi-platinum selling Bellamy Brothers are without doubt one of country music's most successful duos. For more than 35 years, the Bellamy Brothers have been an unassuming picture of consistency in country music, crafting honest, heartfelt songs that connect with millions of listeners around the world. Yet Howard and David Bellamy have weathered the trends admirably, enjoying enormous success throughout their career with numerous No. 1 hits on both the Pop and Country charts.
The Bellamy Brothers had a lot of band names from the beginning. They started as a group and at one time were "The Accidents." Another time they were "The Hedrogenious Grouping" because they had a black singer, and the last name before they became "The Bellamy Brothers" was "Jericho." When they lived in Atlanta that was the name they were booked in the clubs. But David and Howard were always the two members left, so they decided to call themselves the Bellamy Brothers so the name of the band would remain the same and they would have a band behind them.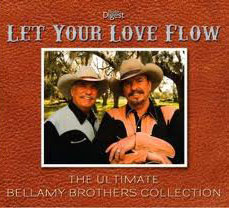 On February 21, exclusively through the Reader's Digest music program, the brothers released Let Your Love Flow: The Ultimate Bellamy Brothers Collection, a four-disc box set featuring 60 songs. Bellamy fans can expect to hear some of the Bellamys' biggest hits including "Let Your Love Flow," "If I Said You Had A Beautiful Body (Would You Hold It Against Me)," "Redneck Girl" and "Old Hippie," in addition to several never-before-released songs.
Let Your Love Flow: The Ultimate Bellamy Brothers Collection will be available for purchase through Reader's Digest's spring 2012 catalogue, as well as in the publication's online store at www.rd.com/bellamybrothers
But that's not all - David and Howard are both BIG animal lovers!
David Bellamy has lots of animals at home. He grew up on a ranch with his brother, and they have had animals since the day they were born. Currently, David and his wife Susan have two dogs, both Rat Terriers, named Waylon and Willie. They also have a parrot that's been in their family for 28 years named Hose' (which they consider one of their kids!), and three cats, named Dizzy, Shadow and Tiger. Sometimes they have four cats, when Howard's cat, Tory, wanders over to their house to eat. Along with the cat, his brother Howard has two dogs with his wife Jenny named Brutus and Maverick.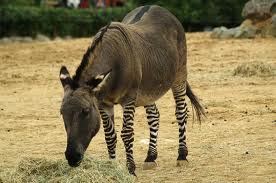 They all currently live on a ranch and their animals roam around between the houses, so David claims them all! And last, but not least, David has a Zeedonk, (part Zebra and part Donkey) that lives in the pasture with his cattle. He originally got the Zeedonk because he was having trouble with coyote going after his cattle, and Zeedonks will protect the herd. The Zeedonk has stripped legs and the rest of him looks like a donkey.
Listen to David talk about the good times with their pets!
Wings' Steven Weber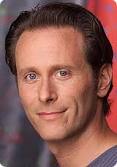 Steven Weber ("Wings," "Brothers & Sisters") stars in a touching story inspired by true events, of the special relationship between a broken, homeless vet and his only constant companion and soul mate, a Border Collie named Duke, in the World Premiere of "Duke," a Hallmark Movie Channel Original premiering tonight, Saturday, April 28 (8p.m. ET/PT, 7C). Duke is not your typical hallmark movie. The story is a little deeper and a little darker, but no les emotionally engaging, and is based on a true story.
Marine Sergeant Terry Pulaski (played by Weber) returns from Iraq with both PTSD and a disabling injury. Terry struggles to be a good father and husband, but he's constantly depressed and hates the man he's become. Bethany (played by Cross), Terry's wife reluctantly brings home a stray dog that her student's named Duke, knowing that Terry and their daughter will immediately fall in love. But during a Fourth of July firework celebration, Terry has flashbacks of the war and finds himself being comforted by Duke as the two lay huddled together on the laundry room floor. From that moment on, Duke and Terry are inseparable. As tensions are running high at home, Terry is delivered a final blow when he is ordered by his doctors to take a medical discharge. Terry feels like he has become a burden to his wife and daughter and decides to leave, taking Duke with him.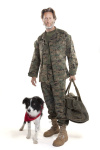 Ten years later, Terry and Duke are living in an old RV parked in his friend Javier's (played by Cummins) carport. The two met when they were both homeless. The years have been hard on Terry and he struggles to make ends meet by doing odd jobs for people in the neighborhood. So when Duke becomes seriously ill, Terry is frantic because he has very little money, and he cannot bear knowing Duke may not survive. In desperation, Terry takes Duke to a nearby veterinary clinic, hoping a doctor (played by Hossack) will ease his final hours. When asked to fill out paperwork, Terry leaves an anonymous letter instead and takes off before the medical technician returns. To everyone's surprise, Duke recovers, and a media campaign to find Duke's owner leads Terry to not only reunite with Duke but reconcile with Alice (played by Smyth) his estranged daughter.
Steven currently does not have any animals. He has two sons who are begging him for a dog, but he feels it would be unfair to an animal given his hectic lifestyle. However, he admits that he is inching closer to getting a dog, as his boys are demonstrating more responsibility.
Should we tip off his boys and tell them to start selecting their dog now, while Steven is softening up?
http://www.hallmarkchannelpress.com
Treating Your Pet With OTC Drugs
Dr. Robert Ridgway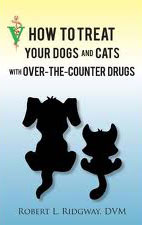 We love our pets and want to give them the best care possible. Sometimes, though, taking them to the vet isn't an option – or we wish there was a less expensive alternative, yet still a safe one. Fortunately there is, if you have the know-how.
A red flag goes up when we think about people treating their pets at home. Veterinarians go through many years of schooling to learn how to properly treat pets, so it is a little alarming to think we can do this at home without their knowledge. But what Dr. Ridgway has done in his book, How To Treat Your dogs And Cats With Over-The-Counter Drugs, is to make things simple and very well explained. So if people would just READ the book and DO what it says, their pets are going to be just fine.
One of the hardest problems is the ability to diagnose what is wrong with your pet. Not only will you not know what exactly is wrong with your pet, you don't have the right tools to properly diagnose it. This may include not having a microscope to look at a stool sample or how to diagnose a fungus infection on the skin, which is probably the most difficult thing to do.
But you can identify diarrhea and you can tell if an animal is vomiting. These are the types of things you can diagnose in your pet. The problem is that the actual causes of diarrhea and vomiting can be multiple things.
The name of the game is to start ruling things out. If your pet has bloody diarrhea and you treat them for some possible causes such as hookworms and coccidia, and it stops, then you have hit the nail on the head.
He also states that the best thing for your pet is to take them to your veterinarian. The reason he wrote the book is that he has learned that there are tons of people who will NEVER, EVER, take their pet to a vets. It's just not going to happen. What happens when that animal needs expensive treatment, they take it to a shelter and turn it in.
Some of the things you will find in the book are:
Does your dog have motion sickness? Don't risk death by sedating him for the trip. Benadryl, given in the correct amount, is the OTC treatment of choice.
Your pet's mouth inflamed? Try replacing a plastic food and/or bowl with one made of a non-plastic material. Many pets are allergic to the compounds found in plastic bowls.
Pet having trouble keeping medicine down? Give the proper dose of Pepcid AC 30-40 minutes before giving the medicine.
Dr. Debbie mentions that over-the-counter medications are the #3 reason people call Poison Control. This is one of the reasons for Dr. Ridgway's book. This is because people are over-dosing their animals by buying products off the shelves and not knowing how to properly administer them. But if they read his book, with direction and guidance, they can give a proper does that won't harm their animal.
Let's hope that this book will educate people and even encourage them to call their veterinarian. It's important to have a good relationship with your veterinarian when it comes to your pet.
Robert L. Ridgway, DVM, is the veterinarian at the Orange County Animal Services in Orlando. He earned his bachelor's and DVM degrees at Kansas State University, and then attended the University of Maryland University College Masters of Internal Management; he did his residency in internal medicine at the University of California UC Davis College of Veterinary Medicine.
Topical Solution for Wounds & Infections
Troy Simmons, Vetericyn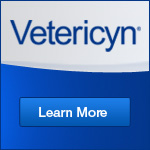 Vetericyn animal wellness products are innovative topical solutions for the care of wounds, infections and irritations caused by bacteria, viruses, fungi or spores.
Vetericyn is non-toxic, steroid and antibiotic free and is a no-rinse solution. You can spray it around the eyes, ears, nose and mouth of your pet. Think of it as saline, but with the ability to kill any bacteria, virus or fungus. It will also not sting your pet.
We have all grown up thinking that something has to bubble or sting to work. However, this is not a reaction from the body, nor is it how it repairs itself or fights infection. When you spray Vetericyn on your pet, nothing happens. It won't bubble, foam or fizz. Your pet won't wince or cry out, or even run when he sees you bring the bottle out.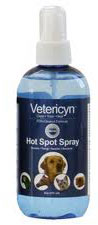 Vetericyn is great for hot spots, ringworm, ear infections, and all kinds of topical infections or wounds.
Made up of compounds similar to those produced by the animal's own immune system, Vetericyn will not harm healthy tissue. This product, in solution, kills 99.999% of bacteria, viruses, fungi and spores including E.coli and Staph (MRSA).

Vetericyn is even safe enough to use on puppies and kittens. It won't harm your pet if they lick the area if you spray it with Vetericyn.
Dr. Debbie is a faithful user of Vetericyn in her practice. She uses it when she comes up against antibiotic resistance when dealing with ear infections or open wounds. Vetericyn is a nice option to treat them topically and avoid some of the heavy antibiotics that can cause more harm than sometimes good.
Now, you can use this treatment at home on your own pets!
2nd Annual Paw-Parazzi Pet Photo Contest
Steve Pinetti, Kimpton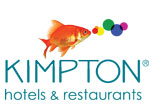 Last year we thought we'd do a fun little contest for our guests to show off photos of their pets. We imagined we'd get a couple hundred entries , but to our surprise almost 2300 pets entered the contest - dogs, cats, chickens, bunnies, turtles, lizards, even a baby calf entered - it was amazing! So, we decided to do it again!
To enter the 2nd Annual Paw-Parazzi Pet Photo Contest, upload your pet photos at kimptonpets.com and follow the contest link. The public will vote on their favorites. The 20 entries with the most votes will win great prizes from our partners like Olive Green Dog, Polka Dog Bakery, and FIDO Friendly Magazine.
The Grand Prize winner will win the Ultimate HosPETality Getaway which includes: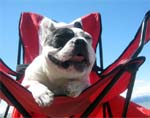 One $100 Kimpton Restaurant or in-room dining gift certificate

One in-room spa treatment for two

Quaker Pet Group & Republic of Paws Ultimate Legacy Pet Carrier

Pet amenities such as dog bed, bowls and treats during your getaway
Last year Petey, a Boston Terrier from Seattle won and we can't wait to see who it'll be this year! What are you waiting for – take that picture!
The Dogfather's Grooming Tip with Joey Villani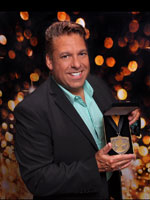 Sghop For Shampoo By Need
Any time you shop for shampoo for your dog, you are confronted by so many choices. This makes it hard to select the right one. So, to start with, think about the special need your dog may have regarding his coat.
You need to figure out the need for the shampoo. Is it because the dog smells? Or, the dog is dirty? Because you need to help cure a skin condition they may have? Is your dog scratching? Does he have dry skin? Does he have fleas and ticks? Because you want to change or enhance their color? Or, you want their coat a little bit brighter?
Once you decide that, then you will look at the products that you can choose from. Do you want it with fragrance, or fragrance free? With some dogs, the fragrance can actually cause itching. If you dog gets itchy from fragrance, you can always add doggy cologne after bathing if you would like him to smell extra nice.
Make sure with any product you purchase, you follow directions. This is especially important if you purchase a product that needs to be diluted. You do not want to overuse product. If a product needs to be diluted 5 to 1 with water, do it properly. Otherwise, you are using 5 times the amount of chemicals which could cause a reaction, whether it by dry skin or even something worse. Read and follow all instructions – that is why they are there!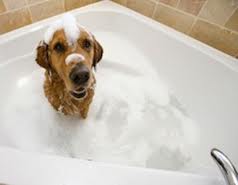 If you are looking for something that enhances or changes the color or altering of the natural balance of your dog's coat, remember, beauty comes with a price. For example, if you are using a whitening shampoo to make your dog's coat whiter, it has to do something to make it whiter, which usually means it has to damage the coat and pull out whatever is in there. Next, you will need something to go in and repair the damage. A conditioner will do the job.
It's important to follow up with a conditioner for a couple of reasons. A conditioner can also help with matting. When you wash your dog's coat, you are giving the coat a positive charge, which will need to be neutralized. A conditioner will neutralize the coat and bring it back, so you are not left with a dog who looks like Phyllis Diller!
There's an old wives tale that needs to be corrected: That curly coated dogs or hard coated dogs cannot use conditioner because it softens the coat, which makes the hair flop. Nonsense! The shampoos and conditioners that are out there today are made for your dog's specific coats and will absorb into the skin and will not weigh the hair down. This is especially true if you buy a good product.
The last question is how many times can I bathe my dog? You can bathe your dog as often as you need. You can wash your dog 7 days a week with the right product and it is not going to hurt anything. Shampoos these days are made for your pet. Just like us, we shower every morning and as long as you don't use something that's harsh, your skin is fine.
And don't be fooled by tearless shampoos for dogs. Tearless means that it burns at a lesser degree. If you do get shampoo in your dog's eyes, rinse it out immediately and wipe it out.
Animal Radio® News with Stacey Cohen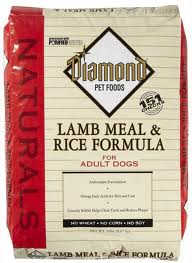 Diamond Lamb & Rice Recall
Diamond Pet Foods has recalled bags of its dry dog food, Diamond Naturals Lamb Meal & Rice because it may be contaminated with salmonella. No illnesses have been reported. Individuals handling dry pet food can become infected with salmonella. Pets with salmonella infections may have decreased appetite, fever and abdominal pain. If left untreated, pets may be lethargic and have diarrhea or bloody diarrhea, fever and vomiting. Infected, but otherwise healthy pets, can be carriers and infect other animals or humans. Go to http://www.diamondpetfoods.com for details.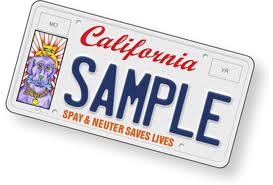 Support Pet Lover's License Plate
Californians love their cars and their pets, but the state's pet-adoring drivers are not fully getting behind a license plate designed to curb dog and cat overpopulation. The California Pet Lover's License Plate campaign was launched last year. Once attached to vehicles, the plates are designed to raise awareness about the need to spay and neuter. Proceeds from license plate sales will go toward spay and neuter programs across the state, said campaign president Judie Mancuso. To make the pet lovers' plate happen, 7,500 plates must be sold by June; but as of April 1, just 4,043 pre-order spots had been filled. The California Pet Lover's License Plate campaign is a volunteer effort and has no money for advertising, so Mancuso is pleading with pet advocates to support the cause. Cost for standard plates is $50; cost for a personalized message is $98.

Airlines Prepare People Traveling With Pets
Alaska Airlines announced an exclusive partnership with Banfield® Pet Hospital, the nation's largest general veterinary practice, to help travelers prepare their pets for takeoff. With more than 800 hospitals in 43 states, Banfield Pet Hospital is offering Alaska Airlines customers traveling with or shipping their pets a free office visit, travel consultation and $10 discount on a health certificate, which is required for all pets traveling in the cabin, as baggage or as air cargo. Alaska Airlines employees receive specialized training in safely transporting pets and follow strict guidelines established by the U.S. Department of Agriculture in conjunction with the Animal Plant Health Inspection Service and the Consumer Division of the Department of Transportation. The carrier's pet-friendly practices were recognized by the website http://www.smarttraveler.com when it named Alaska the "Most Pet-Friendly Airline" in 2009. Alaska is one of few airlines that still welcome pets onboard--both in the cabin and the cargo hold.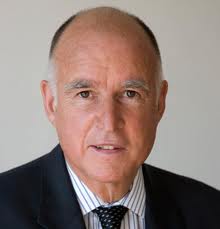 California Governor Making Enemies
California Governor Jerry Brown is trying to pass an initiative that would further limit an animal's time at a shelter from four to six days to just 72 hours. After that period, the state would no longer cover costs for the animal's care. In addition, the proposal says there would be no required holding period for pets like turtles or guinea pigs; they could be killed immediately. This means that many more otherwise healthy and adoptable animals would be euthanized each year — simply to save the state some money.

Hi-Def Zoo Cameras Stream Live
On a recent morning at the Columbus Zoo and Aquarium, two Alaskan brown bears prowled their grassy enclosed habitat, nuzzled each other for a moment, then sunned upon some rocks — cute, natural actions any visiting patron might watch. But the scene could also be enjoyed from afar as part of the zoo's latest promotion: four high-definition cameras streaming live from the bear and penguin habitats, the aquarium and the aviary. Paid for through an ongoing sponsorship by Nationwide Insurance, the around-the-clock digital effort launched last week at www.yourzooview.com "Not everybody can make it to the zoo when they want to see a critter," said Justin McKinniss, the zoo's strategic partnerships manager. "We wanted to make this an extension. The guest experience starts when you're at home, before you decide to visit." Unlike past webcam technology with grainy, slow-to-load images, the new zoo streams allow users — one at a time, loaded via a queue — to control the angle and closeness of the feed for a 60-second period that all online visitors can see while awaiting a turn. Such virtual viewings are becoming popular in a number of venues, as folks with high-speed Internet connections opt to watch the online antics of both wild and domestic animals from their couches and cubicles.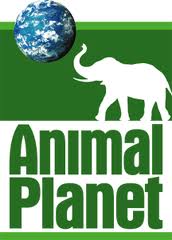 Shows Depict Real-Life Drama About Animals
Animal Planet has a menagerie of new shows for the season ahead that promise real-life drama, monstrous mystery, unusual human creatures and a new breed of cute. Also look for the network's first competition show, with the provocative title "Top Hookers." (Relax. It deals with fishing.) Most of the new programming will launch next year. The lineup builds on Animal Planet's brand strategy of "Surprisingly Human," said Marjorie Kaplan, the channel's president and general manager. "Animal Planet is still what you think we are — but it's bigger, better, funnier and louder," she explained during an interview last week. Viewers have responded, boosting the channel's average audience in the age 25-54 demographic by 25%, to nearly 300,000, in the past year. Building on its hit "Whale Wars," the network plans to introduce "Rhino Wars," which follows a team of former U.S. Special Forces as they hunt down gangs of rhino poachers in South Africa whose greed threatens to reduce to near extinction the rhino population. A new adventure series, "The Hunger," explores the ingenious (and often extreme) methods used by disparate world cultures to find, capture or cultivate food. Its host is survivalist Guy Grieve. "Glory Hounds" stars the military working dogs that serve beside their human partners in Iraq and Afghanistan. From tracking insurgents to sniffing out explosives, these heroic canines are an integral component of the armed forces — and share deep emotional bonds with their human companions. Watch anglers corral 300-pound sharks using only women's pantyhose. Watch them hunt for massive bass from a speeding kayak in whitewater rapids. In the season ahead, Animal Planet will roll out a number of additional new series, with 13 of its current shows returning.

NEWS UPDATE Brought To You By PetzLife.com. Use the code "RADIO" to receive 20% off!

Listen to the entire Podcast of this show (#647)