April 29th 2006
Pudgy Pooch Special-Overweight Animals
with JOAN EMBREY and NBC's Biggest Loser Trainer JILLIAN MICHAELS.
Jillian Michaels, The Biggest Loser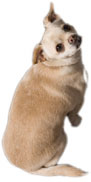 Who would ever expect that Jillian Michaels, one of the personal trainers on NBC's series The Biggest Loser, would have an obesity problem in her own household! But Jillian's chubby Chihuahua, Baxter, is one of a rapidly growing number of America's portly pets that are tipping the scales at an all time high. As many as 40 percent of American household pets are obese or overweight.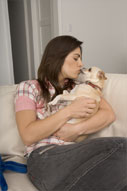 Listen in as Jillian tells how she recognized the signs her pooch was overweight and what she is doing about it. And if you have an overweight pooch, find out how you can have your pet participate in the latest fitness challenge sweeping the nation sponsored by Hill's 2006 National PetFit Challenge, a competition designed to help raise awareness of the serious consequences of pet obesity and encourage guardians to make positive changes in their pets' lifestyles.
Who knows, maybe the next loser show will be a "Biggest Loser" for dogs?

Video of 40 Pound Cat

Joan Embery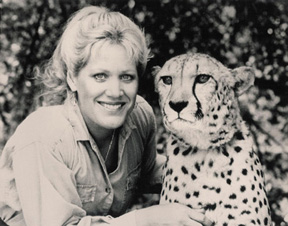 You've seen her on "The Tonight Show" with Johnny Carson and Jay Leno, "Good Morning America", "CBS This Morning", "Live with Regis & Kathie Lee", and "Entertainment Tonight", promoting the need for a global conservation effort. Animals and the environment could not have a better champion than Joan Embery. Undoubtedly, she is one of the most dedicated and caring animal experts, determined to spread her message of preservation throughout the world. Throughout the 32 years Joan served as goodwill ambassador for the Zoological Society of San Diego, she was able to indulge her passion for animals while working to educate the public about a variety of endangered and exotic species and the need to preserve them and their habitats.
Alligator Knocks on Woman's Door
Britt Savage


So now the alligators are going door to door. When Lori Pachelli heard someone knocking at the door of her home in a gated community in this southwest Florida community earlier this week, she looked out to see an unwelcome visitor on her front stoop: an 8-foot alligator. The bull gator, which had wandered up from the pond behind the house, had a bloody lip from banging its head against the door.
"He was pretty big, pretty aggressive," Pachelli said, adding that the gator may have followed her home from walking her cocker spaniel, Trooper. Pachelli's husband, Mike, said he sped home after his wife called him in hysterics. The animal remained at the Pachellis' door for about an hour before going back into the lake, where trapper John French captured it later. French said it's not unusual to find male alligators in some pretty interesting places this time of year.
"You're starting into what's called the crawl season, the breeding season," he said. "We get them out of front porches, out of garages, out of swimming pools." The Pachellis said they never dreamed an alligator would venture that close to the house. "I've never seen them walking around (the neighborhood), let alone banging on my front door," Lori Pachelli said.
Dog Helps With Weight Loss
Patti Lawson, The Dog Diet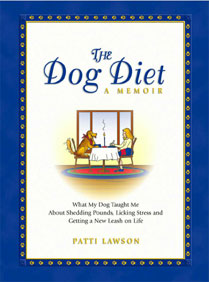 Three years ago Patti drove to PetsMart just to look at dogs because she was tired of being lonely and thought maybe a dog would cheer her up. There fate in the form of a lady volunteer at the Love-A Pet-Adoption Center tapped her on the shoulder and handed her a little black and tan puppy to hold for a minute.
Fast forward three years and this little puppy is now a long-legged Pollyanna type creature she named Sadie and simply cannot imagine her life without her.
While it was not love at first sight for either of them, they found their way together and formed a bond stronger that anything Patti experienced... Along the way, Sadie lifted her out of that depressive state, helped her lose over 30 pounds and fills her days with once unimaginable joy.
While Pattie won't lend her dog Sadie out to anyone, perhaps you already have one of these amazing dogs, or can find one at your local shelter.
Stop Those Yellow Lawn Burns
Leo Malantis, Earth's Balance
Are you one of those people who works hard on your lawn only to have your dog's urine burn yellow marks all over it?
Earth's Balance has created Dogonit for Lawns, which is a pro-biotic complex of natural enzymes that speed the breakdown process of pet urine to help grass grow back. Dogonit helps flush dog urine out of tight compacted soils and helps break down organic complexes in the soil to promote vigorous new growth. By making the soil less toxic, it stimulates more desirable enzymatic reactions, which results in a healthier, better-looking lawn. You can apply it right after the dog has urinated on the lawn or when first signs of yellowing appear.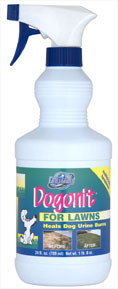 You can also prevent dog urine burns before they start! Lawn burns are caused by high levels of nitrogen in your pet's urine. G-Whiz for Dogs is formulated with all natural edible active ingredients that work internally to reduce blood ammonia levels, and therefore, reduce the volume of nitrogen in your dog's urine. Reduced nitrogen means no lawn burns!
Thanks to Earth's Balance - you can now have the best lawn on the block!
Pudgy Pooches
Darlene Arden


Obesity is as much of a problem with dogs as it is with humans. Darlene offers suggestions such as when training a dog and giving them treats, count this as part of their daily intake of food and not in addition to. And, don't reward your pet with treats, when all he may be looking for is attention.
The best thing for both of you is to get active. Instead of just putting your dog in the backyard, go outside and play games with him. You will find that a good old game of hide-n-seek will burn calories on both you and your pet!
There are many specialized diets out there for overweight dogs, but if they won't eat them, then they won't do any good. And as with any diet, make sure your pet is under the care of a veterinarian.
http://www.DarleneArden.com
http://www.petdiets.com

Bird Flu - An Abuse of Breath
Rae Ann Kumelos, Voice of the Animal
As the influenza known as "Avian Flu" travels westward, more and more media attention is focused on the disease, resulting in an unfounded and unnecessary fear of birds. (There is no occurrence of this disease ever being transmitted from wild birds to human). Discover how birds have a very special and unique relation to the human soul, and how the cause of the disease lies not with birds, but with people.
http://www.VoiceOfTheAnimal.org
Owners May Pass Super Bugs to their Pets
Dr. Jim Humphries, Veterinary News Network
People can get plenty of diseases from animals. Bird flu for one. Now there are signs that dogs and cats can catch a super bug from people. At a large Philadelphia hospital, scientists report that over a three-year period 38 dogs and cats and other pets caught a drug-resistant staff infection. They think six of the animals caught the bug from hospital workers. But, it's likely that at least some of the other cases were spread to pets by their owners.
Talk With Your Animals
Joy Turner
Joy communicates with Riley B. Dickens, a 10-year old Border Terrier. Dickens is a very happy dog who loves his job. At a pre-school where one of his guardians work, Riley take all the new kids in the class around for the day. But one problem that Riley has is with Golden Retrievers.
http://www.TalkWithYourAnimals.com


Listen to the 1/2 Hour ABRIDGED VERSION Podcast of this show (#335).

View Animal Radio Network® Broadcast Schedule in a new window.


Listen to Animal Radio® - Go to the launch page


Return to Animal Radio Network® Home Page