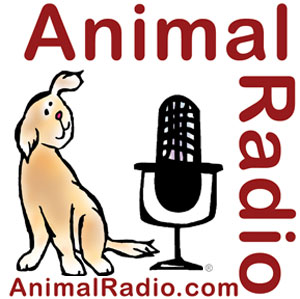 Animal Radio® Show #595 April 30, 2011
Our Call to Defend Animals
Wayne Pacelle, Pres. HSUS, THE BOND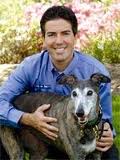 Wayne Pacelle, President of the Humane Society of the Untied States, returns once again to Animal Radio to discuss his new book, The Bond. The Bond examines our special connection to all creatures, as well as the conflicting impulses that have led us to betray this bond through widespread and systemic cruelty to animals.
In one section of Wayne's book, The Bond, he challenges the arguments of opponents and critics of animal protection and spotlights several groups including the American Veterinary Medical Association, the American Farm Bureau and the American Kennel Club. He points the way to a new humane economy – one not built on extraction, suffering and killing, but on the celebration, stewardship and care of animals.
To this day, Wayne doesn't understand why we don't have more progress on some issues such as puppy mills, factory farming and seal clubbing. Wayne feels the reason for this lack of progress is that you have a number of groups standing in the way progress and he identifies some of these organizations listed above as part of the problem.
Wayne states that the American Kennel Club has opposed legislation to crack down on puppy mills. The AKC also highlight the physical confirmation of dogs and values their exterior physical attributes, sometimes at the expense of the underlying physical health and well being of the animals. So many purebred dogs have genetic and hereditary problems from poor breeding practices. There is no reason for German Shepherds to have hip dysplasia, no reason for King Charles Cavaliers to have small skulls and heart problems and no reason for Bull Dogs to have breathing problems.
The American Veterinary Medical Association is another organization that Wayne has a problem with because the AVMA is populated by veterinarians who care for animals everyday and provide critical services. But as a professional association, they have veterinary subgroups like poultry veterinarians who work for the chicken industry or swine veterinarians who work for the hog industry. The AVMA defends intensive confinement practices like gestation crates. They wont even condemn foie gras production where you are over-feeding ducks and geese so much so that their livers swell up to ten times the normal size, essentially inducing a disease state in the animal, causing them distress and then slaughtering them for their diseased liver for human consumption.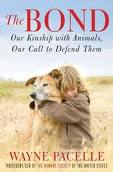 As harsh as nature is for animals, cruelty comes only from human hands. The Bond is an urgent call to answer the needs of millions of at-risk creatures.
During the interview, we also wanted to clear up some statements we had heard about Michael Vick (dog fighting case) and Wayne Pacelle. Wayne was previously quoted as saying that he supports Michael Vick in getting a dog. Wayne wants to set the record straight and tells us that he was misquoted on this issue by a reporter, which then went viral. Wayne states that, "I feel it is too early for Vick to get a dog. What I originally said, "Was that if he is healed and gets into a good place in terms of winning over the public and also shows responsibility in interacting with dogs at this time and in more public settings like shelters, then I believe that down the line it would not be beyond the realm of the possible for his two little daughters, who asked him if they could have a dog." Wayne mentions that during one of Vick's talks to kids about the evils of dog fighting, Vick mentions that he feels so bad that he can't have a dog because he is still forbidden from having one by the courts, but he definitely wants to give his daughters a dog because they really love animals and want a dog. However, everyone agrees that if Vick did get a dog, that dog would probably be very well treated because everyone would be watching!
Tropiclean Best Smile Contest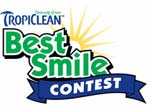 Your pet could be a winner! Share a photo of your smiling dog or cat and tell everyone why your pet has "TropiClean's Best Smile." You could win a $1,500 contribution to your favorite animal shelter plus a $500 VISA gift card and more for yourself – and there are new prize drawings every month! All entries must be submitted by June 30, 2011 to be eligible for the Grand Prize!
To submit a photo of your pet, visit www.TropiCleanBestSmile.com and create an account. Once registered, log in to upload your favorite photo of your smiling pet. Don't forget to let us know why your pet has TropiClean's Best Smile too! Got more than one pet to show off its smile? Go ahead and upload their picture too.

Dodge Journey Pet Destinations
What Is Your Favorite Place To Take Your Pet?
People who have pets love to travel with them. At Dodge, they have made it easier with their pet friendly vehicle, the Dodge Journey, which contains concealed storage bins, Chill Zone glove box cooler and second-row dual in-floor storage bins with removable and washable liners (very handy for muddy paws!) Call us with your favorite place to take your furry-friend: 1-866-405-8405.
This week's Dodge Journey Pet Destination: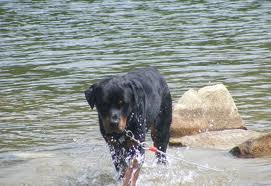 Nancy lives in Michigan and likes to take her dog, Roz a Rottweiler, to Northern Michigan to a place called Clear Lake State Park where they camp. Nancy tells us about a particular camping trip where they met up with some relatives and stayed in pup tents. Two people and a Rottweiler in a pup tent, you are asking for disaster! Nancy mentions that her dog went a little crazy and started running around the inside of the pup tent. If you can picture it from the outside, Nancy felt it was like a cartoon with the dog running around and hitting the sides of the tent, making them bulge out, as he ran around. Her dog also enjoyed the waves from the lake and ran around trying to bite them.
To view Past Dodge Journey Pet Destinations, click here.
Paw-Parazzi Pet Photo Contest
Steve Pinetti, Kimpton

At Kimpton, they love pets so much that they have set out to find the cutest and most photogenic pet out there by kicking off the Kimpton Hotels Paw-Parazzi Contest.
Anyone can upload a pet photo to their site. Every two weeks, the five photos with the most "Like" votes will win pet-tacular prizes from their partners such as Olive Green Dog, Polka Dog Bakery, and Republic of Paws. The contest runs for three months through May 31, 2011.
On June 1, 2011, judges from Animal Radio will select the Grand Prize photo from the 30 bi-weekly winners for the "Ultimate hosPETality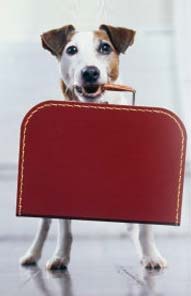 Getaway" which includes:
A two night stay at a Kimpton Hotel of the winner's choice
Two round trip tickets on JetBlue for human passengers
$500 credit for the photogenic pet on Pet Airways, a pet only airline
One $100 Kimpton Restaurant or in-room dining gift certificate
One in-room spa treatment for two
An Amelia Collection Carrier by Sherpa Pet Carrier
Use of pet amenities such as a dog bed, bowl, and treats

Anyone may enter by logging onto kimptonhotels.com to upload a photo of his or her pet.
What are you waiting for!
The Dogfather's Grooming Tip with Joey Villani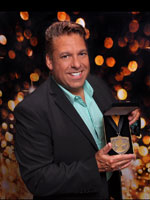 Hair Extensions For Dogs
Joey recently attended Intergroom, an international grooming contest held each year in New Jersey.
Every year Joey learns new things from the conference and also sees new things. This year, the new thing that got him excited was the hair extensions for dogs. If you have a dog that you want to add a little more volume to, or more length, or even just a little bit more flair, you need Puppy Locks!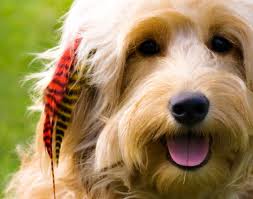 Puppy Locks are actual hair extensions that are very easy to apply, clipping right on to your dog's hair. They stay on well and don't come off very easy. You will have to remove them with a pliers, but this also means that you don't have to worry about your dog chewing them off and choking on them. They come in colors to match your dog's coat, as well as any other color you would want to use to accessorize your pet. They come in thick and thin strands, as well as in feathers. You can use a little or a lot.
If you want to accessorize your dog and really turn some heads, talk to your groomer about hair extensions. And if you want, you can even do them at home yourself. But there is one catch, your dog has to have at least 1 inch length of hair or longer to use these.
Do this and you will have the knockout dog of the block!

DOGFATHER'S GROOMING TIP Brought To You By SeniorPetProducts.com. Use the code "SAVE25" to receive 25% off!
Animal Radio® News with Stacey Cohen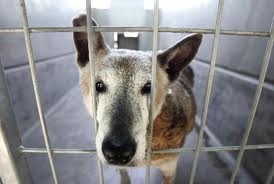 Selling Shelter Animals For Research
The death of a stray dog whose heart was removed by University of Utah researchers conducting cardiology tests has spurred a renewed call from animal rights groups to stop the practice of selling some shelter animals for research nationwide. Thirty-six states, including Utah, allow stray dogs and cats to be sold to research facilities if they are scheduled for euthanasia at animal shelters. But animal activists say the shelters should be safe havens, and fear that if the practice continues, people may stop bringing in their unwanted pets. "We do a lot of work in communities to garner trust in their shelters," Kathleen Conlee, of the Humane Society of the United States, said. "If, for whatever reason, people are not able to take care of their cat or dog anymore, we don't want people to be fearful of taking their animals to a shelter." The Humane Society says just 14 states, including California, Maine, Maryland and Hawaii; prohibit the sale of strays for research.

Who's Smarter Than A 5th Grader? Ants!
Ants are smarter than many grade-school kids, at least when it comes to math, suggests a new study in the journal Behavior. "Ants are smarter than a 5th grader; they do math!" Els van Egmond of the journal's publisher, Brill, wrote in a press release. For the paper, scientists surveyed a wide variety of different species in terms of their ability to count and complete basic math tasks. The researchers write that highly social ant species, such as redwood ants, "Can communicate information about numbers to colony members and also perform simple arithmetic operations." The experiments were such that the ants couldn't just communicate by leaving behind a scent trail. In order to alert other ants to the location of food, " "Even if it is so," they add, "This shows ants as being able to use quantitative values and pass the information about them." Other research shows that both ants and bees perform "abstraction, extrapolation," and other math skills, the researchers note.
Snakes And Baseball Don't Mix!
For the first time in history, the St. Louis Cardinals took on snakes that weren't the Arizona Diamondbacks. Witnesses say they actually saw a snake crawl alongside St. Louis ace Chris Carpenter during batting practice just before the Cards faced the Dodgers Friday at Chavez Ravine. MLB.com says two of Carpenter's teammates pinned the slitherer down and took it into the Cardinals' bullpen. No one was hurt. Snakes are sometimes seen at the Ravine. They are native to the local hillsides surrounding Dodger Stadium.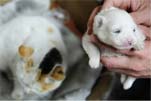 Cat Gives Birth To Dog
A cat owner in China says their pet has given birth to a dog. Zhou Yun tells the U.K.'s Orange News that he found his cat taking care of a small puppy shortly after giving birth earlier this month. Yun says he went to check on the litter when he noticed that one kitten had died and another looked just like a dog. The president of a local pet clinic has since investigated Yun's claim and says there is no way the cat gave birth to a puppy. The pet expert says it's more than likely that the cat went out and took a puppy from a litter of newborns to replace that kitten that had died. Yun, however, isn't giving up on the idea that his puppy is "a mixed child."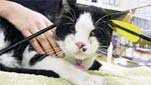 Cat Shot In Head With Arrow Survives
A northern California cat that survived being shot through the head with an arrow was recuperating from surgery, apparently little worse for the wear, authorities said. Max, a three-year-old black and white cat owned by a Santa Cruz area couple, was apparently shot with the arrow sometime over the weekend, a fact his owners discovered on Sunday evening. "According to the owners, the cat had been missing for two days and when they opened their front door, the cat came in," Santa Cruz County Animal Services Manager Todd Stosuy told Reuters. "That's when the owners, much to their shock, saw an arrow sticking out of the cat's head," he said. "The cat was acting normally, eating normally. It almost looked like one of those fake arrows." Max was taken to a veterinary hospital that night to have the arrow removed, under anesthesia. Authorities so far have no suspects in the shooting, but said an animal control officer working full time on the case and canvassing the neighborhood had already developed a few leads.

New Pet Products
More than 800 exhibitors came to the Global Pet Expo, and thousands of new pet products were introduced. Thanks to its 8GB built-in Flash memory and 500mA Li-Ion battery, this video camera can capture images continuously for up to 2 and a half hours. Recorded videos are transferred to your PC by using the USB cable provided (compatible with Microsoft Win 2000, XP, Vista, 7, Mac OS and Linux). The video camera weighs no more than 1.2oz. Your pet will forget it's there! Thanks to its casing design, it can also be used in wet or humid conditions. Cost - $129.00.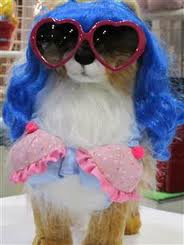 Pet Clothing Line Includes Bras
Star struck pet parents can turn their pooches into clones of "California Gurl" Katie Perry. A canine outfit complete with cupcake bra, blue wig and sunglasses is just one celebrity look that Animal Planet will be releasing shortly in its first clothing line for pets; other options include Jurassic-age monsters like the stegosaurus and the raptor.

Listen to the entire Podcast of this show (#595)

indicates XM Satellite Radio and Podcast versions only.