Animal Radio® Show #439 May 3, 2008
Jai Rodriguez
Groomer Has It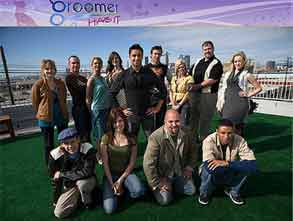 Jai Rodriguez (Queer Eye for the Straight Guy) hosts the new Groomer Has It which sniffs out 12 of America's most devout dog groomers to compete against each other in a test of desire, creativity and affinity for animals as they shave, shear and shampoo their way through a series of challenges that will crown only one as "Groomer of the Year." The contestants will be put through their paces to see who can turn the shaggiest pooch into a beautiful, prancing pup.
These self-proclaimed best groomers will live together in a swanky Los Angeles loft, the "Dog House;" work elbow-to-elbow in one salon; and face grooming challenges that range from styling pups for their runway debut to grooming some of the most exotic dog breeds to making adoptable pups look their fetchingly best for new homes.
After each challenge, host Jai Rodriguez and a panel of judges, including esteemed veterinarian Dr. Karen Halligan, champion dog handler Xavier Santiago and leading U.S. grooming expert Joey Villani, will decide which contestant does not make the cut.
The grand prize winner will receive a cash prize of $50,000, a mobile grooming salon from Wag'n Tails Mobile Grooming and the title of "Groomer of the Year" - three prizes totaling $125,000 that could jump-start the groomer's career and change their lives.
Each of these groomers thinks he/she has what it takes to be top dog in this competition, but in reality, only one GROOMER HAS IT.
http://animal.discovery.com/tv/groomer-has-it/groomer-has-it.html





Leslie Nielsen
Since Leslie Nielsen is always on the go, he currently does not have any pets, as he feels it wouldn't be fair to them. But, his one "Animal" that he never leaves home without is his "Whoopee Cushion." Hear him talk about some of his greatest moments with his "Animal."
In 2007, Nielsen starred in the drama Music Within. In 2008, he portrayed a version of Uncle Ben for Superhero Movie, a spoof of superhero films with co-star Drake Bell. After Superhero Movie, Leslie was cast in David Zucker's 2008 parody An American Carol, which Zucker will direct, produce, and co-write. Look for the release of An American Carol later this year.



Watchdog Report
Vinnie Penn, The Party Animal


The Watchdog Report (AnimalPeopleNews.org) is a list of people who made the most money in the animal welfare industry in a given year. What's interesting about this, is that the goal of the Watchdog Report is to take a look at the major non-profit organizations and kind of filter out if the money is going to the right place or not.
And of course, PETA would play a big role in such listing. And in the case of PETA, they actually have a parallel organization, a foundation to support animal protection, that reportedly is spending 100% of its so called program budget on fund raising functions for PETA.
The point of this really is to make sure that these people who are claiming to take money and put it in all of the right places and airing commercials where owners are weeping over their one-eyed dog, that if the average lay person donates "x amount" of dollars, that that money does go there.
Basically what you uncover in the Watchdog Report is that if you give just $20, that $20 that you are spending might be hard-earned for you, and you might think you are doing the right thing, but that just turns around and goes into more mailers. It just goes into generating more pleas for more money, which is their way of saying that the more you give the better at least some of it will go to the right place.
There's nothing more disconcerting than showing up at a fundraising event to benefit the animals, as I've done in the past. One time I went to host a specific event raising money for an animal shelter and a gentleman pulls up in a Jaguar. Now its appalling enough that he shows up in a vehicle named after an animal, but as the night went on, with his blackberry hanging in his ear and all of the important telephone calls that he is making in his Gucci suit, I say to him, "You must have one hell of a day job!" And he says, "Well, this is may day job, working for the animal shelter." Now there is just no way that working in an animal shelter in the valley, an animal shelter that I've seen and could use a good paint job, could generate enough capital for this gentleman to be living this large. So, we need the Watchdog Reports to just kind of look and make sure the money is going into the right place.
So, I stand by the fact that me giving him a kidney shot was not deserving of me spending a night in jail!
VINNIE PENN hosted his own Top 40 morning show in CT for almost 10 years, in addition to writing an equally long-running newspaper column in the New Haven Register. He has appeared on VH1's "Best Week Ever" and The Howard Stern Show, has written for Maxim, Hit Parader, and Circus magazines, and his first major nonfiction title hits bookstore shelves in Sep., '08. http://www.vinniepenn.net



Music Therapy For Dogs
Dr. Jim Humphries, Veterinary News Network


When Terry Woodford first conceived of the 'Baby-Go-To-Sleep' Heartbeat Music Therapy CD in 1985, he had no intention of comforting and calming any baby other than human preemies and fussy toddlers. But as this successful music industry executive discovered, babies, either human or canine, respond to his simple, repetitive classic lullabies in which the sound of a human heart beat is superimposed. And the response is striking. They relax and fall asleep within a few minutes of listening to the special mix. Click here to see the video.
http://www.myvnn.com



Bobbie Hill, Special Correspondent


Backseat Law
Pet owners who like to take their furry friends along on car rides need to be aware of a new law being considered in the Golden State. California lawmakers are looking at a proposed bill that would ban people from driving with their pet in the passenger seat, or in their arms or lap.
A Triple AAA study showed that pets were one of the biggest distractions to drivers, ranking right up there with cell phone calls, eating and drinking. If passed, the bill would carry a $35 fine for offenders, but animal advocates say pet owners should be able to train their pets so that they don't pose a risk.
Sleeping With Your Pet


Sleeping with your best friend might be risky to your health. Experts are warning pets owners that many diseases are transmitted between humans and animals in close contact, like that bed you sleep in. Disease like rabies, strep infections, some respiratory infections and MRSA can move from pet to owner and its causing concern among health professionals. Veterinarians remind pet owners that if you own or handle pets regularly, remember to follow basic hygiene, like washing your hands. That simple act will reduce the risk of disease transmission.
Environmentally Conscious Pet Owners
Environmentally conscious pet owners can find out how to go green by doing everything from recycling old clothes for a pet bed, to making an herbal flea repellent. Eco Dog from Chronicle Books is the pet owners guide to giving your dog a head start on living the green life that includes recipes and ideas.
About Animal Radio® News Correspondent Bobbie Hill: This beautiful piece of artwork by Bobbie Hill was drawn by the artist in 1990, at the very beginnings of her career. Ms. Hill is a self taught artist who's talent awoke 18 years ago exploding onto paper and canvas. The Canadian Lynx, done in colored pencil, shows each strand of fur on this magnificent animal with incredible detail topped off by astonishing eyes. This original 22" by 30" framed piece is available to Animal Radio listeners "exclusively" with a portion of the purchase price going to animal rescue organizations.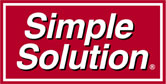 NEWS UPDATE Brought To You By Simple Solution Natural Line Of Products



Vladae, The "World Famous" Russian Dog Wizard
Is your dog out of control ­ barking non-stop, pulling on the leash, chewing your belongings, digging in the backyard, growling or possibly biting? If you have a problem ­ Vladae has the solution. Vladae, the World Famous Russian dog Wizard, teaches people how to control their dogs.

My dogs won't pee outside!
I have two dogs and am a truck driver. My dogs do well peeing outside the truck, but pee in the house when we are home. What to do: 1. The dogs perceive the truck as a little crate. Buy two crates (the appropriate size for your dog) and keep your dogs in the crate when they are not supervised. 2. Five times a day take them outside and say repeatedly "Go potty, go potty." Do not expect them to tell you, just take them out on a regular basis. When they do go outside, praise them and give them treats. You should only have to do this schedule for about 1-2 weeks. 3. Also, clean your home with a good enzyme product, such as Anti-Yucky Poo.
My dog jumps the fence and steals the neighbors items


What to do: 1. Spy on your dog. Have your neighbors set up an item in their yard that your dog can't resist. When your dog even thinks about jumping over the fence, suddenly show up and make a loud noise like a growling sound and throw something near your dog to startle him. You can also use an air horn to startle him. 2. He is unexercised physically and mentally ­ he needs a job. The only job he has, which drives you nuts, is stealing items. Exercise him and get him tired physically about 10-15 minutes two times per day. Provide new toys and some interactive toys for him as well.

My dog screams my when husband leaves


My husband and I are truck drivers. Whenever my husband leaves the truck, my dog screams very loudly. What to do: 1. Dogs have emotions like humans and has separation anxiety from her husband. 2. Put the dog in a crate. When your husband leaves the truck and your dog starts screaming, have your husband return and smack the crate and make a loud noise like a growling sound or use a little air horn. 3. Have your husband repeat the process of leaving and returning, each time increasing the distance. If your dog screams, repeat the process of smacking the crate. If your dog is quiet, after about 5-10 seconds give him a treat. This will make your husband "the bad cop" and make you "the good cop."
http://www.controlyourpet.com



Dr. Debbie White, Lone Mountain Animal Hospital
Dr. Debbie White, Lone Mountain Animal Hospital in Las Vegas, is the official Animal Radio® veterinarian. She is available to take your medical calls.

Help, I have an 8-month old Chihuahua who lifts his legs and marks everything!
What to do: This (un-neutered) dog has reached his sexual maturity and is marking HIS territory, there is also another dog, an un-spayed female in the house, which is making him very excited. Get him neutered immediately, which will take his hormones down to a more normal level and will take that urge away to want to mark everything. And, neutering will help prevent prostate disease, different types of cancers and will help with the desire to want to run away from the house and seek other dogs.
I have a Miniature Pinscher who won't eat dog food!
What to do: First, talk to your veterinarian to see if they can do a screening to make sure that nothing is putting his appetite off. If all of the tests come back fine, stop feeding him what he wants ­ human food! For about 72 hours, you need to play tough love. Put down a bowl of dog food and tell him that this is what he is going to get. Remember, dogs are smart, and they know that if after 72 hours out comes the human food, then they will hold out until it arrives. Just remember to feed him a quality brand of dog food.
Dr. Debbie White is a small animal and exotic animal veterinarian in Las Vegas, NV. Originally from Hammond, Indiana, Dr. White attended Purdue University School of Veterinary Medicine and has been in practice for over 13 years.
Dr. White is an enthusiastic promoter of pet health and educator of the pet loving community. In addition to Animal Radio, Dr. White is also a regular veterinary contributor on her local NBC affiliate, KVBC TV in Las Vegas. Dr. White is a volunteer in the Veterinary Medical Reserve Corps in Las Vegas and is active in Pet Disaster Planning. She is a member of the Veterinary News Network, American Veterinary Medical Association, American Animal Hospital Association & the Association of Exotic Mammal Veterinarians.





Cat Survives Jump Off Bridge
Britt Savage
A cat leaped from a pickup truck, scampered through bridge traffic, fell 70 feet into the chilly Columbia River and swam 600 feet to shore before being rescued, Wenatchee Valley Humane Society officials said. The gray, longhair calico cat, which wore no collar or identification, "ate ravenously" at an animal shelter after the ordeal.



International Animal News with Kaye Browne, Pet Talk Radio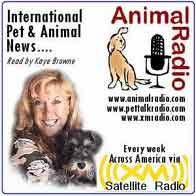 Email upset over artist exhibit ­ the artist reportedly tied up a stray dog and left it to starved with the word "You are what you read" spelled out in dog food ­ is it a hoax?
Stray dog saves newborn baby girl buried alive ­ the baby was buried under half a foot of soil and leaves, which the dog was able to dig up
Florida woman finds unwanted guest in kitchen- an 8 foot alligator which had pushed through a screen door
Is the Koala facing slow starvation? ­ greenhouse gas emotions are making their sole source of food inedible
Turtle lost 3 years is found ­ he only went 2 miles
http://www.pettalkradio.com.au



Kitten Goes Undercover in Vet Scam
Carol Moran, Deputy District Attorney, Brooklyn, NY


He came from the streets of Brooklyn, a cool customer on four legs, the perfect bait for a sting on a fake veterinarian. Meet Fred, undercover kitten, the 8-month-old former stray cat that posed as a would-be patient while police investigated a college student accused of treating pets without a license. An investigator posing as Fred's owner summoned Steven Vassall to an apartment rigged with a hidden camera. Authorities played a videotape at the news conference showing Vassall saying the kitten could be neutered for $135.
Vassall was arrested as he left the apartment carrying Fred in a box and cash for the operation. Investigators later recovered a price list for vaccinations and other procedures, including surgeries. It was unclear how long Vassall - a college student who once worked as a laboratory assistant in a vet's office - allegedly scammed pet owners before Fred helped put him out of business.
http://www.brooklynda.org



Tricks for Giving Pet Meds
Dr. Marty Becker, Good Morning America


It's hard enough for a veterinarian or a trained team member to give pet medications, let alone your average pet owner.
Pet owners struggle to follow the vet's orders to give their pets medication, and we know the pets need the medication but they don't want to take it, and just like with toddlers, we have to give pets a prescription they don't like.
There's a recent study that shows that only 10% of cat owners and 30% of dog owners succeeded in medicating their pets correctly. What this means, is that prescriptions sent home by the veterinarians often end up in the cupboard or on the person, and not in the pet. And what happens, is that the pet owner is too embarrassed or hesitant to go back to the veterinarian and admit failure.
Dr. Marty Becker always admits to his patients when asking them to give meds to their pets, that it is going to be difficult, even for trained people. If they are not successful, they have plenty of company and to speak up so that they can be given other alternatives.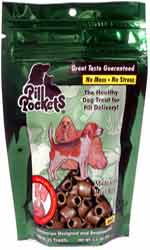 One trick is to use Pill Pockets. Rather than giving one Pill Pocket as recommended with the medication, you give three. The first one is an empty Pill Pocket as a tease. The second one is the Pill Pocket with the medication. The third one is the chaser.
And for the animal that won't take any medication, they seem to spit everything out, try a compounding pharmacy. There are several companies out there, FLAVORx and VetChews are two of them, and they will make your pet's medication into pet flavors, such as Salty Bacon, Atlantic Salmon, Angus Beef and Bubblegum. Some companies will even send you samples to find out which flavor your pet prefers. About 70% of dogs and cats will lick this medication right out of the spoon. You can do this with both pills and liquids.
And, if nothing else works for your cat, there is the new transdermal system. The medication is put into something that is simply absorbed into the skin, so you wipe put the medication in the cat's ear. While not all medications can administered this way, many of the common medications can.
However, if your pets takes pills easily, be aware that many pills can be lodged in the esophagus up to five minutes later. While this is uncomfortable for your pet, it can also lead to inflammation and can cause severe problems long term. So, for both dogs and cats, if you are not using something that is chewable, give a water chaser. When you give the water to help flush the pill down, simply grab the corner of their lip, tip their head back, and squirt it in the corner of their mouth, and it will act like a funnel and run down behind the back of their teeth and right down their esophagus. If you try to put the water on their tongue, they will just spit it up right back on you.
http://www.drmartybecker.com
http://www.petconnection.com



What Do You Do With Your Pet's Hair?
Victoria Pettigrew, VIP Fibers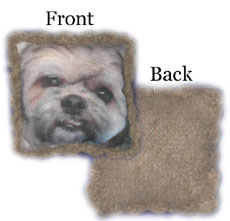 Well, if you are like Victoria Pettigrew, you can't bear to throw away your pet's hair. But, what can you do with it?
After receiving Boo Boo Bear, a Chow Chow from her husband as a wedding gift, Victoria decided to do something creative with her fur that was removed during brushing. Even though she had never spun yarn before, she gave it a try. After just 30 minutes behind the wheel, Victoria was hooked on spinning, and VIP Fibers was born.
At VIP Fibers, you can have your pet's hair spun into yarn and returned to you, or Victoria will knit a special keepsake from your pet's yarn. Victoria has received fur from a variety of animals, the most unusual being a Bengal Tiger.
http://www.vipfibers.com





Top 10 Reasons Why Animals are Better than Kids
10. They don't ask to borrow your car keys
9. They usually eat anything you put before them
8. They don't ask to borrow money
7. They are easier to train
6. They don't wear your clothes
5. You don't have to put them through college
4. They don't "backwash" food when sharing your soda.
3. When they catch you making love, you don't have to explain that you are "wrestling to see who does the dishes."
2. They are neutered before they enter their teen years
1. The older animals get, the more they like you!


Listen to the entire Podcast of this show (#439)

Broadcast on XM Satellite Radio Version Only.

Listen to Animal Radio® - Go to the launch page
Return to Animal Radio Network™ Home Page
Read May Newsletter
Copyright 2008 All Rights Reserved Animal Radio Network LLC