May 5, 2007


Canine Cancer Campaign
Betty White & Dr. Patricia N. Olson, Morris Animal Foundation


One in four dogs die of cancer. Many more suffer its terrible effects. Together, we can cure this disease in the next ten to twenty years ­ the lifetime of a dog.
On the part of dogs of every size, shape and breed, Morris Animal Foundation sincerely appreciates a donation of any size. But since their goal of raising $30 million over five years is a big one, they're offering the following idea on how you can help truly make it happen. Consider this. What if just 1% of the 44 million dog-owning households in the US contribute $50? That would equal $22 million. What if 2% gave, or if the 1% gave each year for five years? All of these scenarios would be very beneficial in the battle to cure canine cancer.
Around the world, we're asking dog lovers to give in the name of your present pet dog, dogs you've loved in the past or in the name of a puppy yet to be born. Be a proud pet parent helping cure canine cancer.
http://www.MorrisAnimalFoundation.org
http://www.CureCanineCancer.org


First Daughter Patti Davis
Two Cats and the Woman They Own



Patti Davis, the daughter of President Ronald Reagan, grew up with animals surrounding her. She learned early in life by observing her father, that animals were a special part of life.
Patti, a self-avowed dog person, didn't really adopt Aretha, her first cat. Aretha adopted Patti. When her second cat, Skeeter, moved in, Patti came to realize that she was now officially in thrall to two very demanding little felines. Fortunate for her, her brother Ron is sort of a "cat expert" and was "on call" for Pattie's many requests asking for assistance.
In Two Cats and the Woman They Own, Patti recounts how her life was changed for the better by living with and learning from her cat companions. In "The Mouse That Got Away" Patti learns a valuable lesson about hope, and in "The Little Scoundrel" she realizes just how wrong a first impression can be. Davis closes each charming vignette with a "Life Lesson."


Lyme Disease
Dr. Jim Humphries, Veterinary News Network

If you've ever seen a tick - especially if it is on you or your pet friend - you'll never forget it. Ticks can cause people and pets endless hours of suffering and potentially life-threatening disease. The tick is a little disease carrying expert and there are many different kinds of ticks. Some are so small they are hard to see, others are visible from across the room. They emerge in the spring, remain pretty active during the summer months and then go through a burst of activity in the fall. While ticks are responsible for transmitting many diseases, there is one disease in particular that we veterinarians are most concerned with ­ Lyme disease.
http://www.VetNewsNet.com


Home Sweet Home, Where Bailey the Buffalo Roams
Jim Sautner, Bailey the Buffalo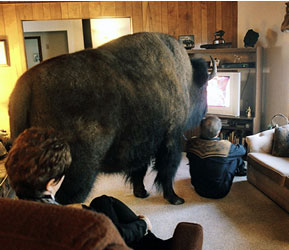 For thousands of years, the majestic North American buffalo roamed freely over the wide-open Canadian prairies. Today, most of these brown, woolly beasts spend their time grazing on ranches - or in the case of Bailey, watching TV in the living room of an Alberta family's home.

Jim and Linda Sautner are the proud owners of Bailey, a nearly four-year-old bison, who has a penchant for spending his time inside the couple's home, about 20 kilometers west of the provincial capital of Edmonton. "My wife wouldn't let me bring my German shepherd puppy in the house one day, so I got even with her by bringing Bailey in," Mr. Sautner said on Wednesday. "He's made a mess on the carpet a couple of times, so now we bring out an ice-cream pail whenever he gives us that look."

The Sautners, who own 270 head of buffalo, have become used to having the 725-kilogram beast watching television in their lounge room. "He prefers to watch The Nature of Things," Mr. Sautner said, referring to a Canadian nature series.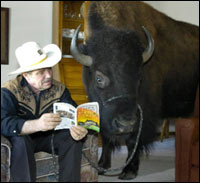 The couple rescued Bailey as a baby, after the calf was abandoned by his mother. Along with farm hands, they bottle-fed Bailey with milk daily and their affinity for one another grew rapidly. Christmas was especially memorable at the Sautners with 21 wide-eyed guests sitting down to a dinner of mashed potatoes and gravy, vegetables, and buffalo meatballs - with the furry giant snorting behind them.

Although the Sautners have lost more than $CAN1.6 million ($A1.5 million) this year on their buffalo meat business, the indirect result of a mad cow disease case that shut down much of Canada's beef industry, they have no plans to sell Bailey.

"He knows he'll never be buffalo burgers because he's an ambassador for the bison industry," Mrs. Sautner said.

The laid-back Bailey, who has been neutered, has been involved in some unusual promotional stunts, including showing up in the lobby of three-star hotels and climbing with Mr. Sautner to the top of a grandstand at the Calgary Stampede rodeo.
http://www.BaileyTheBuffalo.com
Bird Questions You Know You Want to Ask!
Mike O'Connor, Why Don't Woodpeckers Get Headaches?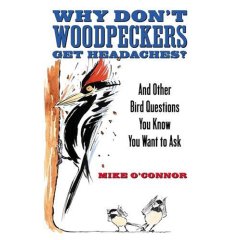 Can backyard birds choke on peanut butter? How about kitchen scraps? Are Robins really the first birds of spring? Where should I put my new birdfeeder?
For more than 20 years, Mike O'Connor has been answering these and other common, quirky and perplexing bird questions as owner of the Bird Watcher's General Store on Cape Cod and author of the much beloved newspaper column, Ask the Bird Folks.
Mike presents an accessible, humorous introduction to birds and birding that aim to educate the backyard birder about common bird species, bird behavior and lore, techniques for attracting birds, proper equipment and feeders, and more.
http://www.BirdWatchersGeneralStore.com
Cat Saves Family From Certain Death
Britt Savage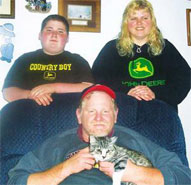 The Keesling family was saved from an almost certain death by carbon monoxide poisoning by their cat Winnie.
The family had been sleeping when Winnie jumped on the bed of Eric and Cathy Keesling and started screaming. Through the persistence of Winnie, Cathy finally got up and realized that she was dizzy and nauseous. She then tried to wake her husband who had had minor surgery the day before. Cathy eventually called 911 with some difficulty.
When paramedics showed up, they found the couple's 14-year-old son unconscious near his bedroom.
The whole family was treated from carbon monoxide poisoning and has fully recovered.
This is not the first time, however, where Winnie has saved her family. Last year she warned them of a tornado in the area.
Pet Friendly Real Estate
Molly Pavolino, Pet Protect, Inc.


Launched in January 2007, PetRealtyNetwork.com serves both Pet Owners and Real Estate Professionals in one convenient place and includes a database of Pet Friendly Real Estate Agents and Properties plus a Pet Resources Directory, up-to-date Pet and Real Estate News and Views, and The Pimms and Friends Photo Gallery, a fun page where Professionals and Pet Owners can share their favorite pictures of their pets.

Why combine Pets and Real Estate? There are many Pet related Web sites and many Real Estate Web sites, but no Web site dedicated to the importance of pets in the Real Estate world. Through years of experience in both the Real Estate and Pet marketing industries, and with pet spending reached approximately $38.4 billion in 2006, Pet Protect® discovered the need for an innovative solution that services both pet owners and Real Estate Professionals in one convenient place.
http://www.PetRealtyNetwork.com

Standing for the World
Aunt Penny

We are standing for the world's children and grandchildren, and for the seven generations beyond them.
We dream of a world where all of our children have safe drinking water, clear air to breathe, and enough food to eat.
A world where they have access to a basic education to develop their minds and healthcare to nurture their growing bodies.
A world where they have a warm, safe and loving place to call home.
A world where they don't live in fear of violence ­ in their home, in their neighborhood, in their school or in their world.
This is the world of which we dream.
This is the cause for which we stand.
Please stand with us for five minutes of silence at 1 p.m. your local time on May 13, 2007, in your local park, schoolyard, gathering place, or any place you deem appropriate. We ask you to invite the men who you care about to join you and also bring along your furry friends. We ask that you bring bells to ring at 1 p.m. to signify the beginning of the five minutes of silence and to ring again to signify the end of the period of silence. During the silence, please think about what you individually and we collectively can do to attain this world. If you need to sit rather than stand, please feel free to do so. Afterwards, hopefully you and your loved ones can talk together about how we can bring about this world.
http://www.StandingWomen.org

Animal Moms
Rae Ann Kumelos, Voice of the Animal
We share one very powerful characteristic with animals ­ all of us have a mom. This Mother's Day, discover our common kinship in qualities that transcend species.
http://www.VoiceOfTheAnimal.org
Band Plays Music Dedicated to the Animal World
Dr. Jeffrey Levy, PET-ROX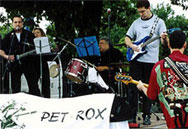 Need a band to play YOUR animal charity event? Look no further than the aptly named Pet-Rox!

NYC veterinarian Jeff Levy founded the band and is the singer and rhythm guitarist. In fact, all of the musicians are involved with animals in some way ­ the bassist is a tropical fish hobbyist, the lead guitarist is a therapy dog handler, the drummer is a pet lawyer and the keyboardist is a zookeeper. The backup singers, a group of ladies called the Rox-ettes, include a cat rescuer and a veterinary surgeon. Past members include an animal behaviorist and even a pet psychic.

"The band has been together in various formations for about four years," Levy said. "We play rock and roll and blues, but only songs associated with the animal world around us."

A typical Pet-Rox set opens with The Monkees' "I'm Gonna Buy Me A Dog." You might hear The Beatles' "Octopus' Garden" or "Werewolves of London". Levy plays homage to the delta blues with "Little Red Rooster," "Hound Dog," "See You Later, Alligator" and Elton John's "Crocodile Rock." The band is also putting together some original material. One of the first songs, "Outta Here," relates to indoor cats pondering on the world outside.

Pet-Rox founder Dr. Jeffrey Levy makes house calls for your pet, and administers doctoring, acupuncture, and holistic therapies as needed. To book Pet-Rox, and for further information about the band, e-mail petroxmusic@aol.com.
http://www.HouseCallsForYourPet.com
Cat Stuck In Wall
Britt Savage


A cat stuck in a wall at a house under construction initiated his rescue when he caught the attention of a prospective buyer by meowing and waving his paw out a small hole.

The cat had gotten stuck behind the wall but found a gap between a gas pipe and the wallboard where he could stick out his paw. He was spotted Saturday by someone touring the house.
Collierville Animal Services supervisor Nina Wingfield said she heard a "hoarse meow" after she arrived at the house. "When he knew we were there, it was a very hoarse, frantic meow," she said.
Wingfield freed the feline by cutting away the wallboard with a knife. "He had his paw out touching not clawing the whole time, like he was saying 'Come on! Come on,'" Wingfield said.
She thinks the cat, which had been stuck without food long enough for his ribs to be showing, is a lost pet. The owners have until Friday to come forward and claim him before he will be offered for adoption to someone else. In the meantime, the animal shelter is calling him by a new name: Wally.
Talk With Your Animals
Joy Turner
"Big Boy" a main coon mix has an ongoing problem of urinating outside the litter box. Big Boy is one of 4 cats and explains that the reason he does this is he wants to stand out and be different.
http://www.TalkWithYourAnimals.com
Listen to the 1st Hour ABRIDGED VERSION Podcast of this show (#388).
Purchase a CD Copy of this Show

View Animal Radio Network® Broadcast Schedule in a new window.


Listen to Animal Radio® - Go to the launch page


Return to Animal Radio Network® Home Page


Read May Newsletter
Copyright 2007 All Rights Reserved Animal Radio Network LLC