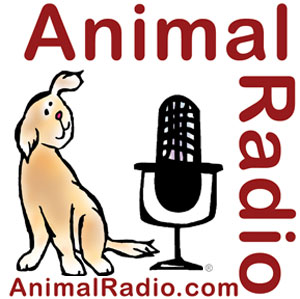 Animal Radio® Show #648 May 5, 2012
Eddie Money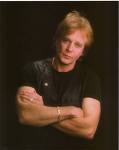 Having come from a long line of police officers, a very young Eddie joined the police force back home in Long Island, New York. But, it wasn't long before Eddie decided that police work was not for him (his hair was looking too good for the Uniform!), and he moved to California. There, he was discovered by rock impresario Bill Graham at Columbia Records, and it was rock and roll forever!
Eddie is one of the few old rock stars still alive, which he attributes to keeping his head together, keeping his sobriety, not smoking a lot of cigarettes and keeping his weight down. He said there are a thousand things you've got to do, to do a good show!
Eddie's children have many animals, including snakes and scorpions (which he tries to avoid!). Eddie is and always has been a big animal lover and works quite often with Tony La Russa and his Animal Rescue Foundation. If it were up to Eddie, he would have a thousand animals!
Eddie has a Basset Hound named Dudley Do Right, that he just loves! But that doesn't mean that there are times when he is not very happy with him. Like now, because Eddie has to replace a $2,000 rug that the dog "went" on. So, he is now calling him, "Deadly" Do Right! Eddie also says he has the longest ears in the world!
Eddie's tours keep him on the road most of the time, and he leaves behind his 5 children and his beloved Basset Hound- Dudley Do Right. Eddie said he will do anything to get out of the house!
Visit www.EddieMoney.com to see his tour dates and find out if he will be coming to your city!
The Cat Owner's Manual
Dr. Marty Becker, America's Veerinarian, Your Cat: The Owner's Manual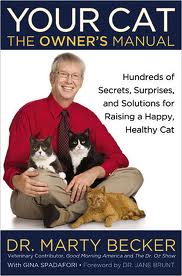 For anyone who has a cat or is thinking about getting one, Your Cat: The Owner's Manual, should be required reading. In this new must-have pet-care guide from Dr. Marty Becker, often referred to as "America's Veterinarian," Dr. Becker shares his time-tested and often surprising insider secrets for raising a happy and well-behaved cat. Among the many topics covered in the book are how to:
*Choose the right cat or kitten for your family's lifestyle
*Prevent cat health problems and keep your cat in top shape
*Solve cat-care issues, from scratching furniture to not using the litter box
*Save money on medication and treatments, both traditional and alternative; and
*Buy pet products that really work!
A study was done a few months ago by the University of Minnesota Stroke Research Center, that if you have a cat, you're 40% less likely to have any kind of cardiovascular incidents. This means you are less likely to have a heart attack or a stroke.
A big problem people have with cats are allergies. Dr. Becker wants those people to use an unscented baby wipe. You don't have to bathe them, but just wipe them down once or twice a day with these wipes and you are going to dramatically decrease human allergies. There is also a vaccine in the making that is being tested to vaccinate humans against cat allergies. You will find other great information and solutions just like this in his book.
Becker believes that dogs are like the eternal Peter Pan, the eternal toddler, they just follow you around, but with cats, it's more like you re bringing the wild inside. You never figure out the mystery of them!
You have probably gone to someone's house with a gathering of people. The cats strolls out and all of the cat lovers are looking at them and thinking, "Choose me! choose me!" However, the cat will end up going to the person in the room who hates cats! The reason is, is that the person who doesn't like cats is avoiding eye contact. They are looking away thinking, "Don't choose me! Don't choose me!"
For seasoned cat lovers as well as those looking to adopt a new friend, Dr. Becker provides all of the insight that will make for a happy owner, and a happy cat!
Dr. Marty Becker has been a popular contributor to Good Morning America for ten years, is the resident veterinarian on The Dr. Oz Show, and is the pet expert for AARP. He writes Pet Connection, a Universal Uclick syndicated column with Gina Spadafori; is a contributor to Parade Magazine; and is the author of Your Dog: The Owner's Manual (Grand Central Life & Style; May 2011). Dr. Becker is the veterinary spokesperson for VetStreet.com, the top website for veterinarian-reviewed pet-care information.
The $46,000 Butterfly
Jessica Speart, Winged Obsession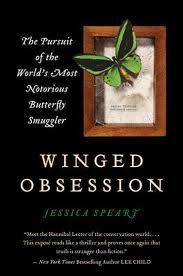 Wildlife enforcement freelance journalist, Jessica Speart, is the author of the narrative non-fiction Winged Obsession. Winged Obsession is about one of the world's most beautiful endangered species, the butterflies, which are as lucrative as gorillas, pandas, and rhinos on the black market. In this cutthroat $200 million business, no one was more successful, or posed a greater ecological danger, than Yoshi Kojima, the kingpin of butterfly smugglers. Winged Obsession follows the rise and fall of Yoshi, the world's most notorious butterfly smuggler, and the man who brought him to justice.
Butterflies are highly prized and highly valued. They are much sought after, like many other things that people develop obsessions over. But this time, instead of antiques or old coins, people become obsessed with butterflies. To the people who collect them, it's almost like art, because the butterflies are dead and mounted. They also want whatever is rare, which is usually taboo, because it is probably endangered.
Jessica stated that Yoshi Kojima is, "Basically a one man, environmental wrecking ball in the world of butterfly smuggling." Yoshi is sort of the kingpin of butterfly smuggling, and was even able to get butterflies that some of the museums couldn't get. He basically had catchers in all parts of the world. He did this for over 20 years before Fish & Wildlife was able to go after him in a 3-year undercover case and catch him.
After Kojima's arrest Speart admits that she became obsessed with the case herself. "The more I learned about Kojima, the more I wanted to know." She eventually traveled to Japan on a whim and herself went undercover hoping for a glimpse of Kojima, or perhaps a chance to speak with him. She never expected Kojima to take her under his wing the way he did, making her his, "New Best Friend!"
http://www.wingedobsession.com
2nd Annual Paw-Parazzi Pet Photo Contest
Steve Pinetti, Kimpton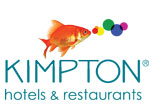 Last year we thought we'd do a fun little contest for our guests to show off photos of their pets. We imagined we'd get a couple hundred entries , but to our surprise almost 2300 pets entered the contest - dogs, cats, chickens, bunnies, turtles, lizards, even a baby calf entered - it was amazing! So, we decided to do it again!
To enter the 2nd Annual Paw-Parazzi Pet Photo Contest, upload your pet photos at kimptonpets.com and follow the contest link. The public will vote on their favorites. The 20 entries with the most votes will win great prizes from our partners like Olive Green Dog, Polka Dog Bakery, and FIDO Friendly Magazine.
The Grand Prize winner will win the Ultimate HosPETality Getaway which includes: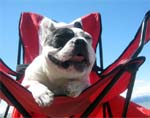 One $100 Kimpton Restaurant or in-room dining gift certificate
One in-room spa treatment for two

Quaker Pet Group & Republic of Paws Ultimate Legacy Pet Carrier

Pet amenities such as dog bed, bowls and treats during your getaway
Last year Petey, a Boston Terrier from Seattle won and we can't wait to see who it'll be this year! What are you waiting for – take that picture!
The Dogfather's Grooming Tip with Joey Villani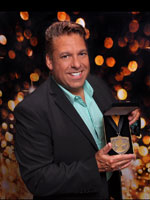 Getting Your Dog's "Shine" On
Do you know when you have bad hair day and it's real frizzy and you can't get that shine? Well, it happens to the dogs as well!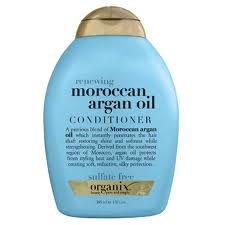 There is a product that is predominant in the human industry called argan oil. Argan oil is from trees that grow in arid places, like Morroco. For some reason, they retain their moisture, and we are thereby able to extract their oils. Argan oil is one of the best smoothing and shining agents that Joey has ever used on a dog, and it is all natural.
When your dog is having one of those bad hair days and its hair is frizzy and fly-away, take some argan oil and put it on your hand. You only need a little, even if you have a big dog. You need less than half a teaspoon. Now, take your hands and work it through their coat. After that, brush and comb it through, because you want to really work it in.

The coat will almost instantly smooth out, where it looks great and doesn't look fly-way or broken. It will keep adding moisture throughout the day, because that's what the oil does. It draws moisture to the oil itself.
If you have a short-haired dog, you will end up with a dog that is so shiny you will have to wear sunglasses!
It also has a very nice smell and unlike other products, you are not adding a lot of chemicals. There are other products out there that will pretty much do the same, but they are silicon based and not the safest products to use. They are basically just glass that's been spun down into a gel like product, but it's still glass.
Argan oil is a natural, organic product that you can pretty much find anywhere. It's a little expensive but a little goes a long way. Try it, you'll love it!
Animal Radio® News with Stacey Cohen
Goat Operations Include Tree Trimmers
The Coast Guard is defending its practice of using live animals in its combat medical training after an activist group released a video of a goat's legs being removed with tree trimmers during what it said was training for agency personnel. Live anesthetized goats have been used in Coast Guard training to treat combat wounds, but the agency could not verify if the video involved its personnel. The courses do involve "live tissue training using live animals," Lt. Cmdr. Jamie C. Frederick, spokesman for the Atlantic Area, wrote in an email. Frederick was responding after People for the Ethical Treatment of Animals called on the Pentagon to stop the practice. A congressman also has introduced legislation that would phase out the use of animals by the military for such training.
Checklist To See If You're A Good Pet Parent
Dogs need direction, practice, feedback and a payoff to motivate learning, retention and desire to comply. Dogs need to learn to learn. Diane Rich, a dog trainer, has come up with a checklist to see if you are a good pet parent. Pet Parenting Tips: 1. Puppy time goes by quickly, this is the best time to begin learning how to train your dog 2. Rescuing an older dog? Wonderful. Don't wait to see how things go, take a class, hire a pro and help the dog's confidence by teaching some skills 3. Give your dog feedback. Without knowing what s/he did correctly how will the dog know what pleases you 4. Giving treats as a lure to begin teaching a new behavior or a reward can be a great aid in positively creating behavior. However it is advisable to learn how to use alternate rewards and how to use rewards correctly. 5. Training the dog during the dog's first year is very important and reinforcing training and teaching new skills for the life of the dog is highly recommended. 6. Loving the dog is great, but not enough to create a stable, well-adjusted dog. Every dog needs to have some mental stimulation and exposure to life. 7. Enhance your daily walks by going to new locations. 8. Hire pet professionals who talk with you not at you. 9. If you opt for daycare or boarding interview those business owners, observe how animals are handled before driving away. 10. Manage and observe your dog's behavior and health. A dog cannot tell you something is wrong. By observing and touching your dog you may be able to see a change in behavior or eating habits, problematic potty issues, coat quality and feel new lumps or bumps which will be necessary to note for your next vet visit.
LA Pet Stores May Be Forced To Sell Rescues Only
The cute puppy and kitten faces peering out from Los Angeles malls and storefronts could soon all be rescues. The LA City Council voted 11-1 in favor of banning stores from selling dogs, cats and rabbits that are not rescues. Councilman Paul Koretz, who sponsored the motion, explained to The Huffington Post that the measure is in large part in response to the problems caused by puppy and kitten mills. "Puppy mill dogs are kept in horrible, inhumane conditions. Puppies and kittens, in the case of kitten mills, often end up with severe health problems and sometimes behavioral problems," he said. "They also make worse the problem of an overabundance of animals and the euthanasia of hundreds of thousands of animals," he added.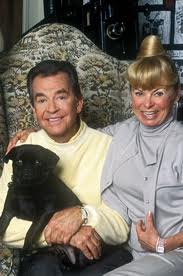 Dick Clark Was A Big-Time Dog Person
Unfortunately we lost a legend a few weeks ago, Dick Clark. He was 82, which is 574 in dog years. Clark was a big-time dog person. He designed his Malibu home so that it could accommodate all his dogs. He sometimes had as many as five at a time. The showers were extra large so that he could wash the pups himself. He told LA's Pet Press in 2001, it was even his dog, he'd said years earlier, who'd picked out the place. His lab, Mort, got loose one afternoon on the beach, and Clark found him on a beautiful piece of beachfront property. He liked it as much as Mort did, so he called the owners and arranged the sale. There, he and his wife Kari celebrated each dog's birthday with plates of meatballs with candles in them. Kari was in charge of the party hats. He would take photos.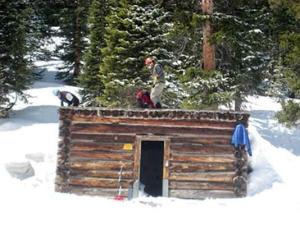 What Happens When You Blow Up Cows?
What happens when you blow up several thousand pounds of frozen hamburger? The Forest Service is about to find out. Over the winter, a group of cows wandered into an old ranger cabin nine miles from Aspen, Colorado, near the appropriately named Conundrum Hot Springs. The bovines apparently froze to death and were discovered last month by snowshoers. Because of possible water contamination if the cows thaw, the Forest Service is considering destroying the carcasses via explosives or by burning the cabin down. Said a Forest Service spokesman: "Obviously, time is of the essence because we don't want them defrosting."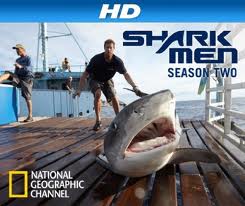 "Shark Men" TV Show Cancelled after Shark Attack
South Africa's government is pulling the plug on a U.S. filmmaker's documentary on sharks after a shark attack at a beach where the crew had been shooting. The country's Department of Environmental Affairs rescinded Chris Fischer's permit to film "Shark Men." The City of Cape Town has closed the beach where a great white shark attacked and killed a man. The Department says there is still a lot of great white activity in the area. Fisher's film crew had already moved on to another beach before the attack. "Shark Men" has aired on the National Geographic cable channel, but it's reported that NatGeo is distancing itself from the project and says it did not renew the series.

NEWS UPDATE Brought To You By PetzLife.com. Use the code "RADIO" to receive 20% off!

Listen to the entire Podcast of this show (#648)